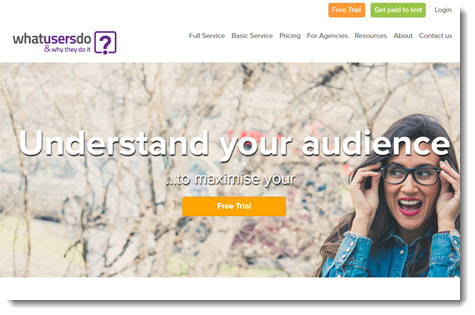 In this article, I would like to talk about What Users Do, which is a platform that pays users to test and provide feedback on a client's website or app.
This is an interesting opportunity to make some extra cash, but don't expect to make lots of money.
If you want to know how I prefer to make money online, check my #1 recommendation here. Trust me, it's way more profitable!
What Users Do Review
---
Product Name: What Users Do
Website: whatusersdo.com
Price: Free
Money Making Strategy: Usability testing
Score:

7.8/10
What is What Users Do?
---
What Users Do is a usability testing or UX testing platform, which rewards you for recording your interactions, reactions, thoughts, and opinions as you browse a client's website or app.
Usability testing is simply the process of observing and analyzing how people use a product, so companies can improve their user experience and increase sales.
Therefore, they are not only interested in your opinions but also how you interact with the website/app and what are your instant reactions.
I tried usability testing before, and it was actually the first time I earned more than the minimum wage on the internet. 
My job was to browse a website about wines and speak about my first impressions, what I like and dislike about the website. It was not difficult and I netted $10 after about 20 minutes recording my thoughts and screen movements. Not bad!
Pros and Cons
---
Pros
Pay more than the minimum wage
Reliable platform
Accepts PayPal
Cons
Not many opportunities
Low-income potential
It takes 1-2 weeks to be accepted
How Does it Work?
---
Signing Up and Qualifying for Tests
The sign up is simple, you just need to provide basic details such as your name, gender, date of birth, email and Paypal account. It's important to make sure that your Mac or Windows PC is running the latest operating system and that you have a microphone (external or built-in).
In order to be allowed in, you need to download a screen recorder software and complete an audition test. But it's really important to watch the instructional video before taking the test.

On my 3-minute test, I was required to visit the Expedia website, tell my first impression, search for a hotel and point out possible improvements.
Then, you have to wait 1 or 2 weeks for the panel team to review your video. If you give your honest opinion in a clear voice and follow the exact instructions, there is no reason they will reject you.
It doesn't stop here. After the audition test, you must complete your profile, with more specific questions about yourself. Usability tests are usually targeted to a specific group of people, so your profile will be used to determine which tests best suits you.
Payout
The usability tests at What Users Do usually take less than 20 minutes and pay around $8. It's not that bad, but I know that other platforms like User Testing and YouEye have a higher payout. Payments are generally processed on the 25th day of each month via Paypal.
The drawback of these platforms is that opportunities won't come every single day… Often times you will get 4 tests or even less per month.
How to Perform Well? 
It's only a matter of following the instructions and making sure all the questions are answered during your video recording. Here is one example:
You should have a good command of English, and keep yourself speaking during the whole video duration. I know it seems like a big challenge, especially if you are not very talkative like me. But it's only a matter of practice and not being afraid to speak your mind. There are no right or wrong answers.

Conclusion
What Users Do is a legitimate platform to perform usability testing and make some extra cash online. The payout is actually higher than the minimum wage, which makes this opportunity much more interesting than online surveys and micro-jobs.
However, because opportunities are very limited, you won't be able to make a good income from this website alone.
Therefore, you should sign up for other platforms like User Testing, YouEye, Enroll and MyCrowd in case you want more from this method.
Now, if you would like to make good money online without relying on other people's businesses, why not build your own online business like me? If I started with no knowledge 1 year ago, you can do it too! Just follow my advice below.
My Sincere Advice to You
Creating a substantial income online is a challenge on its own. However, working for other people on the internet is certainly a bigger challenge as either the payout is too low or opportunities are scarce. Not to mention all the scams you will find along the way!
So, my advice for a full-time income online is to work for yourself by building your own online business – a website! It may sound too complicated but trust me, it's not.
Building a website is not free, but it's one of the cheapest, if not THE cheapest way to become a business owner. I have been through this process and I have seen many people fail because they didn't get proper training and support from the beginning.
It's very easy to get lost and fall prey to scammers if you rely on fragmented and unreliable information on the internet.
If you want a reputable platform to learn, get excellent support and build a successful online business, I highly recommend Wealthy Affiliate!
They have a starter membership where you can attend the first 10 lessons and kickstart your website for free! Not only that, you have 7 days of unlimited support from a huge community of online entrepreneurs, including the owners! Click on the link below and read my full Wealthy Affiliate review for more details!
Wealthy Affiliate has been teaching people how to make a full-time income from home for over 10 years! 
I hope this article was clarifying. If you have any questions or just want to share your experiences and opinion about What Users Do, just leave a message below.

Your friend
Stefan