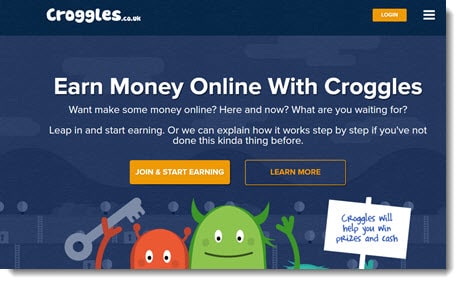 Making money with Croggles seems like a safe, easy and fun activity. But is that so easy as they claim to be? Is Croggles a Scam or a legitimate opportunity?
There are many things you need to worry about when completing offers, and if you are not careful, you may end up wasting a lot of money! So, Check my Croggles review and learn how to play on the safe side.
By the way, don't forget to check out my #1 recommendation to discover the platform that helps me grow an online business and make over $700/mo from my laptop.
Croggles Review
---
Product Name: Croggles
Website: croggles.co.uk
Price: Free to join
Making Money Strategy: Trial Offers
LEGITIMATE
Score:

6/10
What is Croggles?
---
Croggles is a UK based website where you can get paid to complete offers. If you are not familiar with this strategy, don't worry, it's quite easy.
Companies are desperate to make people subscribe to their offers. When you complete an offer, Croggles get paid a commission, and you simply get a small share of it.
There are many types of free and paid offers. A free offer, for example, can be a 14-day trial of a movie streaming website, or a simple entry to a prize competition.
Pros and Cons 
---
Pros
Free to join
Easy to use
There is a payout countdown
Payment via Paypal
Low cashout threshold – £5
Cons
Low-income potential.
Only available in the UK.
There are some tricky offers.
How Does it Work? 
---
Signing up
Signing up is simple, you can do that using your email or Facebook account.
The Main Offer Screen
After you sign up, you will land on the main offer screen: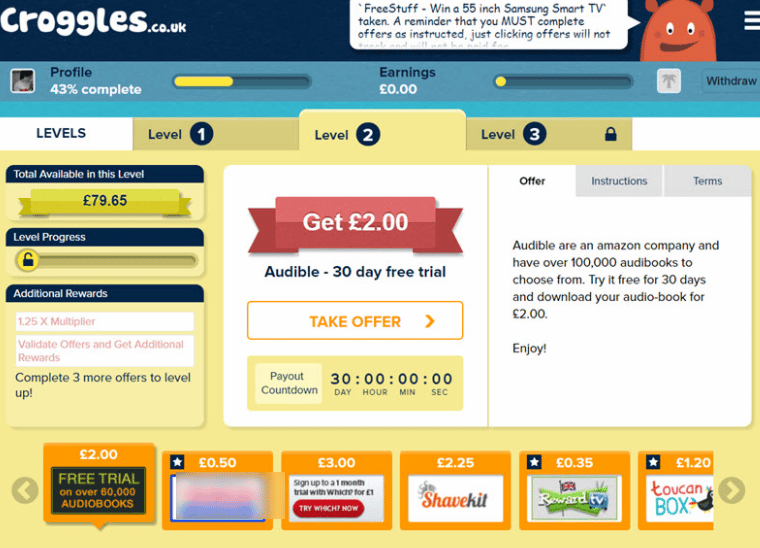 You can see 3 different levels and at the top and all the offers available at the bottom.
You have to complete at least 3 offers from each level to unlock the next level, which has more opportunities and higher rewards.
You are always a potential customer 
It's important to understand that you are always a potential customer for the companies involved. When you accept an offer, you are accepting different terms and conditions that can put you in trouble in case you are not careful.
It means that even if you are not interested in buying anything, you are placed in a position where YOU have to take action to avoid being charged.
So, companies can make money using the Croggles platform because of 4 situations:
You really wanted to buy the service.
You didn't read or didn't understand the terms and conditions.
You forgot to cancel the subscription.
Accepting Offers – 

 Be Careful!
I tried to complete an offer from FreeStuff.com. They were rewarding £0.50 for filling up my details and participating in a prize draw.
I clicked on instructions and had the first impression that it would be very simple.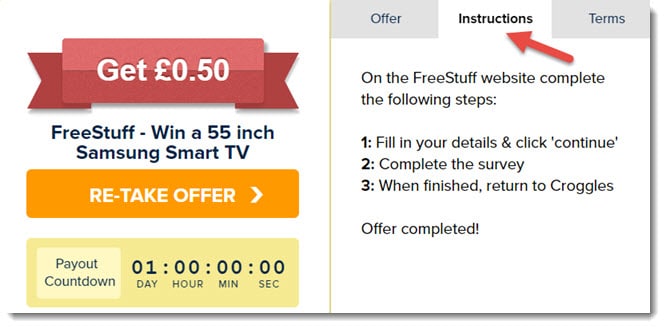 Next, I had to provide my mobile phone and landed on a page that pushed my another 5 offers!
Two of the offers would automatically put me in a weekly prize draw that would cost £4.50 per week EACH. Yep, take a look at one of them: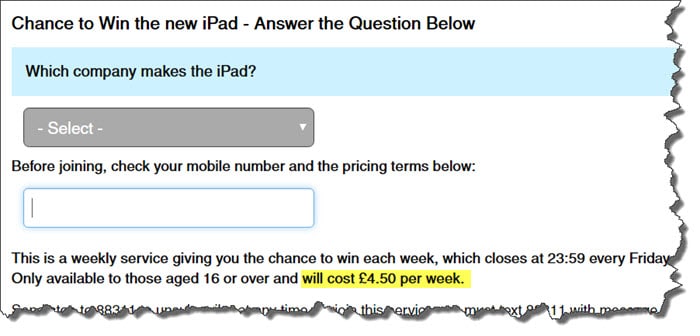 This is only one example, but there are many similar offers out there. Let's face it, people who want to make £0.50 don't want to fork out £4.50 per week for a chance to win prizes.

I never give my credit card details for such offers because they can give me headaches. Besides, some offers ask for your phone number, which is a problem because you will be bombarded with telemarketing calls.
Before accepting an offer, you need to read the terms and conditions thoroughly and write down all the expiration dates and cancellation methods.
It's important to mention that offers can take a long time to be validated (up to 120 days), especially the highest paying ones. It's good there is a countdown indicator that provides a rough estimation of when you get the reward, though.
Cashing Out
---
It's good that the minimum payout is £5. Some platforms have a much higher threshold. Payments are processed on the next working day via Paypal or BACs, and it can take a few days to reach your bank account.
Final Thoughts – Is Croggles a Scam? 
---
Croggles is not a scam. But as I said, many folks don't take the time to read the terms and conditions or forget to cancel the subscriptions. So, they end up spending money rather than making money, which was the main reason they first visited the website for.
Verdict:

Legit
A Better Alternative To Make Money Online
---
A better alternative to offer is to build a website and promote products as an affiliate.
As a website owner, you have the power to attract many visitors 24/7 and earn generous commissions from well-known companies such as Amazon and Commission Junction.
Indeed, there are many people making a living off of their websites. But don't be put off by thinking building a website is a complex thing. It's not! Trust me, if you follow a structured training, it's actually very easy. In fact, there is no need to have any technical knowledge to build a website these days!
I preferred to start my website following a step-by-step training program and with the support of a community of online entrepreneurs. The platform that I use is called Wealthy Affiliate, and it's considered one of the best training communities in affiliate marketing.
That's where I get all the training and support that I need to grow my website and make excellent commissions online. If you want to know how Wealthy Affiliate can help you succeed online, click on the link below.
Have you tried completing any offer with Croggles? If so, how was your experience with the website? If you have any thoughts or questions, please leave your comments below. I will be glad to hear from you.
Your friend

Stefan