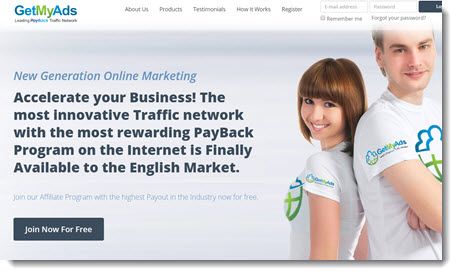 I found Get My Ads while browsing one of these "make money online groups" on Facebook. This website is claiming you will make lots of money by joining a payback traffic network – a kind of revenue sharing. Is Get Ads a scam or legit?
Read my review below before you put your money at serious risk.
By the way, if you want to discover the same method that earns me $900+ per month from my laptop, check out my #1 recommendation.
Get My Ads Review
---
Product Name: Get My Ads
Website: getmyads.com
Price: $50 minimum
Score:

0 out of 10 
What is Get My Ads?
---
Get My Ads (GMA) claims to be an advertising network with a PayBack program attached. In other words, they sell advertising services for website owners AND share the company's revenue with all the investors.
You don't need to have a website in order to participate in their payback pool. You are allowed to invest and hope it will generate profits according to the financial results of the company. But there are absolutely no guarantees…
One of the red flags is that their advertising services are kept completely secret. They just say the Ads will appear in more than 75 Traffic Networks.
How Does it Work? 
---
First of all, you have to purchase advertising package that is called "token". Each token is worth $50 and lasts for 600 days. They can be traded with banners, clicks on your website (if you have one) and advertising in newsletters.
You don't know where exactly they put the adverts, so you have no idea where those clicks are coming from. Here is a statement of the terms and conditions about this issue:
6. Click Quality
GetMyAds Company doesn't guarantee the quality of clicks, their speed, rate of repetitions. GetMyAds also don't target to a particular geographical boundaries. Click can be from around the globe without any discrimination.
It doesn't really matter because most people don't have a website and will just invest money to participate in the payback program (revenue sharing). The money you invest is said to be divided as follows:
40% goes to the payback program
40% goes to their affiliates – affiliates earn 12% of each token purchased by their referrals
20% used to invest in the company and to increase organic traffic growth to all their customers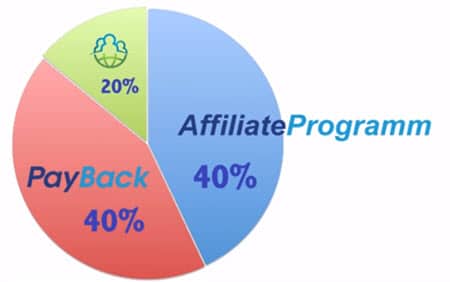 As you can see, 80% of all their profit is paid back as dividends to all the members and affiliates. That's a lot of money!
It tells me that either their profits are astronomical or they are using most if not all the money from new investors to pay old investors.
The owner claims that the company has been generating at least 1% ROI (return on investment) per day, per token. So, if you have a $50 token, you can expect to earn $0.50 per day or $182.50 per year.
Have you noticed a very small observation that appears when he explains about the PayBack program? It says: "Based on History – no guarantee for the future."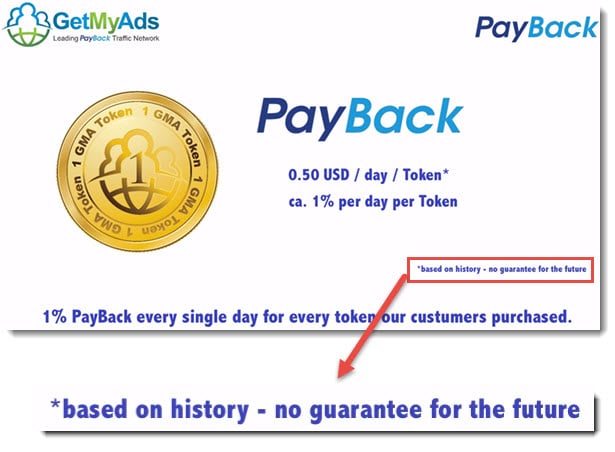 Contradications
---
Contradiction #1
Right at the beginning of the video, Frank Hanson wants to show you how to turn $50 in advertising budget into a long-term passive income of at least $549. Now, he doesn't say " per day", but that's what I can see from this scene: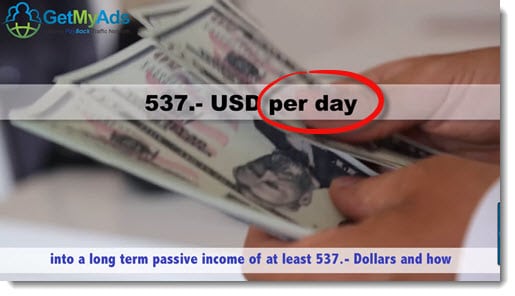 Here is the first contradiction: If he promises at least 1% per day, you should expect at least $0.50 per day, not $537. That's a big difference huh?!
Contradiction #2 
He goes on to say that some successful members earn up to $9,867 just after 3 months! HEY, HEY what's going on here? If people are making at least $549 PER DAY, they should earn at least $49,410 ($549 x 90 days) after 3 months!
Now, to uncover the truth, you just have to open the terms and conditions.
The Truth Exposed in The T&C
---
I was shocked with the terms and conditions of this website. Let's look at some remarkable sentences that are not exposed on the promotional video.
GetMyAds company don't give a guarantee or claim/right on any payback to the affiliates.
No guarantees!

It is on the complete discretion of the GetMyAds Company what it want to give as payback as per internal calculation code.
That means they decide how much they will pay you. Even if the company experience a huge profit, they can take all the profits and say: look, we are the boss, we decide how we manage our finances.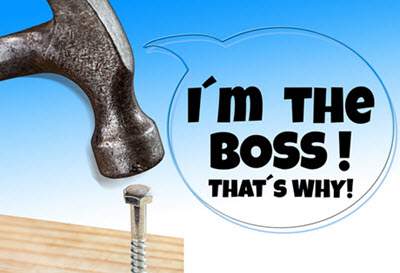 The payout of the payback is after 600 days. It can be before on if the GetMyAds Company have any offer at that point of time.

GetMyAds Company has complete right to decide when will it payout.
Right, so they can pay whatever and whenever they want.
GetMyAds Company nor its any authorised governing body guarantees and kind of money back to its user, affiliates or members from the GetMyAds website.
No money back!
Final Thoughts – Is Get My Ads a Scam?
Get My Ads doesn't provide convincing information about their advertising services. You can invest in their program, but the website doesn't give you any guarantees.
Forget about the promotional video and look at the terms and conditions. They are basically saying: We will invest the way we want and pay you whatever we want.
I don't think Get My Ads is a scam, but you can't expect to earn a positive return on investment.
My Recommended Method to Make Money Online
If you want to make reliable income from home, I highly recommend you build a website and promote products as an affiliate, like myself! It takes time to achieve the income level you want, but if you stick to it, your commissions can only grow.
I started in 2015 and made over $9,000 in affiliate commissions since then. One day I woke up in the morning and saw $167 in my account, so you can imagine how happy I was. Trust me, affiliate marketing is very profitable and has a serious potential to replace your 9-5 salary.
I am confident you and anyone can achieve success in affiliate marketing, but it's essential that you follow a structured training and get immediate support when you need.
Wealthy Affiliate is the platform where I get everything I need to build my online business – updated training, support, website builder/hosting, keyword research tool and much more… They have a free starter membership so you can test drive and see if you like being an online entrepreneur.
Seriously, I wouldn't be where I am today if it wasn't for such a remarkable platform. If you want to know more about it, click on the link below and read my full review.

So, what do you think of Get My Ads? Have you ever tried any revenue sharing program? Please, feel free to leave your thoughts and question below. I would love to hear from you.
Your friend
Stefan