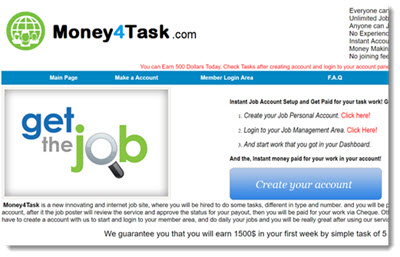 I came across Money 4 Task recently and couldn't resist giving my 2 cents about this website. The owners guarantee you will make $1500 in your first week by completing simple tasks of 5-10 minutes. But how many tasks? 5,000? 10,000?
So, is Money 4 Task a Scam or a legitimate opportunity?
Check this review and understand why you should keep your distance. If you are interested in a serious strategy to make money online,  read my #1 recommendation review.
Money 4 Task Review
---
Product Name: Money 4 Task
Website: money4task.com
Price: Free to join, but you need to pay for offers and surveys in the future
Recommended?

No

Score:

0/10
What is Money 4 Task All About?
---
This website claims, among other things, that there are unlimited job positions and that nobody needs to have any experience to join.
They also promise at least $1500 per week by completing simple tasks and $25 as a sign-up bonus.  It just sounds too good to be true!
It turns out Money 4 Task is nothing but an empty website where your only task initially, is to promote their website so that new people join the same nonsense.
This website is actually a clone version of a website called OnlineTaskPay.com. Why on earth do they need two identical websites with different names?
The name changes but everything else is the same, including the unrealistic claims. By the way, if you create an account with one of them, you can't create with the other site, which proves both are part of the same "opportunity".
Just take a look: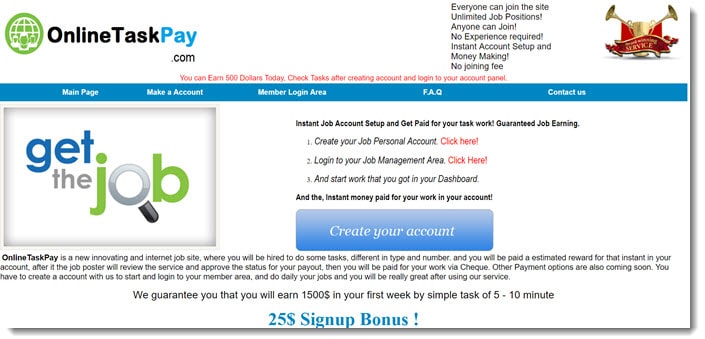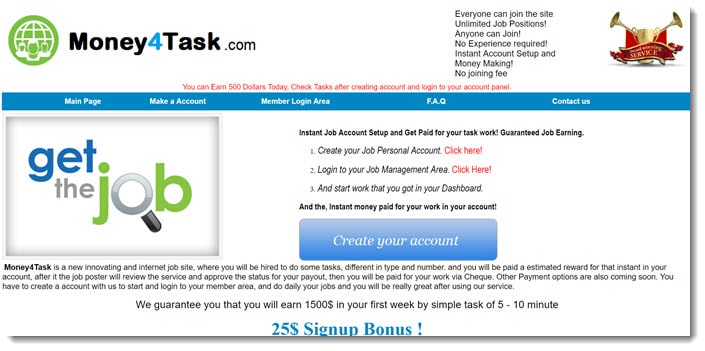 How Does it Work?
---
After you give your email and choose a username and password, you will land on a page where you can find only one task.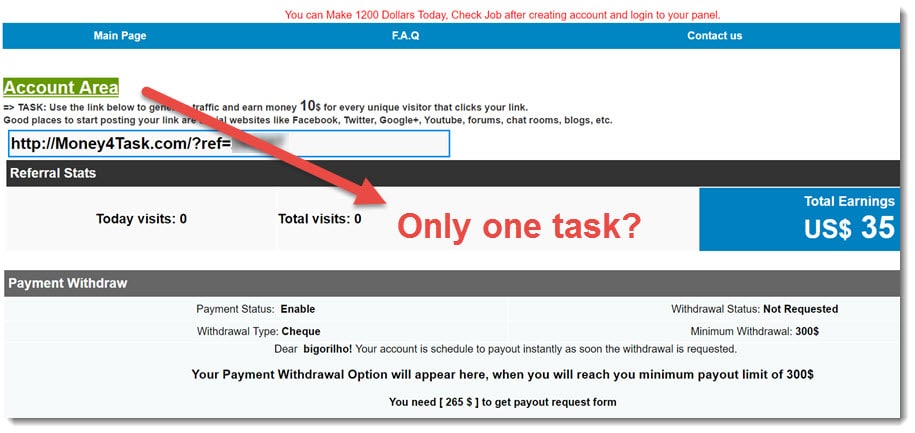 The task is to copy that referral link and post it on Facebook, Twitter, Youtube, Blogs, and forums.
Basically, your task is to promote this website using that referral link, so that you earn $10 whenever someone clicks this link and joins Money 4 Task.
You are enticed to promote this "opportunity" until you earn at least $300 before you are allowed to cash out.
However, by the time you reach $300, you will be required to complete online surveys and offers that are not even free!
In the FAQ, you will see this question:
This can't be real. Are you giving free money?
No, we are not giving away free money. We are paying you in order to generate traffic to our website. We will get paid from our advertisers for the traffic we bring to them.
Which advertisers are they talking about? I can't see any ads on the website!
When you join the platform, they don't tell you that you will have to complete offers and surveys when you reach that $300.
There are No Terms and Conditions! 
---
The site has no income disclaimer or terms and conditions at the bottom of the page.  That means there are no guarantees you will earn any money.
So, you are left completely in the dark regarding your rights and duties to claim your reward.
Conclusion – Is Money 4 Task a

 Scam? 
---
Money 4 Task encourages you to promote their link and eventually complete surveys and offers. However, there are no guarantees you will receive the payment because the site doesn't provide the Terms and Conditions.
They are claiming you will earn $10 per referral, even if they don't purchase any product, which is not a realistic affiliate program.
Therefore, I don't recommend Money 4 Task!

For a legitimate and efficient method to make money online, keep reading the next section.
My #1 Strategy to make Money Online
---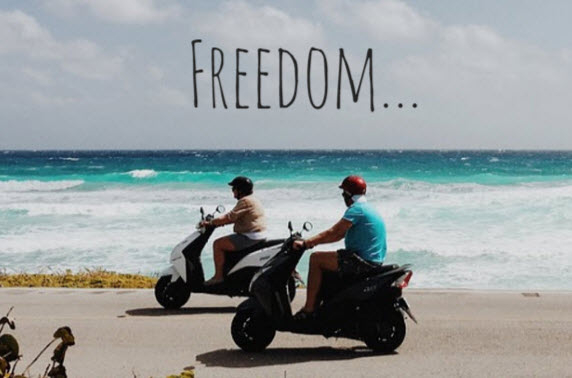 If you want to make a substantial income online, you should stop working on other people's websites and build your OWN website/blog.
When you have a good number of people visiting your site, you'll be able to make big commissions by promoting products as an affiliate.
You don't need specialist knowledge or technical skills. Building a website/blog is very easy these days, as you just have to focus on writing helpful content (articles) that rank well on Google, Bing and Yahoo.
You also don't need to be a professional writer to help your readers. However, there are surely important things to know in order to become a successful online marketer. If you do things the right way and be persistent, you can make a full-time income from home and have the flexibility to work whenever and wherever you want.
I highly encourage you to follow a step by step training and get support from people who have valuable experience in the industry. If you want to know more about the platform where I get proper training, support and tools to build my site, click on the link below and read this important review.
I can assure you this is the best online business platform you will find. You can actually try it for free, so you have nothing to lose!
I hope this review was helpful to you. If you have any questions or thoughts, just leave me a comment in the box below. I'll be more than glad to reply as soon a possible.
Your friend
Stefan