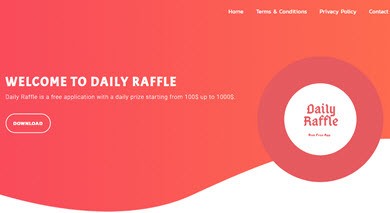 Welcome to my Daily Raffle App review!
In this post, I am going to review Daily Raffle, an app that gives you free tickets to enter prize draws and earn up to $1000.
According to the website, Daily Raffle stands out from other apps because your chances to win are very high!
Many people on YouTube are promoting Daily Raffle as a great opportunity to earn free money.
But you are a very skeptical person who is probably wondering…
Is Daily Raffle a scam or a legit app? What are the real chances of winning?
In this review, I am going to explain how the Daily Raffle app works and give you my honest opinion about it.
But before that, I need to ask you one important question: Have you ever dreamed of making a full-time income online and quitting your day job?
If so, you want to check out my #1 recommendation! This is the same program that helped me build a lucrative online business, reach $2,000 per month, and say goodbye to my co-workers.
Daily Raffle App Review
---
Name: Daily Raffle
Website: https://dailyraffleapp.com/
Company: Daily Raffle LLC
Payment methods: PayPal and Bitcoin
Minimum Payout Threshold: $100
Membership Eligibility: Worldwide
LEGITIMATE
Overall Rating:

4.2

/5
What is Daily Raffle?
---
Daily Raffle is a free mobile application that gives away daily prizes ranging from $100 up to $1000.
The app works worldwide and is available for both Android and iOS devices.
Daily Raffle app is 100% free to install and there are no in-app purchases.
Instead of buying tickets, you watch sponsored clips on your device to be entered into the draw.
In other words, you will be trading your time for raffle tickets.
Is Daily Raffle a Scam?
---
You may be very skeptical about Raily Raffle, and that is for a good reason!
There are many fraudulent apps and games that alter the results, making it impossible to win.
Most apps that I have reviewed are not transparent regarding the method they use to select winners.
Also, many people complain about getting stuck before reaching the minimum payout threshold.
It's difficult to find a trustworthy app out there!
Well, after extensive research, I found that Daily Raffle is 100% legit as it does generate random numbers.
I'm confident about it because they provide the key and hash number of each prize draw.
You can check if the integrity of the results by inserting the codes on the HMAC generator, which you can find at freeformatter.com.

I did a test, which confirmed that the numbers are randomly generated.
Not only that, but there is a tab where you can see all the previous winners and the prizes they have won.
Pros and Cons of Daily Raffle
---
Pros
You don't have to pay for your tickets.
Very transparent.
There are daily hints about the winning number.
Cons
Yes, it's free! However, you "purchase" tickets with your time.
Your chances of winning are very slim.
Winners have to split the prize.
There is a minimum cashout threshold of $100.
How Does Daily Raffle Work?
---
Daily Raffle app is entirely funded by advertisers, who run ads through the app.
Users collect free tickets by watching videos, and in turn, Daily Raffle splits the revenue with the raffle winners.
There are very few winners, but if you are lucky, you can win different cash prizes.
Daily Raffle app is available for free on the Google Play or App Store.
You can get up to 300 tickets every single day, and each one comprises 6 numbers.
Simply choose 6 numbers from 1 to 9 or let the app pick random numbers for you.
On the main dashboard, you can see the countdown to the next prize draw, which takes place every day at 7 pm (GMT).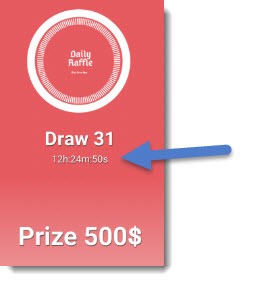 So, every day at 7 pm London Time, the Daily Raffle app will randomly select the winning number.
In order to win, your ticket should match at least the first 4 numbers.

If you match the first 4 numbers in the exact order, you will win $125.
Match 5 numbers in the same order and you will win $250.
Now, if you match 6 numbers in a row, you will win the jackpot, which is usually $500. But sometimes, the prize can be up to $1000.
Keep in mind there can be more than one winner per day. In that case, the prize will be split between everyone.
For example, if 10 people match the first 6 numbers, you will only get $50.
If you are serious about making money online, check out my #1 online business recommendation.

This reward platform is going viral! Cash out via PayPal, Visa, Gift Cards, and in-game currencies - Click here to find out how to generate an extra $10+ per day! 
Getting Free Tickets
Getting tickets is very simple! As I mentioned earlier, you will get free tickets by watching videos.

Just click on the "Get a Ticket" button and a quick video will start playing right away.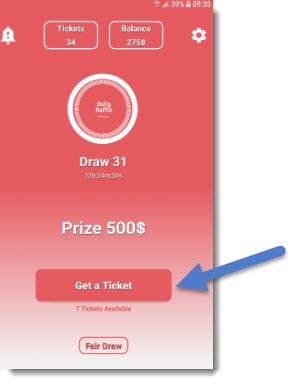 Each video takes anywhere from 10, 20, or 30 seconds.
Just watch the video until the end to collect your free ticket.
Most ads are about another mobile application and are specific to the country you are in.
Once the video ends, you can pick your 6 numbers and tap on "add ticket".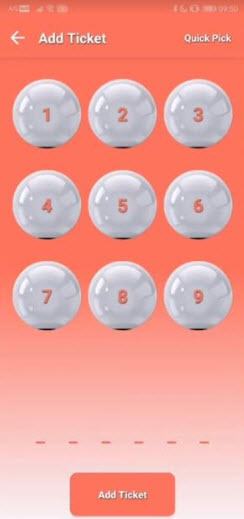 Daily Picks and Hints
You can tap on the "quick pick" tab if you want Daily Raffle to choose 6 random numbers.
However, I don't recommend you do that!
The reason is that Daily Raffle will send you push notifications with hints about the winning number.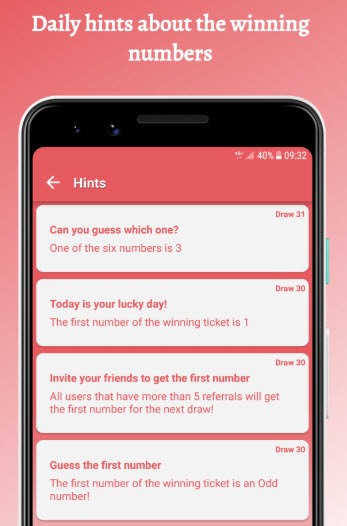 For example, they can tell you that the last number is an odd one. So, these hints can drastically improve your chances of winning the prize.
Get More Tickets by Referring People
Another way to get more tickets is by inviting people to install Daily Raffle app through your referral link.
Just share your referral link with your friends on social media or anywhere you want.
Each time someone joins through your link, you will get 5 tickets!
How Do You Get Paid?
---
If you win the prize, you can transfer the money to your PayPal account or Bitcoin wallet.
For other payment methods, you'd have to contact the developers who will try to find you a different method.
Bear in mind that the minimum payout threshold is $100, which is too high in my opinion.
So, even if you are lucky to win a prize, you won't be able to cash out until you reach $100.
Besides, you may have to show proof of identity, date of birth, and address before you collect your prize.
What Are Your Chances of Winning?
---
Considering the numbers are randomly generated, the odds of matching the first 4 numbers are 1 in 6561.

The odds of matching the first 6 numbers and winning the jackpot are 1 in 531441.
However, you can increase your chances by taking advantage of the hints.
As you can see, you need to be very lucky to win the prize, but it's possible!
In fact, it's not uncommon to have multiple winners, who end up splitting the prize.
Conclusion
---
No, it isn't! I'm confident that the Daily Raffle app is legit!
If you'd like to get free entries for prize draws, I believe Daily Raffle is one of the best apps available!
Just keep in mind that it can be very addictive!
The problem is that you may waste a lot of time watching videos without making any money!
I think the major downside of the Daily Raffle app is the fact that you must have at least $100 to cash out.
Other free apps that you can use to win prizes are Lucktastic and Lucky Day app.
Verdict: LEGIT
How to Make a Full-Tim Income Online
---
Instead of counting on luck, you could be making a steady $1,000, $2,000, and even $10,000 per month from your couch.
It's possible to earn a job-replacing income online!
BUT…
You will have to learn a proven strategy and put in some serious work first!
The strategy I use to generate $2,000+ per month is called affiliate marketing.
It consists of building affiliate sites where you provide helpful content and promote other people's products.
You will earn a commission whenever someone clicks on your link and purchases what you are promoting through your site.
If you want to create this alternative source of income, I highly advise learning from expert marketers so you avoid trial and error. 
This excellent training program will show you step-by-step everything you need to create a successful online business.
>> The first 10 lessons are completely free here! 
Final Words
Thanks for taking the time to read my Daily Raffle App review. If you have any questions, feel free to leave me a comment below, and I'll be more than happy to help! 😉