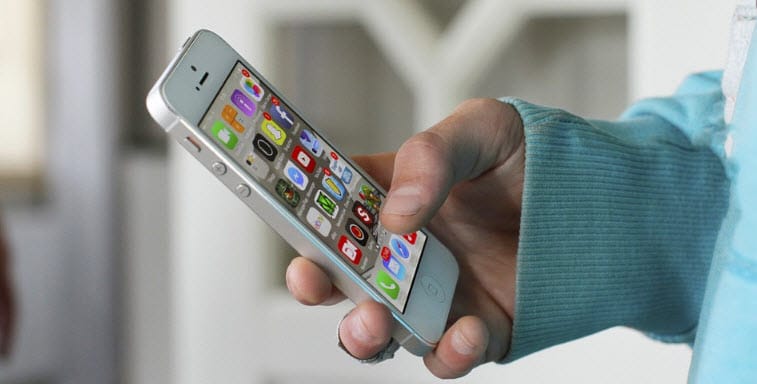 For many people, the possibility of getting paid to download apps seems too good to be true. After all, it's something that they already do for free!
However, there is an incredible number of platforms that actually reward users for trying new applications.
Most of these platforms are reward apps that sell advertising space to other app developers.
Every time you download the app and follow the instructions, the developer pays an advertising fee to the third-party platform.
Then, they share a percentage of the ad revenue with you in the form of points, which you can redeem for real cash rewards once you reach the minimum payout threshold.
Types of Apps 
Gaming Apps
Most apps available on reward platforms are addictive games that offer in-app purchases. In order to get points, you must not only install the game but also play it for a while or until you reach a certain level.
Reward Apps
Platforms will pay you to download different reward apps including surveys, sweepstakes, and cashback apps. It's weird, but it's actually common to find reward apps that will pay you to download similar applications.
Other Apps
You can also get paid to download other different apps in the following categories:
Security and privacy: VPN, Antivirus
Entertainment: streaming, watching videos
Health and Fitness
Next, I will share with you the best free platforms you can use to make money by downloading mobile applications.
Prizerebel
Prizerebel is one of the most reputable GPT (get-paid-to) sites on the internet. You can sign up for free using any mobile device and discover many opportunities to earn points.
If you want to get paid to download apps inside Prizerebel, click on "Earn" followed by "Offer Walls". Some of these third-party platforms such as Adscend and OfferToro always provide a list of apps you can install in exchange for points.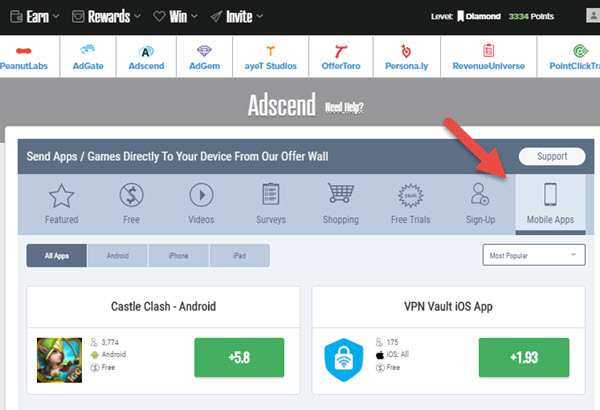 What I like about Prizerebel is that they will increase your membership level as you gain more points. The higher your level, the more bonuses and referral commissions you will get.
I have been using Prizerebel for more than 2 years and I never experienced any issues with payments.
CashApp – Cash Rewards App
It's an enormous challenge to find a decent reward app on Google Play or App Store. Most of them receive lots of negative feedback from users who never get paid by greedy developers.

After reviewing more than 100 reward apps, I am confident that CashApp is the best option available on iOS and Android devices.
The great thing about Cashap is the vast selection of app offers and other simple tasks to collect more points. Also, you can get paid $5 through PayPal once you reach 5000 credits.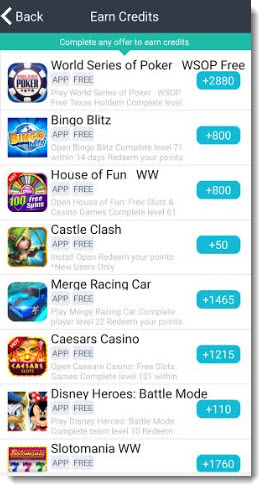 Not everyone has an excellent experience with this app, but it gets fewer complaints compared to the competitors.
When you search for CashApp, you may get lots of similar app recommendations such as inscash,  GetGC, and appKarma.
Regardless of the platform you use, there is a risk of not getting credited after downloading the app and following all the instructions. That's why I recommend taking phone screenshots to prove that you completed the offer.
MistPlay
With Mistplay, you can get paid for downloading and playing mobile games on your smartphone.
Different from CashApp and Prizerebel, Mistplay will track your gameplay and give you coins for every minute you play.
Just keep in mind there is a limited number of coins per game, and the more you play, the less you will earn. So, you must keep downloading and playing other 
Unfortunately, the pay rate is abysmal, and you will probably take 2 – 3 months to earn $10.

In my opinion, Mistaplay seems to be the most reliable app of its kind, but still, some users get blocked for no apparent reason.
>> Read my Mistplay App Review  
Important: You will only receive credits if you are installing the app for the first time. Each platform has a tracking system to make sure you are a new user. So, don't waste your time installing the same app as you probably won't get credited twice.
How Much Money Can You Earn?

This reward platform is going viral! Cash out via PayPal, Visa, Gift Cards, and in-game currencies - Click here to find out how to generate an extra $10+ per day! 
It's impossible to estimate because it depends on many factors. For example, your country will determine the availability of offers and your cash incentive.
One thing is certain, you won't make a decent amount of money with this method.

If you live in a wealthy country such as the US, Canada, Australia, and the UK, you can expect to find many opportunities and earn the greatest number of points per app install. Still, most apps pay less than $0.50. 
It's not difficult to reach $10 within just a few days. However, it may be difficult to keep the consistency as you won't always find new apps to try!
Final Thoughts
There is a huge number of platforms that pay users for downloading and trying new apps. Unfortunately, I can only recommend three of them because of the lack of trustworthy companies in this industry.
I cannot guarantee you will have an excellent experience with the ones I am listing here. However, they are less risky in my opinion.
Any platform can block your account and delete your earnings if they suspect you are breaking the rules.
How to Earn a Full-Time Income From Home
In 2015, I discovered affiliate marketing and the possibility of making thousands of dollars per month working online.
So, I promised myself I would do everything in my power to build my own internet business and eventually fire my boss!
I took massive action, and last year, I finally quit my job at the coffee shop and traveled to South East Asia! This is me on a remote Island in Cambodia!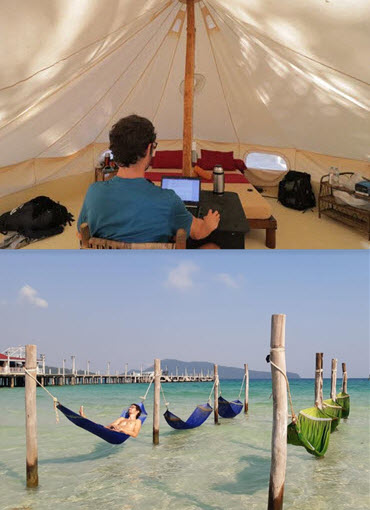 It takes time and effort to reach this level, which is why I recommend a well-structured course to keep on the right track.
> Check out my #1 recommendation and start your online business today!
Thanks for visiting my blog! If you have questions, feel free to ask in the comment section below.
Stay safe and until next time!