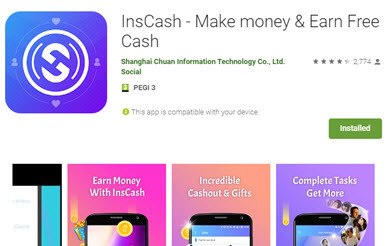 Welcome to my InsCash app review!
The founders of InsCash promise an easy way for you to earn money from your phone.
I'm always hunting for new apps to review on my blog, but I am yet to find one that I can recommend to my readers
The reason is that most of them have serious issues with payments.
There is no guarantee that you will get paid after collecting the minimum number of points required for redemption.
The truth is that many app companies neglect people's earnings to raise profits.
It doesn't feel right, but they may ban your account and forfeit your rewards.
So, you are probably wondering if InsCash is a trusted app or just another advertising trap.
In this review, I will reveal in detail how InsCash app works and give you my honest opinion.
You may also want to check out the step-by-step program that helped me reach $1,300+ per month working from my laptop (no special skills required).

This reward platform is going viral! Cash out via PayPal, Visa, Gift Cards, and in-game currencies - Click here to find out how to generate an extra $10+ per day! 
What is InsCash App?
---
InsCash is a reward app where you can supposedly earn coins for watching videos, trying new apps, and playing games on your phone.
InsCash has also partnered with a few marketing research companies so you can complete paid surveys.
Once you have earned enough points, you can redeem for Amazon gift cards, Google Play gift cards, and even photo frames.
Is InsCash a Scam? Does it Pay?
---
I wouldn't say InsCash is a scam, but there is a risk that you won't get paid.
It's crucial to realize that most app developers demand that you agree with their terms of service (ToS) before registration.
Usually, the ToS informs people that there are no compensation guarantees and that they can terminate your account for any reason.
However, InsCash doesn't mention what could happen with your account and earnings.
Therefore, I assume that they can block your account and delete all your earnings if they wish so.
Some people have left complaints about missing payments on the review section of Google Play, but most comments are positive.

The problem is that we can never trust positive reviews as they can be fake.
There are some sites where people get paid to install mobile apps and provide positive reviews.
Tired of making pennies online? Click here to discover how you can turn your passions and interests into a 6-figure online business!
Pros and Cons of InsCash
---
Pros
Earn 50 coins per referral.
It's available worldwide.
Cons
There is a lack of essential information on the Terms of Service page.
There are not many opportunities available.
No FAQ.
No PayPal.
How Does InsCash App Work?
---
Installation and Registration
InsCash app is available for Android devices, so you can download for free on Google Play.
The registration is very straightforward, but you must have an Instagram account to sign up.
This requirement can put off many people because not everyone is willing to create an Instagram account only to use InsCash.
You will earn 50 coins just for signing up, plus 20 coins for checking in.
This is InsCash app dashboard: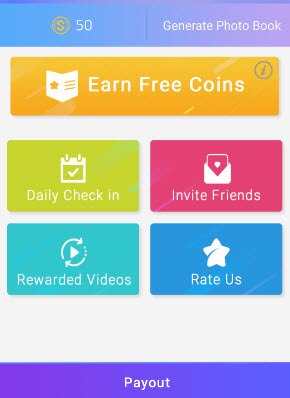 Points And Rewards
Before completing any task inside InsCash, you should know that 1000 coins are equal to $1.
Once you have reached 5000 coins, you can redeem a $5 Amazon gift card.

You can also exchange 25000 coins for a $25 voucher from Google Play as well as generate a photo book.
There is an option to insert your PayPal email, but the company doesn't provide PayPal payments.
So, what's the point of giving them our PayPal account?
RECOMMENDED: Click here to see my no.1 recommendation for making money online.
How to Earn Points
---
Daily Check-in
The easiest way to earn points with InsCash is to check-in. Simply log in to your account and tap on the green "daily Check-in" button to receive 20 coins.
Complete Offers
If you tap on "Earn free coins", you will see a list of different offers that you can complete.
Some of these offers include:
Signing up for free trials that require your credit card details.
Installing apps and games.
Participating in sweepstakes by providing your contact details.
Register with survey panels and take part in a marketing research study.
Each offer has different requirements that you must follow to make sure you get credited.
For example, most gaming apps require not only that you register but also play it for a few minutes or reach a certain level.

For example, with this offer, you are required to play Merge Racing Car and reach level 25.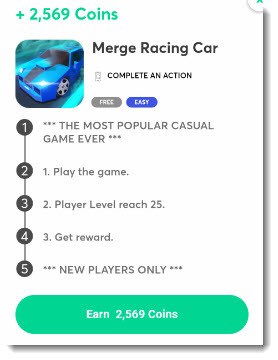 The number of coins varies, but most offers will give you less than 2000 coins ($2).
It's possible to earn over 3.000+ coins with some offers, but these usually ask you to make a purchase.
Here is one example: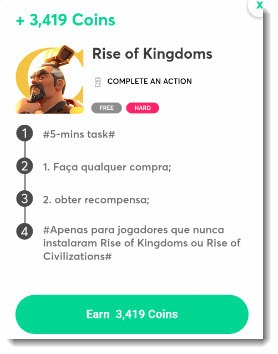 So, in reality, you are not left with much in your pocket.
Bear in mind that if you already use the service or you completed the same offer somewhere else, you won't get credited.
To earn coins with offers, you must be a new customer.
Rewarded Videos
Int this section, you could eventually earn coins for watching videos when they become available.
Unfortunately, this section was not available when I was testing the InsCash app.
Invite Friends
Another way to earn coins with InsCash app is to invite your friends to join through your referral link. You can also ask then to insert your reference code when signing up.
If they sign up using your link or code, you will earn 50 coins for each referral.
It's different than most reward sites, and apps pay their affiliates a percentage of their referral's earnings.
You can share your link via Facebook, Whatsapp or another social media platform.
Conclusion
---
InsCash is a technically a legit app, but some people report having issues with payments.
So, I don't recommend completing offers that require a purchase because you may not get credited.
I was quite disappointed with the number of opportunities inside InsCash.
Depending on your country, you won't find many offers, and the video section may not be available.
Therefore, there is not much money to be made with InsCash.
Another thing I didn't like about InsCash is that they don't process payments via PayPal.

Alternatives to InsCash App
---
If you want to complete offers, watch videos and take surveys for cash, I highly recommend a website called Prizerebel.
Prizerebel is not an app, but the platform is 100% mobile-friendly.
They have partnered with lots of third-party providers and marketing research companies, making it possible to reach over $100 per month.
Other alternatives to Inscash app include Cash Alarm, App Flame, Coin Pop, BigToken, and Cashout app.
My #1 Strategy to Make Money Online
---
In 2015, I discovered a step by step program that helped me create a website and make money as an affiliate.
Having a website allows me to work remotely and earn a steady income ($1,300+/mo) from anywhere in the world.
It's the perfect business model for me because I love travelling and writing.
As an affiliate, your job is to create helpful content for your own website and promote products that can benefit your audience.
The cool thing about this online business is that you don't have to handle customer service or inventory.
All you have to do is include links to products and services that you recommend on your site.
If people click on your link and purchase the product, you will earn an affiliate commission.
Anyone can reach remarkable results, but until you start making a good income, you have to put in the work.
There are no shortcuts to success, and you must be persistent to reach your goals.
In this journey, it is vital to get mentored from those who have walked the way.
A mentor will give you the right information and help you walk through the path that will lead to success.
You can work hard and be consistent, but if you are not doing the right thing, you can waste a significant amount of time and money.
If you are prepared to put in the work, check out my #1 recommendation and learn from the best in the affiliate marketing industry.
Final Words
Thanks for taking the time to read my InsCash app review. If you have any questions, feel free to leave me a comment below, and I will be more than glad to help.
I wish you all the best!
Your friend,
Stefan