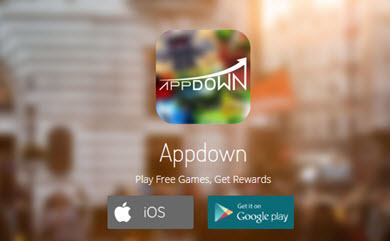 Welcome to my Appdown review!
You may have found Appdown while searching for easy ways to make money from your phone.
The app supposedly rewards users for taking online surveys, discovering offers, playing games and watching videos.
Whenever you complete any of these tasks, you will receive points that you can redeem for PayPal and gift cards.
Can you really trust Appdown? Is it a scam or a legit app?
I decided to put it to test and give you my honest opinion.
You may also want to check out the step-by-step program that helped me reach $1,300+ per month working from my laptop (no special skills required).
Appdown App Review 
---
Name: Appdown
Website: https://appdown.me/
Income potential: low
Membership availability: Worldwide (100+ countries)
Price: Free
Overall Rating: 

2/5 
What is Appdown?
---
Appdown is a mobile app that allows you to complete easy tasks in exchange for cash rewards and gift cards.
These tasks include:
Participating in marketing research studies.
Completing offers.
Downloading and playing games.
Watching videos.
You can also share your referral code with your friends and earn 25% referral commissions.
Appdown is available in over 100 countries, and it works on both iOS and Android devices.
Is Appdown a Scam? 
---
At first glance, Appdown looks great, but let me tell you something:
After reviewing more than 50 apps, I became extremely sceptical of applications that promise easy money.
The reason is that most of them have serious issues with Payments.
I regularly receive messages from disappointed readers who wasted a lot of time on these apps and didn't get paid.
Some people play games for months in hopes to earn a deserved reward, only to see their accounts banned and their points vanished overnight.
Tired of making pennies online? Click here to discover how you can turn your passions and interests into a 6-figure online business! 
As usual, I headed to the review section of Google play and BOOM!
Appdown also receives lots of complaints about missing points and payments. Check out these 3 angry reviewers:




Appdown is technically a legit app!
However, as per Appdown's Terms of Service, the company doesn't guarantee any payments.
Besides, they can delete your account and forfeit all your points for any reason without warning.
So, when you use Appdown or any similar app, it's supremely important that you understand the risk of wasting your time and possibly money as well.
Yes, you can waste money by completing offers that require a deposit or making in-app purchases.
Before I explain how Appdown works, let me go through the pros and cons.
Pros and Cons of Appdown
---
Pros
Get paid via PayPal and gift cards.
Log in every day to earn bonus points.
Cash out at only 2 dollars.
Invite your friends to use your sign up code and earn 25% of all their
Cons
Low pay rate.
A video ad starts playing every time you log in.
The app is buggy and consumes a lot of battery.
There are very few offers depending on your country.
You have to pay £12.99 (UK) to get 50% from offers completed by your referral.
How Does Appdown Work?
---
Appdown works similarly to a GPT (get paid to) site, connecting you with different offer walls and survey partners.
Installation and Registration
You can download Appdown for free on the Google Play or App Store.
The registration is very straightforward. You can sign up with your email, Google or Facebook account.
I highly recommend taking the time to read the terms and conditions of Appdown before creating an account.
When you log in for the first time, they will ask if you have an invitation code. If you do, you will earn 20p. You can use my code to claim your bonus:

Appdown invitation code: OHUUX
Points Vs Rewards
It's essential to know the exchange rate from points to real currency value.
1000 points are equal to approximately $0.33.
I advise you to calculate how much money you will earn before completing any survey or offer within Appdown.
Earning Points 
There are three different categories where you can collect points inside Appdown:

This reward platform is going viral! Cash out via PayPal, Visa, Gift Cards, and in-game currencies - Click here to find out how to generate an extra $10+ per day! 
Install

In this category, you will earn points for installing apps and playing games.
Depending on your country, you won't find many opportunities.
For example, in the UK, Appdown has only partnered with Peanut labs, which was not working on my phone by the way.
Expect to earn only a few cents for free sign up offers. You may find offers that pay more than $10, but all of them require a deposit.
I don't recommend paying for products and services that you don't need only to collect points from offers.
As I said, there is no guarantee that Appdown will let you redeem your points in the future.
Survey
Appdown connects you with only two survey providers, namely Pollfish and Peanut labs.
Each survey takes 10 – 20 minutes to complete and will give you less than $2 worth of points.
Many people complain about frequent survey disqualifications!
You can waste a significant amount of time answering qualification questions only to be told you are not a good match.
That's why I created this guide to help people avoid survey disqualifications.
Watch 
This category is where you will earn points for watching short clips on your phone. You will earn 5 points per video.
Referral Program
Invite your friends to join App down, and ask them to use your sign up code.
If your friend inserts your code, you will get 25% of all the points that he/she earns for completing offers.
There is an option to increase the referral commission to 50%. That would be great, but unfortunately, you have to pay £12.99.
So, unless you can refer lots of people through a blog or YouTube channel, it's tough to recover your investment.
How do You Get Paid?
The payment options available vary from country to country.
To redeem your points, you should tap on your balance account at the top right corner and select your country. If your country is not on the list, you should choose "Worldwide".
The minimum payout threshold depends on the payment method of your choice.
For example, if you want to redeem your points via PayPal, the minimum is $2 (6000 points).
However, if you want to redeem via iTunes gift card, the minimum is $10 (31500 points).

Similar Alternatives to Appdown
---
There are many apps like Appdown available on Google Play. Here is a list of some of the most popular ones:
Conclusion
---
Appdown is not a scam, but you should not have high expectations of getting paid.
Many people have given it a 1-star rating because they couldn't cash out.
Besides, there are not many opportunities for making money because the company hasn't partnered with a sufficient number of offer and survey providers.
That e being said, I don't recommend Appdown to anyone who wants to make money online.
My #1 Strategy to Make Money Online
---
In short, I have created this website where I provide helpful content and promote related products as an affiliate.
Having a website allows me to work for myself whenever and wherever I want.
Thanks to my website, I was able to quit my job last week!
I can't describe the immense happiness that I felt on my last day of working for my boss.
No, it wasn't easy! Until I reached that point, I had to learn many things and work hard to achieve my goals while still working 9-5.
It took time and perseverance, but it was worth it!
If you are prepared to put in the work required, I highly recommend you follow this exact step by step blueprint that I used to build and grow my affiliate site.
Final Words
Thanks for taking the time to read my Appdown review.
If you used Appdown, tell us if you received the payment and how much money you made in the comment section below.
I wish you all the best!
Your friend,
Stefan