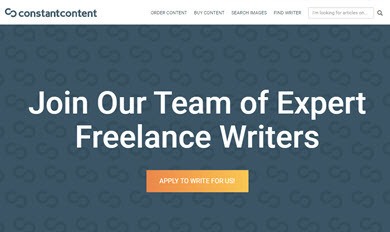 Welcome to my Constant Content review!
One of the most popular ways to make money online is by working as a freelance writer.
You don't need any special skills or formal qualifications to get started.
If you can write good English, you are in a great position because of the huge demand for content creators on the Internet.
There are hundreds of freelance writing sites that you can use to find gigs. One reputable outlet is Constant Content!
In today's review, I will cover everything you need to know about Constant Content and give you my honest opinion.
You may also want to check out the step by step training that helped me reach $1,300+ per month working from my laptop (writing for me).
Constant Content Review Summary 
---
Name: Constant Content
Website: www.constantcontent.com
Company: RevenueWire Inc.
Opportunity: Freelance writing
Pay rate: $0.06 – $0.07 per word
Minimum payout threshold: $5
LEGITIMATE
Overall Rating:

4.2/5
What is Constant Content?
---
Founded in 2006 by a Canadian company called RevenueWire Inc., Constant Content is one of the largest content marketplaces (AKA content mills) on the Internet.
The platform connects freelance writers and businesses owners/bloggers who need quality content in a wide range of topics.
Constant Content boasts 100,000 expert writers and has already served more than 50,000 businesses, including top brands like:
UBER
eBay
The Home Depot
SEARS
Zulily
SportCheck.
At Constant Content, there are three ways you can make money:
You can not only submit pre-written articles to the catalog but also work on public and private requests.
According to the company, their highest-earning writers make up to $90K per year.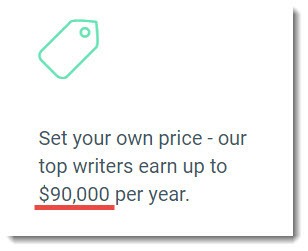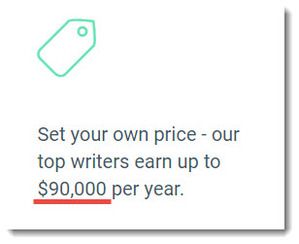 However, you should not set your expectations too high, especially if you have never worked as a freelance writer.
The reason is that competition is stiff, and it takes time to build a strong reputation on the platform.
RECOMMENDED: Click here to see my no.1 recommendation for making money online.
Pros and Cons of Constant Content
---
Pros 
Excellent pay rates compared to other freelance writing sites – Earn approximately $0.6 – $0.7 per word after fees.
Get paid to write topics that you are passionate about.
Cons
Articles in the catalog can take more than a year to sell, and some of them may never sell.
Clients have the right to reject your content.
There is a 35% fee on every sale.
Application Process
---
To start working for Constant Content, you must submit an application consisting of 3 stages:
1 – Form
Complete a short sign up form with your name, penname, country, city and email.
2 – Quiz
Complete a quick language quiz. You must score 4 out of 5 to pass the test and complete the registration.
It's an easy test for those who have at least an advanced level of English. Here is one example: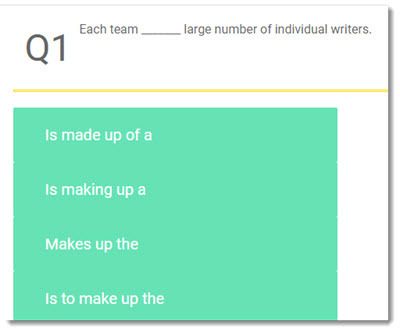 3 – Sample
In the final step, you must write a short sample of 100 – 250 words.
Pay attention to the requirements of this sample.
The company will ask you to write about a pre-selected topic using correct grammar, capitalization, spelling, punctuation and sentence structure.
Also, you should not write in first person POV.
Their editorial team will evaluate your content and check it for plagiarism.
If your sample meets their expectations, the company will get you in.
Constant Content is very picky in selecting their writers, so one missing comma can disqualify you.
You will not get any feedback from the company in case your sample gets rejected, and you won't have a second chance.
If you get rejected, don't worry! There are plenty of similar sites that you can join such as Writer Access, Text Broker, Get A Copywriter, and dotWriter.
If you are still having trouble, try platforms that are less demanding such as Contentgather or iWriter. The problem is that their rates of pay are abysmal!
If you are still having trouble, try platforms that are less demanding such as Contentgather or iWriter. The problem is that their rates of pay are significantly lower!
Sell Yourself First
---
The first thing you have to do once you get access to Constant Content is to upload a photo and complete your bio.

Your bio should have between 80 to 120 words that summarize your skills, experiences and qualifications.
They also encourage you to showcase any credentials and certificates that prove your ability to clients.
How to Sells Your Articles?
---
As I mentioned earlier, Constant Content allows you to sell articles in three ways:
1. Submit Articles to the Catalog
At Constant Content, clients can browse a list of thousands of ready-made articles and buy them on demand.

This reward platform is going viral! Cash out via PayPal, Visa, Gift Cards, and in-game currencies - Click here to find out how to generate an extra $10+ per day! 
You can showcase your articles in the catalog. But first, the editorial team must review and approve them within 5 business days.
If your article gets rejected, you can make changes and resubmit.

Writing any topic in hopes it sells is usually very ineffective.
The best approach is to discover what subjects are selling the most, and for what price range.
Search the Catalog Sales tab and take note of the last 100 articles that were sold.
This exercise will give you a hint on the topics that are more likely to sell.
2. Public Requests
Many clients prefer to make a public request for a custom article.
Public requests are ideal for clients who don't know any writer, so the opportunity is open to anyone.
Competition can be stiff, so it's advisable to write a relevant article to show the client that you deliver a great job.
Keep in mind that you can only start claiming public requests after you have your first article accepted on the catalog.
There are 3 types of public requests:
Call for articles: W

riters will submit their work and the client will choose the winner. If the client doesn't purchase your article, it will be added to the catalog after 3 days.

Casting Calls:

It's similar to "call for articles" but the difference is that you can apply without submitting the article in advance.

Standing Request:

These are requests made by Constant Content when they need more articles on the catalog.
3. Private Request
You will receive private requests when a client already knows you and are interested in your work.
Writers who build a strong relationship and trust with clients can get more regular jobs and earn consistent income with Constant Content.
How Do You Get Paid?
---
You will get paid through PayPal during the first week of each month.
To receive the payment, you should have earned at least $5 during the previous month.
How Much Money Can You Make?
---
According to Constant Content, most writers charge $0.10 per word, but you can set your own price.
I was browsing catalog and can confirm that this is the average price!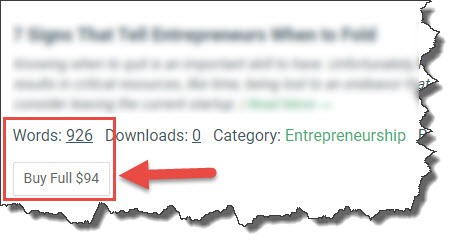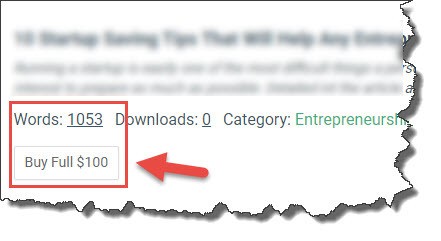 However, the minimum you can charge is $7.
According to the FAQ:
As a rule of thumb, expect to sell 50% of what you add to your portfolio within six months. So, if you'd like to see $1,000 from Constant Content within six months, have approximately $2,000 worth of content in the catalog.
Their highest-paid writers can earn 5 figures per annum selling custom content to high volume clients.
The downside of using Constant Content is that the platform will charge 35% of the article price, so they leave you with 65%.

As a comparison, Upwork charges 20%, but on the other hand, I believe it's more difficult to get hired.
In my opinion, it's still worth selling articles at Constant Content because even with this high fee, the pay rate is pretty decent.
The amount of money you can earn will depend on different factors such as your ability as a writer, how you market yourself, and the availability of projects.
If you are an excellent writer, there will be no shortage of jobs for you.
On this Reddit thread, one person said that she made $5k – $6k in 2017.
Tips on Using Constant Content
---
Focus on writing broad topics to attract a wider audience. If you try to sell in-depth articles in a very narrow niche, it can be tough to sell.
Write about topics that are always in high demand such as marketing, SEO (search engine optimisation), personal finance, self-improvement and health.
Find a topic that is trendy as it can go fast!
Avoid writing on request about very specific topics. If the requester doesn't accept your article, it can be hard to sell it in the marketplace.
Use the search topics tab to see what topics clients are searching for inside Constant Content.
Check the last 100 articles sold and focus on writing similar topics.
Conclusion
---
Constant Content is an excellent marketplace for both writers who need extra income and customers looking for high-quality content.
Unfortunately, it's for everyone because they only accept excellent writers.
If you meet their expectations and focus on sought-after topics, you can earn a decent income.
The main problem is that half of your articles may take months and even years to sell.
So, unless you have a steady flow of private requests from loyal customers, you can't rely too much on Constant Content to pay the bills.
Write For Yourself and Build a Thriving Online Business!
---
Making a decent income as a freelance writer is difficult.
Well, nothing worth having in life comes easy…
That's true!
BUT, the question is: Is it really worth working as a freelance writer?
In my opinion, the only advantage is the fact that you can work from anywhere you want.
You won't have a boss, but you will have lots of customers who are always expecting an outstanding job from you.
Another disadvantage is the fact that if you stop working, your income is gone!
So, what happens if you decide to go on vacation to recharge the batteries?
There will be no holiday pay, only money out!
If you enjoy writing, but you want more freedom and money, I highly advise you to build your own internet business.
In short, this is how it works in 4 simple steps:
I write helpful content for my website, which ranks high on Google.
People search for information on Google and find my article.
Readers discover quality services through my site and click through my affiliate links.
Whenever someone buys the service from the merchant's website, I earn generous commission!
This is called affiliate marketing, which offers unlimited income potential. 

Not only that but if you decide to stop working for 3 months or more, your site will keep working and generating passive commissions!
Pretty amazing, right?
If you are prepared to put in the work now to reap the rewards in the future, check out No.1 recommendation.
This top-notch training platform will prepare you to reach the top Google rankings and build profitable sites from the ground up.
Thanks to this step by step mentoring program, I quit my job and bought a one-way ticket to SE Asia.
I can't recommend it highly enough!
Final Words
Thanks for taking the time to read my Constant Content review.
I hope it answers all your questions about this freelance platform. If not, then feel free to ask me anything in the comment section below.
If you work for Constant Content and would like to share your experience, make sure to leave us a review below to help others out! 🙂
I wish you all the best!
Your friend,
Stefan