Welcome to my Forthright review!
Forthright claims to be the best place where you can participate in market research studies and get paid for your opinions.
Not only that, but they also claim to pay better than any other survey panel!
I decided to signup and see if it really lives up to the hype.
Is Forthright a scam or a legit survey site? How much money can you possibly make?
In this review, I am going to give you all the details as well as share with you my honest opinion about this site.
You may also want to check out the step-by-step training that helped me reach $1,300+ per month working from my laptop (no special skills required).
Forthright Review Summary 
---
Name: Forthright (former innoPoll)
Website: www.beforthright.com
Company: Bovitz, Inc.
Opportunities: Online Surveys
Pay rate: $1 – $3 per survey
Rewards: Paypal, Amazon Gift cards, Tango Gift cards, donation.
Minimum redemption: No minimum
Supported countries: US
LEGITIMATE
Overall Rating:

2.5/5
What is Forthright?
---
Forthright is a survey panel where you can get paid to share your opinion on products, services and different topics.
The panel is operated by Bovitz Inc., a marketing research company with offices in NY and Los Angeles.
Forthright was formerly known as innoPoll, but they decided to rebrand the platform in 2017.
By joining Forthright, you will help leading brands gain valuable insights to shape new products and improve existing ones.
Is Forthright a Scam?
---
Forthright is technically a legit survey panel, but that doesn't mean you will get paid.
It has been receiving lots of negative reviews since the company rebranded the site more than 2 years ago.
The most common complaint nowadays is that it's incredibly difficult to qualify.
Many people report that Forthright keeps redirecting them to many surveys partners before they can find one that fits their profile.
One person said that you could be routed 30 times to qualify for only 3 studies!
Therefore, you could easily spend 4 – 5 hours to make $6.
What's worse, he warned that you might be kicked out after spending more than half an hour on a survey.
For many people, Forthright used to be their favourite survey site.
Unfortunately, it doesn't seem a good option because you can waste a lot of time and never know if you will get paid or not.
RECOMMENDED: Click here to see my no.1 recommendation for making money online.

Where are the Terms and Conditions?
---
One important thing that I noticed about Forthright is that their website lacks "Terms and Conditions".
This is very concerning because, without this page, there are no rules or guidelines.
As a result, the company is free to do whatever they want with your account and earnings.
As a precaution, I advise you to give preference to survey sites that provide clear terms and conditions.
Most legit survey sites do, but if I had to choose only one, that would be Prizerebel.com.
Who is Forthright For?
---
Although you can create an account from any country, Forthright will only provide surveys for US citizens.
So, there is no point in signing up if you don't live in the US.
I find it intriguing that Forthright doesn't have a system to prevent signups from other countries.
At least they could be more "Forthright" about membership eligibility so that people wouldn't waste their time.
How Does Forthright Work?
---
Register
Joining Forthright is free, but it's a bit tricky.
The first step is to complete the registration form with your email, country of residence, date of birth and gender.
Then, you should check your email and click on the confirmation link to verify your account.

When you try to log in for the first time, they will send you another email with an access link.
Inside the member's area, click on "my account" and then open the "preference" tab.  Then, set your password to have full control over your account.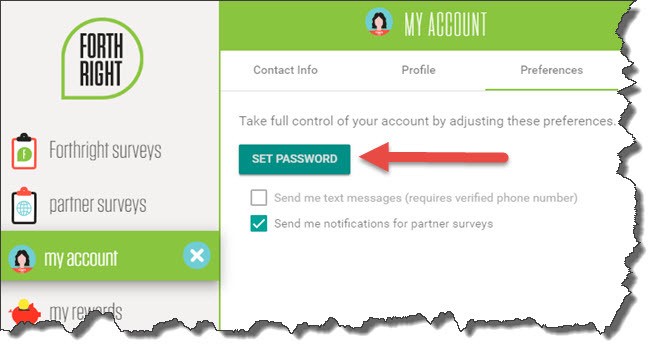 You must set your password because if you don't, you will always have to enter Forthright though that access link in your email.
It's not a smart system!
If you want to unlock instant payments and get text invitations, you must provide your phone number inside "contact info".

This reward platform is going viral! Cash out via PayPal, Visa, Gift Cards, and in-game currencies - Click here to find out how to generate an extra $10+ per day!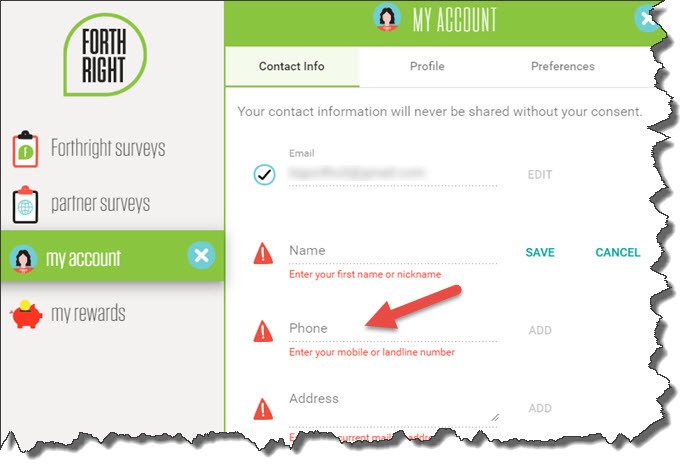 Complete Your Profile
Before trying to take any survey, you should complete your full profile so that Forthright can match you to surveys.
They will ask you many questions, including your education level, employment status, household income, etc.
On Forthright, there are two types of surveys that you can complete: Forthright surveys and partner surveys.
Although the pay rate is similar, there are some important differences that I would like to discuss below.
1 – Forthright Surveys
In this category, you will find only surveys that are exclusive to Forthright members.
There are not many opportunities here, so you should not expect to receive daily invitations.
Although Forthright has your Profile information, you are still required to answer the infamous pre-qualification questionnaires.
Unfortunately, you can get disqualified many times in a row and waste a significant amount of time.
In theory, the main reason why you get disqualified is that your demographic doesn't match their ideal candidate.
For example, the client may be interested in hearing only parents who have kids aged 6 – 10 years.
Read this article to avoid unnecessary survey disqualifications.
When a new survey becomes available, you will receive an email and/or text message from Forthright.
There is always a limited number of respondents allowed, and studies can reach the quota quickly.
So, when you get a survey invitation, try to answer it as soon as possible.
Forthright surveys take anywhere from 5 to 30 minutes and usually pay less than $3 each.
Earn Loyalty Credits
The cool thing about Forthright is that you will earn one loyalty credit for every survey even if you don't qualify.
Once you earn 3 loyalty credits, you will get a loyalty bonus of $2.
So, you can still accumulate credits and get rewarded for taking the time to qualify.
Unfortunately, the loyalty credits only apply to Forthright surveys and not partner surveys.
2 – Partner Surveys
Forthright claims that you can earn up to $10 per day by taking surveys from their partner companies.
They will put you through a survey router, which will scan and find surveys that you might qualify for.
If you don't qualify, the router will keep redirecting you to the next survey opportunity.

To start taking partner surveys, you must first answer a few questions and get approved.
The pay rate of partner surveys is similar to that of Forthright surveys.
The downside is that you are only allowed to take a maximum of 3 partner surveys per day.
If you want to get access to unlimited surveys, check out Prizerebel and Offernation.
These are my top rated GPT sites, where you can complete not only surveys but also offers and other tasks.
Take Surveys From Your Phone
Many people prefer taking surveys while they are commuting or waiting in a long queue.
So, the possibility of taking surveys on the go is an excellent perk that any survey panel should provide nowadays.
Forthright still doesn't have an app, but the website is well optimized for mobile devices.
Therefore, it allows you to log into your account and take surveys from your phone without any issues.
Payments
There are currently five options to withdraw your cash balance.
You can get paid via PayPal, Bitcoin, bank account, Amazon e-gift cards, and Tango cards.
You can also donate your earnings to charity.
Unlike most survey panels, Forthright has no minimum payout threshold, which is great because you will get paid instantly after you complete every survey.
Keep in mind that if you want to take advantage of instant payment, you must first verify your phone number.
The company promises that it won't use your phone number for marketing or any other purposes.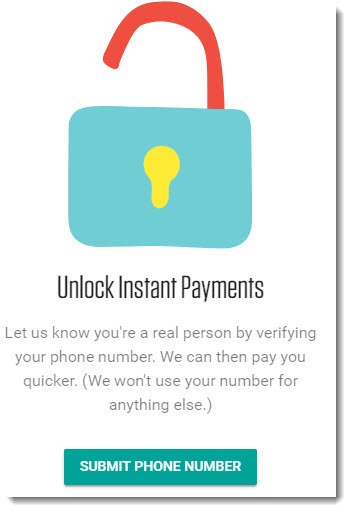 Does Forthright Respect Your Privacy?
---
Yes. According to Forthright's privacy policy, the company abides by high standards of internet privacy.
The company promises to never:
Spam users.
Sell, share, rent, or transfer users' personal information to partner companies without the user's consent.
Advertise products or services.
Pros and Cons of Forthright
---
Pros
Earn loyalty credits when you complete or try to complete Forthright surveys.
You can complete surveys from your mobile device.
There is no minimum payout threshold – Get paid instantly after completing every survey.
Cons
Many people complain about frequent disqualifications.
Some people claim that they don't get credited after taking partner surveys.
There is no signup bonus.
It's only available to US citizens.
There are no Terms and Conditions.
You can only taker 3 partner surveys in a day.
Conclusion
---
After thorough research, I conclude that Forthright is a legit survey panel.
However, it far from the best one, in my opinion!

According to many panelists, Forthright used to be a great site before it was rebranded.
Now, it seems very difficult to qualify, and there are many complaints about missing credits.
You may have a positive experience with Forthright depending on your profile.
Some people are luckier than others but don't expect to make a lot of money.
If you want to give it a try, I advise you to keep track of how much money you are making per hour.
Then, try other survey companies to see if your time is more valuable elsewhere.
The top 3 survey sites that get excellent user ratings on the internet are Prizerebel, Offernation, and Prolific.
Beyond Online Surveys – How to Make $1,000+/Mo Online
---
I used to take lots of surveys in the past, but I hated getting disqualified and waste time.
Luckily, I found a much better way to make money online called affiliate marketing.
In short, this is how it works in 4 simple steps:
I write helpful blog posts that rank high on Google.
People find my website after a Google search and read my articles.
Readers discover quality services that I recommend and visit the merchant's site through my affiliate links.
If people like and buy the service, I earn generous commission!
You can build affiliate sites around your interests and earn a full-time income from home.
If you are prepared to put in the work now to achieve time and location freedom, check out my No.1 recommendation.
This top-notch training platform will prepare you to reach the top Google rankings and build profitable sites from the ground up.
Thanks to this step by step mentoring program, I quit my job and bought a one-way ticket to SE Asia.
So, I can't recommend it highly enough!
If you want to learn more about this platform, click the link below to read my full review.
Final Words
Thanks for taking the time to read my Forthright review.
I hope it answers all your questions, but If not, feel free to ask anything in the comment section below.
Now, if you used Forthright and would like to share your experience, make sure to leave us a review below to help others out!
I wish you all the best!
Your friend,
Stefan