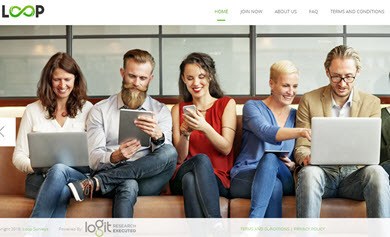 Welcome to my LOOP Surveys review!
You are here because you value your time and are wondering if you can make some money with LOOP Surveys.
According to the website, there are over 250,000 members who get paid to take online surveys.
This number is impressive considering the site was launched in 2017!
But can you trust LOOP Surveys? Is it legit?
I've put up this review to explain how it works and give you my honest opinion as an experienced (but retired) survey taker.
You may also want to check out the step-by-step program that helped me reach $1,300+ per month working from my laptop (no special skills required).
LOOP Surveys Review Summary
---
Name: LOOP Surveys
Website: loopsurveys.com
Company: The Logit Group
Membership eligibility: USA and Canada
LEGITIMATE
Overall Rating:

3.8/5 
What is LOOP Surveys?
LOOP Surveys is a marketing research panel where you can earn money for sharing your opinions on products and services.
Sometimes, you will give feedback on products before they become available to the public.
Therefore, it allows you to influence the decisions of big brands and get paid for it!
By joining loopurveys.com, you will receive email invitations whenever a new market research study becomes available.
Most surveys are composed of multiple-choice questions that you can answer from the comfort of your home.
It's also possible to complete surveys on the go through your smartphone or tablet. However, the company still doesn't have any app available.
Whenever you complete a survey, you will earn points that you can redeem for virtual or physical VISA cards.
100 points are equal to $1. 
LOOP Surveys was launched in 2017 by a Canadian company called The Logit Group, and it's only available for residents in the US and Canada.
Is LOOP Surveys a Scam?
There are many deceitful survey websites on the internet.
Some of them are technically legit, but behind the scenes, they avoid payments using different tactics.
There are very few user reviews on LOOP Surveys on the internet so far, and most of them are negative.
On Surveypolice.com, 7 out of 8 reviewers rated it 1 and 2 stars.
However, that doesn't mean LOOP Surveys is a scam. I don't think it is!

From my research, I couldn't find any serious allegations against this website.
Besides, 8 reviews aren't near enough to draw a more definitive conclusion.
Will LOOP Surveys Respect Your Privacy? 
According to the website, your personal information will never be shared with third-parties.
All your answers will be provided in an anonymised format, so they are entirely confidential. 
Both the United States and Canada don't have such restrict privacy regulations as there are in Europe.
However, LOOP Surveys allows you to delete your account as well as all your personal information if you wish to do so.
It's also good to know that the company is compliant with anti-spam regulations.
So, you will receive survey invitations via email and nothing else.
How Does LOOP Surveys Work? 
Register
If you'd like to participate, the first step is to create a free account.
Fill up the registration form with your name, gender, email date of birth, and address.
Then, you should accept the terms and conditions and click on the "Join Now" button.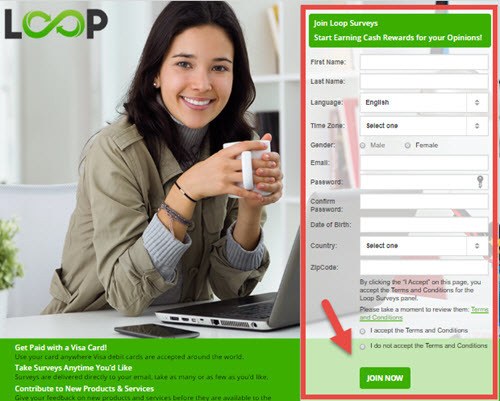 The final step is to click on the confirmation link that will be sent to your email immediately.
Check your spam folder if you don't see the email in your main inbox.
Getting this email in your spam folder doesn't mean LOOP surveys is sending you spam.
It just happens that your email provider may consider it as spam by mistake.
You will receive 200 points (= $2) as a signup bonus.

This reward platform is going viral! Cash out via PayPal, Visa, Gift Cards, and in-game currencies - Click here to find out how to generate an extra $10+ per day! 
Complete Your Profile
LOOP Surveys will ask you to answer a few profiling questions before you get access to paid surveys.
Filling up your profile will increase your chances of being invited to additional surveys.

They would like to know more details such as your phone number, relationship status, race, education, and more.
Take Surveys
When you finish completing your profile, you will start receiving survey invitations via email.
According to the FAQ, you should expect to get at least one survey per month.
To find all the opportunities currently available, log in to your account, and scroll down the page.
On the first day that I joined this panel, there was a list of 5 surveys.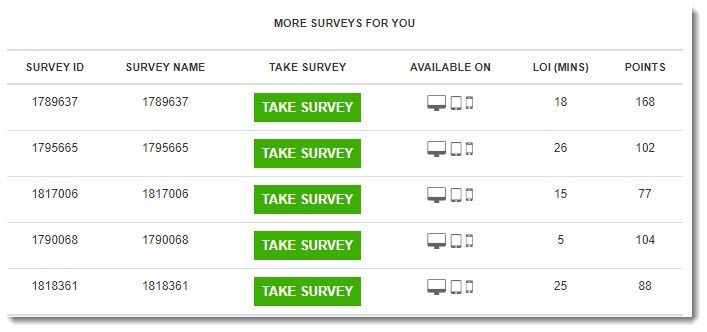 LOOP Surveys will show you the average length of a survey and the number of points that you will earn.
Most studies take 5 – 20 minutes and range in value from just a few cents to $2 (200 points).
There is also a survey router that will connect you additional surveys that match your profile.
Qualify For Surveys
Marketing research studies almost always target specific demographics.
For example, a company that sells baby care products may only want opinions from parents who have children under 4 years old.
In that case, if you are 20 years old and don't have children, you most certainly won't qualify for this survey.
You will have to answer a few screening questions, and you can get disqualified if you don't match their ideal candidate.
There are also other reasons why you may get disqualified. You can learn more about all the reasons and how you can avoid disqualifications in this post.
Cash Out 
Once you have earned 2500 points, you can cash out $25 via pre-paid virtual or physical VISA card.
$25 is an incredibly high minimum threshold and, therefore, you will probably have to complete surveys for more than 2 or 3 months.
I don't take surveys, but if I did, I would stick with sites with a minimum requirement of less than $5.
The reason is that if something goes wrong with your account or you decide to stop taking surveys, you won't waste your time.
For example, I reviewed a survey site called Greenpanthera, where users could only cash out a minimum of $30.
The problem is that many users' accounts were supposedly blocked before they could reach that amount.
This is very common in many other reward sites and can happen  LOOP surveys as well.
Prizerebel is an excellent choice because you can cash out as little as $5.

Offernation is even better in this respect as their minimum requirement is only $1.
Unfortunately, LOOP Surveys doesn't process payments via PayPal nor Gift cards.
User Reviews – Complaints
LOOP Surveys is a relatively new panel, so there aren't many user reviews on the internet yet.
As I mentioned, there are a few negative reviews on Surveypolice.com.
One user claimed she was "stuck in the Loop" as she was getting disqualified regularly.
She continued her review by saying she had to throw in the towel after failing to qualify for around 30 surveys.
Only one person gave it a 5-star review and said surveys were steady. The other reviewers were clearly very disappointed!
Pros and Cons of LOOP Surveys
Pros
Earn $2 as a signup bonus.
There is a decent number of studies available.
Cons
No Paypal or gift cards.
The minimum cashout threshold is too high.
It's quite difficult to qualify depending on your profile.
There are still not many user reviews.
It's only available in the US and Canada.
Conclusion 
LOOP Surveys is technically a legit website, and you will likely get paid once you reach 2500 points.
However, some people report that it's tough to qualify!
This is the worst "common" thing about most survey sites.
The main problem with LOOP Surveys is that you may have to wait for months to reach the minimum payout threshold.
Ideally, you should be able to redeem after completing after 3 – 4 surveys maximum! But with this website, you may have to answer more than 30.
The pay rate is very low, just like most survey platforms.
If you are willing to participate in one-on-one interviews, it's possible to earn $100 – $300 per study at Respondent.io.
The downside is that it's even harder to qualify, but in my opinion, it's worth giving it a try.
One of the top-rated survey sites on the internet is Prolific Academic. They don't have an affiliate program anymore, so I am not earning any commission for promoting it.
Other excellent sites that you can not only make money with surveys but also offers and simple tasks include:
This Method Can Earn You a Full-time Income From Home!
I've been using this method successfully since I stopped taking surveys back in 2015.
It's called affiliate marketing!
With affiliate marketing, there is no limit to how much money you can earn online.
It all depends on how many people you can attract to your website or social media platform.

Personally, I have created a website as it gives significantly more control over my business.
So, tomorrow is my last day of working for a boss, and it feels amazing!
An online business allows me to make money on my own terms, meaning I don't rely on a day job to pay the bills.
Besides, the money that I make comes passively from all the content that I have in the past.
So, if I decide to stop working for months, the money will still keep coming in.
Here are some of my recent commissions: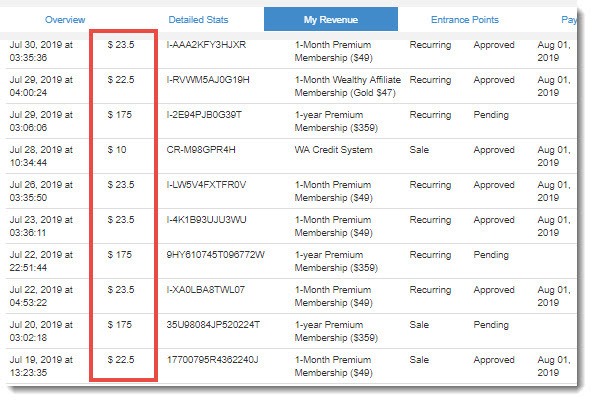 People all over the world are using the same business model to bring in life-changing commissions.
The competition is getting harsh, and so those who learn from expert marketers are getting ahead of the curve.
If you are prepared to learn and put in the work required to grow a profitable affiliate site, check out my #1 recommendation.
It's a top-notch training platform that will show you how to turn your passion or interest in a 6-figure online business. 
Their free starter membership will give you a clear understanding of how to make money in this industry.
You can even launch your free website with no strings attached!
Final Words
Thanks for taking the time to read my LOOP Surveys review. I hope it helps you understand the advantages and disadvantages of using this site.
If you have any questions or want to share your thoughts on this GPT site, feel free to use the comment section below.
I wish you all the best!
Your friend,
Stefan