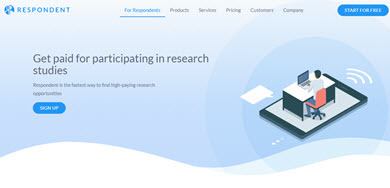 I've recently discovered Respondent.io, which is a website that offers the highest-paying marketing research opportunities on the internet.
According to their website, the average hourly pay is a whopping $140!
If you know any other site that pays that much, let us know in the comment section below.
I have reviewed hundreds of surveys sites, and none of them come even close in terms of rewards. Most of them actually pay $2 or $3 per hour or less.
Naturally, you are wondering if Respondent.io is a scam or a legit opportunity.
In this review, I would like to cover everything you need to know about this platform and give you my honest opinion about it.
You may also want to check out the step-by-step program that helped me reach $1,300+ per month working from my laptop (no special skills required).
Respondent.io Review Summary
---
Name: Respondent
Website: respondent.io
Founders: Jack Pratten, Harri Thomas & Pierrick Ganon
Company: Respondent, Inc.
LEGITIMATE
Overall Rating:

4.6/5 
Summary: Respondent.io is a legit website where participants receive excellent compensation for participating in marketing research studies. The downside is that it's hard to qualify as the studies usually target a particular group of people.
What is Respondent.io?
---
Respondent.io is a website that recruits high-quality respondents to participate in marketing research studies.
As a respondent, you will be invited to take part in focus groups, one-on-one interviews, as well as unmoderated studies.
Unlike most survey sites, Respondent hardly ever offer multiple-choice surveys.
Do you hate them as much as I do?
Companies from different sectors are willing to pay really well for your opinions on their products and services.
At Respondent.io, you won't earn pennies after answering 10-20-minute surveys!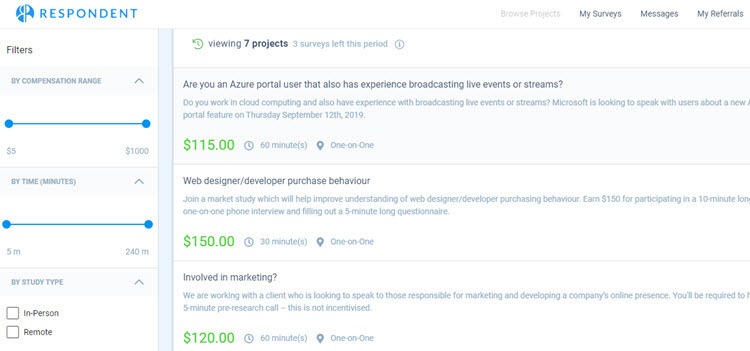 High Pay Rates! 
Respondent pays much better than traditional surveys sites like Swagbucks, Prolific, Prizerebel, etc.
The reason is that most interviews are in-person or over the phone, which allows the company to collect more detailed opinion, perceptions and reactions.
Some companies are prepared to pay as much as $300 for your gold opinions.
Check this out!

However, these high-paying surveys will most likely require specific qualifications and/or demographics.
As you could see from the above study, they were looking for Legal professionals in London.

Are you one? Neither am I…
I was curious to know what members were saying about Respondent and whether they were making some money.
Later in this review, I am going to share with you all my important findings.
I highly advise you to read this because, unfortunately, bad things can happen!
For now, I'd like to show you how everything works.
How Does Respondent.io Work?
---
Requirements
To become a respondent, you should be 18 years old and have a PayPal account. That's it!
Respondent.io is available worldwide, but you may not find $100+ surveys in your country.
That is because the compensation will reflect your local currency.
Signing up
You can either use your Facebook or Linkedin account.
To apply for a professional related market study, you must connect your Linkedin account anyway.
Next, complete your profile with your contact details, demographics (age, DOB, education, Ethnicity), employment details and social profile.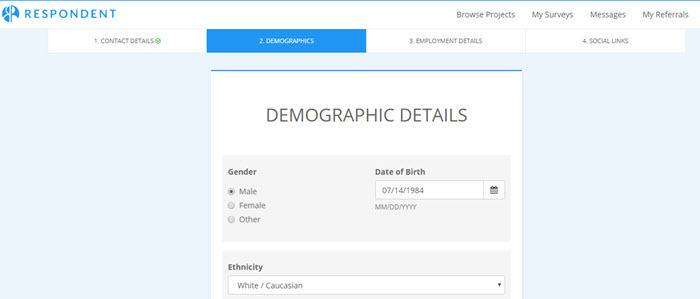 In the contact form, you will be required to verify your phone number, which will be used to send you surveys invitations and booking reminders.
You should also include all your social media links to increase your chances of being invited.
RECOMMENDED: Click here to see my no.1 recommendation for making money online.
Get Matched
Once you sign up and provide all your details, Respondent will invite you to participate in marketing research studies that match your profile.

This reward platform is going viral! Cash out via PayPal, Visa, Gift Cards, and in-game currencies - Click here to find out how to generate an extra $10+ per day! 
You can also browse all the projects available via the dashboard and apply to those that are fit for you.

Types of Studies
There are two main types of studies that you will find at Respondent.io: in-person and remote.
In-Person Studies 
In-person studies can be either focus groups or one-on-one interviews with the researcher.
In focus group studies, you will meet with a group of people to express your opinions about a topic or, most commonly, a product or service.
One-on-one interviews are more common than focus groups, and it's just you and the researcher having a conversation.
Most in-person projects take 60 minutes or longer and pay over $100.
Here are two examples:


Remote Studies
You will find many studies that you can complete from the comfort of your home. Which is great because you don't need to waste time and money on transportation!
Remote studies are usually in the form of one-on-one interviews on the phone or webcam.
You can also find unmoderated studies where you have to speak out loud while testing a website. This is called usability testing.
Some well-known usability testing sites include:
Validately, User Testing, TestingTime, TryMyUI and UserFeel.
Most remote studies take between 20 and 60 minutes to complete, and the pay rate is usually pretty good as well.
Check out these examples:


Answer Qualifying Questions
To qualify for a Respondent study, you should first answer a few multiple-choice questions.
On average, you can expect to spend 3 – 5 minutes on each application.
Sometimes, the researcher will call you to have a quick conversation as part of the qualification process. This pre-research call is not incentivised.
Based on your responses, you will be assigned a qualification percentage, which is the measure of how well you fit their ideal candidate.
As I already mentioned, most studies are targeted at those who work in a particular field or use specific products.

Here are some examples:
Online task for IT & technology professionals.
Do you have experience with virtual machine scaling?
Seeking software development professionals.
Are you a VAT specialist?
Seeking London-Based Tesla Owners.
Seeking London-Based Car and Home Insurance Customers.
I noticed there are many
IT-related
studies.
Keep in mind that getting a 100% qualified doesn't guarantee that you will be chosen.
There can be other factors involved, including luck.
If you don't have any qualification, don't worry because it's still possible to find high-paying studies. Here is one example:

It's not easy to qualify at Respondent.io!
Not only because you should fit their specific criteria, but also because of low availability.
Some people have applied for months with no luck.
I applied for a study and got 66% qualified, which is not a great result. I consider my chances are pretty low for this one.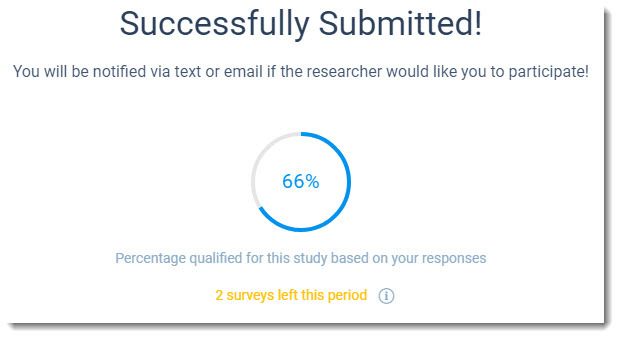 Respondent.io Referral Program
Respondent.io has a very generous referral program. There are two types of referral options:
1. Project Referrals
Each project has a unique referral link that you can share with your friends and family.
If the person signs up to Respondent using your link and participates in that specific study, you will earn $50.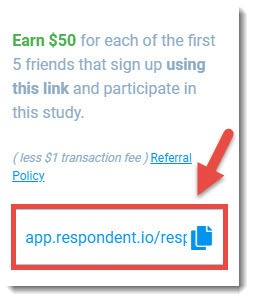 Keep in mind that in order to earn the $50 commission, the project must offer an incentive of at least $100.
You can share the project link with as many people as you want. However, you will only earn five $50 commission per project.
2. Referral Link
Different from Project referrals, the referral link option is not tied to any specific marketing study.
Instead of sharing the project link, you will invite people through the general affiliate link.
You will get $20 when someone joins Respondent.io and earns $75 in incentives.
RECOMMENDED: Click here to see my no.1 recommendation for making money online.

How Will You Get Paid?
---
The only payment option available is PayPal, and there is a fulfilment fee of 5%
So, if you complete a $100 study, you will receive $95.
Once you complete the interview, you should wait for the researcher to mark you as "attended".
Keep in mind that it's the responsibility of the researcher to process your payment through the Respondent.io platform.
Some companies pay 1 or 2 days after the interview, while others take a bit longer. On average, you should expect to get paid within 1 or 2 weeks.
However, even though the study may be marked as "paid", it can still take up to 10 days for the money to hit your PayPal account.
Is Respondent.io a Scam?
---
No. Respondent.io is not a scam by any means.
It's a legit website used by reputable companies to source participants for market research interviews.
Respondent has already helped many well-known companies, including:
eBay
Alibaba
Babbel
Weebly
Allstate
Earnest
On their customer's page, you can see all the case studies and testimonials.
Here is what Mariam Khan, product designer of Earnest said about Respondent.io:
"In a low-lift way, we're able to recruit and interview people who provide valuable feedback. This helps us design intentionally, which in turn has a direct business impact. Respondent has been a great partner in helping us understand the needs of our users."
Beware of Scammers
You may have stumbled across a Reddit thread where someone was claiming that Respondent.io was a scam.
The person said he/she applied for an interview about online banking and was asked to share sensitive data such as bank account number and password.
If what this person said is true, then this was a fraud attempt.
However, that doesn't mean Respondent is a scam because they are only acting as the middleman between companies and respondents.
Unfortunately, scammers can register and pose as a trustworthy client.
I believe Respondent has security measures to prevent fake marketing research "opportunities".
Still, I advise you to be very cautious when accepting any interview. Please, never share your online banking screen, passwords or bank details! 
… and Sales Pitches
It's also possible that the interview session may turn into a sales pitch.
Again on Reddit, one person said he had a terrible experience with Respondent because, during the interview, they were trying to sell him a product.
Promote products during an interview is totally against Respondent's terms of service.
If this happens to you, don't be afraid to suspend the session and report to Respondent.

Positive reviews
I have thoroughly researched Respondent.io, and you can rest assured these two negative stories are exceptions!
Most people report having an excellent experience. Here are some testimonials that I found on Reddit.
"I have done over 200 qualifying surveys, completed 17 tests, and have made about $1,600."
"I have personally made over $5,000 with Respondent in 2018 alone and have never been scammed."
"I gotta say, I've been doing surveys all over the place for years and never earned more than a few bucks here and there. Honestly a good portion of them seem to just be information harvesters. I discovered Respondent on this sub about 3 weeks ago and in that time, through qualifying for a number of surveys and referrals, I'ave made close to $300. I'm quite amazed. Thanks guys!"
"I only qualified for one study so far, but I made $100 doing 3 surveys a day for a week. They took maybe a minute each time, so it was totally worth it. I got my amazon card the day after the study ended."
Pros of Respondent.io
---
High pay rates.
There is no minimum payout threshold
There are lots of surveys, especially if you live in big cities in the USA, the UK and Canada.
Available worldwide.
Respondent Inc. is a trustworthy company.
Get paid via PayPal.
Generous referral program – Get paid up to 50% referral commission!
Cons of Respondent.io
---
It's hard to be chosen for a study.
Projects fill up quickly.
You can only apply for 3 studies within 24 hours.
You need to be careful with abusive clients.
There is a 5% fulfilment fee.
Conclusion
---
Respondent.io is not only legit but an excellent platform to make some extra income online.
While people are making $1000s per year with Respondent, others are not making any money at all.
It can be hard to qualify and therefore, you may waste a significant amount of time.
Nevertheless, I think it' a great opportunity because even if you take into account all the disqualifications, it can still be worth it.
My Top Alternatives to Respondent.io
---
Perhaps you are not one of the lucky ones who are making $1000s or even $100s per month with Respondent.
Well, I don't want to discourage you from stopping trying!
But in the meantime, you can try other excellent survey sites. Here are my top recommendations:
They don't pay as much as Respondent.io.
However, you can realistically make over $100 per month by taking surveys with them.
That is because they are much easier to qualify and offer lots of opportunities.
How I Make Money Online
---
Thanks to a business model called affiliate marketing, I am now making a full-time income from home by promoting other people's products.
Here are some of my recent commissions: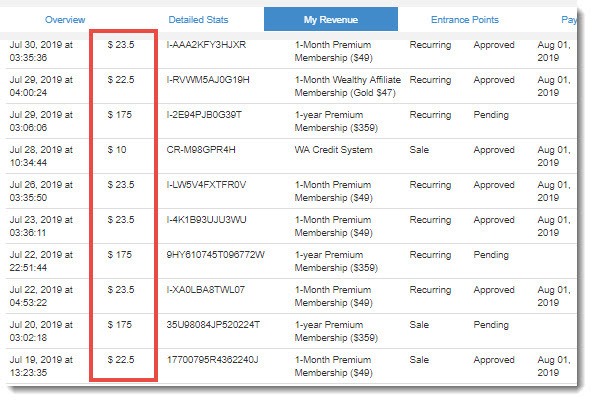 As an affiliate, you can earn anywhere from $10 to $1000+ per sale, depending on what you promote.
I know many affiliates who started from scratch 3 – 4 years ago and are now making $5,000 and even $10,000 per month.
Knowing that you don't need to worry about finding a job anymore is incredibly comforting!
If you are interested in building a successful affiliate site that will pay you for years, check out my #1 online business recommendation.

It's free to get started and 100% newbie-friendly.
Final Words
Thanks for checking out my Respondent.io review. I hope it was helpful!
If you have any question or you want to share your experience as a respondent, feel free to use the comment section below.
I wish you all the best!
Your friend,
Stefan