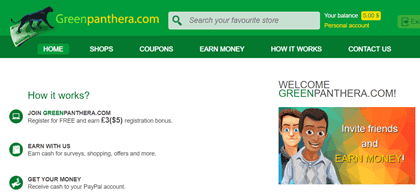 Welcome to my Greenpanthera review!
Today, I decided to take a close look at a reward website called Greenpanthera.
From first glance, the site seems like a legitimate way to earn some extra cash from home.
But beware! We should never judge the book by its cover, as scammers are getting extremely sophisticated.
There are many things you should know about Greenpanthera, so read this review before you join.
Is GreenPanthera a scam or a legit website? Will you get paid?
Let's find out.
You may also want to check out the step-by-step program that helped me reach $1,300+ per month working from my laptop (no special skills required).
Greenpanthera Review Summary
---
Name: Greenpanthera
Website: greenpanthera.com
Price: Free to join
Membership eligibility: 40 countries (+16)
Overall Rating:

1/5

Recommended? No
Summary: GreenPanthera is a reward site that you can use for months and not make a cent. There are many complaints about it on the internet. Most survey routers don't work, and the minimum payout threshold is too high!
What is GreenPanthera?
---
GreenPanthera is a GPT (get paid to) website where members get paid for taking online surveys, completing offers and shopping.
They also have a referral program that allows you to invite friends and earn commissions.
GreenPanthera is operated by A & K International Inc. and is currently accepting members from 40 countries.
How Does it Work? 
---
Registration 
The registration is free and straightforward.
Simply fill-up the form and then click on the confirmation link in your email.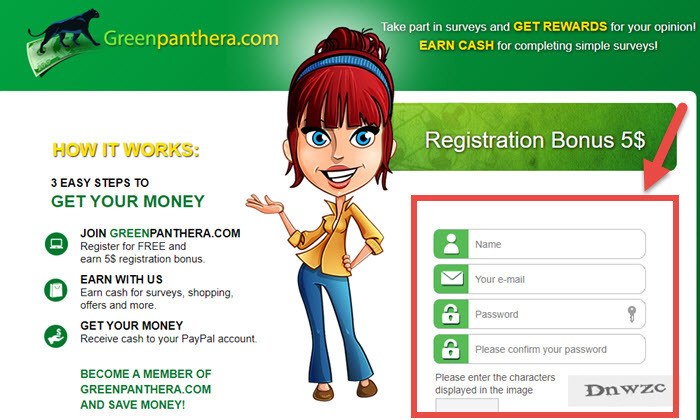 After you confirm your email account and log in, you should provide more personal details such as your gender, education, occupation, etc..
These questions will be part of your profile, which will be used to match you with marketing research studies.
You must fill up this questionnaire in order to receive more survey invitations.
Once you finish that, you will earn $5 as a signup bonus.
There are 3 main ways to make money with Greenpanthera.
You can get paid to take online surveys, complete offers, as well as shopping online.
RECOMMENDED: Click here to see my no.1 recommendation for making money online.

The Cashback Program
Greenpantera gives you cashback on products that you purchase through the platform.
To earn cashback, all you have to do is visit the "Shops" page, select the retailer and purchase the product.
Greenpantera will receive a commission from the retailer and share a percentage with you.
The downside is that it doesn't show you the exact cashback amount. 
It says "up to", but there are no specific conditions related to that offer.
On top of that, the options for shopping are not that great. There are many categories to choose from, but you will find the same stores in different categories.
Furthermore, most options are unknown e-commerce stores with overpriced products. Not to mention that some links are broken.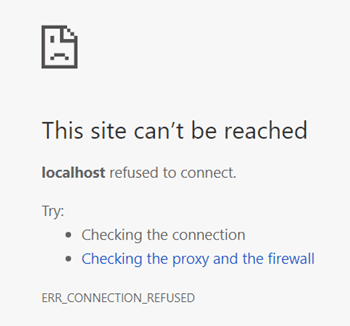 If you shop online regularly, the best cashback program is Honey.
Honey is an excellent browser extension that will give you cashback and coupons from thousands of online stores, including Amazon, and eBay,
Online Surveys
GreenPanthera has partnered with different marketing research companies so you can take paid surveys through the so-called survey routers.
Some of these companies include Survey Sampling International (SSI), YourSurveys, SpeakUp, and OpinionWorld.

A survey router will automatically assign you to relevant surveys based on your demographics.
For example, depending on your age and gender, you will be invited to take surveys that you are more likely to qualify for.
However, you will still be required to answer a few screening questions. I've put up some great tips to avoid survey disqualifications in this post.
Here is the list of survey opportunities: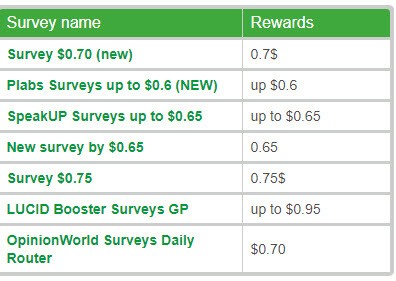 During my test, the only survey router that worked was YourSurveys, which is the link "Survey $0.75".

This reward platform is going viral! Cash out via PayPal, Visa, Gift Cards, and in-game currencies - Click here to find out how to generate an extra $10+ per day! 
Some links returned the following message:


Other two links were blocked by my anti-virus as the connection was not protected.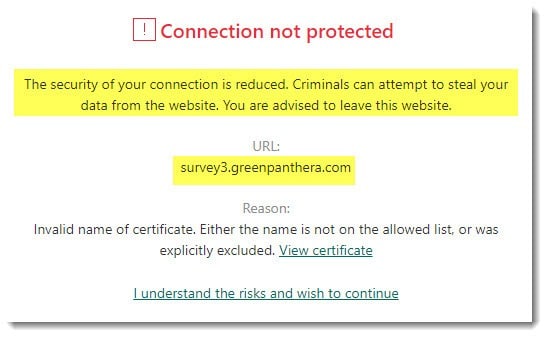 As a safety measure, I decided to close the page and not proceed with the survey.
The YourSurvey router directed me to another marketing research company called NewVista.
After going through the screening process, I qualified for a marketing research study about different supermarket chains.
I spent approximately 10 minutes on this survey, and a few hours later, I still don't see any money in my account.
The main problem with Greenpanthera is that, in most cases, the amount of money and the estimated time to complete the survey aren't clear.
Tired of making pennies online? Click here to see my no.1 recommendation for making money online.
OfferWalls
GreenPanthera has also partnered with 3 offer providers, namely Adscend, Persona.ly and OfferToro.
These platforms allow you to complete offers and get paid for trying different products and services.
In the UK, only the Persona.ly was working!
There are free offers such as those that require you to sign up for other survey sites.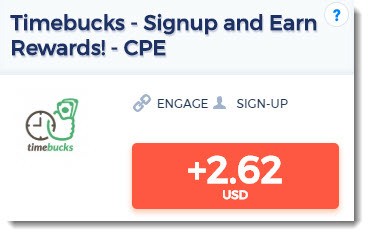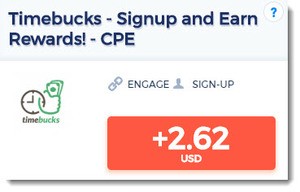 Some offers require you to subscribe for a 14-day free trial or make an initial deposit.
If you subscribe to a free trial, and it's not your intention to become a regular customer, don't forget to cancel it before the trial ends.
I'd avoid certain offers that ask for money because there is a risk you won't get credited by Greenpanthera.
Cash Out
---
You can cash out via Paypal only after you have accumulated $30.
I have reviewed hundreds of reward sites, and I can tell you that $30 is extremely high!
It will probably take you months to reach the minimum payout threshold.
Some reputable GPT sites like Offernation allow you to cash out as little as $1! 
Once you request the payment, the company is supposed to pay you within 4-10 business days.
Unfortunately, many people complain that their accounts were cancelled before they had the chance to cash out.
There is absolutely no guarantee that you will get paid!

User Reviews – There are Lots of Complaints!
---
If you have a look at GreenPanthera on Trustpilot.com, you will notice that 87% of people have rated it badly.

The site has received a TrustScore of 1.8 out of 5, which is appealing!
So, why people are so disappointed with Greenpanthera?
Well, some people reported having their accounts closed after reaching the cashout requirement.


This person claimed that she couldn't log in anymore after accumulating $25.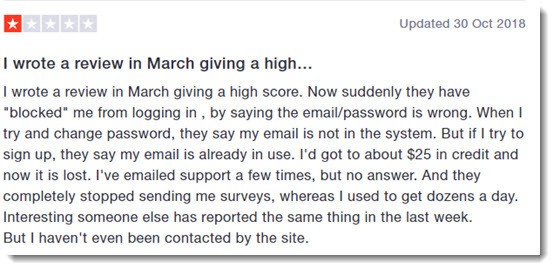 It's disheartening to read this type of testimonials on the internet.
Many people also complain about the insane number of emails that they receive daily.
This person has been receiving over 100 emails every day!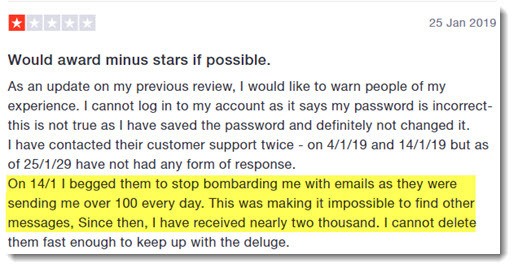 Greenpanthera's Referral Program
---
As with all GPT sites, Greenpanthera allows you to earn referral commissions.
All you have to do is share your referral link with friends on WhatsApp, Facebook or any other social media.
If someone joins Greenpanera through your link, you will earn 10% of all your referral earnings.
A 10% commission is not very exciting!
If you are serious about earning referral commissions on GPT sites, I'd suggest Prizerebel and Offernation.
The commission rate at Prizerebel starts at 15% and go all the way up to 30% as you increase your membership level.
Pros of GreenPanthera
---
In my opinion, the advantages of GreenPanthera are insignificant when you compare with the cons. But here we go…
Earn $5 as a signup bonus.
Get paid via PayPal.
Cons of GreenPanthera
---
The survey section is a disaster (in the UK).
Low pay rate.
The minimum cashout requirement is too high.
You may receive lots of emails every day.
It doesn't show you the right cashback amount.
There are not many popular stores to choose from. Most of them are e-commerce stores that sell mostly overpriced products.
They can cancel your account and forfeit your earnings.
There are lots of complaints on the internet.
Conclusion – Is Greenpanthera a Scam?
---
I can't claim that GreenPanthera is a scam without solid proof.

What I can tell you is that the internet is full of negative reviews from people who had their accounts terminated.
I had a look at GreenPanthera's "terms and conditions" and didn't find any information about Termination.
Does it mean that they can delete your account without any reason whenever they want?
Probably.
It must be very frustrating to spend hours in front of the computer and not make a cent out of it.
There are broken links and not many opportunities to earn money.
Not to mention that you must have earned at least $30 only so that you have a chance to cash out.
That being said, GreenPanthera is not a great site to make money online, and I don't recommend it.
There are much better options out there!
My Top-rated GPT (get paid to) sites to make money online are currently Prizerebel and Offenation!
Although these are legit options, you can't expect to earn a substantial amount of money with surveys, offers, and simple tasks.
If you are prepared to work harder AND smarter, It's actually possible to earn $1,000s and even $10,000+ per month.
How Can You Earn a Full-Time Income From Home
---
Yes, it's possible, and anyone can do it!
The business model that I use to earn $1,300+/month is called affiliate marketing.
I had no idea how to build a website and rank on top of Google.
I didn't even know this strategy would allow me to grow a significant audience online, which would naturally result in excellent commissions!
Thanks to this excellent step by step program, I created this website from scratch and turned into a reliable income source.
The best thing is that it allows me to work whenever and wherever I want from my laptop.
My advice? Go through this free course first and take massive action!
Final Words
Thank you for taking the time to read my Greenpanthera review. I hope you found all the information that you were looking for.
So, have you used Greenpanthera? Did you get paid?
Kindly share your Greenpanthera review in the comment section below. And, just let me know if you have any questions.

I wish you all the best!
Your friend
Stefan