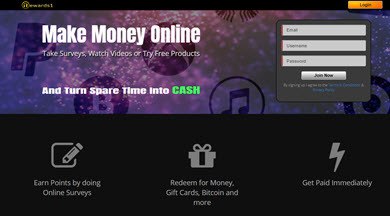 I've just discovered Rewards1, a GPT (get paid to) site that supposedly allows you to make money by taking surveys, watching videos, and trying new products.
You are probably wondering if Rewards1 is a scam or a trusted platform. In this review, I am going to show you all you need to know about it and give you my honest opinion.
You may want also want to discover my #1 recommendation, which is a training platform that helped me build an internet business from scratch and earn a job-replacing income from home. It's free to get started and 100% newbie-friendly!
Rewards1 Review
---
Name: Rewards1 aka R1
Website: https://www.rewards1.com/
Type: GPT (get paid to)
Price: Free to join
Overall Rating:

3.3/5
What is Rewards1?
---
As you already know, Rewards1 is an online platform that rewards users for taking online surveys, watching videos, and accepting offers.
You can also earn commissions when you refer people to Rewards1 through your referral link.
With Rewards1, you earn points that you can redeem for PayPal, many gift cards, and even custom orders.
Is Rewards1 a Scam?  
---
I am confident Rewards1 is a legit website. Many people on the internet gave positive feedback and showed payment proofs.
Some people also praise the excellent support team and the great community around it.
I haven't found anything suspicious about Rewards1, but it's always important to be cautious when it comes to GPT sites.
Pros and Cons
---
Pros
There are plenty of offers and survey opportunities.
You can redeem via PayPal and a large variety of gift cards.
There is a live chat available where members share advice and staff answer any questions you might have.
Earn daily bonus for reaching targets.
There is a generous affiliate program that pays 30 – 40% commissions!
Fast payouts.
It's available in all countries.
Cons
Low pay rate (just like any reward site).
How Does it Work?
---
The registration is free and straightforward. Simply fill up the form with your email and confirm your email.
Before I talk about all the different ways you can make money, you should know that 100 points equal to $1. 
On the dashboard, you will see a list of survey routers you can use to make money.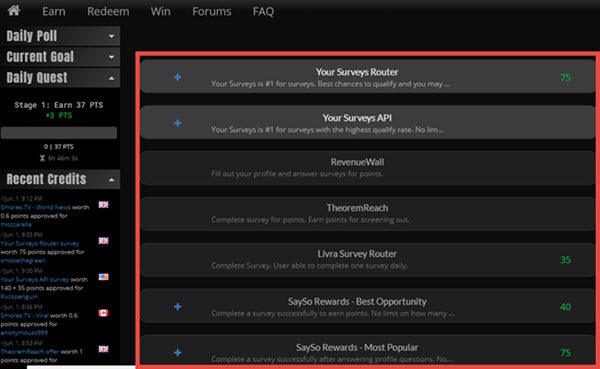 Take Surveys
Most surveys available can be found via the Your Surveys Router, which is the best place to start for new members.
A survey router is a platform that lists many online surveys based on your profile.
Keep in mind you must be 18 years or older to take surveys.
First, you must enter your email to sign up and start taking surveys from Your Surveys.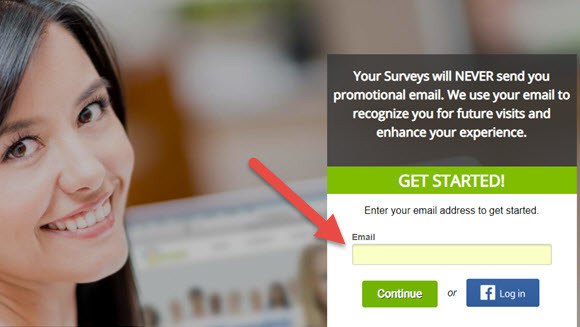 Next, you have to answer demographic questions, which will be used to match you with future surveys.

If you get invited, you will see a new set of profiling questions. These questions will determine if you are eligible to participate in that marketing research study.
Finally, answer all the questions to get credited. Most surveys take less than 15 minutes and award you 30 – 200 points.
There are other great survey routers such as Livra Survey, GiveUsYou2Cents, TheoremReach, and SaySo Rewards.
You can also find more survey opportunities by visiting the offer partners.
Offer Partners
Another way to make money with Rewards1 is by completing offers, which you can find inside one of the offer walls.
To browse offers, click on "Earn", and the then "Offer Partners".
Currently, there are 8 popular offer walls such as RevenueWall, PeanutLabs, WallAds, Offertoro, RadiumOne, RevenueUniverse, Persona.ly and MinuteStaff.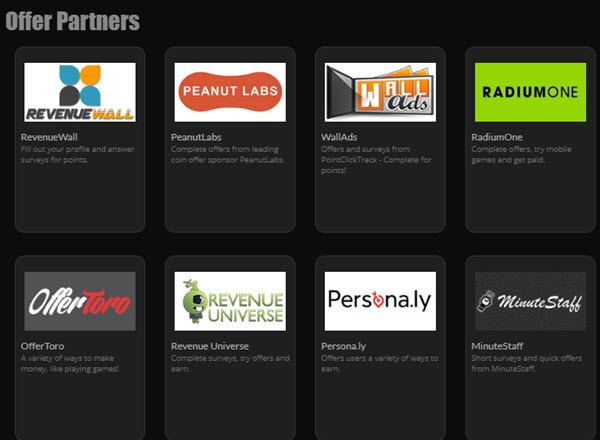 If you want to complete offers, be aware of the terms and conditions. Some require your email and phone number so you can receive marketing emails and calls.
Other offers require a subscription that can charge a monthly fee after 14 days or 1 month.
Inside some of these offer walls, you will find opportunities to make money by watching videos and trying mobile apps. 

Daily Targets
Rewads1 will give you bonus points (less than 10 points) for reaching the daily target. It's not much, but it adds up if you are very active.
Daily Polls
Answer daily polls and earn 1 point.
Rewards1 Ranks
There is a total of 7 ranks (level of achievement) based on your earnings and referrals. When you reach a certain level, you automatically unlock bonuses and privileges.
That's awesome, but I think it's a bit of a challenge to reach 100 referrals and beyond.

This reward platform is going viral! Cash out via PayPal, Visa, Gift Cards, and in-game currencies - Click here to find out how to generate an extra $10+ per day! 
The table below shows the requirement to reach each level and its perks.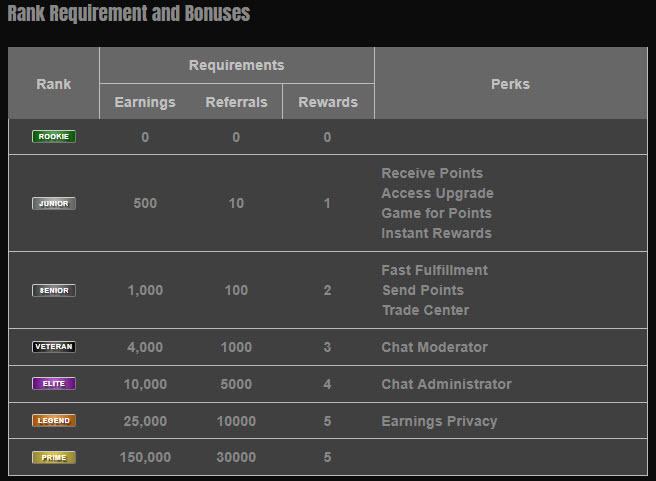 Win Contests and Jackpots
If you are one of the top 20 earners in a given month, you will win a prize of 10%, 6%, 4%, 3%, and 2% of your total earnings.
You can also get a ticket for 20 coins and choose your lucky numbers for a chance to win the daily jackpot.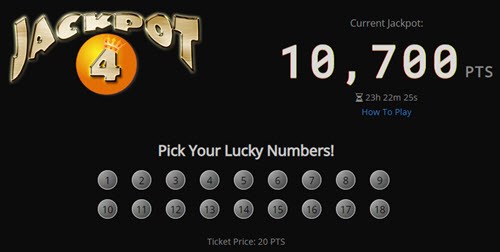 Referral Program
---
Rewards1's referral program is very generous compared to other GPT sites. Share your affiliate links, and if someone signs up, you will earn 30-40% of all your referral's earnings.
The cool thing about it is that you can contact your referrals and give them tips to make more money! Remember that this is a win-win situation. The more money they make, the more you make!
Payment
---
You can redeem your points for PayPal, Amazon, and many other gift cards. The minimum you need to cash out is 500 points worth $5.
If you want to redeem your points at another online vendor, you can send a custom request, and they will try to fulfill this order for you. The minimum is also $5.
Keep in mind that your points must cover the price of the item plus shipping costs.
Standard requests are processed within 24 hours, while custom orders take up to 5 days.
Final Thoughts 
---
Reward1 is not only a legit platform but also a complete GPT site full of surveys and offers.
The referral program is one of the best among other reward sites, and there is a helpful community around it.
I haven't seen any complaints about Reward1 on the internet so far, so I believe it can compete with other popular platforms such as Prizerebel, Swagbucks, and Offernation.
The only downside is the same as any other GPT site. You will probably earn much less than the minimum wage in your country.
If you are serious about earning a job-replacing income from your laptop, keep reading as I am going to show you my recommended strategy.
Verdict: Legit
My #1 Strategy to Make Money Online
---
In 2015, I decided to quit my master's degree to make money online and on my own terms.
I discovered a step-by-step program that showed me not only how to set up a blog but also how to attract visitors and generate life-changing commissions.
The great thing about having a website with a big audience is that it keeps working for you 24 hours, 7 days a week!
So, it gives you significant freedom to decide what you can do with your time.
The potential is huge because your business is not limited to your city. It attracts customers from all over the World.

Regardless of your background, you can start from scratch and achieve remarkable results if you follow this training and take massive action!
It worked for me because I was 100% committed to my business and freedom. This is not a get-rich-quick scheme but a down-to-earth approach to internet marketing that has been working for decades.
Thanks for checking out my Rewards1 review. If you have any questions, feel free to reach out via the comment section below. It's always a pleasure to help!
All the best!