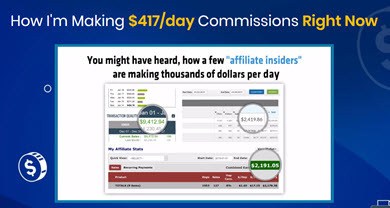 The creators of Affiliate Bots 2.0 are claiming you can use automated bot technology to generate huge affiliate commissions. Is Affiliate Bots 2.0 a scam or legit?
In this review, I am going to reveal all the tools and give you my honest opinion about them. Is it worth it? Does Affiliate Bots 2.0 really automate your profits?
Let's find out!
You may also want to discover the same method that earns me $1,000+/mo from my laptop, check out my #1 recommendation to find out! (newbie-friendly and free to get started)
Automated Bots 2.0 Review
---
Name: Automated Bots 2.0
Website: http://affiliateautobot.com/2019/
Price: $17

LEGIT

Overall rating:

2.7/5
What is Affiliate Bots 2.0?
---
Affiliate Bots 2.0 has been advertised as a swarm of artificial intelligence and automated bots to earn massive affiliate commission on Clickbank, JVzoo and Warriorplus.
It's a cloud-based software suite, which consists of 37 tools designed to automate every possible aspect of your affiliate marketing business.
In the next section, I am going to explain briefly all the main products and how it can supposedly help you make profits.
How Does it Work?
---
The software suite can be represented by the following 3 steps:
Step 1 – Find Top-selling Affiliate Programs
The first step is to choose profitable affiliate programs with the following software:
CB250 – a list of the top 250 ClickBank affiliate programs (updated daily).
Launch Pulse – a database of new launches on JVZoo, Warriorplus and Clickbank in the IM (internet marketing) niche.
King of The Zoo 2.0 –  a list of 100-200 top JVZoo products ( updated every 12 hours).
IM Affiliate Bot 2.0 – displays the most profitable affiliate programs in the IM niche.
Host Affiliate Bot – displays the top 50 hosting affiliate programs.
Warrior 50 – a list of the top WarriorPlus launches with over 50 sales (updated daily).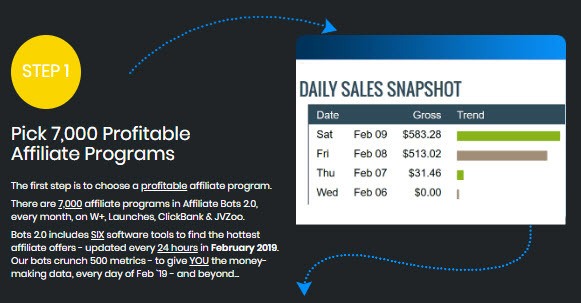 Step 2 – Create Your Website and Improve Conversions
With the following software, you will be able to create websites instantly with "1 Click Pages", and insert widgets that increase sales.
AutoWebsite Tool – Create sites with content within 70 seconds.
1 Click Affiliate – It consists of 100 done-for-you templates.
Dominaveli – Software to find popular domain names.
Dropaveli – Software to find thousands of dropped (expired) domain names.
WebWidgets (10-in-1 Software) – Widgets designed to convert website visitors into buyers.
Banner Bots – Useful software to Create banners.
AffiliateAds 2.0 – It contains 2,000 banner and text ads for 1,000 ClickBank offers.
Step 3 – Get Free Traffic 
Getting free traffic is crucial to your success as an affiliate marketer. With that in mind, the following tools will supposedly help you get targeted traffic to your affiliate sites.
AI Search Engine (18 in 1 software) – Keyword research tool.
Rapid Video Ranker – Create videos to rank on Youtube within seconds.
More Tools and Resources
Other tools that can help you grow your business include:
Automailer – an autoresponder that allows you to build an unlimited list of subscribers and send unlimited emails with no monthly fees.
ResellDB – a database of 1000s of software that you can license and resell.
FlipDB – a database of 360 highly profitable sites for sale on Flippa.
In addition to all the tools, you will also get a PDF and quick start training videos.
They say Affiliate Bots 2.0 has 37 automated bots, but I could actually count 38 software on the sales page.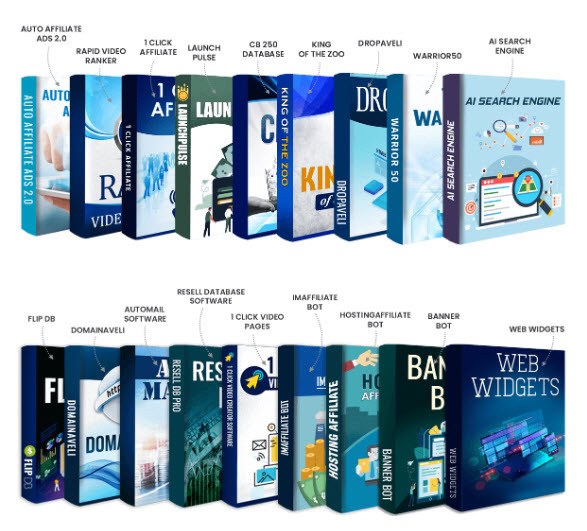 Upsells 
After you purchase the frontend product for $17, you will be presented with 4 upsells with additional features, tools, and training.

Will You Make $1000s Per Week?
---
The owner of Automate Bots 2.0 claims that he makes thousands of dollars per week using these tools that he is trying to sell you.
However, there is no real proof of that, so he may only be bragging about his results without showing you exactly the process he used to make a lot of money.
The answer to that question is: Yes, you can make a lot of money using these tools. However, using these tool is not a guarantee of any income.
Success Can't Be Automated! 
I've been an internet marketer for 4 years and currently make over $1,000 per month.
I am confident I wouldn't have achieved these results without creating LOTS of content for my website.
Automate Bots 2.0 won't generate free traffic on autopilot for you. It saves you some time, but not an incredible amount of time!
You still have to put in a lot of effort into creating articles and reviews to promote affiliate programs on your site.
Some tools are not really necessary, such as those listed in Step 1. You can simply visit the official JVzoo, Warriorplus, and Clickbank to find the top-selling and profitable offers. You can search on google for the best affiliate programs in the internet marketing niche.
Also, I am not a fan of done-for-you sites. You can't create content and rank them on Google, so they are not good for free traffic.
I also need to mention that the Automailer tool can be very ineffective because most of the emails can be sent to the spam folder.
Therefore, people won't find them, and your marketing efforts will be wasted!
Conclusion – Is Affiliate Bots 2.0 a Scam?
---
No, it isn't. In my opinion, Affiliate Bots can help you save time and find great opportunities.

However, there is still a lot of work to do as an affiliate marketer as traffic can't be automated.
Some people, especially beginners, will probably feel frustrated after realizing Affiliate Bots 2.0 is not a shortcut or magic pill to make money online.
It saves you time, and offer you great value in terms of
In my opinion, the best thing is to invest more in education instead of "automation".
Verdict: Legit

This reward platform is going viral! Cash out via PayPal, Visa, Gift Cards, and in-game currencies - Click here to find out how to generate an extra $10+ per day! 
How to Build Thriving Passive Income Sites
---
If you want to earn affiliate commissions, I highly recommend you learn how to get free traffic and build passive income sites.
Check out my #1 step by step training here. (free starter membership available).

What made me join this program what that the owners, Kyle and Carson didn't promise me I would get fast results.
Instead, they gave me proper education and the right mindset to grow a successful internet business. And it worked for me!
I hope my Affiliate Bots 2.0 review was helpful to you. If you have any questions, feel free to leave me a comment below. 😉
Stay safe and peace out!