You have probably discovered the Cash GO app, which allows you to play free scratch games for a chance to win great prizes.
You might be wondering what your chances of winning with this app are. Is Cash GO even legit or a complete scam?
Read this review to find out!
By the way, if you want to learn the exact strategy that earns me $1,000/mo from home, check out my #1 recommendation.
Cash GO App Review
---
Name: Cash GO
Website: https://cashgo.io/
Price: Free
Developer: Cash GO Co., Limited
LEGIT
Overall Rating:

2/5
What is Cash GO App?
---
Cash GO app is an incredibly popular application that has been installed more than 500,000 times. It's very similar to Luck Day app.
Unfortunately, Cash GO app is only intended for U.S residents. You can install and start playing it in your country, but they will probably delete your account and forfeit all your earnings.
The app allows you to play 40 scratchers daily for free for a chance to win cash prizes and tokens.
Once you reach the minimum cash out amount, you can redeem it via PayPal, Amazon, and other gift cards.
Cash GO is not only about scratch games. You can earn more tokens by completing offers, watching sponsored videos, and inviting friends.
You can also get entries for a chance to win the Jackpot of $100,000!
How Does It Work?
---
Cash GO is available for Android and iOS devices. To get started, install it for free and register with your Facebook or phone number.
When you log in, you will see a big list of scratch games that you can start playing right away.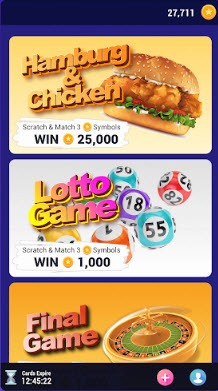 Their computers will randomly select a winning card before the start of each daily promotion period. However, there can be no winners whatsoever!
All you have to do is select the game and scratch the card. If you match 3 colored symbols, you will win up to $10,000.
For example, in this virtual scratch game, I'd have won $500 if I matched 3 boats.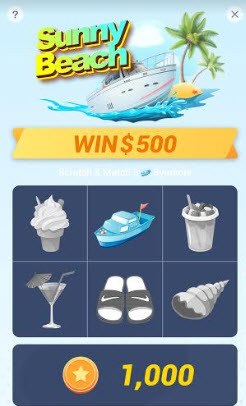 Even if you don't match the 3 symbols, you will still earn tokens, which is better than nothing.
However, when you convert tokens to real cash, you realize you are earning a tiny reward!
In the example above, I just won 1,000 tokens, which is approximately $0.001 or one-tenth of a cent. 
For every 3 or 4 Scratcher Cards you play, you will be required to watch a short video ad. That's how Cash GO earns money from advertisers and hence, can afford to reward members.
You must play for 2 days and a total of 60 cards to unlock the $5,000 and $10,000 prizes, respectively.
Winning Numbers
---
Pick six numbers, and if you match between one and three numbers, then you will get 50,000, 250,000, or 500,000 Tokens, respectively.
Now, if you match four to six numbers, you will receive a cash prize of $5, $50, or a jackpot of $10,000 up to $100,000.
Offers
---
In your dashboard, you will also see some offers that pay you cash or tokens.
Some of these offers require you to install and use another app for a few minutes to get credited. Here is one example: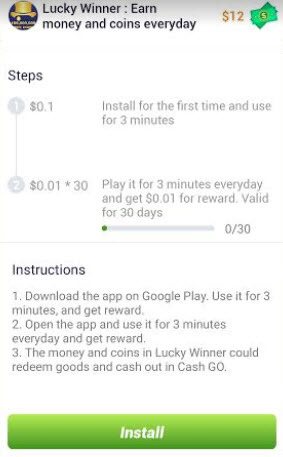 Are Your Extremely LUCKY?
---
You must be very, very lucky to even earn a $10 prize, let alone $10.000! It's disheartening, to say the least.
I wouldn't be too optimistic about winning a big prize from the Cash GO app.
One user claimed she was making around 15 cents per day, but when she was very close to cashing out, the cash rewards dried out, and now she is only receiving 500 tokens for each scratcher.
Another user was stuck at $9 and didn't have any winning games for 3 days!
If you check the terms and conditions, you won't see any statistics about the odds of winning. They just say it depends on the number of players and total entries.
But what about the past promotion periods? There is no updated list of winners either, which makes me even more skeptical.
How to Withdraw
---
Once you accumulate at least $15 in your cash wallet, you can withdraw using PayPal.
As for tokens, you can redeem a minimum of 6,000,000 for a $5 PayPal, Amazon or other e-gift cards.
Conclusion – Is Cash GO App a Scam?
---
Cash GO app is not a scam, but the chances of earning a decent prize are slim.
The 1000+ tokens that you earn after each scratcher may give you the false expectation that you are making a lot of progress, but that's not the case.
It may take you months to reach the minimum payout threshold, which can be very discouraging.
Verdict: Legit
My #1 Strategy to Make Money Online
---
In 2015, I discovered affiliate marketing, which allows anyone to earn commissions for promoting other people's products online.
If you do it right, you can earn a job replacing income with your own internet business.
Anyone can get started without prior experience, but first, it's crucial that you understand the main concepts and build a solid foundation.
Many marketers lie about automated systems that generate $100s and even $1000s per day without too much work. However, there is no such thing as easy and quick money on the internet.
If you are serious about making money online and you are prepared to put in the work, I highly recommend you join this step-by-step program.
I've been a member for 4 years now, and I am still using it to learn more and grow my business.
These guys didn't promise me shortcuts and overnight results. Instead, they gave me the right mindset and proper education to become a successful affiliate marketer.
It worked for me, and I am confident that it can help you achieve your goals too!
Final Words
Thanks for checking out my Cash GO App review. If you have any questions, feel free to drop me a comment below, and I will be more than happy to help! 😉
Stay safe and peace out!