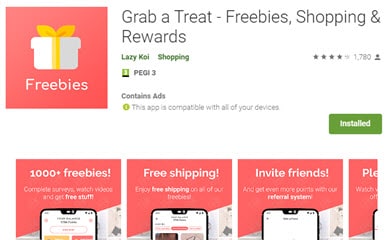 Welcome to my Grab a Treat app review!
Thousands of people are downloading the Grab a Treat app in hopes to earn free stuff such as earrings, watches, bracelets, wallets, and sunglasses.
In order to get a freebie, though, you must complete simple tasks and accumulate points that you can exchange for your favorite items.
There are lots of reward apps on Google play that allows you to cash out via Paypal cash or gift cards. However, this is the first time I come across an app that you can exchange for physical products.
Is Grab a Treat legit? Can you really expect to exchange your points with this app?
Let's find out!
If you want to work remotely and earn a full-time income online, don't forget to check out my #1 recommendation. This is the same program that helped me reach $1,600 per month and quit my job in 2019. 
Grab a Treat App Review
Name: Grab a Treat
Company: Gudekoi Ltd
Membership Eligibility: Worldwide
LEGITIMATE
Overall Rating: 4/5
What is Grab a Treat?
Grab a Treat is a UK-based app that allows you to complete simple tasks and get freebies as long as you have enough points. Yes, the app is 100% legit!
Unlike most reward apps available on Google Playstore, it doesn't take a long time to exchange your points for gifts.
In fact, many offers take only 5 minutes to complete and award you more than enough points to grab your treat.
The Grab a Treat app has been installed over 10,000 times and works in many countries including the UK, the US, and Canada.
Pros and Cons
Pros 
Free shipping.
There are lots of freebies to choose from.
It doesn't take too long to accumulate points and exchange for gifts.
The products have good quality.
Cons
The shipping can take more than 60 days.
You may not receive points after completing certain surveys and offers.
Points don't have monetary value, and you can only redeem them for physical products.
Most freebies are women's clothing and fashion products. Where are the men's?
.
How Does Grab a Treat Work? 
Installation and Registration
Grab a Treat is currently only available for Android users who are at least 13 years old. If you are under 13, you cannot use the app in any circumstances.
Also, some offers or limited-promotions may also be subject to additional age restrictions. So, keep in an eye on the rules before accepting any offer advertised through the Grab a Treat app.
After installing the app, click on "Get Started" and agree to the "Terms of Use" and "Privacy Policy".
How to Earn Points
To get points, tap on the "Earn Points" button at the top of your screen, select a task you would like to complete and follow the instructions.
You can earn points by answering surveys, completing offers, installing mobile applications, and watching videos.

Keep in mind that the availability of tasks may differ depending on your location. Residents of developing countries usually don't find lots of opportunities.
Third-party advertising networks are able to track the completion of such tasks to give you points. However, the tracking system can fail sometimes, which is why you should always take a screenshot of every step and keep as proof of completion.
Online Surveys
Grab a Treat has partnered with different companies so you can take part in lots of marketing research studies. Some of these companies include ZenSurveys, Pollfish, OpinionSample, and Your Surveys.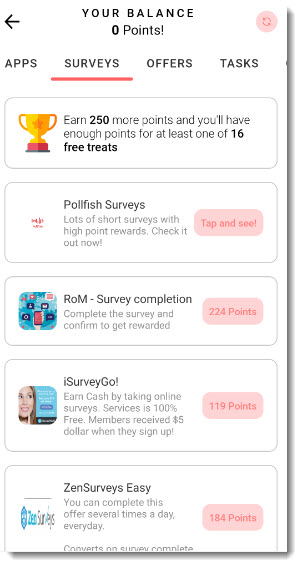 You can earn anywhere between 100 – 250 points per survey. The problem with surveys is that you can get disqualified frequently and waste a lot of time.
What's worse, survey routers like Pollfish can screen you out halfway or even at the end of the survey.
Apps
In this category, you can rack up a large number of points by downloading and using apps. You will find many games as well as reward apps such as Quick Thoughts and CashKarma.
If the app is a game, they will probably ask you to reach a certain level or score. Each app has different requirements that need to be met.
Some apps will give you over 1000 points, which are enough to get you a couple of freebies!
Offers 
Completing offers is one of the easiest ways to collect points with the Grab a Treat app. For example, you may get points for subscribing to free trials or entering prize draws. Here are some examples: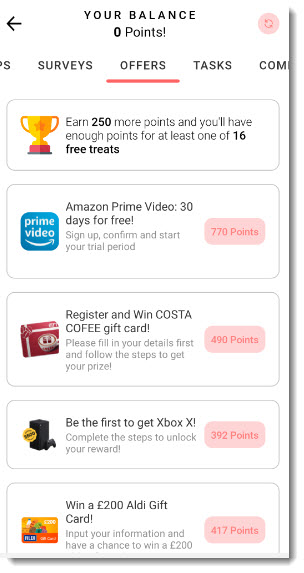 Unfortunately, most of these offers ask you to subscribe using your name, email, and phone number.
When you accept any of these offers, you will share your contact details with different companies for marketing purposes. Therefore, they may email or call you to promote products and services.
IMPORTANT: Grab a Treat has the right to demand proof that you completed any task. For example, when a purchase is requested, they may ask for a receipt. So, it's crucial to take a screenshot of every action and keep everything saved in case they ask for proof.
Invite Friends
When your friends enter your invitation code, you will get 10% of the points they earn for completing any task.

This reward platform is going viral! Cash out via PayPal, Visa, Gift Cards, and in-game currencies - Click here to find out how to generate an extra $10+ per day! 
Freebies
Browse freebies by selecting a category on the main screen of the app. You will find rings, necklaces, earrings, bracelets, T-shirts, beauty products, watches, socks, wallets, bags and more!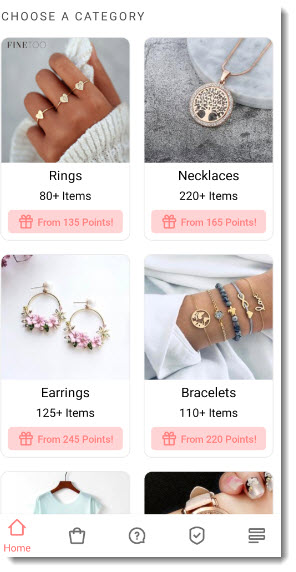 I wish there were Amazon gift cards so people could spend points on a wider variety of products.
Once you order the product, it should take 30 – 60 days to arrive by post. What I like about Grab a Treat is that shipping is completely free!
Conclusion
Most people enjoy the Grab a Treat app as it has lots of quality freebies to choose from. Not only that, but the shipping is free and it's doesn't take long to collect enough points.
Unfortunately, not everyone has had a positive experience. Some people didn't get points after completing certain surveys and offers, which can be very frustrating.
Another downside is that the app doesn't have men's products. But hey, if you are a man, why not gift your wife or girlfriend an elegant earring?
I think the Grab a Treat app is an excellent app designed for freebie lovers! But if you prefer exchanging points for real cash in your pocket, I highly recommend a GPT platform called Prizerebel.
Verdict: Legit
How to Earn a Full-Time Income Online
Everyone loves freebies, but if you are reading this section is because you want a much more than a beautiful bracelet.
You want to earn enough money online to cover all your living expenses and if that's the case, stop living paycheck after paycheck.
Lots of people (including me) are making a job-replacing income from home thanks to a business model called affiliate marketing. 
It consists of providing helpful content and promoting other people's products through your site. It takes time and hard work, but…
If you stick to a clear plan of action, you will slowly but surely build an online asset that will work for you 24/7 and generate commissions for many years to come!
I've created a successful affiliate site thanks to an excellent step-by-step program that I found back in 2015. You can sign up today and watch the first 10 lessons completely free of charge.
> Click here and start your online business today!
Final Words
Thanks for visiting my blog and reading my Grab a Treat app review. I hope it was helpful!
If you want to share your experience with this app or ask any questions, please drop us a comment below.
Stay safe and until next time!