Welcome to my Daily Scratch App review!
Lots of people are trying their luck with another sweepstakes app called Daily Scratch. As the name suggests, users can play free scratch cards every day for a chance to win great cash rewards.
With Daily Scratch, you will accumulate either cash or tokens that you can withdraw via PayPal.
Apps like Daily Scratch have flooded Google Play as more and more developers realize the potential to make a fortune with advertising.
Users don't need to make any purchases to play, but they have to watch a ton of ads to unlock extra cards. What's worse, the majority of users don't seem to get paid!
In this review, I will uncover everything you need to know about Daily Scratch and give you my frank opinion. Is it a scam or a legit application? Will they let you reach $50 and cash out?
Let's find out!
If you want to work remotely and earn a full-time income online, don't forget to check out my #1 recommendation. This is the same program that helped me reach $1,600 per month and quit my job in 2019. 
Daily Scratch App Review
Name: Daily Scratch
Company: Black Geranium Studios
Minimum Payout: 

$50

Membership Eligibility: Worldwide
Similar apps: Happy Scratch, Lucky Dollar, Lucky Now
Price: Free
Overall Rating: 1/5
Recommended? No
What is Daily Scratch?

This reward platform is going viral! Cash out via PayPal, Visa, Gift Cards, and in-game currencies - Click here to find out how to generate an extra $10+ per day! 
Daily Scratch is another sweepstakes app that allows you to play The Scratcher, the Lucky Wheel, and the Lucky Card for a chance to win cash prizes.
The app has been downloaded more than 1 million times on Google Play and it's very similar to Lucky Night, Lucky Scratch, Lucky Now, and many others!
I find it amazing how many people download these apps despite the incredible number of negative reviews.
Unfortunately, most people don't take the time to do proper research before installing these apps and end up wasting a significant amount of time.
Is Daily Scratch Legit? Will They Pay You? 
People set high expectations and think the more they play, the more they will earn. But that is just a pipe dream! 
If you open the review section on Google Play, you will see lots of complaints from disappointed users who can never withdraw the money.
Here are the most common issues that I found after reading dozens of reviews:
As you get closer to the minimum payout threshold, your winnings drop.
Cash or coins doesn't always add up after matching 3 symbols.
A glitch in the app won't let you cash out when you reach $50.
Since the recent update, it doesn't have the cash out option on the menu anymore.
People cash out but they don't receive the money.
This person claimed he reached $50, but Daily Scratch didn't recognize he was eligible to receive the payment. After an update, the app removed $1 from his cash balance, going from $50 to $49.


Another problem is that the app doesn't provide the Terms of Use, which would explain in detail about the user account, rules, rewards, etc. There is no FAQ either!
The Daily Scratch is apparently not involved in any illegal activity, otherwise, it would not available on Google Play. However, you should not count on making money with this app.
Pros and Cons
Pros
The game is addictive.
It's free,
Cons
It doesn't let people cash out.
The probability of winning is too low.
The more you play, the less you win.
There are lots of ads.
It takes a long time to reach $50.
There is no FAQ and no "Terms of Use".
The app doesn't state the odds of winning.
How Does Daily Scratch Work? 
Installation and Registration
After downloading the Daily Scratch app on Google Play, you can log in using your FB account or play as a guest.
The developers don't explain the advantage of creating an account, but I guess it saves your earnings in case you uninstall or update the app.
Scratch Cards
Once you open the game, you will see a list of over 30 free scratchers with cash or token prizes. Cash prizes range from $1 to $10,000, whereas token prizes can go as high as 5,000,000.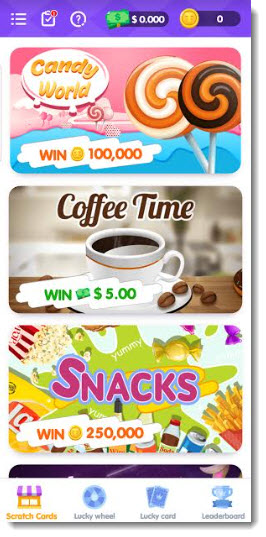 All you have to do is select the card and scratch it to reveal all the symbols. If you match 3 colored symbols, you win the prize, but even if you are not a winner, you will get a few cents or tokens as a "consolation" prize.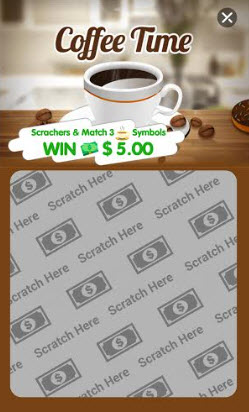 After scratching 4 times, you will be asked to unlock the next 4 cards by watching a 30-second clip.

Unfortunately, Daily Scratch doesn't state the odds of winning any prize and the more you play, the less you win! 
Lucky Wheel
To spin the wheel, you must either watch a video or spend 5000 tokens. There are different cash and token prizes, but you would be extremely lucky to win more than $0.50.
I played over 10 times and the wheel would just land on prizes worth 5,500 tokens or less. It's hopeless!
Lucky Cards
This game consists of flipping the cards to win small amounts of cash and tokens.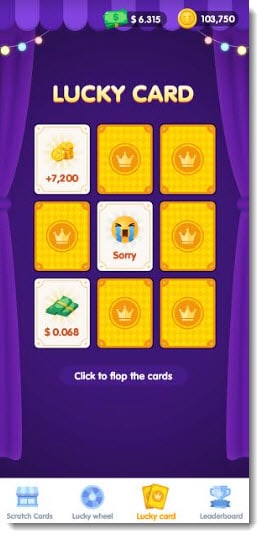 You can play Lucky cards every 4 hours, but it's possible to reduce the waiting time of new cards by watching an advertisement.
Just like the Scratcher and the Lucky Spin, you should not expect to earn any significant prize here.
How Do You Get Paid? 
You can theoretically withdraw the money to your PayPal account once you reach $50 or 10,000,000 tokens ($50).

Daily Scratch also allows you to redeem Tokens for Gift cards such as Amazon, Domino's, and Starbucks.
Final Thoughts
You should not expect any payment from the Daily Scratch app. If you use this app, you will spend many hours of your life watching repetitive ads for a slim chance of getting paid.
It's not worth it!
In the beginning, you will match 3 symbols frequently and accumulate a few dollars fast. But after a while, cash rewards will become scarce and you will struggle to reach $50.
If you are persistent, you may eventually reach $50 after a few weeks or months. However, it's highly unlikely that Daily Scratch developers will pay you.
I've tested many scratchcard apps, and I yet to find one that processes payments with no issues. That's why I don't recommend any of them. In my opinion, they are just a waste of time and internet data.
Verdict: Not Recommended
Is There a Better Alternative to the Daily Scratch App? 
Apps like Daily Scratch are free, but you will waste a lot of time watching videos with no guarantees.
If you want to try your luck, join the givvy app. The odds of winning are much higher!
How to Make a Full-Time Income From Home
If you are serious about making money online, you should not rely on luck, let alone sweepstakes apps run by greedy developers.
Instead, I recommend building your own internet business that will run 24/7 and generate commissions even while you not actively working.
In a nutshell, the business model that I use consists of providing helpful content and promoting other people's products/services as an affiliate.
This excellent step-by-step program showed me rank high on Google, and get a boatload of visitors to make excellent commissions.
I always dreamed of traveling the world while working online to cover all my expenses.
So, I took massive action, and in 2019, I finally quit my job and traveled to South East Asia! This is me on a remote Island in Cambodia!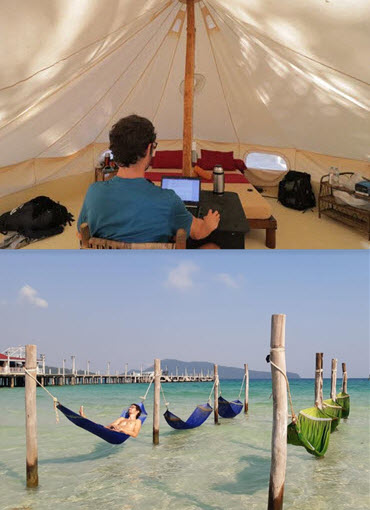 Success doesn't happen overnight, but if you stick to the process, you can reap the rewards for years to come.
>> Click here and start your online business today!
Final Words
Thanks for visiting my website and reading my Daily Scratch app review. I hope it was helpful!

If you played this game, let us know how was your experience and whether you received your $50 or not.
Stay safe and till next time!