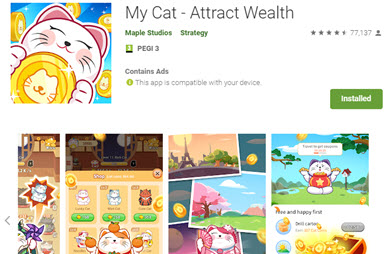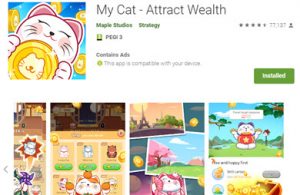 Welcome to My Cat – Attract Wealthy App Review!
You found my blog because you are searching for more information about this cute mobile game called My Cat – Attract Wealth. For some reason, you suspect that it might be a wolf in sheep's clothing.
My Cat is an Android game where you get coupons for unlocking different cats. Once you collect enough coupons, you can exchange them to cash and withdraw the money to your PayPal account.
The app is beautiful, well designed, and very addictive! The more coupons you earn, the closer you seem to get from the minimum cashout requirement. But unfortunately, it's not so easy as it seems!
In this review, I will uncover everything you need to know about My Cat – Attract Wealth and give you my honest opinion. Is it legit or fake? Can you really reach $50 or it's a never-ending task?
Let's find out!
If you want to work remotely and earn a full-time income online, don't forget to check out my #1 recommendation. This is the same program that helped me reach $1,600 per month and quit my job in 2019. 
My Cat – Attract Wealth App Review
Name: My Cat
Company: Maple Studios
Installs: 1,000,000+
Membership Eligibility: Worldwide
Minimum Payout: $50
Similar apps: Dog Condo
Price: Free
Overall Rating: 1/5
Recommended? No
What is My Cat – Attract Wealth?
My Cat – Attract Wealth is a mobile game where the main goal is to match cats at the same level and thus, unlock new level cats. Every time you unlock a different cat, you will earn coupons that you can supposedly exchange for cash.
10k coupons are equivalent to $1, and you must have at least 500k coupons to withdraw $50 to your PayPal account.
My Cat will give you 30k coupons as a start-up bonus and you can easily accumulate $10 – $20 in your first day. However, the more you play, the harder it gets to earn more coupons.
This wouldn't be a problem if it weren't for the ridiculous amount of advertising.
If you hate ads as much as I do, then playing My Cat without pulling your hair out can be a challenge.
Is My Cat – Attract Wealth Legit? Will They Pay You?
You are reading this review because you value your time and need teh cash they are promoting.
I didn't play My Cat for a long time because after reaching level 12, I was earning fewer coupons than what I earned in the beginning.
Unlocking additional cat levels was fun, but the insane amount of advertising destroyed my gaming experience.
Not only that, but the app does not seem to pay those brave souls who reach $50. So, after reading lots of negative reviews on Google Play, I lost my interest in this game.
Many people say they reached the $50 cash out point but did not receive the payment.
I cannot claim that My Cat – Attract Wealth is a scam, but unfortunately, there is no guarantee that you will get the money.

Many people have rated My Cat 4 – 5- stars, but by the time they left a review, most of them were still trying to achieve $50 or waiting for the money.
Pros and Cons
Pros 
The game is fun and addictive.
Cons
No one seems to get paid.
Excessive amount of advertising.
The ads are too long.
The minimum withdrawal is too high.
They usually show you an ad even if you click on "Not now".
How Does My Cat App Work? 
Installation
You can install My Cat for free on Google Play and start playing straight away. There is no registration needed and no permissions asked.
Unlike most reward apps, My Cat doesn't have a "Terms of Use" page, which is rather worrying. Without this page, the user is unaware of what to expect from the company regarding payments, rights, rules, etc.
There is just a brief tutorial explaining the very basics of how this game works.
How to Play My Cat – Attract Wealth
I was a little overwhelmed when I started playing My Cat with so many numbers and icons floating around. But I got the hang of it after a few minutes of gameplay.
It's not complicated.
When you open the game, you will earn a newbie bonus of 30k coupons or $3, which is a pleasant start.
There are 50 cat levels and you can have a maximum of 12 cats at once. Your goal is to merge two cats at the same level.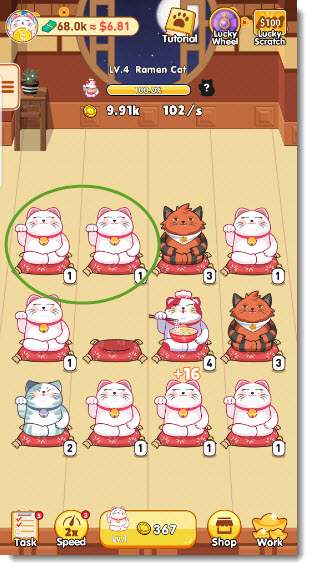 When you merge 2 identical cats from your current level, you will unlock one cat from the next level and earn coupons.
In the beginning, use your cat coins to buy your first level 1 cats. Buy 12 and start merging them to increase your level and earn cash.
Note that all the cats are continually generating more cat coins. The higher the cat level, the more cat coins they will collect on autopilot.
The higher your level, the longer it takes to achieve the next one. If you have enough coins, you can visit the shop and buy cats at higher levels to save time.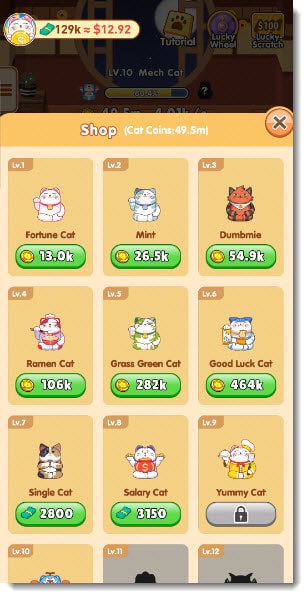 To get more coupons, you can complete different tasks (milestones) such as check-in for consecutive days, get the lucky star, watch offline videos, and more.

This reward platform is going viral! Cash out via PayPal, Visa, Gift Cards, and in-game currencies - Click here to find out how to generate an extra $10+ per day! 
Inside the app, you can also play the Lucky Wheel and the Lucky Scratch for a chance to win more coupons, cat coins, and rewards.

How Do You Get Paid? 
As you know, the minimum payout threshold is $50, and I advise you to cash out as soon as possible.
To get paid, simply click on your account balance at the top, select the PayPal amount, and click on withdraw. Hopefully, they will ask for your PayPal email and process your payment within 3 – 15 working days.
Some people claim that My Cat didn't ask for their PayPal account following their request. Other users report that when they reach $50 and press the button to withdraw, it says, "Under review" and nothing happens.
Conclusion
I think My Cat is a cool game, but the developers have turned it into an advertising machine whose revenue is not being shared with players.
The amount of advertisement you have to watch is abusive, to say the least. If you want to reach $50, be prepared to watch many hours worth of repetitive ads.
I have reviewed hundreds of apps and I can confidently say My Cat is the one with the largest number of ads per hour of gameplay.  It's insane!
After putting so much time and effort into this game, you'd expect to cash out with no issues. But with no "Terms of Use", the developers can make their own rules and simply ignore your payment request.
Verdict: Not Recommended
How to Make a Full-Time Income From Home
If you are sick and tired of making developers richer, I advise you to create your own online business and make money on your own terms.
You don't need to have tech skills to set up your website and earn thousands of dollars per month in affiliate commissions.
All you need is a simple plan of action to rank your content on the first page of Google and attract a lot of visitors to your site. This excellent training program helped me through every step of the way!
So, I took massive action, and in 2019, I finally quit my job to work remotely while traveling to SE Asia.
This is me, working in a Tepee and later enjoying the beach in Cambodia!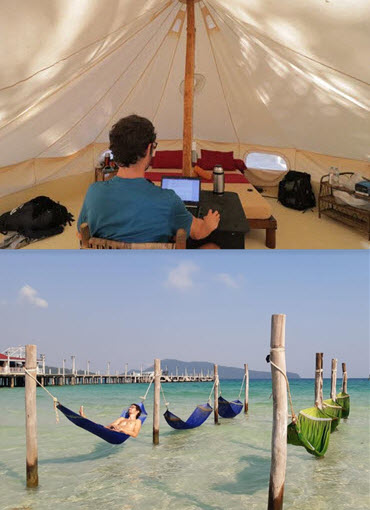 >> Click here and start your online business today!
Final Words
Thanks for reading My Cat – Attract Wealth App review. I hope it was helpful!
So, have you played this game? If so, did you get paid? How was your experience? Feel free to share your thoughts in the comment section below.
Stay safe and till next time!