Welcome to my Lucky Dollar app review!
Today, I decided to test and review Lucky Dollar, which is another scratch-off app available on Google Play.
The developers claim that people earn, on average, $10 or more after 2 days of playing.
Well, after reviewing over 20 similar apps, I couldn't help but doubt every single word.
As you may already know, there are lots of sweepstakes apps that don't live up to the hype.
They simply collect money from advertisers and leave us, users, empty-handed.
There are no guarantees whatsoever
But maybe, there is a slight chance that I have found the real deal now.
Maybe!
Does Lucky Dollar pay? Is it a scam or legit scratcher app?
Let's find out!
IMPORTANT: In a time when governments are urging people to self-isolate, there is no better time to build an online business and make money from home. If you want to work remotely and earn a full-time income online, check out my #1 recommendation. This is the same program that helped me reach $1,600 per month and quit my job in 2019. 
Lucky Dollar App Review
---
What is Lucky Dollar?
---
Lucky Dollar is a mobile app where people can play free scratch off to win real money.
Keep in mind that only residents of the US, the UK and Canada are eligible to participate and win rewards.
Technically, the more you play, the higher your chances of winning.
But from my experience of using Lucky Dollar and other similar apps, the more you play, the harder it gets to grow your cash balance.
According to the developers, Lucky Dollar offers the best odds of winning compared to other similar apps.
For example, on the app description, it says the odds of winning $1,000 via the VIP card is only 1 in 1,000!
But in the Terms and Conditions, there is no information about this VIP Card. Besides, the T&C says the odds of winning $1 is 1 in 1,479!
So, it doesn't make any sense!
They also claim to offer the lowest minimum redemption in the industry.
The problem is that you will need 10 Million coins to cash out $1, which can take "forever"!
Although Lucky Dollar lets you play for free, you will have to watch a ton of videos in the process.

So, you are actually investing your valuable time into this app, which may not return any real money in your pocket.
Pros and Cons
---
Pros
No in-app purchases are necessary.
Cash out via PayPal or Amazon gift cards.
Invite a friend and earn $1.
Cons
It takes a long time to earn 10,000,000 coins ($1) or $50.
There is no guarantee that you will get paid.
There are lots of ads.
It's only available for residents of the UK, the USA, and Canada.
Is Lucky Dollar a Scam?
---
I refrain from claiming any app or website is a flat-out scam without solid proof.
But the fact is, there are lots of complaints about the Lucky Dollar app on the internet.
Even if the app is operating legally, that doesn't mean you will reach the minimum redemption and get paid.
I am saying this because many people claim to be stuck before reaching the cash out limit.
So, it's likely that the Lucky Dollar doesn't give away prizes at random, because if that was the case, then people would still earn at the same speed.
Well, unfortunately, that doesn't seem the case!
In the beginning, Lucky Dollar will give you cash rewards very frequently to get you pumped.
But as you approach the minimum threshold, which is $50, the winning slows down to the point where you feel stuck!
Some people get stuck at $30ish or $40ish.
Here are some reviews that I took from Google Play:




And there is another problem…
People complain that the minimum redemption increased from $10 to $40, and then recently from $40 to $50.
In other words, the company can literally make users feel like donkeys chasing carrots on sticks.
How Does Lucky Dollar App Work?
---
Lucky Dollar works just like most free scratch apps like Lucky Cat, Scratch Royale, Lucky Money and more!
The app generates revenue by selling advertising space to companies.

This reward platform is going viral! Cash out via PayPal, Visa, Gift Cards, and in-game currencies - Click here to find out how to generate an extra $10+ per day! 
In other words, they are making money by displaying sponsored videos while you play free scratch cards.
Then, a percentage of the profit is shared with users as prizes. Well, at least it should!

Installation and Registration
Lucky Dollar app is currently available on Android devices.
People can download It from all countries, but only residents of the US, the UK and Canada are eligible for rewards.
To register, simply provide your email address and you are in!
Playing Scratch Cards
Playing Lucky dollar is very simple!
You can earn coins and cash rewards by scratching free cards.
If you match 3 symbols, you will win the prize stamped on the card.
The cash prize can be anywhere from a few cents to thousands of dollars.
But the odds of winning anything over $1 are incredibly low.
I don't even know if anyone has ever won a big cash reward as the company doesn't show the list of winners.
You will also earn bonus coins every time you scratch the card, which adds up. Also, you can double the bonus by watching a video.
However, you must have 10 million coins in order to cash out 1 USD.
To put it into perspective, each card will give you only 3,000 – 6,000 coins. So, that means you will eventually reach the target after playing for months on end!
As I mentioned, you will be "forced" to watch a commercial to keep scratching more cards.
So, it's very time consuming and there is no guarantee that the company will pay you.
Refer a Friend
Share your referral code with friends and they will earn a $1 bonus for using it.
In return, you will also earn $1 for your first referral.
As for your other referrals, you will earn 10% of all the coins they earn during the first 90 days.
Completing Offers
Another way to earn more coins is to complete offers, which usually involves downloading and testing other apps.
Bear in mind that some offers may not credit!
How Do You Get Paid?
If you are lucky and persistent enough to reach $50, you can cash out via PayPal or Amazon gift cards.

You can also convert 10 Million coins to $1, and cash out via PayPal.
Conclusion
---
Lucky Dollar will make you watch hours of videos and control the amount of money you will make.
Maybe you will get stuck like others and never be able to cash out!
Or, if you are very lucky, you will get paid after a couple of months.
Who knows!
I can't tell you whether Lucky Dollar is a scam or legit app, though.
But one thing is for sure, many people are very disappointed because of how ineffective it is.
If you read the app description on Google Play, it says Lucky Dollar is "intended solely for entertainment purposes."
Hence the reason you should not rely on it to earn money online!
Verdict: Not Recommended
How To Earn a Full-Time Income From Home
---
If you are searching for a solid strategy to supplement or even replace your 9-5 income, here is my advice to you:
Build your own online business and become a content creator!
People all over the world are making a ton of money by promoting other people's products.
I personally know affiliates making over $10,000 per month and growing!
As a complete newbie back in 2015, I had no idea how to grow a profitable affiliate site.
But I dreamed about the possibility of making enough money to quit my job and travel the world without a return ticket.
Luckily, I discovered this excellent program that showed me the proper steps to take.
So, I took massive action and in 2019, my online revenue surpassed my income at the coffee shop.
YES! I quit my job and went traveling with my wife to SE Asia!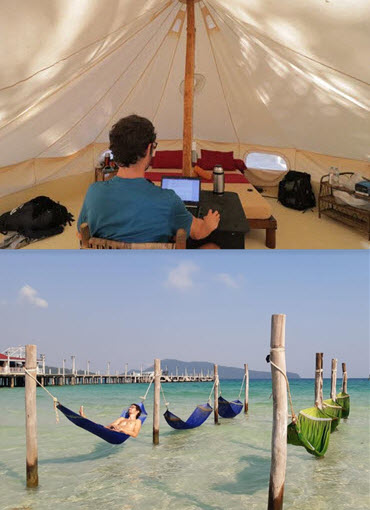 You can achieve great results too as more and more people make purchases online!
It takes time and hard work, but looking back, I am glad that I made the decision to build my online business.
>> Click here and get started today! 

Final Words
Thanks for taking the time to visit my blog and read my Lucky Dollar app review. I hope it was helpful!
If you have used Lucky Dollar, feel free to share your thoughts in the comment section below.
All the best
Stefan