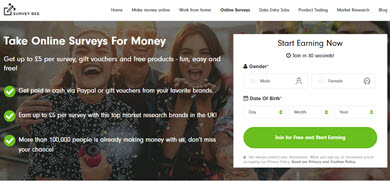 Welcome to my SurveyBee review!
If you are reading this post after March 2020, you may be stuck at home searching for ways to make money online.
It's a difficult situation for all of us, so I hope you and your loved ones stay safe.
In your search, you may have found a website called SurveyBee and the opportunity to take paid surveys.
According to the homepage, SurveyBee supposedly connects you with marketing research companies that pay you up to £5 per survey.
Can you really trust SurveyBee? Is it a scam or a legit site? Is it worth joining?
I decided to take a close look and write this review to answer all the questions you might have.
If you don't want to rely on a job to pay the bills and build your nest egg, check out my #1 recommendation. It's the same program that helped me reach $1,600/mo from my laptop. No special skills required!
SurveyBee Review
---
What is SurveyBee?
---
At first glance, SurveyBee seems like another survey panel where you can take surveys for cash.
But it's important to understand that this site is not operated by a marketing research company.
The truth is that SurveyBee is just an affiliate site that connects you with survey companies in the UK.
As such, they are not responsible for surveys and payments.
They will just provide a link to their survey partners, and earn a commission when you sign with them.
Also, they will collect your email to send you offers and opportunities to make money from home.
How Does SurveyBee Work?
---
SurveyBee works very similarly to Survey Compare, Paid Surveys UK and many other affiliate sites.
You will have to sign up before getting access to the panels that they work with.
In the beginning, I thought that I would get a list of well-known survey companies.
I also imagined that SurveyBee would automatically register my personal information with them, which would save me a lot of time!
But unfortunately, that was not the case!
They only provided a link to one marketing research partner called Nielsen NetRatings.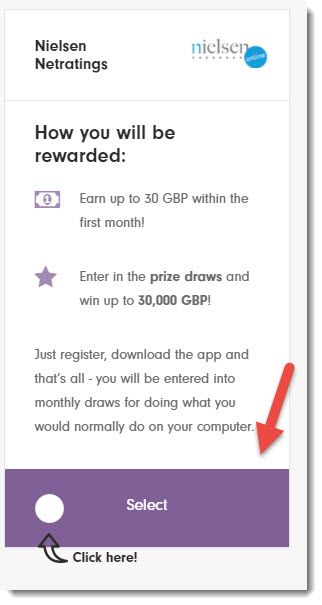 After filling up my details, I received an email urging me to click on the link and confirm my registration with Nielsen.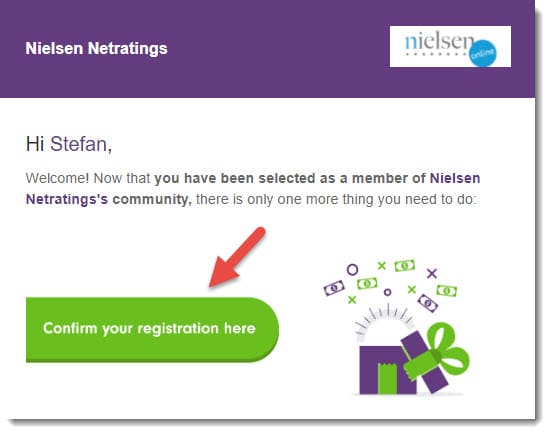 However, I still had to manually register with Nielsen after clicking on the link and providing my personal data to SurveyBee.
In other words, I only received a link in exchange for my email and other personal information.
Does SurveyBee Respect Your Privacy?
When you sign up, you give SurveyBee permission to collect some personal data such as your name, IP, email, and home address.
From what I can see, SurveyBee has taken important measures to comply with privacy regulations in Europe (GDPR).
Therefore, they should respect your data and your privacy rights!
For example, you can opt-out of the newsletter and delete all your data by sending an email.
I recommend you read the Privacy Policy for more details.
How Can You Make Money?
On the SurveyBee homepage, it says you will complete surveys for cash.

However, Nielsen is a marketing research agency that works a bit differently than other survey panels.
They want you to install a software that will track your computer and internet activities.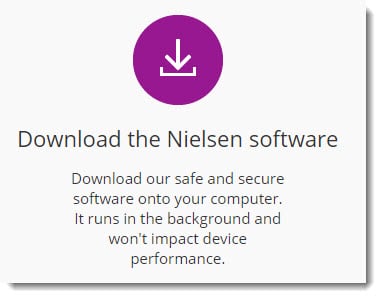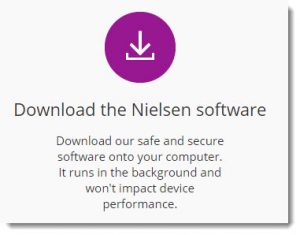 Your participation will help online businesses make better decisions to improve products and services.
On rare occasions, they may also ask you to complete short surveys.
But the focus is on tracking your browsing and purchasing habits through the software.
How Much Money Can You Earn?
Different than other survey panels like Toluna, Prolific, and OneOpinion, Nielsen won't pay you per survey.

This reward platform is going viral! Cash out via PayPal, Visa, Gift Cards, and in-game currencies - Click here to find out how to generate an extra $10+ per day! 
Instead, you will get entries for prize draws with a total cash reward of £30,000 to be shared with 150 winners.
So, unless Survey Bee connects you with other panels, there is no guarantee that you will make any money!

Conclusion
---
Survey Bee is a legit website.
But, in my opinion, there is no point in subscribing because they are just offering a link to one partner.
As of writing this review, the only company available is Nielsen, which is not focused on online surveys.
This company only gives prize draw entries to participants, so there is no guarantee that you will make money.
I don't like entries because the odds of winning cash prizes are always too low!
If you value your time, it's better to choose sites where you get paid per survey.
My top-rated platform to make money with surveys is PrizeRebel.
With this site, you can earn over $100 per month as it connects members with an abundance of survey and offer providers.
Verdict: Legit
How To Earn a Full-Time Income From Home
---
Survey panels offer a convenient and easy way for people to earn money from their couch.
But the pay rate is usually very low, and besides, you can waste a lot of time due to frequent disqualifications.
I used to take surveys back in 2015, so I know how difficult it is.
Luckily, I found a much better strategy to make money online, which is called Affiliate marketing.
I had no idea how to make it work, but this step by step program helped me built an online business and reach $1,600+ per month.
Anyone is capable to reach similar or better results with hard work and perseverance.
In a time when governments call for isolation, there is no better moment to create an alternative source of income from home.
Check out my #1 recommendation and start your online business today!
Final Words
Thanks for taking the time to visit my blog and read my SurveyBee review. I hope it was helpful!
If you want to share your experience or ask any questions, feel free to use the comment section below.
I will be more than glad to help! 😊
All the best
Stefan