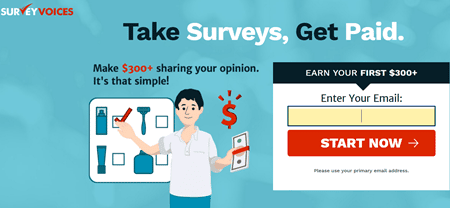 Survey Voices is claiming you can make $300+ just for sharing your opinions!
Maybe you already know that earning just $10 by taking surveys is a bit of a challenge!
So, what's the catch here? Is Survey Voices a scam or a genuine platform that you can trust?
How long would it take to make $300 with surveys? Will you get paid?
There are many misleading sites disguised of survey panels, which will make you waste a significant amount of time if you are not careful.
I've put up this Survey Voices review to explain how it works and give you my honest opinion about it. So, check this out before you join!
While you are still here, you may also want to discover the step by step training that helped me go from $0 to $1,000+/mo from my laptop!
Survey Voices Review Summary
---
Product Name: Survey Voices
Website: surveyvoices.com
Price: FREE
Eligibility: US residents only
Business Type: GPT – get paid to complete surveys, offers, and simple tasks.
Score:

2/5
What is Survey Voices?
---
Survey Voices is a platform that provides a list of survey, GPT (get-paid-to), and cashback sites for you to join.
It's important to understand that Survey Voices is a survey aggregator, meaning they act as the middleman between survey-takers and companies that perform marketing research.
Therefore, they are not responsible for survey invitations or payments. All they do is provide the links to what they consider "the best pay-for-participation" survey platforms.
Survey Voices use the same business model as Survey Compare,  Survey Spotter and TopPaidSurveys.
Once you create your account, they will share your personal information with their marketing partners in agreement with their Privacy Policy.
Besides, you have to accept receiving phone calls and SMS messages from third party companies.

They are basically promoting these sites through their own platform and collecting people's contact details to continue promoting other opportunities.
Is Survey Voices a Scam? 
---
No, Survey Voices is a legitimate site and there is no doubt about it.
You can indeed make over $300 by joining their recommended companies and taking surveys.
But that doesn't tell the whole story, right?
You are probably wondering how many surveys you need complete and how long it takes.
You will probably have to complete hundreds of surveys which take, on average, about 10 minutes each.
Many people join the platform with the hope of making $300 within a short period, but it can actually take months.
It's possible to make $300 within a month, but you should dedicate a minimum of 2 or 3 hours per day.

Still, it can be tough because you may get disqualified frequently due to your demographics (age, household income, etc.)
Pros & Cons
---
Pros
Most survey platforms are well-known and reliable.
It's free to join.
Cons
It only works in the US.
You have to provide your phone number and accept receiving marketing calls.
It doesn't sign you up automatically with survey companies.
How Does it Work?
---
The sign-up process is very straightforward. You have to provide a valid e-mail address (use a dedicated email) and answer a few identifying questions like name, address, date of birth, etc.
Next, they will ask some qualifying questions that will match you with "top paid surveys", or so they say.
Here is one example: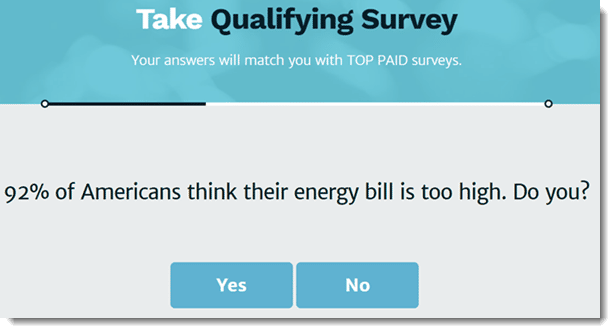 After answering these unpaid surveys, they will show you some exclusive offers that you can accept or reject. It's up to you!
To be clear, you won't get paid by Survey Voices if you do.
Finally, you will find the so-called list of "top paid surveys." The list has around 10 sites, which are not only survey platforms, but also cashback, sweepstakes, and get-paid-to sites.
Here is the list they gave me:
Ebates
InboxDollars
YouGov
e-Poll
i-Say
OMG! Sweeps
Wallmart
DigitalPulse
It says how many spots are still left, but in reality, there is no limit to the number of people that can join.
This number is fictitious and only used as a scarcity tactic to make people sign up fast.


Update 2019: Survey Voices now have only 5 recommendation inside the members' area. They are currently recommending Swagbucks, SurveyJunkie. i-Say, VIP Voice and one sweepstake offer.
Once you click on the link, it directs you to the official website, so you must go through the sign-up process all over again!
In this respect, SurveyCompare.com is better than Survey Voices because it automatically creates an account for all the survey panels of your choice.
As for payments, you have to deal with each platform individually.

This reward platform is going viral! Cash out via PayPal, Visa, Gift Cards, and in-game currencies - Click here to find out how to generate an extra $10+ per day! 
The Downside of Online Surveys
---
Online Surveys are convenient because they don't require any qualifications or experience.
However, in most cases, the pay rate is less than the minimum wage.

Not only that, you may get disqualified multiple times and spend more than half an hour without making any money.
It's hard to find a decent survey panel or GPT site that doesn't mess up with points and payments.
Some sites and mobile applications go as far as blocking user's account just so they can't reach the minimum payout threshold.
Of course, they will never admit that, so they will just come up with an excuse. There are no regulations in place to prevent this type of unethical and widespread behaviour.
It's atrocious!
If you are looking for a legit and trustworthy GPT platform, I highly recommend Prizerebel.
I've beeing using Prizerebel for over 2 years, and never had any programs cashing out!
Personally, I don't take surveys, only refer people that want to take surveys.
So, just like Survey Voices, I am also acting as the middle man. The difference is that I am trying to provide as much quality content as I can about different platforms and way to make money online.
Conclusion 
---
Survey Voices is not a scam, but I don't think it's worth it.  
Why give your personal information to Survey Voices when you can easily find the same, or even better survey platforms through a quick Google search?
Maybe you thought you could really make $300 in a short period. But the truth is that online surveys will always pay peanuts for your time and effort.
I am talking about $1 or less for a 15-minute survey, which is less than the minimum wage most of the times!
So, unless you dedicate 2 – 3 hours of your day, you will probably have to take surveys for months on end before you reach $300.
Verdict: Legit
How to Realistically Make $300 PER WEEK Online
---
It's possible to make $300 per week or even per day working from your laptop.
The people who are making this amount of money are usually online entrepreneurs who have their own online businesses.
They set their own schedule and work from anywhere they want. All they need is a computer with an internet connection!
Now, there are many ways to go about building an online business, but the strategy that I recommend to those starting out is called affiliate marketing.
Affiliate marketing is excellent because:
Affordable – It doesn't cost too much to get started. In fact, you can get started for free here.
Flexibility – Work whenever and wherever you want.
It offers unlimited income potential.
Stress-free – You don't have to deal with customers, inventory, or suppliers.
You don't have to risk your hard-earned money with paid ads.
If you want to follow the same step by step training that helped me build a $1000+/mo internet business, check out my #1 recommendation and get started today!.
Final Words
Thank you for taking the time to read this Survey Voices review. If you have any questions or want to share your experience with Survey Voices, please leave your comment below.

See you next time!
Stefan