Is Survey Voices a Scam? $300 After 2 Years Maybe?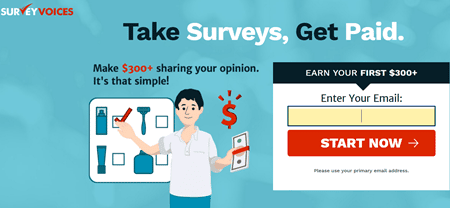 Survey Voices is claiming you can make $300 + just for sharing your opinion! But maybe you already know that earning just $10 with surveys is already a big of a challenge! So, what's the catch this time? Is Survey Voices scam?
Read my honest review below before you join! And if you are serious about making money online, check also the step by step training that helped me go from $0 to $600/month from my laptop!
Survey Voices Review
---
Product Name: Survey Voices
Website: surveyvoices.com
Price: FREE
Business Type: GPT – get paid to complete surveys, offers, and simple tasks.
Score:

4.5/10
What is Survey Voices?
---
Survey Voices is a platform that only provides a list of survey, GPT, and cashback websites for you to join.
It's important to understand that Survey Voices is not a marketing research company, which means they are not responsible for survey opportunities or payments. All they do is provide the links to what they consider "the best pay-for-participation" survey platforms.
Once you create your account, they will share your personal information with their marketing partners in agreement with their Privacy Policy. Besides, you have to accept receiving phone calls and SMS messages from third party companies.

Is Survey Voices a Scam then? 
---
No, Survey Voices is a legitimate site. However, they are creating false expectations regarding the potential earnings.

Yes, you can make $300 completing surveys and offers. They are not lying! But how long does it take? Or how many surveys do you need to fill up?
Trust me. You will probably have to complete hundreds of them!
The problem is that many people join the platform because they truly believe they will make $300 very quickly. But it can actually take months!
Pros & Cons
---
Pros
Most survey platforms are well-known and reliable.
It's free to join.
Cons
Low-income potential.
It only works in the US.
You have to provide your phone number to receive annoying marketing calls.
It doesn't sign you up automatically with survey companies.
How Does it Work?
---
The sign-up process is very straightforward. You just have to provide a valid e-mail address (use a secondary to avoid spam) and answer a few identifying questions like name,  address, date of birth, etc.
Next, they will ask some qualifying questions to match you with "top paid surveys." Well, at least that's what they say.
Here is one example: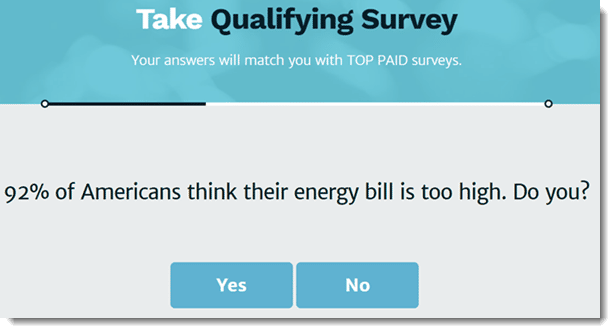 After taking these unpaid surveys, they will ask if you want to accept some exclusive offers. You can accept or reject them. It doesn't really matter.
Finally, you will find the so-called list of "top paid surveys." The list has around 10 sites, which are not only survey platforms, but also cashback, sweepstakes, and get-paid-to sites.
Here is the list they gave me:
Ebates
InboxDollars
YouGov
e-Poll
i-Say
OMG! Sweeps
Wallmart
DigitalPulse
It says how many spots are still left, but in reality, the websites are not limiting the number of people that can join.
So, don't fall for it, as this number is fictitious and just used as a scarcity tactic to make people sign up fast.

Once you click on the link, it directs you to the official website, so you go through the sign-up process all over again!
In this respect, SurveyCompare.com is much better than Survey Voices because it automatically creates an account for all the survey panels of your choice.
As for payments, you have to deal with each platform individually.
Conclusion 
---
Survey Voices is not a scam. But honestly, I don't think it's worth it! 
Why give your personal information to Survey Voices when you can easily find the same, or even better survey platforms through a quick Google search?
Maybe you thought you could really make $300 in a short period. But the truth is that online surveys will always pay peanuts for your time and effort.
I am talking about $1 or less for a 15-minute survey, which is less than the minimum wage most of the times! So, you will probably have to take surveys for month before you reach $300.
Verdict:
Legit
How to Realistically Make $300 PER WEEK Online?
---
It's possible to make $300 per week or even per day online!
The people who are making this amount of money are usually online entrepreneurs who have their own online businesses. They set their own schedule and work from anywhere they want. All they need is a computer with internet connection!
Now, there are many ways to go about building an online business, but the strategy that I recommend to those starting out is called affiliate marketing.
Affiliate marketing is excellent because:
It has a relatively small startup cost
It offers unlimited income potential.
You don't have to deal with customers, inventory, or suppliers.
You don't have to risk your money in advertising.
If you want to follow the same step by step training that helped me reach a $600/mo with an affiliate marketing business, then check out my #1 recommendation.
I hope this post was helpful to you. If you have any questions or want to share your experience with Survey Voices, please leave a comment below.
See you next time!
Stefan