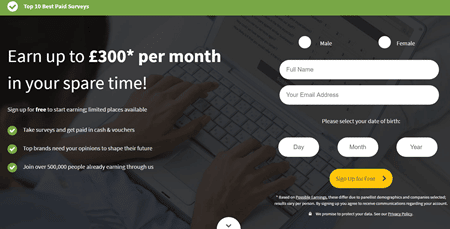 So, you discovered a survey website that is giving you the hope of making £300 per month. Well, I wouldn't say it's impossible, but it's certainly a big challenge as each survey usually pays less than £1. So, is TOP 10 Paid Surveys Scam?
I decided to join this platform to give you my honest opinion about it.
For the same strategy that earns me $1,000+/month online, check out my #1 recommendation.
Top 10 Best Paid Surveys Review
---
Product Name: Top 10 Best Paid Surveys
Website: top10bestpaidsurveys.com
Price: FREE
Business Type: Online Survey
Score:

6.3/10
What is Top 10 Best Paid Surveys?
---
Top 10 Best Paid Surveys is a survey site owned by C2o Media Ltd, and it works similarly to TopPaidSurveys.com, SurveyCompare, and SurveyVoices.com.
By taking part in online surveys, you will get paid to share your opinions that will help businesses improve their products and services.
There is a huge number of surveys sites on the internet separated into two categories.
Websites owned and operated by real marketing research companies.
Websites affiliated with marketing research companies.
Top 10 Best Paid Surveys is in the second category. It's an affiliate site that only connects you with reputable survey companies.
Different from platforms like Swagbucks and Cashcrate, Top 10 Best Paid Surveys is not responsible for providing survey opportunities, nor it is responsible for payments.
Is 
Top 10 Best Paid Surveys

 

a Scam?
---
No, there is absolutely no reason to believe it is a scam. It is currently recommending well-established and trustworthy sites such as:
Toluna
Maximiles
Opinion World
Global Test market
The only thing you need to be careful is with is the following statement:

As I said, earning £300 per month with online surveys is not that easy. Considering you will make £1 on average per survey, you will have to complete 10 surveys per day, 7 days a week.
That's not too bad, right?
Well, the problem is that it's not easy to qualify for 10 surveys every single day. You need to be persistent and keep trying. But you won't get paid for all the time you wasted completing qualification questions.
What you can do is complete trial offers that are provided by some platforms like InboxPounds and Maximiles to increase your earning potential.
It's also important to mention that Top 10 Best Paid Surveys abide by the Data Protection Act. So, they promise your personal data will be 100% secure and treated with confidentiality.
Pros & Cons
---
Pros
It connects you with reliable survey companies.
Free to join.
Cons
Low-income potential.
It gives you less than 10 survey panels to choose from.
You have to sign up twice to start taking part in surveys.
How It Works
---
After creating a free account, they will give you a list of survey platforms that you can join.
To be honest, I was expecting to be offered 10 different sites and not only 7! I mean, if all they do is connect people with survey platforms, it wouldn't hurt to add 3 more to the list and complete the top 10.
All you have to do now is select all platform or only the ones you want and click on "Final Step". Then, fill up your address details and click "Go".
What happens next is each company will send you an email invitation. After you click the link to verify your account, you will be directed to the company's website, from where you must sign up again and complete your profile.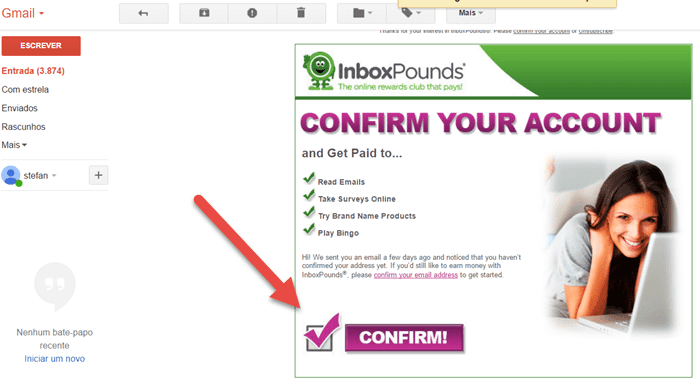 Whenever you want to search for new survey opportunities, you must check your email inbox or visit the company of your choice. Therefore, you won't have to log in to Top 10 Best Paid Surveys ever again.
Now, each company has its own rules and reward programs. From that list, you will find not only online surveys but also offers, tasks, and cashback programs.
The payment type also varies from company to company. Usually, you can cashout via Paypal or gift cards from popular stores like Amazon, Starbucks, and M&S. Some companies also pay by check as well.
Final Thoughts – Is it Worth it? 
---
Top 10 Best Paid surveys is a legitimate website that only directs people to legit survey and GPT (get-paid-to) platforms. There is no harm in that.
Although you can make £300/month by working with all their partner companies, I have to warn you that you must complete LOTS of surveys and trial offers to make it happen.
What I can say for sure is that your time is extremely undervalued when you take online surveys and complete microtasks. Most of the times you will earn less than the minimum wage.
You have to decide if it's worth or not.
How I Prefer to Make Money Online
---
Personally, I prefer blogging and promoting products/services as an affiliate marketer. Not only I enjoy doing what I do, but the income potential is much higher than online surveys.
It takes a lot of upfront work with no initial profits. However, you can keep growing and eventually earn $1,000+ in passive income every month. I'm currently at $600/month, and the business keeps growing!
It's scalable because all your articles will keep on bringing visitors and generating income for you 24/7. All the work you did in the past is not lost. Just like an artist earns money from songs he created years ago, you will keep on making money from articles you wrote in the past.
For step-by-step training, 24/7 live support, and all the tools you need to build a successful online business, check out my #1 recommendation.

I hope this article was helpful to you. If you have questions, just leave us a message below!
See you next time!
Stefan