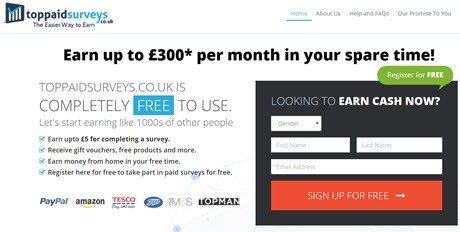 Are you interested in earning some extra cash with online surveys? There are many honest companies out there, but you need to be very careful with the ones that promise big payouts. Is Top Paid Surveys a scam or legit?
Let's find out!
If you want to follow the same strategy I am using to earn $900/month (and growing) check out my #1 step by step course.
Top Paid Surveys Review
---
Product Name: Top Paid Surveys
Price: Free to join
Strategy: Online surveys
Overall Rating:

5.0/10
What is Top Paid Surveys?
---
Top Paid Surveys is an online survey platform owned by a UK-based company called Search Professionals Ltd.
Just like Survey Compare, BigSpot and Survey Club, the site shows you a list of leading market research companies and directs you to their respective websites.
Is Top Paid Surveys a Scam?
---
No, this is just a platform responsible for connecting you with these other survey companies and nothing else! They will make commissions for referring you, but they are not liable for your payments.
How Does it Work? 
---
Step 1
It's very straightforward! After you sign up, the first step is to choose the panel you wish to join and click on select.
Top Paid Surveys recommends you choose all of them to earn £300 per month. Heck, that's a lot of money for just giving your opinions! Stay tuned as I will explain why it's so difficult to earn that much with surveys.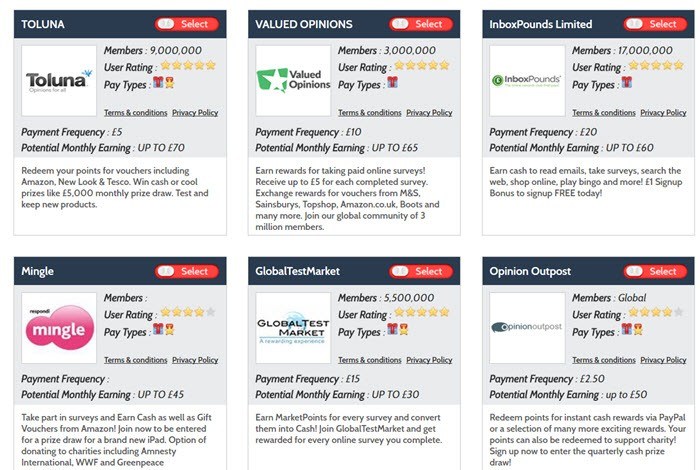 There are currently nine companies to choose from:
Toluna, Valued Opinion, InboxPounds, Mingle, GlobalTestMarket, Opinion Outpost, MySurvey, Maximiles and Paid Offers.
Step 2
Just fill in your details (your address and date of birth), and move on to the next step.
Step 3
You will receive a notification email from each survey panel. Then, you have to click on the link and sign up with each company individually.
In order to start taking surveys, you can either login to their websites or check your email for opportunities as they come.
Can You Really Reach £300/month?
---
The first thing you will notice on the site is the bold statement:
Earn up to £5 per survey or £300 per month from the Top Paid Surveys
I used to complete a lot of surveys before building my online business. To be honest, I never got paid more than £2 for a survey. This is what you will often see in your inbox:

Therefore, I don't think it's easy to make £300 with surveys.
To earn £300, you should expect to complete at least 300 questionnaires of 20 minutes duration each. It will take ages! 

If you were lucky enough to get accepted to all the surveys you are invited to, you would spend over 3 hours every day.
The problem is that you have to answer unpaid qualification questions before starting the actual survey. And trust me, you WILL get rejected by many surveys because you are not a good match.
So, yes, you can reach £300, but it will require much more than 3 hours per day in front of the computer, without a day off. (Read the last section if you want a more profitable alternative).
Cashing out
---
Each survey company will require different minimum requirements to cash out. It ranges from £2.50 (Opinion Outpost) to £20 (inboxPounds). Most of them use Paypal or gift cards as payment methods.
Conclusion 
---
Top Paid Surveys is a one-stop shop for those who plan to complete lots of online surveys. It's not a scam, but in my opinion, you will be devaluing yourself too much.
Verdict:
Legit 
My Favorite Alternative to Online Surveys
---
If you have all that free time under your sleeve, it could be much better spent building an online business and working for yourself.
That's what I decided to do back in 2015. I stopped taking surveys, got a proper education in affiliate marketing and built my website.
Today, I earn approximately $900 per month in affiliate commission, and I wish I had started with this long ago.
My plan is to make enough revenue to quit my job in London and live a more comfortable life in a cheaper place like Hungary, Slovenia or Greece (in summer time :)).
Online surveys will never earn me $1,000's/month. With affiliate marketing, the sky is the limit!

It's not that difficult, and anyone can do this with hard work and perseverance. All you do is create articles to help people make a better purchase decision (reviews for example) and promote products that you truly believe in.
When people click on your links and buy the product on the merchant's website, you get an excellent commission!
The most reputable platform to get step by step training in affiliate marketing is called Wealthy Affiliate.
That's where I keep on learning, building my websites, and networking with thousands of other like-minded online entrepreneurs. We help each other!
It's 100% free to test drive! So, why not give it a try? I'll be there to give you a hand whenever you need. For more information click on the link below:
Click Here for My Wealthy Affiliate Review

This reward platform is going viral! Cash out via PayPal, Visa, Gift Cards, and in-game currencies - Click here to find out how to generate an extra $10+ per day! 
Thanks for reading. I hope this article was helpful and enjoyable. If you have any questions or thoughts, just leave a comment below.
Your friend

Stefan