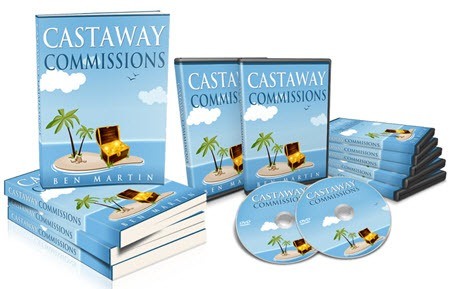 In this Castaway Commissions review, I am going to walk you through Ben Martin's training on how to make easy money online.
According to his method, you can expect to make up to $719.45/day working just 30 minutes a day.
Are you as skeptical as I am? Don't worry! I purchased Castaway Commissions so I could reveal this opportunity and give you my honest opinion.
Castaway Commissions Review
---
Product Name: Castaway Commissions
Price: $9.95, Upsell 1: $27, Upsell 2: $47
Strategy: Social Media Marketing
Owner: Ben Martin and Anji Long
Overall Rating:

6.5/10
A Secret Strategy
---
Ben Martin, a successful internet marketer and the author of Castaway Commissions, is claiming he discovered a secret strategy to make money online.
Although he says he will reveal the method on the page, that's not what happens. You have to buy the product or read an honest review like you are doing right now.
The only hint he gives is that you don't need a blog, a list, your own product or paid traffic.
So, What Exactly is Castaway Commissions?
---
Castaway Commissions is a training program on how to make affiliate commissions using Facebook and Instagram.
Pros and Cons
---
Pros
Newbie friendly
Lots of video training for a small price
You can achieve success with hard work and perseverance
Inspirational
Cons
Hyped-up.
No community to get instant help.
No free trial.
The Training – Take a Close Look Inside
---
Castaway Commissions has two main courses:
Facebook Training – Facebook Money Map (15 videos)
Instagram Training – Instagram Money Map (12 videos)
You will also get:
A handy PDF for each course
A case study on how to make $5000 in one day using free Facebook traffic.
3 Bonuses – Two additional training called My Weekly Checks and The 24-hour Income Machine. Plus, the License Rights to Ben's Entire Funnel.
Here is a screenshot of the dashboard: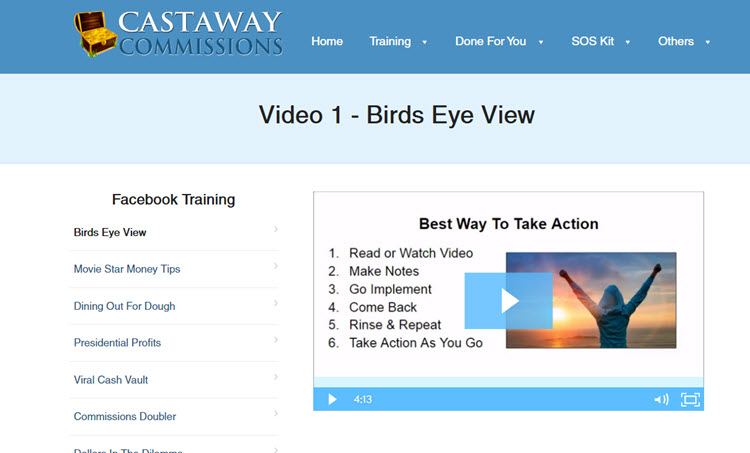 My Honest Opinion About Castaway Commissions
---
I watched all the videos, and I can assure you can make money by applying Ben's lessons.
In my opinion, the training is not bad, and you can actually learn how to promote your affiliate links and eventually start making sales.
My problem with Castaway Commission is not the quality of the training, but the strategy itself.
It encourages you to build relationships with people in hopes someone clicks on your affiliate links and buy the product. When they do so, you earn a commission.
If you have a huge number of targeted followers, like Ben does, I am sure you can make money quickly using this method. But it takes time to get so many people to follow and trust your recommendations.
Personally, I don't feel comfortable sending personal messages to people I don't know on Facebook.
You can be successful as Ben and Anji, but keep in mind that they are experienced internet marketers with a massive number of followers.
So, it's not that easy and quick as they claim. It takes a lot of time, guts, and hard work to reach $100/day using just social media.

Final Thoughts
---
Castaway Commissions is a good training!
It's possible to start from scratch and make good money using Facebook and Instagram just like they show you. But in my opinion, there are better ways to earn affiliate commissions without relying on this personal approach.
Verdict:
Legit 
How to Build a Long-lasting and Highly Profitable Online Business!
---
In my opinion, building an online business without a website is like swimming against the tide.
Most successful online marketers get started with their own website/blog. They also use social media and email marketing as a way to promote their site and affiliate products.
The main difference is that they are providing more value by writing helpful articles that can be found by people all over the world.
When you have a website, you have the power to reach thousands and thousands of people on a daily basis. It's more scalable!
The best part is that you don't have to approach anyone, which is great because your income is more passive. 
People will find your site after searching for something on Google, so you won't feel embarrassed to promote stuff that they might not be interested in.
If you are interested in building a strong online business using a website, check out my recommended platform. Don't worry! The excellent step by step training is designed with the complete newbie in mind. For more more information, click on the link below:
For more more information, click on the link below:
CLICK HERE and Read My #1 Recommendation Review!

I hope I answered all your questions and concerns about Castaway Commissions. If you still have any thoughts or questions about it, feel free to drop me a comment below. I would love to help! 🙂
Your friend
Stefan
PS. This review is based on my own opinion and experiences with the product.