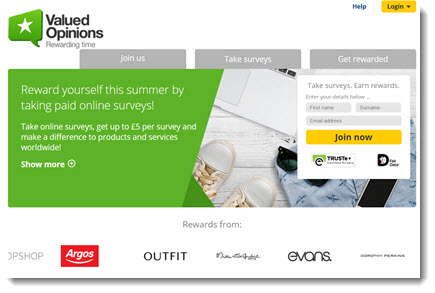 One of the first websites that I have signed up to make money online was Valued Opinions. I created my account and started taking online surveys for cash.
Read my Valued Opinions Review and see if this is a scam or a precious opportunity to make easy money online.
By the way, online surveys are good for pocket money, but they undervalue your time. If you want to follow the same strategy that earns me $900+ per month (and growing) check out my #1 recommendation.
Valued Opinions Review
---
Product Name: Valued Opinions
Website: valuedopinions.co.uk / valuedopinions.com
Price: Free
Money Making Strategy: Online Surveys
Overall rating:

3/5
What is Valued Opinions?
---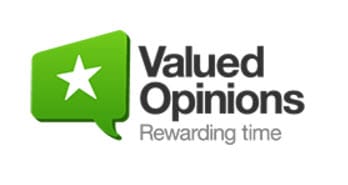 Valued Opinions is an online survey website owned by Dinata, a leading digital data collection company.
Through Valued Opinions, Research Now collects information and opinion from thousands of people like you and sell them to manufacturers and research agencies. Then, part of Research Now's profit is passed as an incentive to all those who took part in the survey.
Your opinions are vital for companies because they can improve their products and services or create new ones based on current trends.
This a genuine opportunity for people in the UK, USA, Canada, Australia, and New Zealand looking for extra cash.
Pros and Cons
Pros
Reputable.
Free to join.
Honest and transparent.
Cons
Low-income potential.
No signup bonus.
No cash, check or Paypal payments – Only vouchers.
Rewards can take a long time to reach your balance account.
Signing Up – Easy, but no bonus? 
Signing up with any legitimate survey platform is a free and quick process.
All you have to do is provide basic information, such your name, email, gender, date of birth and address. Next, you have to click on the confirmation link sent to your email account and you are done.
It's a shame that Valued Opinion doesn't offer any sign-up bonus like Swagbucks, CashCrate, and InstaGC. So your balance will be $0 from the start.
Profile Questions – Time NOT rewarded
The first thing you need to do after you sign up is complete the profile questionnaires. Why? Because Valued Opinions is looking for different groups of people according to their clients' needs.
By answering simple questionnaires, they will be able to know you better and offer more surveys according to your profile.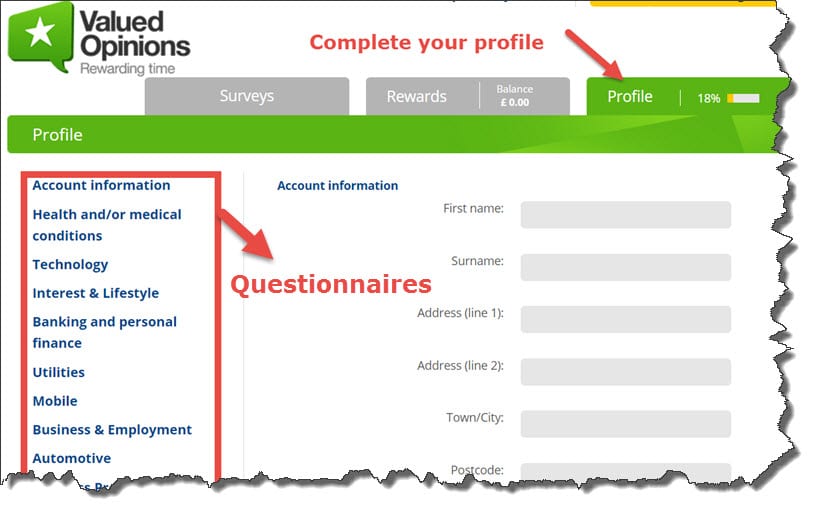 For example, if a study about kid's clothes is being carried out, it's sensible to accept only people who have children.

If they need opinions to help in the marketing research about dog food, they will only provide online surveys to dog owners.
The problem with answering these questionnaires is that you will not get paid for that. Although they are easy, it takes time to read and tick everything.
Looking for Online Surveys
Next, you can click on the survey's tab to see if there are any surveys available. Often times there is none, as you can see from my screenshot: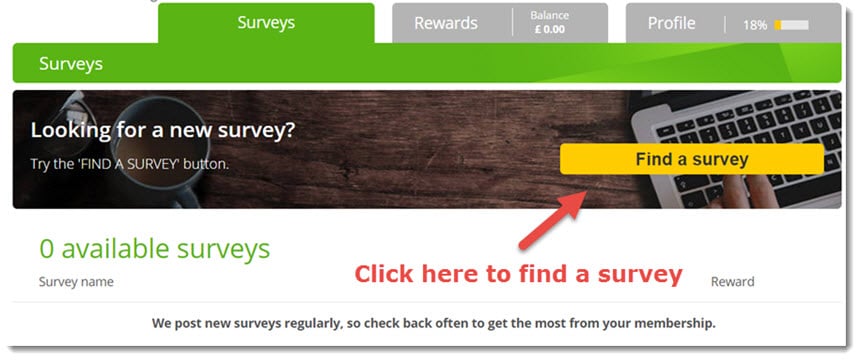 However, if you click on "Find a Survey," you will be able to answer a few questions that will eventually lead to more opportunities.
I could find 2 surveys, one paying £0.50 (10 min) and another £1.50 (30 min).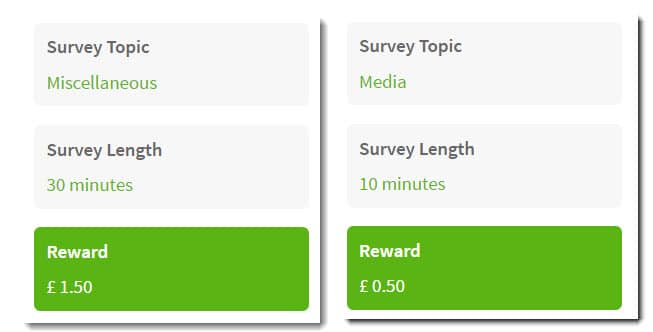 Now opportunities are also sent to your email, so make sure you check your inbox for more.
How Much Money Can You Expect? 
Online Surveys are well-known for its low pay rates. Most opportunities will just pay a few cents.
Value Opinions states you can get paid between £0.50 and £5 for surveys that typically takes less than 20 minutes. Personally, I have never found a simple survey paying over £2.
Survey websites don't like to reveal the average payment panelists can expect. I guess that's because the wage is not very attractive. From the two examples above, you are basically earning £3/hour.
Pre-qualification Questions
Prior to taking a survey, you usually have to answer a couple of questions that will further qualify you. These are known as pre-qualification questions, which are more specific.
Disqualifications are pretty common, you will not get paid for trying to qualify. It can be very frustrating when you get rejected by so many surveys without making any money.
Cashing Out 
One thing I was quite disappointed with Valued Opinions is that they don't offer Paypal, check or cash payment options anymore. You can only redeem your rewards using gift cards of well-known companies such as Amazon, Argos, and Marks & Spencer.
You need to have a minimum balance of £8.50 to claim your voucher. If you fancy voucher from Amazon, for example, the minimum required is £15.50, which is pretty high!
Another negative point is that it can take up to 6 weeks to receive the credit for one completed survey.

Once you reach the minimum and place the order, they will send you a voucher code to your email inbox within 24 hours.
Final Thoughts 
Valued Opinions is a legit panel that has a good reputation among survey takers. However, completing surveys for cash is very unproductive because the pay rate is very low.
Another negative point is that you cannot receive payments in cash. It forces you to spend money on selected companies, which may not be attractive for some people. I much prefer getting paid via Paypal, so I can spend on whatever I want.
Verdict:

Legitimate

 
My Sincere Advice to You
As I said previously, I have started making money online by taking online surveys. In the beginning, I was motivated to earn some extra cash to help with the bills, but then I discovered something way more attractive.

This reward platform is going viral! Cash out via PayPal, Visa, Gift Cards, and in-game currencies - Click here to find out how to generate an extra $10+ per day! 
I landed on a review site that was explaining how to make lots of money by creating a website on my passions or interests. It could be about anything! Travel, sports, games, or even on how to make money online (as the one you are reading now).
Then, I could make money by recommending products and services from any company I want. These are the necessary steps to earn affiliate commissions:

You build a website and write articles
People find your articles on Google and read them
People click on links that lead to related products and services on a merchant's site
You earn commissions for every sale!
Here is the interesting part: Your website is working for you 24/7, and it can reach people all over the world. The more quality content you write on your site, the higher your audience, hence, the more sales you make.
As you just have to lead people to the merchant's website, there are no transactions between you and the customer. There are no suppliers, no shipping, no employees, no bosses to deal with. As a result, NO HEADACHES!
How does it feel having the power to increase your online business to earn you a full-time income so you can finally quit your job?
If you are ready to do what it takes to become your own boss and work whenever and wherever you want, give your first step today!
It will guide you step by step, even if you know nothing about website creation or marketing strategies. I am a member myself, and I can assure you, this is the best place for those who want to take action and succeed.
I hope this article was helpful to you. Please leave your comments or question in the box below!
I wish you all the best
Stefan