Welcome to my InstaGC review!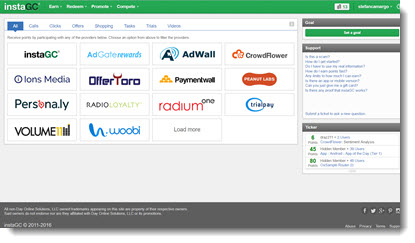 I have just found another website called InstaGC, which looks enormous compared to other platforms I have reviewed.
But is InstaGC legit? Does it pay for your online activities?
Let's find out!
If you are serious about making money online, check out my top recommendation and discover the strategy that earns me over $1k per month.
InstaGC Review
---
Product Name: InstaGC
Website: www.instagc.com
Price: Free
Business Type: GPT
Overall Rating:

7 / 10
What is InstaGC?
InstaGC is a GPT (Get-Paid-To) platform that provides a variety of methods for making money online. It is similar to Swagbucks, Vivatic, InboxPounds [UK]/InboxDollars [US], CashCrate, etc.
The platform is over five years old and owned by Day Online Solutions, LLC, which operates a network of 78 other websites in different businesses.
Here is a list of tasks you will find at InstaGC:
Get paid for watching videos/listening to the radio
Micro Jobs
Pros & Cons
Pros
The impressive number of offers available
Free to join
Low cashout requirement (eCheck) – $5
Good Reputation
Good commission from referrals – 10 points + 10% from referral earnings
There is a wide variety of Gift Cards
Cons
High cashout requirement (Paypal) – $50 for the first cash out and $25 afterward
Some offers may be tricky
Low-income potential
Simple Registration and a Huge Platform 
First, create your account and click on the confirmation link sent to your email.
The website doesn't promise unrealistic payouts or sell a magic list of high-paying surveys.
The registration is free of charge, so there was nothing to worry about, at least for the moment.
When you enter the platform, you will see 18 providers, including IntaGC. Each provider will give you different opportunities to make money.
On the dashboard, you will find a list of offer walls you can use to collect points, such as OfferToro and Peanut Labs.
Therefore, the number of opportunities is vast, saving you time signing up for other GPT platforms.
You can also select different types of tasks from the drop-down menu.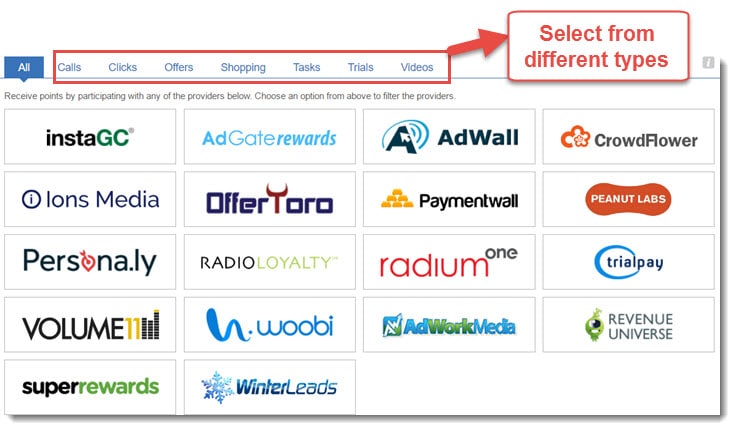 Points and Cashing Out System
One hundred points are equivalent to $1 in cash rewards, a conversion that makes life easier. If you have ever tried Swagbucks, you know what I am talking about. 1 point (SB) there is £0.0588(…) or $0.0111(…), which is not very handy.
You can use your points to exchange for cash (eCheck and Paypal), Giftcards, sweepstake entries, and donations.
If you want to get paid by cash, eCheck is the quickest option, as it requires a minimum of $5 to cash out.
I was impressed with the number of Giftcards available, especially for US and UK residents. Some well-known companies include Amazon, Apple, Claire's, Domino's, Starbucks, etc.
Now, let's break down each opportunity so you understand precisely how to make money and avoid pitfalls.
C0mpleting Offers – Be Careful! 
Offers are the heart and soul of InstaGC. This method is a marketing strategy whereby companies pay InstaGC every time you try out their products and services.
As a result, InstaGC will pay you a small percentage of this incentive. Everybody wins, but you win less, of course. 🙂
These companies pay for these trial offers to hook potential customers.
Unfortunately, many people forget to cancel their memberships and are forced to pay for the service they didn't need.
Let's take, for example an offer from Audible, which is an audiobook store owned by Amazon:

Registering for this offer will get 101 points from InstaGC plus a 30-day free trial. This will allow you to download one audiobook for free during the first month.
There is no catch, but unless you want to pay $7.99/month, you must cancel your subscription before the trial period. Otherwise, you will be billed for the entire month, and this is not a good deal if you are trying to collect points.
Don't lose track of your offers!
Trust me. It's very easy to lose track of offers, mainly if you accept many of them at once. In addition, each offer has its terms and conditions, so you must read everything carefully and be well organized to avoid undesirable fees at the end of the month.
Register for a Chance to Win and Become a Target for Call Center Marketers
Do you want to earn points and also have a chance to win a luxury Caribbean Cruise?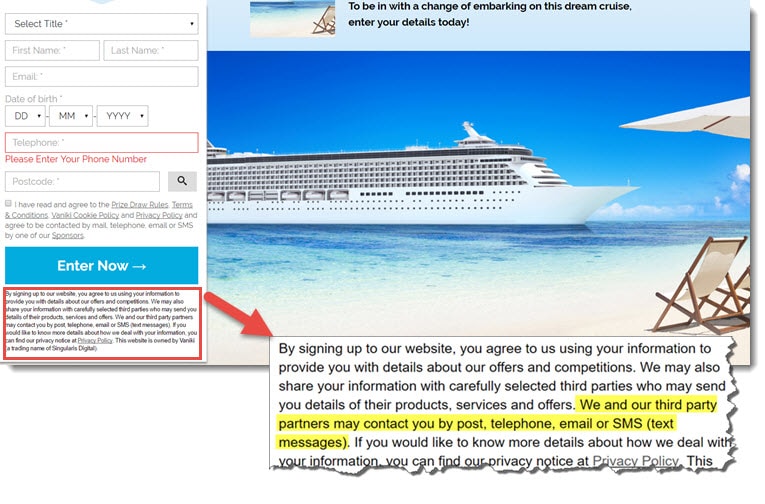 Every offer that rewards you with a chance to win a prize will request your email and phone number (usually landline). Although they are free, the downside is that companies will try to advertise products through your phone or email.
Less Troublesome Offers
Offers that require registration for another GPT or survey websites are not so bad. They will start sending emails with survey opportunities, but you can always sign out!
Other offers ask you to download different applications. Again, take extra care before accepting anything.

Online Surveys 
There are many survey opportunities. However, you will have to go through a qualification process that is not compensated.
It's pretty common to get rejected after 5 minutes of answering boring questions.
For this reason and the fact that the pay is too low, I decided to stop taking surveys and focus on affiliate marketing, which can be much more profitable if done correctly.
Get Paid to Watch Videos and Listen to the Radio
When writing this review, there were no videos available, only the radio option.
It is called RadioLoyalty, and all you have to do is let it play and enter the code provided every 30 minutes. You earn 3 points every half an hour and can play all day if you want.
Micro Jobs 
InstaGC works with a crowdsourcing platform called Crowdflower, which provides services for other companies that want a job done.
Crowdsourcing is the process of requesting small and simple tasks (micro-jobs), especially from the online community.
Micro jobs are popular because they are open to anyone and rarely require knowledge or experience. As a result, you will find many simple tasks like classification, categorization, and tagging, among many others.
Because companies want to save time and money with personnel, they give these simple tasks to people willing to work for pennies (usually 2 – 10 cents per task). These tasks are generally part of a big project split and distributed worldwide.
The pay is usually lower than online surveys. They are very strict with accuracy, so they kick you out if you fall below a certain level.
Referral Program – A Gold Mine? 
Inviting people to join InstaGC is a clever method of making money with this platform.
If you refer people to join through your affiliate link, you will earn 10 points per person plus 10% of their earnings. 
This means you don't need to waste your time to make money as people will be doing the job for you.
While some folks will be taking exhausting and tedious surveys, others will make money while sleeping. Trust me. Some people have 100+ referrals! Just take a look at this month's referral contest: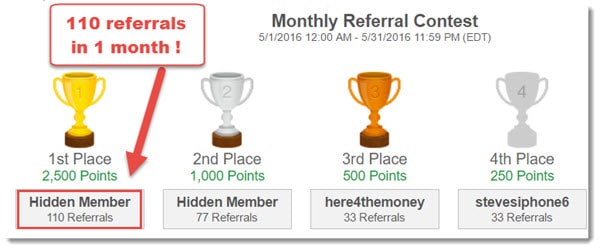 You need to act smart if you want to make money online. That's why I always tell my readers to get proper training and support with my #1 recommendation.
It will guide you to build an online referral machine – YOUR WEBSITE! So, the referral program is a gold mine for those interested in putting in the time and effort on your website.
Other Ways to Earn
You can also earn money through the following methods:
Point booster codes – You can find codes mainly on random InstaGC and social media pages.
Competition – Earn extra points when you reach the 1st, 2nd and 3rd places for making the most points in micro jobs, offers, etc.
Sweepstakes – You need to be active in completing offers to participate in sweepstakes.
Botton Line – Is InstaGC a Scam?
No. InstaGC is a legitimate website with a good reputation.
They provide a vast selection of offers and other methods to make money online. In addition, the platform is user-friendly, transparent, and doesn't make unrealistic claims.
However, there is not much money to be made if you stick with offers, micro jobs, and online surveys.
The payout is considerably low! Besides, you can end up with a hefty bill at the end of the month if you don't manage properly the offers that require your credit card.
You can also check another respectable rewards site called CashCrate. Their referral program is excellent!
Verdict:

Legit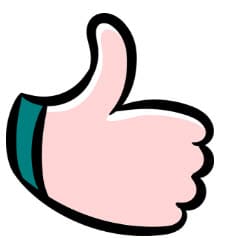 My # 1 Recommendation to Make Money Online
There is an increasing number of people working independently from home thanks to Affiliate Marketing. In my opinion, that's the best strategy if you aim for a job-replacing income.
It's possible, and anyone can achieve that with the right mindset and knowledge.
Thanks to an excellent training program called Wealthy Affiliate, I can now cover all my living expenses with my online business!
If you want to know more about my training, click here and read my Full Wealthy Affiliate Review. 
You will be able to set the foundation for your business for FREE, the same way I did. If you follow the lessons and apply what you learn consistently, there is no way you can't achieve your financial goals.
I hope you enjoyed my InstaGC review! If you have any questions or thoughts, please leave your messages below. I would be more than glad to help you out.
Your friend
Stefan