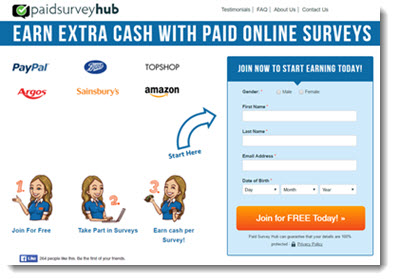 I have found another website to make money with surveys called Paid Survey Hub. Is it a scam or a legit platform?
Bear with me and discover the truth below!
By the way, if you want to discover how I make over $800/mo from my laptop, don't forget to check out my top recommendation.
Paid Survey Hub Review
---
Product Name: Paid Survey Hub
Website: www.paidsurveyhub.com
Price: Free
Business Type: Online Surveys
Score:

6 / 10
What is Paid Survey Hub?
Paid Survey Hub is a simple online survey website that works as an affiliate of marketing research companies and other surveys platforms. Here is the list of their current partners:
Opinion Outpost
Maximiles
GlobalTestMarket
MySurvey (I don't recommend this one!)
The website is operated by Medium Rare Digital Ltd, a registered company based in London/UK and owned by Charley Radcliffe.
When I first visited the website, I felt like I had already seen it before. But no, that's because it's almost identical to another platform I reviewed in February called Survey Compare. As expected, they also have a similar list of partners.
Pros & Cons
Pros
Reputable partners
Free to Join – Honest survey websites are always free to join
Cons
Low-income potential
Trying to qualify for surveys is very frustrating
You have to comply with specific T&C from different survey companies, including cashout requirements
Difficult to reach the minimum cash out requirement of some companies
It claims that you can make £5 per survey, but to be honest, I've never made more than £2 with a simple online survey.
How Does it Work? 
Companies want to know preferences and behaviors of specific groups of people to develop or improve their product. Therefore, they pay marketing research companies to collect opinions, demographic data (age, education, income, etc.) and perform the relevant analysis.
When you sign up for Paid Survey Hub, you will get paid for sharing your opinions and personal information with those companies through online surveys.
So, let's take a look at how it works.
Signing Up and Survey Panel Selection
The sign up is free, and all you have to do is give your name, email, and date of birth. Next, you will be encouraged to join all the survey providers (panels) on the list. The more panels you chose, the more survey opportunities you will get.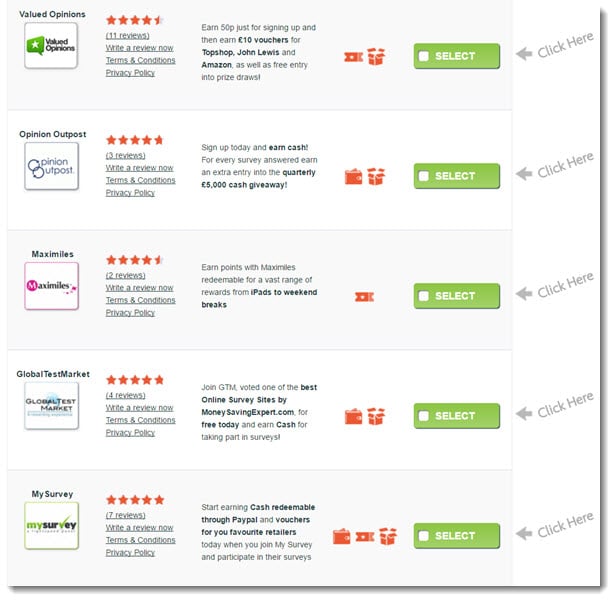 Following this page, there is a simple questionnaire about your address, and that's it.
You will start receiving survey opportunities on your email from each panel selected.
What next? 
As soon as you tick the boxes from the survey list and get to the final page, you are done with Paid Survey Hub. You will not deal with it anymore!
When you click on the invitation link in your email, it will take you to the panel's website, and from there you will take surveys. Besides, you will get paid directly by each panel, and for this reason, you have to comply with their own terms and conditions.
For example, each panel requires a minimum redemption balance to cash out. GlobalTestMarket requires a minimum of £32 while OpinioOutpost requires only £2.50.
Many GPT websites pay you directly for all the surveys you take from different marketing research companies. It's better because you can reach the minimum threshold much sooner. CashCrate, Swagbucks, Inbox Pounds/ Dollars and InstaGC are some popular choices.
Taking surveys 
Before getting your hands on the paid survey itself, you have to go through a qualification process that can take a few minutes.
You will answer specific questions to see if you match the desired profile.
For example, sometimes they want opinions from car owners. If you say you don't have a car, they don't want to hear from you I'm afraid.

They will reject and reward you with a nice:
Sorry, you are not a good match for this survey.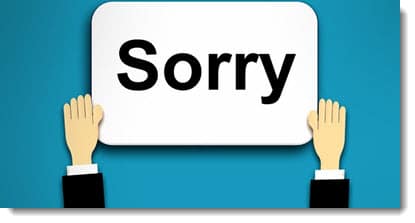 99.9% of surveys will pay you way less than the minimum wage. I am talking about £2 or £3 per hour! Not to mention that you will waste a lot of time answering those pre-qualification questions that will screen you out regularly.
£5 per survey? 
Paid Survey Hub is honest by stating that you won't get rich with surveys. It also explains it earns a small commission for each person who signs up to a survey company through the website. Great, we appreciate the honesty here.
However, it also states the following in the FAQ:
You can earn up to £350 Per Month or £5 for each survey you complete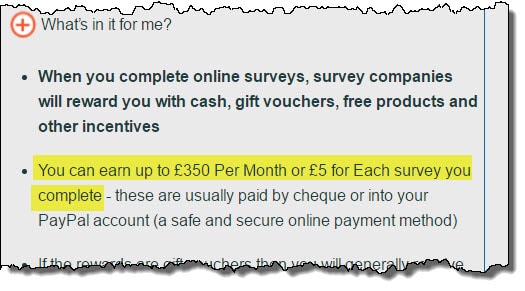 You will even read about this income potential on the last page after you click "Continue to Final Step." Check it out!

Can you really earn £5 per survey? Well, it's unlikely.
To be honest, I have never seen any company paying more than £2 for a simple questionnaire.
Can you make £350 per month taking surveys? Definitely! But you will probably have to spend more than 30 hours/week in from of your computer.
Cashing Out
The options vary from company to company, but you usually can redeem your cash via Paypal and gift cards. As I said earlier, you have to reach the minimum threshold required by each company before you can cash out.

Bottom Line – Is Paid Survey Hub a Scam?
Paid Survey Hub is not a scam. It's just an affiliate website that promotes a couple of survey companies and earns commissions when you sign up and complete surveys with them.
Claims that you can make £5 per survey are misleading! It's an artifice to entice you to join, but the reality is that you will get paid pennies for your opinions.
Verdict:

Legit 
My #1 Recommendation to Make Money Online
I've given up on online surveys because of the low-income potential.
Thanks to a review like this one, I discovered the Affiliate Marketing Model, which is considered one of the best strategies to make money online.

This reward platform is going viral! Cash out via PayPal, Visa, Gift Cards, and in-game currencies - Click here to find out how to generate an extra $10+ per day! 
You can build a website, promote other people's products and earn commissions without bothering with customer service, inventory, or employees. Your focus will be on writing helpful content on a topic you are passionate or genuinely interested in.
I am a member of Wealthy Affiliate, and it has helped me to create this very website from scratch and without any previous knowledge.

If you want to learn more about it, click the link below and read my review.
Thanks for reading and I hope this article was informative to you. If you have any comments or question, feel free to leave me a message below.
Your friend
Stefan