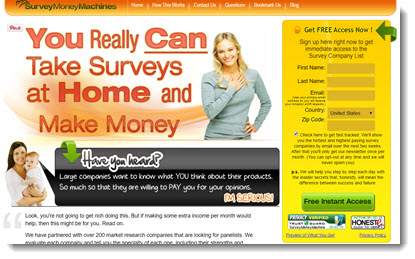 I have found Hailey Gates, a blond lady who claims to make serious income just by filling out surveys at home.
She says you can get paid up to $32 an hour with simple questionnaires and a lot more with phone surveys and focus groups. Crazy, isn't it? Is Survey Money Machine a Scam?
Well, the website is promising a list of more than 40 marketing research companies to sign up for, completely free of charge.
There are much better methods to make money online than online surveys. Check out my #1 recommendation!
Survey Money Machines Review
---
Product Name: Survey Money Machines
Website: www.surveymoneymachines.com
Price: Free
Business Type: Online Surveys
[yasr_overall_rating size="medium"]Recommended?

No
Score:

2 out of 10
What is Survey Money Machines?
First of all, it is important to understand that companies use online surveys as a way to collect information and opinions of a large group of people.
Marketing research is essential for any organization that wants to remain competitive as it identifies trends and preferences towards a product or service.
There are many survey websites operated by marketing research companies, and all of them are free to join. You can easily find them on the internet through a simple Google search.
In your results, you will certainly find websites that are not owned by marketing research companies, but by affiliates who make money promoting them.
That's what Survey Money Machines is all about! An affiliate website that promotes those companies in exchange for commissions when you sign up and complete surveys.

This reward platform is going viral! Cash out via PayPal, Visa, Gift Cards, and in-game currencies - Click here to find out how to generate an extra $10+ per day! 
Unrealistic Claims! 
First of all, there are two sites. In addition to SurveyMoneyMachines.com, you can also find SurveyMoneyMachine.com (singular form).
The last version was launched back in 2006, while the first was created in 2008. I'll talk about both interchangeably because they represent the same business and people can land on both websites.
SurveyMoneyMachine.com Claims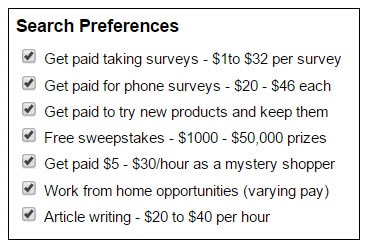 Here are some claims that catch people eyes and entice them to join:
You won't make thousands per month doing this, but if an extra $200 to $500 per month would be helpful to you, then that's an attainable amount.
Get paid $1 to $32 per survey
Get paid $20 – $46 each phone survey
Get paid $100 an hour participating in focus groups
Get paid $4 to $25 an hour to see movie trailers.
Also, they say you can make up to $500 per month! Yes, is attainable but it requires over 35 hours/week in front of your computer. Besides you have to be lucky and get accepted for the majority of surveys, which is not always easy.
SurveyMoneyMachines.com Claims
On the other hand, SurveyMoneyMachines.com provides a more realistic approach as you can see from the screenshot below. It doesn't show many dollar signs but still gives some hope you can make good money.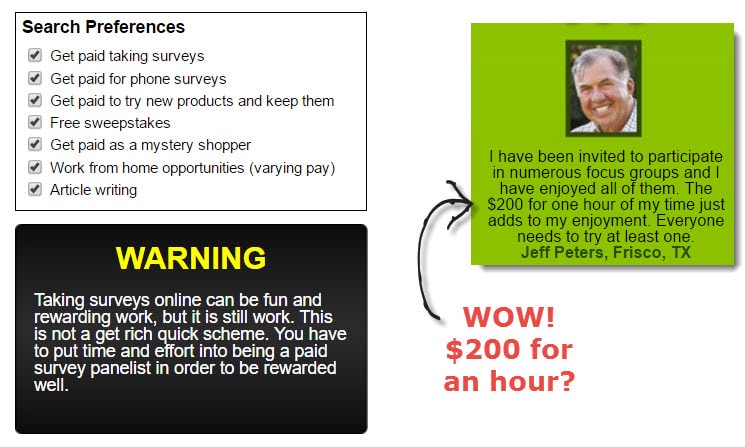 How Does it Work? 
As soon as you sign up, you have to complete a quick questionnaire about your income level, marital status, automobile, pet, among others.
To be honest, I don't know why they ask these questions because all they do is provide a list of survey panels. They don't match your profile with specific surveys the same way Swagbucks and MintVine do.

Not Many Panels as Promised 
After the questionnaire, you will see the list! I was hoping to get more than 40 panels as they promised, but I just got 12! Maybe because I'm accessing from the UK? Not really sure. So, if you are from the USA, please, share with us how many panels you find.
Also, I noticed that some links lead to a non-existent page, while others lead to a different panel.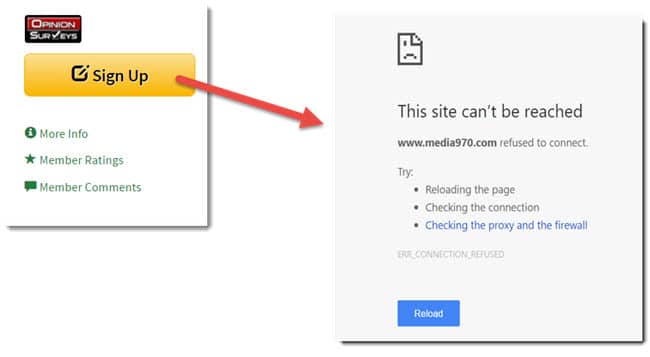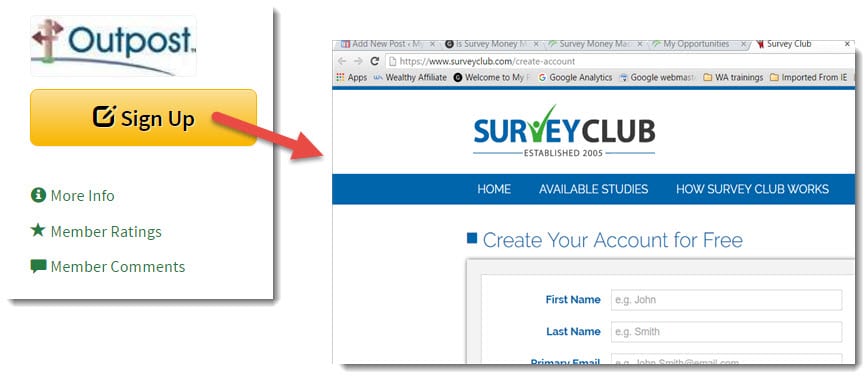 Next, you have to sign up for each panel, follow their own instructions and get paid by them. Also, each panel has their own minimum cashout requirement. For example, you may have a total of $100 in 10 different sites, but you won't get paid until you meet individual conditions.
Online Surveys Will Always Pay Peanuts! 
The time required to complete surveys is very important to consider. Do the calculation, and you will hardly find a survey paying more than $3/hour.

Not to mention that most surveys ask for unpaid pre-qualification questions to select specific candidates. If you are not a good match, you will get rejected and waste your time.
Conclusion – Is Survey Money Machines a Scam?
No, it is not a scam because you won't lose money. However, you will certainly get paid a very small amount of money! The time you waste filling up surveys could be used more wisely to earn residual income online.
Verdict:

Legitimate
Residual income is revenue that you earn over and over again from something you did in the past. But how does it work?
Build a website, create quality content and earn affiliate commissions by promoting other people's products and services. A website is a real business, which you can scale without limits!

It can earn you $10, $100, $500 per day depending on how much time and effort you put into it. Anyone can succeed with the right training and mindset. Click here and learn how I started my online business!
Thanks for reading! I hope this article helped you understand about this survey platform. If you have any question or comments, please don't hesitate to leave me a message below or by contacting me personally at [email protected].
Your friend
Stefan