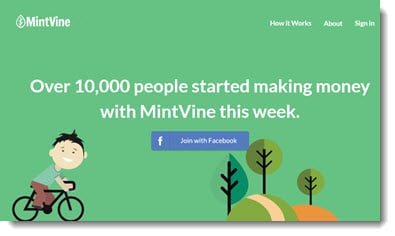 Thousands of people join surveys websites every single day to make money online. Most of them are legitimate, but make your life hard when trying to qualify for surveys or when trying to cash out. Others promise a full-time income with only 4 surveys per day.
In which category does MintVine falls under? Is it a scam or a legit website? Let's find out!
 UPDATE: Mintvine became Branded Surveys.
Mintvine Review
---
Product Name: Mintvine
Website:

www.mintvine.com,

now

brandedsurveys.com

Price: Free
Business Type: Online Surveys
Owners: 

Matt Gaffney and John Ackerman
Score:

6.0 out of 10
What is MintVine?
---
Mintvine is a survey website operated by a marketing research company called Branded Research Inc. The company was founded in 2012, in San Diego/CA and claims to have over 1 million people (panellists) registered in their database.
The marketing research industry is a very lucrative business. Every serious company is interested in studying people's behaviors and opinions to design and improve their products and services. Therefore, they hire companies like Branded Research to collect the information they want through online surveys.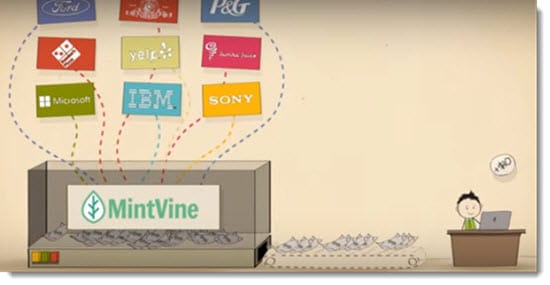 That's where you come in. MintVine is the platform where you can take surveys and get paid for it. They also provide paid offers, where you can earn cash by trying out products, participating in sweepstakes and signing up to other websites.
Pros and Cons
---
Pros
Free to join
Payment via Paypal and many Gift Cards
They give 5 points for unqualified surveys
They outline the points and the estimated survey length
Generous referral program ( compared to other survey websites)
Cons
Low-income potential
It can be difficult to qualify
Points take an indefinite period to be approved
How Does it Work? 
---
Signing up – why do they need your phone number? 
Signing up is a very simple process but one thing that caught my attention was the requirement to provide a phone number. They will text you an SMS and you have to type the code in order to proceed. They say your phone is required for security and not for marketing purposes, but who knows?
This is the first survey website I came across that asked for a phone number. I have seen many complaints on the forum about that, and to be honest, I think it's unnecessary.
UPDATE: Mintvine doesn't ask for your phone number anymore.
If you decide to proceed, you are taken to the dashboard where you see the following sections:
Current Points
Profile Checklist
Survey Street
Survey Place
Dailly Poll
Offers
MVP (referral program)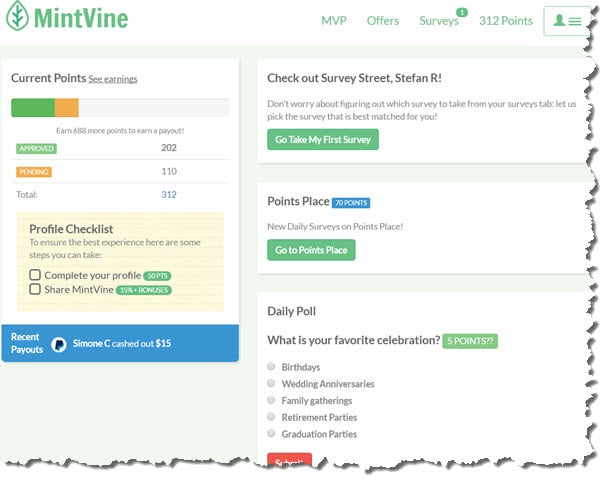 Current Points
This is where you see the approved and pending points. 1000 points in Mintvine is equivalent to $10 and you will notice that you already have 200 points approved in your account. $2 just for signing up is not bad, but this initial reward is given by most survey websites, so it's not a big deal.
When you complete a survey or offer, the points will be initially shown as "pending", so you have to wait for a while to be approved. Being approved doesn't mean you will be able to receive the money. I will explain the requirements in the "cashing out" section
Profile Checklist
You will earn 50 points after you complete a basic profile. These are simple questions ( age, gender, income level etc) about yourself and will not take more than 5 minutes. When you click on "Share MintVine" you will be taken to the MVP page, which I will explain in detail later on.
Pre-qualification questions  – A Waste of time! 
Before you are accepted for any paid survey, they want to know if you match specific demographics they are looking for – the same age group, gender, income level, etc.
I will give you one simple example. Let's say a company that produces baby clothes wants to know parents opinions about styles and different accessories. You will have to answer some pre-qualifications that will include questions like: Are you a parent? How many children do you have? If you are not a parent, you will not be allowed to take this survey unless you create a fake profile.
That's really annoying because this happens all the time, no matter your profile! You will waste a ridiculous amount of time just for the chance to earn a few cents.
Survey Street Section – Disappointing! 
MintVine uses a router to match participants to specific surveys. This is what they say:

This means that members don't need to click through survey after survey to find one that matched their demographic. Instead, only surveys that are available to any given member become available, conveniently saving time.
Well, it seems like a very beautiful concept, but in reality, I couldn't get a single survey using this section. All I got was this message:
Hmm – that survey is no longer available (sorry – surveys close quickly!) but we've found another survey for you below.
Or this one: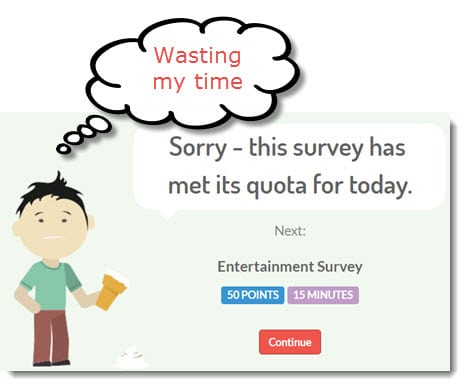 Points Place Section 
You have to answer a couple of pre-qualification questions that will be used to select surveys that match your answers. I was accepted for 2 surveys out of 6 attempts using this section. Sometimes, I would take more than 5 minutes only to be rejected…
Each survey here will earn you 70 points and they usually take 15-20 minutes to complete. It's nice that they give us an estimation of how long it takes, but personally, I don't think it's worth it. When you consider the time wasted with the pre-qualification process, you see how your time is undervalued. 
Daily Poll – Painless
Answering a simple question will earn you 5 points every day, and if you do this for the next 10 days, you will get 25 points as a bonus. This is one example: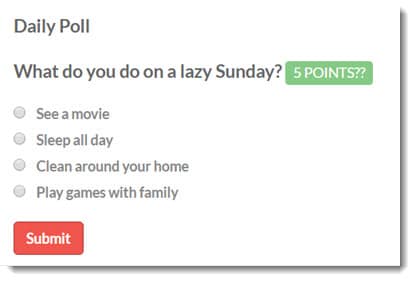 Offers
Here you can find a variety of offers to complete and earn more points. Offers that require a free sign up to another survey website are ok, but I have 3 objections.
1.Entries for prizes: Most, if not all of them, will ask for your email and mobile phone.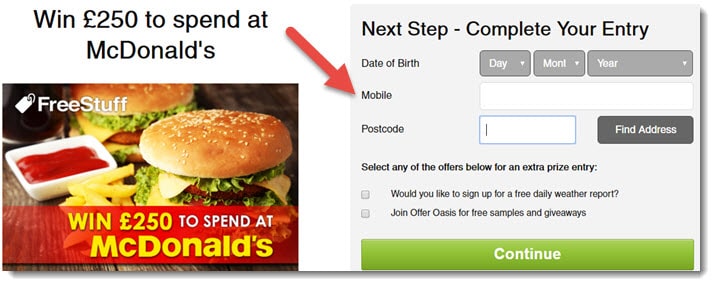 I once committed a serious mistake to give my mobile phone for a similar offer. After that, I was getting incessant marketing calls every single day until I chucked my chip in the toilet and flushed away.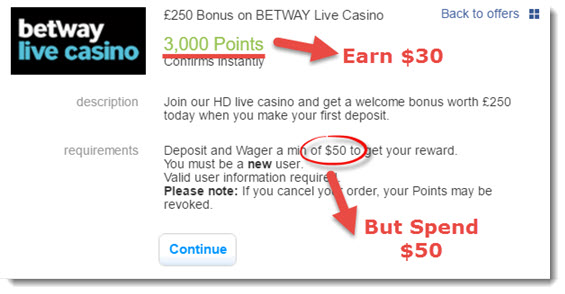 3. Offers that require credit card details: These are movie streaming websites,  electronic magazines, games etc. where you usually have a 14-day trial. If you don't cancel the subscription, they will charge you for the whole month. I guess many people forget about it and end up losing money. So, be careful and read the terms and conditions before accepting any offer.
MVP – Referral Program
You can invite people to join MintVince through your affiliate link. Just send this link to anyone via email, social media, blog etc. and you will earn 15% of what they earn. You will also get 50 points when your referrals complete their first survey, which is quite good!
Affiliate marketers earn lots of money by referring people via their websites. Learn here how to start an affiliate marketing business.
Cashing Out
---
When you reach 1000 points ($10) you can request your payment via Paypal or Gift Cards. The terms of service state that the payments are processed within 15 days, but sometimes there may be interferences that delay payments.

This reward platform is going viral! Cash out via PayPal, Visa, Gift Cards, and in-game currencies - Click here to find out how to generate an extra $10+ per day! 
Final Thoughts
---
MintVine is just like another survey website. You have to go through pre-qualification questions and cross your fingers to get accepted. Once you get accepted, you will take around 15 minutes just to make a few cents. These extra cents add up over time and can help with little things, but you can never change your financial circumstances.
It's not fraudulent, but I find it very hard to qualify for surveys. Not much different from so many other survey websites like Swagbucks, Survey Compare, Vivatic, InboxPounds/Dollars and Survey Junkie. I also didn't like the fact that you have to provide a phone number to validate your account.

Verdict:

Legit
I used to take surveys last year, but I hated to use my free time just to make a few dollars per month. I was wasting my life away with something that would get me nowhere.
Then, I discovered affiliate marketing, considered one of the best ways to make money online. I saw many people making huge commissions from their websites, which amounted to a full-time income.
When you have an affiliate marketing business, the money that you earn is not connected to the hours you work! Once the website receives a good amount of visitors, the revenue seems very much like a passive income. So, if you decide to take a two-month vacation, your website would still work and making money 24/7. It's life-changing!
Can you see the potential here? Everything that you create in the past will make money over and over again. When you reach a point where you can cover all your living costs plus a safety margin, you can use your present time to enjoy life or create more wealth.
Different from another get rich quick scheme, I am not gonna lie to you. It takes time, hard work! I am starting to see commissions after 8 months in this business. It is not enough to cover all my living costs, but it's a start. I have seen many people who started from scratch quit their job within 2 years! It really works for those who have the right knowledge and who are highly motivated.
So, have you ever tried MintVine? What do you think about online surveys in general? Feel free to leave a comment or questions you might have below! I am always here for any help. Thanks for reading!
Your friend
Stefan