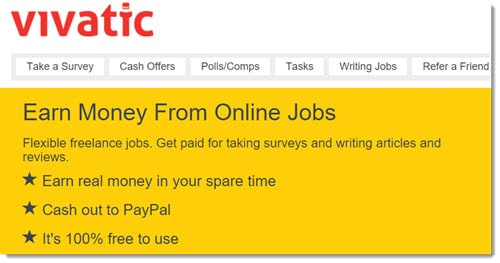 Every time I search for methods to make money online, I find similar websites targeting online surveys and paid offers. But the pay rate is usually so low that discourages many people from keeping going.
Is Vivatic a scam? No, it is legitimate. But as you will see, Vivatic will pay very little for your time.
By the way, if you want to work remotely to achieve time and location freedom, don't forget to check out my #1 recommendation.
Vivatic Review 
---
Product Name: Vivatic
Website: www.vivatic.com
Price: FREE
Money making Strategy: GPT (Online Surveys, Offers, Micro Jobs)
Score:

6/10
What is Vivatic? 
Vivatic is an online rewards website with a couple of traditional ways to make money online, which include:
Online surveys
Cash offers
Polls
Micro jobs (tasks)
Writing jobs
Referral system
Vivatic is similar to other GPT websites like InstaGC, Swagbucks, Treasure Trooper, and Inbox Pounds/Dollars. Most of the opportunities are coming from 3rd parties, which means Vivatic is earning commissions by sending workforce (you) to its partners.
For example, when you click to fill up an online survey, it directs you to market research firms like Toluna, Populus, and many others. As a result, a percentage of the money you make goes to Vivatic.
Vivatic is proud of being featured on Moneysavingexpert.com, which is the biggest consumer website in the United Kingdom. Besides, it claims to have paid more than £2.000.000 to its members.
Pros & Cons 
Pros
Free to Join.
It works with reliable paid survey partners.
Registration is open worldwide.
Payment received via PayPal.
Cons
Very low-income potential.
No daily polls are available.
Very few micro jobs for starters.
Micro jobs pay peanuts.
Paid surveys are only available to US or UK residents.
The payments are transferred only on the last working day of the month.
How to Make Money With Vivatic? 
As soon as you sign up, £1 will be credited to your account. Next, I am going to explain each method in detail.
Online Surveys
All you have to do here is fill up simple questionnaires for marketing research companies. Your personal information and opinions will be used to create new products, modify and improve existing ones to increase profits. Here is a list of some survey companies inside Vivatic:
Toluna
NewVista
Populus
SSI: Web Sourcing UK
GratisPoints
Because marketing research firms are always searching for a very specific audience, you might not qualify according to your answers.
Nobody likes to work for free, but this is inevitable when you accept taking online surveys.
Each survey will pay you a different reward as you can see from the screenshot below.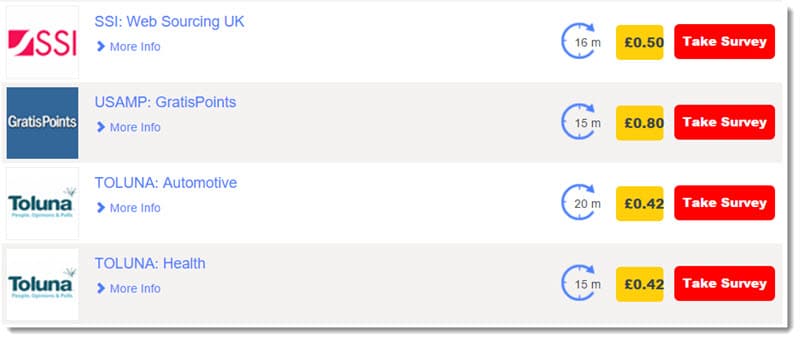 Calculating the hourly wage for each survey is interesting. Using the examples above, you would get an average of £1.94/hour!
Personally, I don't think it's worth it. I believe everyone is capable of creating an online business dedicated to their hobbies and interests and make much more money online!
If you are sick and tired of working for others in exchange for pennies, check my #1 recommendation and create an online business for yourself!
Cash Offers
Trial offers is a proven marketing strategy whereby companies pay a commission for Vivatic every time someone (you) accepts their offer. As a result, Vivatic will share part of their earnings with those who took the offer.
Next, I would like to discuss 3 types of offers that you should be aware of:
Free and no credit card needed: Some offers are completely free but will ask for your email and phone number. It means telemarketing staff will keep calling, sending SMS, and emails. Most free offers that don't require your phone number are the ones that ask you to sign up for another GPT or online survey website.
Free but credit card needed: Be very careful with this offer by reading the terms and conditions patiently. Example: The offer is a 14-day free trial access to a video streaming website. You put your credit card, and if you forget to cancel your subscription, they will charge the subscription for the whole month. Is it worth to take this risk for a few cents? I don't think so.
Paid offer: This type of offer require you to make a deposit of, say £10, in order to earn £11/£12 from Vivatic. The trick is that sometimes the deposit must be higher than the reward as you can see in this example below:

Tasks – Extremely Cheap Labour! 
Vivatic uses a crowdsourcing platform to called CrowdFlower. Crowdsourcing is the process of assigning specific jobs to many people through the internet.

Typically, these tasks are part of a large project that cannot be carried out by an individual or a small team. Also, they can't be carried out by computers, as they involve personal opinions and judgments.
There are many tasks such as image interpretation, feedback on a logo, web pages tagging, categorizing, help in defining relevancy for search results, among many others.
The type of task depends on your badge level, which goes from 0 to 3. The higher your level, the higher your payout and the number of tasks available. To reach a level, you must complete more than a hundred jobs and achieve a particular level of accuracy. Level 3, for example, requires close to 100% precision.
When I tested Vivatic, there were no jobs for those with level 0 for 2 consecutive days. You can see from the screenshot below.

Since all the jobs available required badges 1 to 3, it was impossible for me to get started and work towards any badge. The official CrowdFlower's website states that the availability of jobs depends on many factors like specific demographics, location, skills, and language.
Luckily, two micro jobs appeared just in time before I published this article.

I went for the "Verify Information About Audiobooks" and completed two tasks. Both asked me to search at audible.co.uk and Google it to see if the information provided matched a real audiobook.
I committed two banal errors, which caused my accuracy to drop to 67%. As a result, I was blocked and could not complete additional tasks. It took me 10 minutes to earn 0.8 pence for a task. Heck, less than 1 pence for each task? What is that? Voluntary work?
Writing Jobs
In order to qualify for the writing jobs, you need to pass 2 phases. The first step comprises 20 CrowdFlower tasks that you need to complete with a high level of accuracy. In the second stage, they ask you to take a writing test and achieve a score of at least 3.5 out of 5 to finally qualify.
The problem is that writing tests are not always available, and you may have to wait until demand for writing jobs increases. If you want to get paid for freelance writing, a better option is to join platforms like Fiverr, Freelancer or Elance.
Refer a friend
When you sign up with Vivatic, a referral link (a special type of URL) is created for you. This unique link directs anyone to Vivatic's website, and that's how they know you referred (inviting) someone.

You can send this link via email, share it on social media and even place it on your blog or website. For every £10 your referral earns, you get £2 as a commission.

Having a blog or website is probably the best way to refer lots of people to Vivatic. However, there are much more lucrative referral programs and quality products to promote after you build a website and become an internet marketer.
Payment
PayPal is the only payment method, and you need to reach a value of £20 or $25 to cash out.
Is Vivatic a Scam? My Verdict 
Vivatic is not a scam but the income potential is too low and the easier the task, the longer you have to work for them.
Verdict:

Legit

This reward platform is going viral! Cash out via PayPal, Visa, Gift Cards, and in-game currencies - Click here to find out how to generate an extra $10+ per day! 
My Sincere Advice to You
Don't accept getting paid so little for your time when you can create your own online business and work for yourself.
In order to do that, you can build a website, provide helpful information to your audience and promote products as an affiliate. In time, your site will grow and earn you a passive income for years and years!

A website is a real business that you can manage anywhere, at any time. For me, it means FREEDOM! If you are interested in building your own online business, check my #1 recommended platform.

Have you tried Vivatic? Were you able to complete the tasks and the writing jobs? What is your honest opinion about the platform? Leave your comments and questions below. I am really looking forward to hearing from you!
Your friend
Stefan