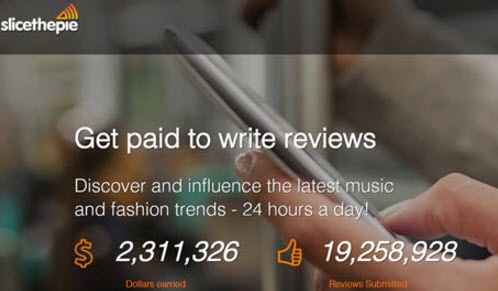 I love music, and when I discovered that I could get paid for reviewing songs, I just could not help but check a website called Slice the Pie.
I was not expecting to earn a lot of money, but  I was curious to know how much money I could make by just reviewing songs. Is Slice the Pie Worth it? 
Let's check it out!
By the way, don't forget to check out my #1 recommendation to discover the strategy that earns me over $1200/mo from my laptop.
Slice the Pie Review
---
Product Name: Slice the Pie
Website: www.slicethepie.com
Price: Free to join
Strategy: Paid for writing reviews
Recommended? For quick cash? Yes! As a long-term strategy, No!
Score:

7.1. out of 10
What is Slice the Pie? 
---
Slice the Pie is a website that allows you to get paid for reviewing songs and products. In the beginning, I thought it was more geared towards independent and unknown artists, but I was surprised to see music from Lorde there.
The website was created back in 2007 and have paid more than $2.000.000 to its members so far.
Recently, Slice the Pie partnered with fashion retailers in The United States and the United Kingdom to offer the option of reviewing products. Since then, people can also give their opinions about fashion products in many categories.
Pros & Cons 
---
Pros
More straightforward way to get paid for your opinions (better than online surveys)
It can be fun if you enjoy music
Free to Join
Cons
The payoff is very low for the song review
You need to reach $10 to cash out
You cannot choose music genre
How Does it Work? 
---
 The Sign-Up Process
First, you have to sign up and confirm by clicking on a link sent to your inbox. It is entirely free to join! 
Next, answer simple questions (employment and marital status), select which kind of music you like and rate another musical genre on a scale from 1 to 5.
In the beginning, you have the option to choose to review both music and fashion products or just one of them.
Getting Started
Slice the pie doesn't provide any payout expectations for its scouts. All they say in the FAQ is that the money paid will depend on your Star Rating.
As you can see from the screenshot below, your account will be rated from 1 to 5 starts.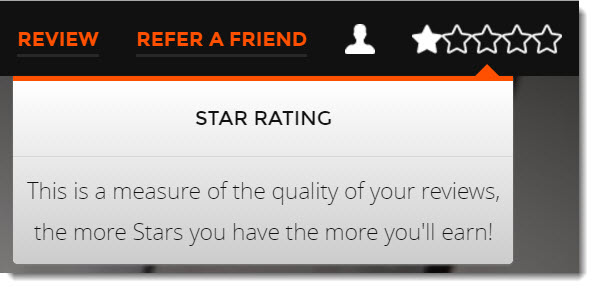 The more stars you have, the more you will earn for each review. You can increase your rating by writing more thoroughly and by being more active.
The more quality reviews you write,  the more you will get paid for each review. So, it is basically a mix of quantity and quality that will contribute. Besides, your star rating can go up and down at any time.
It is useful to have a list of adjectives and other related words on your side to help you write song reviews more effectively.
This is how it works:
First, you have to select the category you want to review. These include mobile, homeware, music or random selection.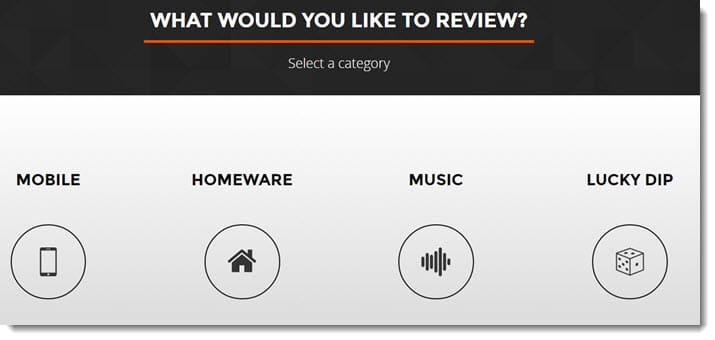 By clicking on "music," this is what you will see on your screen: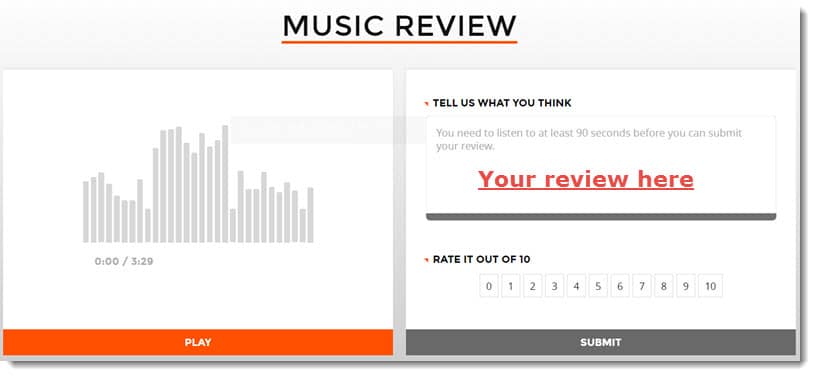 You need to listen to 90 seconds of music before submitting the review, and you can start writing at the same time as you listen.
It is also important to note that your review needs to have at least 60 words.

Just below, you have to rate the song on a scale from 1 to 10.
That's it! After you submit, the money will be credited to your Slice the Pie account. If you receive a product review instead, a set of images will appear, and you can start writing.
I didn't like the fact that the kind of music they provide is random and not based on your preferred music genre. Besides, you cannot skip the ones you don't like. This is a negative point.
So, how much did I earn?
I was quite disappointed after writing 100 words and receiving only $0.05 for it. Seriously, I was not expecting to get $1 for it, but 5 cents? It's very discouraging!
Let's say you are incredibly fast complete your job in 1 minute. It took me 3 minutes by the way.
Well, in 1 hour of insane writing, you will find yourself with a maximum of $2.
Ok, this is because we, as starter scouts, have only 1 star.
So, how much can we earn if we have 5 stars? Well, I didn't reach that point, but I checked to see what other people were saying.
I couldn't come up with an exact number because it also depends on the length and quality of each review. But I saw you can earn an average of $0.15 if you have 5 stars.  This is too bad!
Product reviews pay more!
If you don't mind reviewing physical products, I realized they pay more for that. The first review was a mobile leather case.
My 100 words review paid me $0.22 and also took me 2 minutes to write. Not that bad considering an online survey typically pays this amount (even less) for a boring 15 min questionnaire.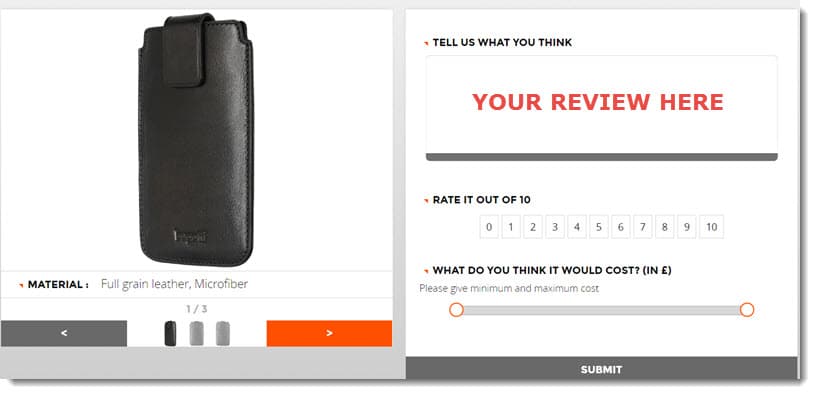 In a matter of 20 minutes, my song and product reviews earned me $1.11. 
How to Withdraw Your Money?
---
The payment is only via Paypal. You can only withdraw your money when you reach the value of $10. So, it might take a long time and hard work to achieve that value I suppose.
Bear in mind that the availability of songs and products is limited, and you may have to wait for more to come in the process.
Conclusion
---
Some people find it cool and don't mind getting paid so little by Slice the Pie. After all, they may be giving opinions on social media or another website for years without earning a cent.

This reward platform is going viral! Cash out via PayPal, Visa, Gift Cards, and in-game currencies - Click here to find out how to generate an extra $10+ per day! 
These people tend to give more valuable opinions because it comes from the heart, not as a way to make money.
The concept of earning money by giving opinions on music and products is pretty cool! It's not only a legit way to make money online but also a valuable opportunity for artists to evaluate their performance.

So, Is Slice the Pie Worth it?
Well, this is a very personal question. For me, Slice the Pie would be worthwhile if I were not creating reviews for my own website.
There is a much more profitable way to make money by writing reviews online, be it music, mobile phones, travel destinations, etc. I will explain more about it in the next section. Well, you can give it a try and see if you like. It's completely free anyway!
A Way to Earn Much More With Your Reviews
---
As you could see, writing for other people is usually not very profitable. Your earning potential as a freelance writer is too small.
For example, Fiverr.com pays $5 for a 500-word article. It is much more than Slice the Pie can pay, but still, it doesn't compare to the business model I am about to show you.
Your opinions can be much more profitable. By building a website and creating quality content for it, you can literally build a business from scratch. It is also like creating an asset that will earn you passive income.
A website can be about anything, and any website can be profitable. So, if you love music, you can write about your favorite artists and your favorite musical instrument.
You can teach everything about music, and you can be as creative as you can! You do whatever you want with your unique piece of art.
And how to make money with a website?
Well, there are hundreds of ways and here is one example. Let's say you wrote a 1000-word review of an electronic drum sold on Amazon for $250. If the person goes to Amazon through your website and buys that drum, you earn a commission of 6%. So, $15 in your pocket!
After you publish your article, people will browse your website, click on your affiliate links and purchase the product on the merchant's website.
Note that you are not selling anything. You are just helping and directing people to the retailer's website!
At the end of the month, you have the potential to make thousands of dollars with many articles targeting different products! This business model is called affiliate marketing and is one of the most profitable ways to make money online.
If you want to start your affiliate marketing business, then check out my #1 recommendation review below. The first 10 lessons are completely free and will certainly put you on the right track to succeed online.
Thanks for reading this article, I hope it met your expectations. If you have questions or thoughts about Slice the Pie, just drop me a message below! I will try to answer as soon as possible.
Your friend
Stefan