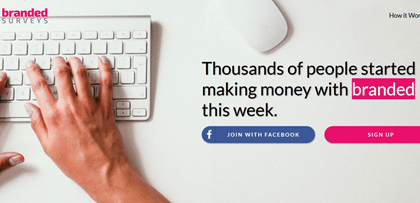 In this Branded Surveys review, I would like to cover all you need to know about this survey panel and give you my honest opinion about it.
There are many disappointed users who are flooding Surveypolice.com with negative reviews!
Is Branded Surveys still legit in 2020? Will you get paid?
Let's find out!
By the way. Have you ever thought about the possibility of earning a full-time income online?
You may also want to check out my #1 recommendation, which is the same program that helped me build a profitable online business and reach $1,300 per month from home. 
Branded Surveys Review
---
Platform: Branded Surveys (Mintvine)
Website: www.surveys.gobranded.com
Price: Free to join
Strategy: Online Surveys and trial offers
Member Eligibility: US, Canada, and UK residents (18+)
Similar Sites: Univox, Myiyo, OpinionPanel and Prolific Academic
LEGITIMATE
Overall Rating:

2.3/5
What is Branded Surveys?
---
Branded Surveys is a survey panel operated by Branded Research Inc., a leading market research company that boasts over 2 million users worldwide.
The company operated a survey panel called Mintvine between 2012 and 2017. But for some reason, they decided to rebrand the site, which is now Branded Surveys.
Branded Surveys allows members to complete online surveys and trial offers in exchange for points.
For this reason, we can also call Branded Surveys a GPT (get paid to) site.
Once you have reached 1000 points, you can redeem for $10 via Paypal or a gift cards of your choice.
Only people who are 18 years of age or older can join Branded Surveys and participate in marketing studies.
Those who are 13 – 17 years old can also join as long as they have their parent's consent.
Pros and Cons
---
Pros
Free to join.
Trustworthy panel.
Earn extra points when you are an Elite Silver and Elite Gold member.
Sometimes you will earn 2 or 3 points when you get disqualified.
The minimum payout requirement is low ($10).
You can get paid via Paypal and gift cards.
Cons
Low pay.
Frequent disqualifications.
Available only to US, Canada, and UK residents.
Branded Surveys can terminate your account for no reason.
The referral program only works for Silver and Gold members.
How Does Branded Surveys Work?
---
Registration
Signing up Branded Survey is free and straightforward. Simply provide your name, email, and password. Alternatively, you can choose to sign up directly with your Facebook account.
Complete Your Profile
Once you confirm your registration, the first thing you should do is complete your profiling survey and collect 50 points. It only takes about 5 minutes.
Taking Surveys
---
Branded Surveys will send you new survey invitations that match your profile as soon as they become available.
Most of the times, you will get less than 100 points for each survey. Each survey takes around 10-20 min to complete, but that doesn't count all the time you have to spend answering pre-qualifying questions.
As companies are looking for specific demographics, you will have answer some screening questions in order to qualify for them.
It's not uncommon to get screened out after 5 minutes answering these questions, which can be very frustrating!
Branded Surveys used to award 6 points even if you didn't qualify for a survey.
Nowadays, they will give you 2, 3 or no points at all.
I have reviewed many survey platforms, and I estimate that people usually make between $2 and $3 per hour. 
You can earn even less if you get disqualified frequently.
Once you complete a survey, your points may be held as pending, which means the survey is under review status.
It may take up to 14 days for it to be approved or rejected.
On the Branded Surveys dashboard, you will see how many approved points you have accumulated and how many points are still needed for cashing out.

You can get disqualified if Branded Survey spot contradictory responses or think you are going too fast.
So, pay attention and read all the questions carefully to make sure you get paid.
I highly advise you read this post to avoid survey disqualifications.
Partner Surveys
At any given time, you may not find any survey opportunities in your dashboard.
The good news is that Branded Surveys has partnered with third-party platforms where you can find more survey opportunities. These are:
Offertoro
Persona.ly
Adwall
AdGate
In addition to surveys, these companies also provide different offers that you can complete and collect more points.
If you want to complete offers, I advise you to stick with the ones that are 100% free.
Avoid offers that require an initial deposit such as those advertised by online casinos and bingo.
If you accept an offer that requires a subscription using a credit card, remember to cancel it before the trial ends if you don't want the service.
As importantly, don't forget to read the terms and conditions carefully.
Points vary according to the type of offer, but most of them pay less than 100 points.
Daily Polls
At Branded Surveys, you can also earn 5 points for answering daily polls. If you complete 10 polls in a roll, you will earn a bonus of 25 points.

You can earn more points according to the type of badge that you have. Next, I am going to show you the rules and how many points you can get.
Badge Perks 
There are currently 3 types of badges: Bronze, Silver, and Gold.
You will collect badges points whenever you complete surveys and offers. These badge points are just used to level up your account and don't have any currency value.
You need a total of 600 points to go from Bronze to Silver, and 2100 points to reach Gold status.
The table below shows the different bonuses that you can earn according to the type of badge that you have.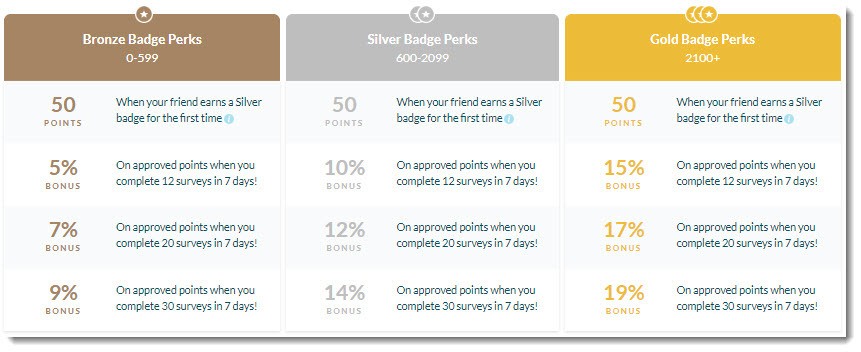 As a Silver or Gold member, not only will you get higher bonuses but also earn 50 points for inviting friends.
Leaderboard
As you complete more surveys, you can earn your spot on the Daily, Weekly, and Monthly leaderboards.
The top 50 of each leaderboard will be randomly selected to win the following prizes:
50 points (Daily winner)
200 points (Weekly winner)
1000 points (Monthly winner)
Referral Program
If you are an Elite Silver or Gold member, you will earn 50 points when you invite other people to join Branded Surveys through your affiliate link.
Keep in mind that you will only earn the points when your referral reaches 600 points and becomes an Elite Silver member.
Unfortunately, you can't earn referral commissions as a Bronze member.
So, you will need to take part in surveys and earn points before you can take advantage of the Referral Program.
Cash Out
When you reach 1000 points, you can choose to get paid via PayPal or e-gift cards from your favourite stores such as Amazon, Zalando, Argos, TK-Maxx, Tesco, among others.
The payout is usually processed within 1 or 2 business days after request.
Branded Surveys Can Terminate Your Account
---
Many people don't know this, but when they join survey panels and GPT (get paid to) sites, their accounts can be te terminated for no reason whatsoever.
If you take a look at Terms and Conditions, you will discover that Branded Surveys has a Termination policy, which states the following:
Branded reserves the right, without notice and its sole discretion, to discontinue the Branded Surveys Program or the Site or any of its Services, and further, does not have any commitment toward any Users, past or present. Branded may at any time, for any reason, with or without notice, discontinue the Branded Surveys Program, the Site, and all Services, for one or all of its Users.
Unfortunately, if they decide to suspend your account, you will lose all your points!
So, there is no guarantee that you will get paid.
I have joined lots of survey sites, and none of them has ever deleted my account. Maybe I was lucky!
After reading many user reviews on Trustpilot and Surveypolice, I realised Branded Surveys doesn't have the bad habit of deleting people's accounts, which is good!
User Reviews – Complaints
---
Branded Surveys has an excellent reputation on Trustpilot. If you look at trustpilot.com, you will see that over 89% of a total of 12896 people consider the website excellent and great.

But there are complaints too! Some people are saying they are missing payments, but apparently, the company is genuinely interested in solving their problem.
UPDATE Jun 2019: Recently, I have noticed many people from the United States complaining about Branded Surveys on Surveypolice.com. There, the panel has been rated 2 stars out of 5. 
Some of these recent complaints include:
The site is apparently showing wrong survey time estimates. It's taking longer than what it says.
Frequent disqualifications.
People disqualify after going halfway (or more) through the survey.
The pay rate decreased.
Some people say Branded Surveys used to be a good site in the beginning and when it was Mintvine.
Now, it looks way more difficult to earn the same amount of money as before due to lower payouts and frequent disqualifications.
One guy claimed that he made $600 two years ago and that he will be lucky to reach $200 this year.
Conclusion – Is Branded Surveys a Scam?
---
Branded Surveys is still one of the top-rated survey panels out there. So, it's not only legit but very popular and reputable.
Another great GPT (get paid to) option is Prizerebel. So, you can check that out if you want to complete more surveys and offers!
Now, there is a way you can make $100s or even $1,000s per month while working from your laptop.
If you dream about making a full-time income from home, keep reading as I am going to show you my #1 strategy.
Verdict: Legit
My #1 Strategy to Make Money Online
---
The business model that I use to make money online is called affiliate marketing.
In short, I write articles on my website and promote products that will help solve people's problems.
I make money when people click through my links and end up purchasing the products directly from the merchant's site.
It's a win-win situation!
My website is all about platforms, products, and strategies to make money online. However, you can tap into other niches of your interest.
There are successful people in many niches such as healthy food, pets, dating, personal finance, and so many others!
The great thing about affiliate marketing is that you don't need to have your own products, and you don't need to deal with customers, clients, and inventory. Besides, it's very affordable to start and run this type of business!
It's possible to learn everything by yourself on the internet. But I highly recommend you choose a reputable training that will help you avoid the trial and error.
I was a total newbie when I joined Wealthy Affiliate back in 2015, but I was able to reach over $1,000 this month thanks to their practical step by step course.
The starter membership is free, so you can watch the first lessons and interact with other digital entrepreneurs without any strings attached. Check out my full Wealthy Affiliate review here.
Have you tried Branded Surveys or the old Mintvine? Do you recommend this platform? Please, leave your comments below and thank you so much for reading. 🙂