Can you really succeed while being lazy? Well, Lazy Profit Engine 2.0 is claiming that yes, you can make life-changing commissions with minimal effort. Is Lazy Profit Engine 2.0 a scam or legit?
In this review, I would like to cover all you need to know about this method a give my honest opinion about it.
Dreaming of time and location freedom? Click here for my #1 recommendation.
Lazy Profit Engine 2.0 Review
---
Name: Lazy Profit Engine 2.0
Website: lazyprofitengine2.com
Price: $8.27
Owner: Brett Hitchcock
The Hype
---
One thing I despise about most "make money online courses" is the hype.
The sales page of Lazy Profit Engine 2.0 claims you will be able to make $50 – $100 per day with a tiny amount of traffic (visitors).
It makes you think this is a unique method that is fast and doesn't require much effort.
I have been an internet marketer for over two years guys, and I am here to tell you that no, it's never that easy!
Starting a business with unrealistic expectations is not ideal because you are more likely to give up when you realize the journey is longer than you imagined. And if you are lazy in this business, chances are you will never reach your goals.
What is Lazy Profit Engine 2.0?
---
Lazy Profit Engine 2.0 is a step by step video training that will show how to create review videos and promote digital products using Youtube.
The course is divided into 2 routes:
1- The Lazy Method – It consists of 10 video lessons on how to create videos made out of simple presentation slides. You will learn some tips and trick as well such as how to take advantage of bonuses.
2- The Optimal Method – This one has 4 videos that will teach you how to record your computer screen while you review a product.
How Does it Work?
---
The method is all about creating video reviews of digital products to publish on YouTube.
You will be encouraged to promote JVZOO and WarriorPlus products, which are mainly designed for internet marketers and people who want to make money online. 
When people watch your video and buy the product from your affiliate link in the description, you earn a good commission.
Now, because these affiliate programs pay 50+% commission and most of these products have lots of upsells, it's possible to make good money with a relatively small traffic.
However, that doesn't mean you won't have to work hard to create lots of content, though. Besides, you should put some effort into creating quality and convincing reviews. Otherwise, it's going to be extremely hard to get people to buy through your links.
Pros and Cons
---
Pros
Easy to follow lessons.
You can make money with this method, but you should not expect quick and easy results.
There is a 30-day money-back guarantee.
Cons
It's overhyped.
If you are starting out, most product creators won't give you free access to the member's area. Therefore, in order to create a trustworthy

video review

, you will have to purchase the product.
Most of these "make money online" products are over-hyped and of poor quality. So, if you want to make sales consistently, you will have to promote one product after the other without being very selective. I don't know you, but I reject supporting any product just for the sake of money.
The Lazy Method encourages you to create reviews based on images and slides. Honestly, no one likes to watch these types of videos on Youtube, so as a result, they won't rank high enough to get a significant amount of views. In my opinion, this method is very ineffective.
There are lots of upsells.
Upsells
---
After you pay for the front end product, there will be another 4 upsells: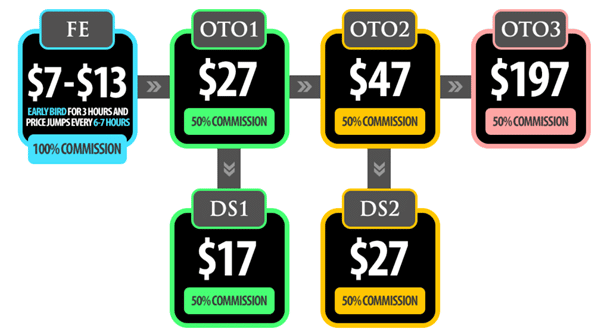 1 ($27) – Advanced strategies to get more traffic, build an email list, and make more money. 
2 ($47) – Brett's "Millionaire Blueprint" guide.
3 ($197) – 1-on-1 coaching with Brett where he will help you get at LEAST $50/day using the LPE 2.0 system.
Conclusion – Is Lazy Profit Engine 2.0 Scam? 
---
I wouldn't call it a scam, but the sales page is incredibly over-hyped. It gives the customer unrealistic expectations about the method, which  can lead to frustration.
Many people will be encouraged to buy the coaching program, but still, there are no guarantees you will make any money because they won't put in the work for you.
Making money online is no walk in the park.
You can't expect to do a superficial review and make lots of commissions. They should to be thorough and convincing at the same time.
The Optimal Method is better because people like to see the member's area as it is. But again, you will need to purchase the product or ask the product creator a free copy.
Lazy Profit Engine 2.0 is not something that I would recommend.
How I Prefer to Make Money Online
Personally, I prefer building affiliate sites that get free traffic from Google. I do this by writing helpful articles that get high rankings in Google's search results.
Then, I just promote high-quality products that will truly benefit my readers. The good thing about this method is that you can create a website around your passions and interests.
I also recommend getting traffic from Youtube, and social media. But in my opinion, it's important to have a website and establish a brand for yourself.

My advice is that you get a more in-depth training on how to build an online business with excellent support.
I highly recommend Wealthy Affiliate, as you will get incredible value for money when it comes to education, support, and tools to build your business.
In my Wealthy Affiliate review, I show why this is my #1 recommended platform to help you make money online.
By the way, thanks for checking out my honest Lazy Profit Engine 2.0 review. If you have any questions, please drop me a message below, and I'll be more than glad to help you out.