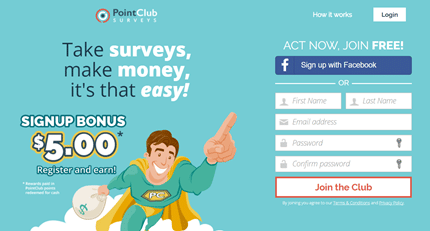 There are hundreds of platforms that you can use to make some extra cash online, and PointClub is another possibility.
In this review, I would like to cover all you need to know about this survey platform and give you my honest opinion about it. Is it a scam or legit?
Let's find out!
If you are serious about making money online, check out my #1 recommendation and discover the same strategy that earns me over $900 per month from my laptop.
PointClub Review
---
Name: PointClub
Website: www.pointclub.com
Price: Free to join
Strategy: Mostly Online Surveys
Overall Rating:

2/5
What is PointClub
---
PointClub is a survey panel operated by Innovate MR, a market research company headquartered in Encino, California.
The site reward members for taking surveys and playing games with points that can be redeemed for cash or gift cards.
1 point is worth $0.01.
Pros and Cons
---
Pros
Free to join.
Earn 5,000 points ($5) after signing up and completing your profile.
Cons
Very low-income potential
There are not many surveys depending on your country.
The minimum payout requirement is a bit high (25.000 points = $25).
The site has received lots of complaints on the internet.
No referral program.
How Does PointClub Work? 
---
Registration
Signing up with PointClub is free, and you just have to provide basic information such as name, email, and password.
Next, you should click the confirmation link in your email, and complete a first profile survey that won't take more than 10 minutes.
You will earn 5,000 points ($5) for all these initial steps, which is a generous signup bonus.
Taking Surveys
PointClub will match your profile with survey opportunities from time to time. You should get new survey invitation by email as soon as they become available.
Before you take a paid survey, you will have answer some questions in order to qualify.
It's not uncommon to get screened out after 5 minutes completing these question, which can be very frustrating!
PointClub will give you 12 points just for trying. But personally, I don't think 1 cent is too encouraging for anyone.
How Much Will You Get Paid
They say you can expect to earn 200 or more than 2,000 points per survey. Well, from my experience, most surveys don't pay you more than $1.
I have reviewed many survey panels here on my blog, and I estimate that panelists usually make $2 or $3/hour. 

Daily Streak
There is something unique about PointClub called the Daily Streak.
It's a loyalty system that rewards people for coming back to the website for consecutive days.
Basically, you will earn bonuses on all surveys you take according to your level, which grows according to how many consecutive days you have logged in.

When you join the platform, you start at level 0, but if you come back four days in a row, you will be at Level 1, earning a 10% bonus on all your points you make on that day. From day 5 to 9, you will be at level 2, earning 20% on top of your earnings. And so on and so forth.
It's important to mention that if you miss one day, you will go back to the first day of the previous level.
There Are Not Many Opportunities In The UK
---
I don't know how the situation is in the USA, but here in the UK, there are very few survey opportunities. I just got three invitations during the first week.
PointClub doesn't have a referral program, which means you can't invite other people and make commissions. This is a lost opportunity for both sides.
Cashing Out
---
You can redeem your points via Paypal when you reach a minimum of 25,000 points ($25). It's also possible to redeem points for a variety of gift cards.
As you will see in the next section, many people are having issues when trying to reach the minimum payout requirement.

Conclusion – Is PointClub a Scam?
---
PointClub is not a scam. However, not only the pay is too low, but the number of surveys is very limited compared to other sites like Prizerebel, and Swagbucks
So, personally, I don't think PointClub is worth the time and effort.
Verdict: Legit / Not Recommended

This reward platform is going viral! Cash out via PayPal, Visa, Gift Cards, and in-game currencies - Click here to find out how to generate an extra $10+ per day! 
My #1 Strategy to Make Money Online
---
I used to take surveys a while ago, but then I discovered a more effective method to make money online.
Instead of wasting my time with $2/hour surveys, I decided to build an affiliate business that is now earning me a nice online revenue. I haven't quit my job yet, but I can pay all my living expenses with my site, which is remarkable for someone who had zero experience 2.5 years ago.

I just write helpful articles on my website and do it whenever and wherever I want. There is no need to deal with customers, physical products or suppliers.
My website is all about strategies to make money online. But you can build a site about a topic you are passionate about and earn affiliate commissions by promoting products that you truly believe in.
As one friend said: "The possibilities of online business are infinite. They are only limited by your imagination and work ethic."
If you are interested in learning about the strategy and training platform that I use to build my affiliate site, check #1 recommendation below. It consists of step by step tutorials that anyone can follow.
Check Out My #1 Recommendation Review
By the way, you can sign up for free and take advantage of their awesome starter membership. No credit card required!
Thanks for reading my PointClub review, and I hope it helps you make an informed decision. I'll see you next time!