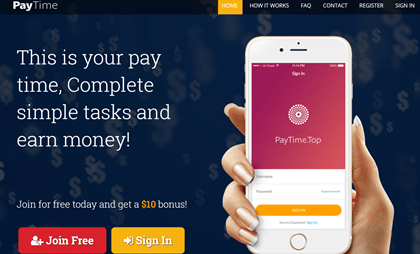 Many people are searching the internet to know whether Paytime.top is a scam or legit. That's why you came here for, right?
The website is relatively new, so we still don't have any proof from real users who have completed tasks and reached the minimum payout requirement.
Searching for a way to achieve time and location freedom? Click here to discover the strategy that earns me $700+/mo from my laptop.
Paytime.top Review
---
Name: paytime.top
Website: paytime.top
Owner: Unknown
Price: Free to join
Overall Rating: 0/5
What is Paytime.top?
---
On the FAQ page, Paytime.top claims to be a micro-task agency and a market research panel.
At first glance, Paytime.top seems like another GPT site where you get paid to complete offers and simple tasks.
Is Paytime.top a Scam?
---
I have no proof to make such a claim. But there are many red flags that I would like to discuss below:
No Information
First of all, the website Paytime.top lacks basic information about the company.
Also, the site has no "About us" page, no Privacy Policy, and no Terms and Conditions. Therefore, you do not know who operates the site, or what they can do with your account. Heck, you know nothing!
Unrealistic Earnings
The sales page is promising unrealistic earnings, which will probably never convert into real cash in your hands.
They say you can make good money by completing the following tasks:
Download Free Apps –  $2 to $20 per download.
Fill up surveys and complete offers – $5 to $200.
Share Posts On Facebook – $0.50 per post.
Invite friends – $1 per valid referral.
Promote movies and TV shows – $15 per sign-up.
The offers inside Paytime.top are promotional contests for a chance to win prizes. Fill up a form with your name, address, phone number, email, etc.
The thing is, no other legit platform pays over $2 just to fill up a form and enter a prize draw. No company can afford to invest $5+ per lead!
Here is one example from Prizerebel.com, which gives you 20 points or $0.20 to complete an offer from ASDA. That's a realistic payout for this type of offer, not $5!

Fake Paypal Screenshots
I haven't found a single genuine testimonial that shows real income proof. Everyone seems to be very skeptical of using this site and prefer not to take the risk, which is understandable.
If you click on "Promote banners on Facebook groups," you will see a couple of fake Paypal screenshots. Yes, you heard that right! You are encouraged to promote a FAKE Paypal screenshot that says Paytime Inc sent you $209.25.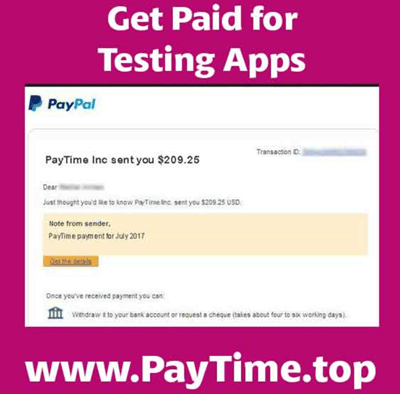 By the way, Paytime Inc is an American company that provides workforce management solutions. Their website is actually www.paytimepayroll.com and not www.paytime.top.
It's clear to me they didn't bother registering a limited private company. Otherwise, I would have found it after a quick Google search.
Featured  Nowhere 
At the bottom of the front page, they try to build trust by claiming they were featured in reputable magazines like Forbes, Inc, The Huffington Post, and a few others. But that's not true.
Just visit these sites and type in Paytime.top on their search bar. You won't find any result!

It's Very Similar to 1 Dollar Tasks
After a bit of research, I discovered Paytime.top has a clone version called 1 dollar tasks (www.1dollartasks.com), which is probably owned by the same folks. The layout is identical, and the business is very similar.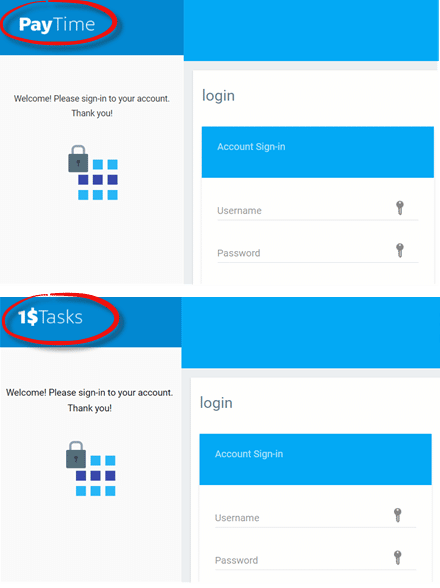 It's also similar other sites I have reviewed on my blog such as Teens Earn Cash, and Fix Monthly Income. All of them don't have those essential pages which are traits of a legit business.
Making Money Just for Loggin In?

Yup! Paytime.top will credit $0.50 into your account every day you log in. If this was true, you could make $15 every month for doing literally nothing. Trust me guys, no company in this world will ever reach this level of generosity.
Don't Use The Same Passsword
---
It's also crucial to mention the danger you face when you register for sites you don't know much about.
You have no control over what they are doing behind the scenes. So, never use your Paypal or bank account passwords to register.

This reward platform is going viral! Cash out via PayPal, Visa, Gift Cards, and in-game currencies - Click here to find out how to generate an extra $10+ per day! 
How Are They Making Money Off Of You?
---
They are making money by pushing you to these offers that collect your contact details. They earn commissions per lead they bring to other companies, which in turn won't stop marketing products and services through your email and phone number.
Also, they make big commissions when someone that you refer purchases the membership for a movie streaming site called Gellmedia.

Conclusion + My Recommendation
---
I don't have concrete proof that Paytime.top is a scam, so I can't make this allegation.
Scam or not, I don't think it's worth taking the risk. So, I don't recommend it.
Verdict: NOT RECOMMENDED 
If you want to be sure you will get paid for doing simple tasks, I recommend you use Prizerebel. It's a popular and genuine GPT site.
Now, if you want to create a powerful source of income working from home, check out my #1 recommendation.
This platform will show you step by step how to build profitable affiliate sites that earn you a passive income online. After going through the lessons and working 2 years on my website, I am now making over $700 per month in commissions.
You can do this too, but bear in mind you will have to work hard for it and be patient as this is not a get rich quick scheme.
I am warning you because there are many scams out there claiming you can make easy money with a "magic traffic formula." BS! Avoid them, and stick with an honest training provider that will tell you the truth upfront.
Click Here and Check Out My #1 Recommendation
Thanks for checking out my Paytime.top review. If you have any questions, please drop me a message below, and I'll be more than glad to help you out.
Stay safe!