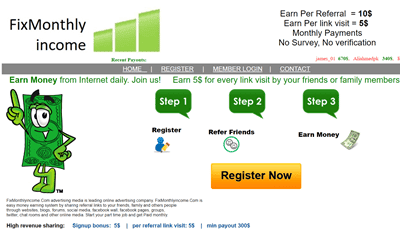 Fix Monthly Income is promising $5 for every person that clicks on your affiliate links. Wouldn't it be ridiculously easy to make money if this opportunity was real? Is Fix Monthly Income a scam or legit?
Find out the truth within my review before you waste your time. And by the way, if you want to follow the same method that earns me $700+ per month, check out my #1 recommendation.
Fix Monthly Income Review
---
Name: Fix Monthly Income
Website: fixmonthlyincome.com
Price: Free
Overall Rating: 0/5
UPDATE: Fix Monthly Income has become Income4tasks.com. It's the same thing!
What is Fix Monthly Income?
---
The idea behind Fix Monthly Income is pretty simple. You are told to post your unique link on forums, Facebook, Youtube, Google+, Tweeter, blog, and encourage family and friends to sign up for this opportunity.

They promise to pay you $5 for each link visit and $10 in case the person signs up through your link. The site also states that the minimum withdraw requirement is $300.
Well, having reviewed over 200 products and platforms to make money online, I feel confident to say that these earning figures are totally unrealistic.
Is Fix Monthly Income a Scam Then?
---
I have no proof to make such a claim, but there are many red flags I would like to discuss.
First of all, the site has no Privacy Policy, no Terms and Conditions, and no About page. This is a big red flag because, without such essential information, they can just pretend you do not exist.
All you have is an email address for contact that will undoubtedly be an additional waste of your time.
Secondly, no company can pay $5 for just a click. When it comes to affiliate marketing, if you want to make over $5 in commissions, your referral must not only click on your link but also purchase the merchant's product.
As an affiliate marketer since 2015, I know exactly what it takes to make a lot of people click and buy through my links. It's no walk in the park, and that's why companies reward me for my marketing efforts.
How Does it Work?
---
They say they reward users to generate traffic to their website and, in turn, they get paid by advertisers. But as you can see, there are no banner ads and no affiliate links in the member's area.
Where is the money coming from?
When you finally reach the $300 mark, they will entice you to complete a list of offers from third-party companies. That's how they are making profits!
You will have to provide your phone number, and email address to participate in prize draws. You will also be encouraged to make a deposit and sign up for services that will charge you a monthly fee.
At this point, you might already be feeling betrayed because they haven't told you about these bloody offers.
Will Fix Monthly Income Pay You?
---
I searched the internet and found many people complaining they didn't get paid.

Here are 2 complaints on Ripoff.com: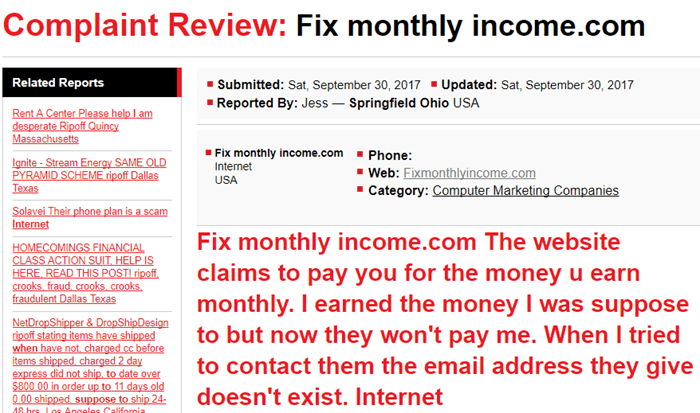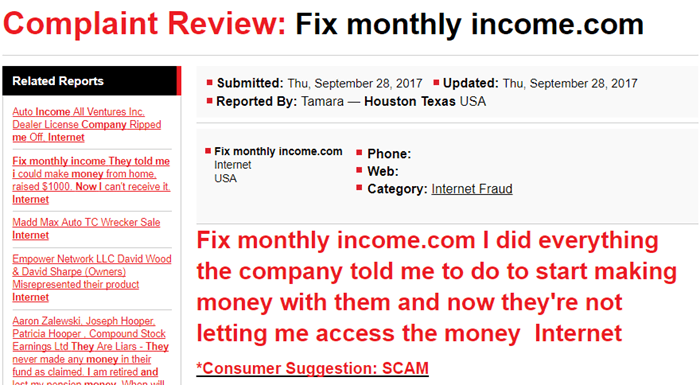 I have already reviewed similar sites where people are being encouraged to share their links in exchange for unrealistic payouts. Teens Earn Cash and Money 4 Task are just two examples.
Final Thoughts  
---
I have no concrete proof that Fix Monthly Income is a scam, but there are red flags everywhere.
In my opinion, the best thing is to play on the safe side and never expect easy money from any website. If it looks too good to be true, it probably is!
Verdict: Not recommended
My Recommended Strategy to Make Money Online
---
There are many great strategies, but the one that I like the most is called affiliate marketing.
With affiliate marketing, it's possible to earn $10, $100 and even over $1,000 commission per sale when you promote other peoples'/company's products.
I won't say it's easy, but I am sure it's easier than many 9-5 jobs out there. Another thing to keep in mind is that you should be patient because this can take 1, 2 or even over 3 years before you can quit your job and live off of your online revenue.
Having reached the $900 per month mark, I feel I am very close to declaring my work independence. Working 100% online will allow me to travel more and live life on my own terms. I believe that kind of freedom is what you are searching for as well.

If so, I highly recommend you start with this step-by-step training. The first 10 lessons are completely free and they will also give you support and 2 free websites to kickstart your affiliate business.
That's the same platform that helped me get started in 2015, and I am still a member because of the immense value and knowledge that I get from it.
Thanks for checking out my Fix Monthly income review and I hope this helps you make an informed decision. If you have any questions, feel free to ask in the comment section below.
Your friend,
Stefan

This reward platform is going viral! Cash out via PayPal, Visa, Gift Cards, and in-game currencies - Click here to find out how to generate an extra $10+ per day!