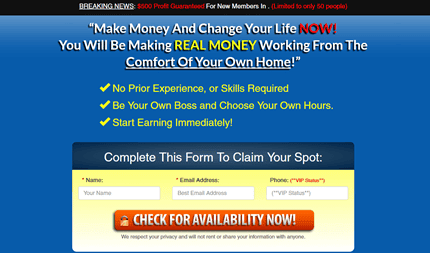 $500 Cash Club is claiming you will make $500 immediately and without any experience. Is $500 Cash Club a scam or a legit opportunity to work from home?
Let's find out!
If you want to build a thriving affiliate marketing business and work remotely, don't forget to check out my #1 rated platform.
$500 Cash Club Review
---
Name: $500 Cash Club
Website: 500cashclub.com
Price: $97 up to $19,997
Overall Rating: 0/5
The Hype
---
The website promises you will make $500 right off the bat, but don't give any clue as to what you will be doing.
After you sign up to secure the precious spot, you are forced to see a long 500-seconds video that is full of hype. You will hear things like:
You're going to make more money watching this video than any other video ever created!
Every single second you watch you earn a buck.
The incredible algorithm can dump massive commissions into your bank account on complete autopilot.
On average, I was making $125,000 per month.
The system does everything for me.
Reaching a full-time income online is no walk in the park, and making $125k per month is not going to happen before years of perseverance and hard work. So, there is no such thing as a system that will do all the work for you.
What is $500 Cash Club?
---
$500 Cash Club is a sale funnel to a high-ticket program from a company called Digital Altitude.

This reward platform is going viral! Cash out via PayPal, Visa, Gift Cards, and in-game currencies - Click here to find out how to generate an extra $10+ per day! 
Note that you will never see any mention of Digital Altitude and that is because the affiliates like to use the same webpage to promote what is more profitable and convenient for them at any given time.
In fact, $500 Cash Club used to promote MOBE in the past, which is somewhat similar to Digital Altitude.
Is $500 Cash Club a Scam?
---
It's overhyped, but I will not call them scams because they will not leave you with empty hands. You are actually receiving a decent training with Digital Altitude, and you can achieve success if you put in the work.
Remember you will have to put in the time and effort as there is no "done-for-you" business success.
How Does it Work?
---
You will have to pay $97 for the ASPIRE system, which is the flagship product of Digital Altitute. Other 5 memberships cost from $397 (Base) up to $19,997 (Apex).
It's so expensive!
Digital Altitude is basically a program that teaches you how to build an online business and make money by selling products.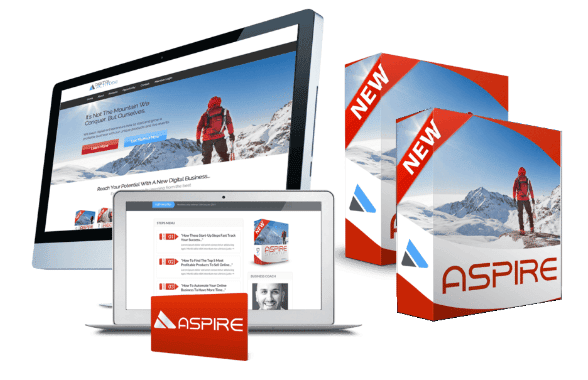 The Aspire membership will give you:
Step by step video training to get your online business up and running.
Access to personal "millionaire business coaches," that will guide you to achieve success.
Sales funnel design.
Support and live chat with other entrepreneurs.
There is nothing wrong with helping people to build an online business, and I don't think Digital Altitude is a scam. However, similar to MOBE, the products are overpriced.
It's also similar to an MLM (multi-level marketing) company in that you have to purchase a given product if you want to have the right to promote it. For example, you can only earn $899 per sale if you first buy the Rise membership for a one-time fee of $1497.
Some succeed with such high-ticket affiliate programs and make a lot of money. John Chow is one that probably earns hundreds of thousands per month with the MOBE's affiliate program. But it's only a tiny percentage of members who reach that level.
To be honest, most of these successful individuals are already highly experienced marketers by the time they join the program. They start off with high traffic websites (lots of visitors) and huge email lists. So, they know they will quickly cover their initial investment.
Final Thoughts
---
$500 Cash Club is overhyped as there is absolutely no guarantee you will make any money.
You will get quality training to build your online business, there is no doubt about it. But because Digital Altitude is expensive and runs an MLM (multi-level-marketing) structure, I don't recommend it for beginners.
My #1 Recommendation
---
If you want to build an online business, I recommend you focus on cheaper training that is not MLM oriented. Ideally, I would pick one that will not promise instant results and will not charge you an arm an a leg.
In 2015 I discovered a great all-inclusive platform called Wealthy Affiliate, which gave me excellent training, support and all the essential tools to grow my affiliate website.
I paid $19 for the first month and then $49 for the next month. At the end of my second month, I was confident enough this platform was going to help me reach my financial goals. Then I decided to pay the annual membership, which saved me 39%.
I couldn't be happier for discovering Wealthy Affiliate because, after 2 years of building my website, I have already reached $700 per month in affiliate commissions. My online revenue keeps growing the more content I create for my site.
With this extra income, I was able to cut my hours of my day job (from 40 to 32 hrs)  and afford more travels during the year. 2017 was a great year for me!

By the way, Wealthy Affiliate has a free starter membership that will give you the first 10 foundation lessons, 7 days of support and 2 subdomain sites.
Click the link below to read my full Wealthy Affiliate review.
Click Here and Check Out My Wealthy Affiliate Review
Thanks for checking out my $500 Cash Club review. I hope this helps you make an informed decision. If you have any questions, feel free to ask in the comment section below.
Your friend,
Stefan