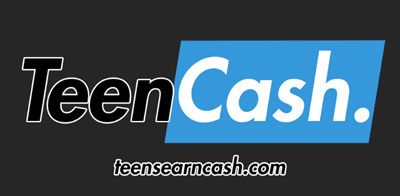 There is something weird about Teens Earn Cash. This website is claiming you can make $10 for each person that signs up under your referral link. Yup, only a simple sign up!
Think about it. You send a link to 10 of your closest friends and say: Hey, click on this link, sign up, and I will get you a Big Mac today! How easy would it be to make money online?
So, is Teens Earn Cash a scam or what?
Check my review and discover the truth! By the way, if you want to follow the same strategy I use to make $900/mo from my laptop, check out my #1 recommendation. It's 100% free to get started!
Teens Earn Cash Review
---
Name: Teens Earn Cash
Website: teensearncash.com
Price: Free to join
Owner: ??

Overall Rating: 0/5
Let's Take a Look at The Homepage!
---
First of all, I have been reviewing GPT (get-paid-to) platforms for over two years, so I am familiar the tasks and rewards we can get. For example, if someone signs up under your affiliate link, you usually earn 10% or 20% of all they earn for completing surveys, offers, etc.
So, when a website claims that I will make $10 for a single sign-up, I cannot help but look at it as a potential SCAM.
They also give you $25 bonus just for signing up, which also seems unreal.
Scroll down the page and take a look at the Review section. They say:
We have been making teens money since 2008. Find out how they feel about us below.
However, the website was registered in July 2017! You can check for yourself at www.whois.com.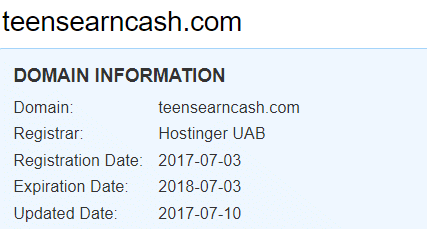 By the way, here is an interesting review from Aniyah, who recommends spamming Youtube videos – placing your affiliate links in comments.

What is Teens Earn Cash?
---
Except for the unrealistic rewards, Teens Earn Cash looks like any other GPT (get-paid-to) site that allows you to make money downloading free apps and completing online surveys.
However, I have strong reasons to believe they won't pay you!
In my opinion, they are luring people to complete offers and bring more referrals, but they are not following through on their promises.
Teens Earn Cash has a clone site called Teens Earn Money – www.teensearnmoney.com.
How Does it Work?
---
The sign-up is free, and once you get access to the dashboard, you will see your affiliate link, and two buttons: one to request payment and the other to access the Offer Wall.
If you want to get referrals to Teens Earn Cash, you can copy and send this link to those who you want to invite. When they click on this link and sign up, they become your referral and, in theory, you should get your $10 commission.
Just in theory…
When you click on "request payment," you will discover that you must have earned at least $175 in order to cash out.

You can reach $175 using by referring 15 people to Teens Earn Cash. Also, you can earn up to $5 for downloading apps and $15 for completing surveys from the Offer wall. 
From my understanding, this requirement implies that you must refer at least 13 other people to cash out.
What's strange is that I didn't find any online survey or App to download. Instead, all the offers are simple forms that you can complete to enter prize draws.

This means that you will have to provide your phone number and email address to different companies. Can you imagine how many marketing calls you will get on a daily basis?
Besides, the payouts of these offers are totally unrealistic!
How is it possible a company pay $8+ just to get your contact details?
Is Teens Earn Cash a Scam?
---
I searched the internet and couldn't find anyone who received the payment.
Promoting and using Teens Earn Cash is probably a complete waste of time because the business cannot pay so much money for very simple tasks.
It's crazy that Teens Earn Cash has total freedom to terminate your account for any reason!
The proof is in the Terms and Conditions. So, if you read that page carefully, you will find the following about "Termination":
Termination

TeenCash, in its sole discretion,

has the right to suspend or terminate your account

and refuse any and all current or future use of the Program, or any other TeenCash service,

for any reason at any time

. Such termination of the Service will result in the deactivation or deletion of your Account or your access to your Account, and the forfeiture and relinquishment of all potential or to-be-paid commissions in your Account if they were earned through fraudulent, illegal, or overly aggressive, questionable sales or marketing methods. TeenCash

 reserves the right to refuse service to anyone for any reason at any time.
Basically, that means they can delete your account whenever they want before you reach the $175 threshold or after you request payment.

Final Thoughts
---
Unfortunately, I have no concrete proof that Teens Earn Cash is a scam. So, I can't make such a claim as I try my best to focus my reviews on facts.
What I can say is that there is a risk here because as I've shown you, they can close your account at any time. That's why won't even recommend this site to my worst enemy.
Verdict: Not Recommended
My #1 Strategy to Make Money Online
---
In 2015, I discovered a remarkable training platform that helped me build a profitable affiliate site. I had zero experience when I got started, but I had a strong motivation to make money on my own terms and quit my job!

This reward platform is going viral! Cash out via PayPal, Visa, Gift Cards, and in-game currencies - Click here to find out how to generate an extra $10+ per day! 
So, I took the step-by-step course and applied the strategy to a tee! Fast-forward 2 years later, I am making over $900 per month in affiliate commission. I guess I was lucky to find this platform because it's difficult to find reliable information and genuine support.
By the way, there is a free starter membership with…

10 video lessons
7 days of unlimited support.
2 Free subdomain sites to kick-start your business.
Yup! There is no obligation to go premium, and no credit card is required. However, after you discover how much value you can get from the training and the potential to change your life, I think going premium is a no-brainer!
You can check out my #1 recommendation review to learn more about it.
Thanks for checking out my Teens Earn Cash review. I hope this helps you make an informed decision. If you have any thoughts or questions about it, feel free to leave a comment below.
Your friend,
Stefan