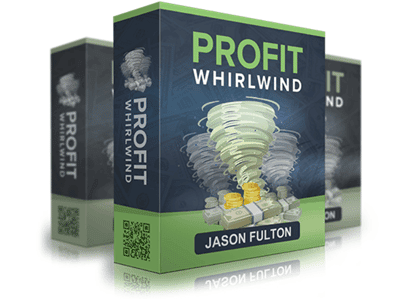 Online marketers are bombarding my email inbox trying to get me to buy another product called Profit Whirldwind. This one is claiming I will make $1,195.57 (note the high precision) in just 3 days with a brand new method. Is Profit Whirldwind another scam?
Be careful! Discover all you need to know about Profit Whirldwind within my review and make an informed decision before you open your wallet.
By the way, if you want to follow the same strategy I use to make $900/mo (the proper way to build a long-term online business), check out my #1 recommendation. It's 100% free to get started!
Profit Whirlwind Review
---
Name: Profit Whirlwind
Website: profitwhirldwind.com
Price: $7.73 + upells
Owner: Jason Fulton
Overall Rating: 2/5
The Hype
---
You are here because you think Profit Whirlwind is too good to be true, aren't you?
The sale's page is full of unrealistic claims! 
Things like:
You don't need a big list to make $1,000's per month.
Build a money-making list in just a few days.
Make easy $200+ daily

 

with just 30 minutes of very simple work
Many affiliates are OK in giving it an excellent rating and promoting this training to you. In reality, most of them just care about their commissions, so you have to be careful with the source of information you get online.
What is Profit Whirlwind?
---
Profit Whirlwind is an email marketing course developed by Jason Fulton, also the author of 3 Step Profit Machines, Quick Fire Commissions, and Payday Tornado.
Pros and Cons
---
Pros
Easy to follow lessons.
Useful bonuses.
You can make money with this method, but you should not expect quick results.
Cons
Overhyped.
Designed for those who already have a list.
Lack of in-depth training on how to get traffic.
Focus on the "make money online" niche.
Lots of upsells.
The Training
---
The main course will teach you how to:
Find profitable affiliate offers using WarriorPlus and Munchee.
Get approved so you can promote these offers.
Craft convincing emails to your subscribers so that they open your emails, click on your affiliate links and buy the products you are promoting.
In addition to the step by step lessons, you will get:
Real-life case studies that show how Jason made a lot of money with this method.
Some bonuses that will help you build a list with free and paid traffic methods.
The main training doesn't assist you with the challenge that many newbies face, which is getting traffic to their landing pages. So, you will have to watch another course by Jason called Payday Tornado.
This course is included for free in the bonus area.
Can You Make $1,000+ Within 3 Days?
---
No doubt, experienced marketers make over $1,000 in 3 days by promoting courses that teach people how to do the same! But you are probably inexperienced, and you don't have a list!
These guys know how difficult, expensive and time-consuming it is to build such a big list Yet, they always claim their strategies are unique and highly profitable.
A free method won't be enough to get lightning fast results. Trust me; it takes months to get ranked on the first page of YouTube and get a large audience on social media.
So, it's highly unlikely you will make $1,000+ within 3 days unless you already have a big list or invest a LOT of money on solo ads. It's risky because there is always a chance you won't make enough sales to cover the costs.

To be honest, many affiliate marketers struggle to reach $1,000 per month, even after 2 years of hard work!
Profit Whirlwind won't give you any shortcut to achieve easy and fast results, even if you purchase all the upsells!
Upsells
---
After you buy the Front end product, you will see 4 upsells!
This is the entire sale's funnel: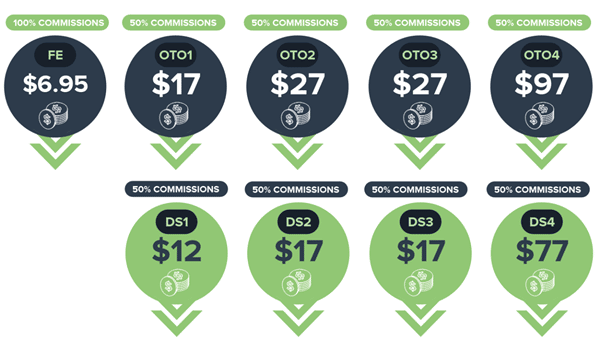 These upsell include done-for-you campaigns and additional training to get more traffic and take your business to the next level.
Just bear in mind, there are no guarantees their upsells will make your life easier. If you don't work hard and smart, there is no training or done-for-you system that you will get you a substantial income online.
Conclusion
---
Profit Whirlwind is not bad, but I believe that it doesn't provide the most effective and reliable strategy for beginners. 
You will be encouraged to build a list and promote "make money online" products that are launched daily on JVZoo and Warriorplus. In my opinion, this strategy works best for product owners who already have a huge buyer's list.
Not to mention that most products on these platforms look scammy!
Personally, I don't feel like pushing any of those overhyped products and giving people false hope.

Verdict: Legit / Not Recommended
My #1 Strategy to Make Money Online
---
If you are new to affiliate marketing, and you want to build a long-term online business, you should focus on providing value to people. You can do that by creating an affiliate website and writing articles that help people make better purchase decisions.
These articles have the potential to rank high in Google's search results, bringing lots of free, quality traffic to your site.
Then, you can start building your list and promoting products that you truly believe will benefit your audience.
If you want to build an affiliate website, then check out my #1 recommendation. This community-based platform will give you in-depth training, support and all the essential tool to start and grow your online business.

This reward platform is going viral! Cash out via PayPal, Visa, Gift Cards, and in-game currencies - Click here to find out how to generate an extra $10+ per day! 
By the way, you can sign up for free and get 10 lessons, 7 days of support and 2 subdomain sites.
I have made excellent progress thanks to the training and support from this community, and I am very close to achieving a full-time income with my website.

Click the link below to learn more about it.
Thanks for checking out my Profit Whirlwind review. I hope this helps you make an informed decision. If you have any thoughts or questions about it, feel free to leave a comment below.
Your friend,
Stefan