10
Earnably Review – Scam or Legit?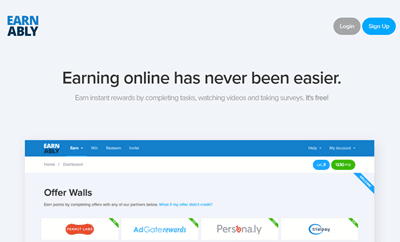 In this review, I would like to show you the main features of Earnably and how much money you can earn with it. Is it worth your time and effort? Does it pay? Or is it a scam?
Let's find out!
As you will see, Earnably won't pay you much for your time and effort. If you want to follow the same strategy I am using to earn $900/mo (and growing), don't forget to check out my #1 recommendation.
Earnably Review
---
Platform: Earnably
Website: earnably.com
Price: Free to join


Business Type:

 GPT (get-paid-to)

Recommended?

 For pocket money, yes.
[yasr_overall_rating size="medium"] 2.9/5
What is Earnably?
---
Earnably is a reward site where members get paid for completing surveys, micro tasks, and offers from more than 30 partner companies.
The platform has been running since 2015 and is similar to others I have already reviewed on this blog such as PrizeRebel, InstaGC, Grabpoints, and iRazoo.
When you complete an offer or take a survey, you will earn points that you can redeem for cash rewards or gift cards.
Pros and Cons
---
Pros
There are lots of options to make money available.
Low cashout threshold.
It's available worldwide
3 popular methods to redeem your points – Paypal, Amazon gift cards, and Bitcoin.
Cons
No signup bonus.
Low-income potential.
You can find it hard to qualify for surveys.
How Does it Work?
---
After you sign up for free and confirm your account, you will be directed the dashboard, which includes all the partners that provide de offers.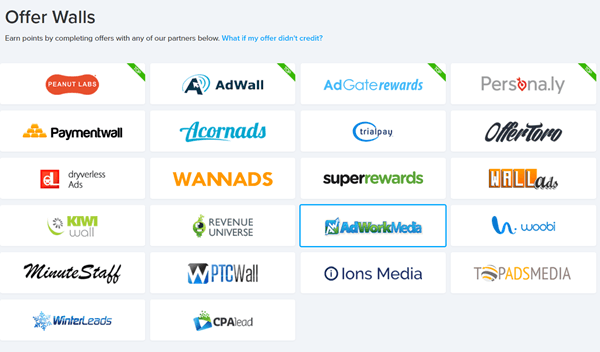 On the menu, click on "Earn, " and you will see yet more options to make money.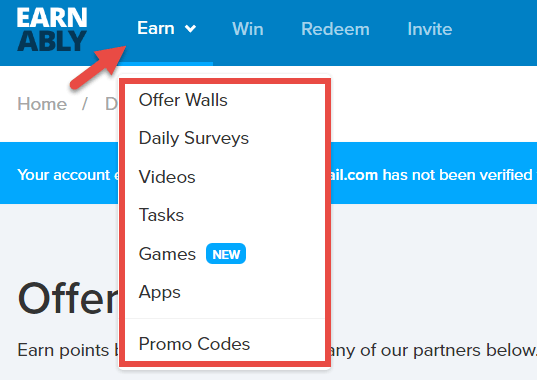 Offer Walls
In the "Offer Walls" section, there are currently 22 companies you can choose from. Some popular ones include:
When you click on one of them, it's like entering another reward platform with its own offers, surveys, and micro-tasks.
You will notice that the same offer can appear in different Offer Walls, but you can just complete it once.
I am not going to cover all the different types of offers here. But I want to warn you that a lot of trial offers ask for a deposit or your credit card details. So, you can lose money if you are not careful! 
For example, when you sign up for a free 14-day offer, you will probably have to sign up with your credit card details. That means you will be charged a fee for the first subscription month if you don't cancel before the free trial is over.
So, my advice is read the terms and conditions carefully and keep track of each offer you complete.
How much can you earn? Well, it depends, but you should not expect much. Some offers will pay you less than $1 for a simple sign up, while offers that require an initial deposit can give you more than $10 worth of points.
Daily Surveys
You can complete new online surveys every day from around 7 different panels. Each panel will show you how the average length of a given survey and how many points you will get.

I have tried over 70 online survey panels and never seen any survey that paid more than $3. Usually, you will spend more than 10 minutes just to earn a few cents.
Not to mention you will get disqualified frequently, so will actually end up spending more time than you think.
Videos
Yes, you can also earn some points watching videos! These videos are also provided by third party sites such as Engageme.tv, Videoloyalty, and Videolab.

Earnably doesn't explain you this, but you have to sign up with these companies and link to your Earnably account in order to get credited.
Most of the times you will make less than 1 cent for watching over 1 minute of video. I don't think it's worth it!
Tasks
Earnably has partnered with a popular crowdfunding company called CrowdFlower. This company which recruits people all over the world to clean, label, and enrich data.
There are many different micro jobs available inside CrowdFlower. One very common is the categorization of products.
Because the jobs are simple and can be done by anyone with no specific knowledge or skills, the payment is very low. In fact, this is one of the worst-paying "jobs" on the internet. 
 Games and Apps
It's possible to earn points playing games and downloading Apps.
I don't recommend playing games as a way to make money online because it's pure gambling and you can lose a lot of money.
Referral Program
When you refer other people to join Earnably, you will earn 10% of everything they earn within the platform.
In order to get referrals, you should encourage people to click on your unique affiliate link and sign up.
It's possible to earn up to 20% referral commissions, but only after you reach level 3. You can level up by completing a given number of offers, depending on which level you are.

Cashing Out
---
The minimum cashout requirement is only $1, and you can redeem your points via Paypal, Amazon Gift Cards, and Bitcoin.
Here is the current conversion:
$1 – 125 points
$2 – 225 points
$5 – 535 points
$10 – 1000 points
$20 – 2000 points
$30 – 2900 points
Final Thoughts
---
Earnably is a legit rewards platform. The cashout requirement is very low compared to other platforms, so you should not take long to get paid.
If you want to complete simple tasks and earn some extra cash, you can sign up for free and give it a try.
Verdict: Legit
My #1 Strategy to Make Money Online
---
Personally, I prefer to focus on internet marketing and make money with my own online business because…
I am my own boss, so the profit is all mine.
I can attract people over the world to my website.
My site earns me passive income, which allows me to scale the business AND have more time freedom. 
The potential is enormous!
Today, anyone can start a website because it doesn't require web design skills and coding like in the past.
There are many ways to make money with a website, but I like the affiliate marketing model. With affiliate marketing, I get paid for promoting other people's products. So, when people visit my site and purchase the products that I believe are awesome for my audience, then I make a generous commission.
So, when people visit my site, enter the merchant's site via my affiliate links, and purchases their products, I make a nice commission.
If you want to build an affiliate website, then check out my #1 recommended platform. It will give you step by step training, support and all the essential tool to start and grow your online business.
This is the same training that helped me go from $0 to $900 per month in passive income, 
By the way, you can sign up for free and get 10 lessons, 7 days of support and two subdomain sites.
Click the link below to learn more about it.
Click Here and Check Out My #1 Recommendation!
Thanks for checking out my Earnably review. If you have any thoughts or questions about it, feel free to leave a comment below.
Your friend,
Stefan