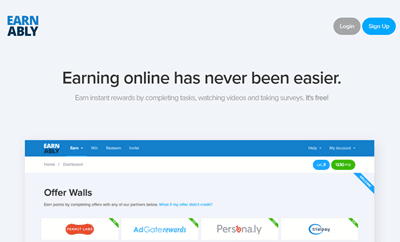 Welcome to my Earnably review!
You may have stumbled across Earnably while searching for ways to make money online.
Earnably allows users to earn instant cash rewards for taking surveys, completing offers, watching videos and more!
There are lots of sites that reward users for doing simple online tasks, but many o them are not trustworthy.
The platforms you choose can make a huge impact on your earnings and overall experience!.
You are here because you want to make sure Earnably is legit and pays without any issues.
So, before joining, read my honest review where I explain how Earnably works and give you my honest opinion.
Is Earnably a scam or a legit platform? How much money can you earn? Does it pay or not?
My Top Recommendation 
As you will see, Earnably won't pay you much for your time and effort. If you want to follow the same strategy that earns me a full-time income from my laptop, don't forget to check out my #1 recommendation.
Earnably Review
Platform: Earnably
Website: earnably.com
Company: Forma Creative Ltd
Price: Free to join


Business Type:

GPT (get paid to)

Recommended?

 For pocket money, yes.
LEGITIMATE
Overall Rating:

2.9/5
What is Earnably?
Earnably is a well-established GPT (get paid to) site where members get paid to complete surveys, do micro-tasks, complete offers, watch videos and more!
The platform was founded in 2015 by a UK-based company called Forma Creative Ltd. It's currently available for residents in the following countries:
The United Kingdom, the United States, Australia, Austria, Belgium, Brazil, Canada, China, Denmark, Finland, France, Germany, Greece, Iceland, India, Ireland, Italy, Japan, Netherlands, New Zealand, Norway, Poland, Portugal, South Africa, South Korea, Sweden, and Switzerland.
Earnably is similar to more popular GPT sites such as PrizeRebel, Swagbucks , InstaGC, and Grabpoints.
Whenever you complete an online activity, Earnably will give you points that you can redeem for cash via Paypal and a variety of gift cards.
If you use a VPN, your account will be flagged and suspended immediately. I know this from experience because I forgot to disable my VPN when logged into Earnably.
Pros and Cons
Pros
There are many opportunities to make money.
Low cashout threshold.
It's available in many countries.
Get paid via Paypal and gift cards.
Instant payments after the first cash out.
Cons
No signup bonus.
Low pay.
It can be hard to qualify for surveys.
How Does Earnably Work?
Registration 
To start making money with Earnably, you will need to create a free account.
It's fairly simple!

First, you have to provide your email, surname and phone number. Next, confirm your email and submit your six-digit confirmation code.
If you don't tick the consent box, Earnably will not send email nor call you to promote products and services.
How Much are Earnably Points Worth?
The value of one point depends on the total amount of money you wish to withdraw. By cashing out a higher amount, you can benefit from a better exchange rate!
For example, you will need 125 points to withdraw $1, in which case one point is equal to $0.008!
Now, if you wait until you reach  1,000 points, you will be able to withdraw $10. In that case, one point will be worth $0.01.
Earning Points
Once you log in, you will see the dashboard with 10 third-party ad networks (aka Offer Walls)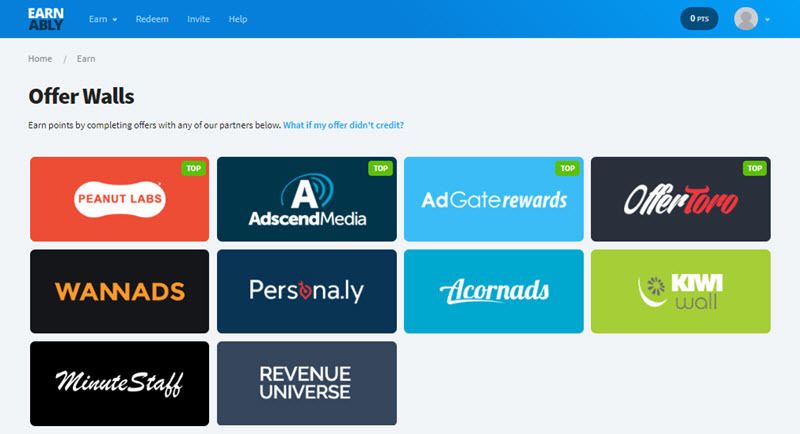 On the menu, click on "Earn, " to find more options to make money such as Daily surveys, videos, tasks, games and apps.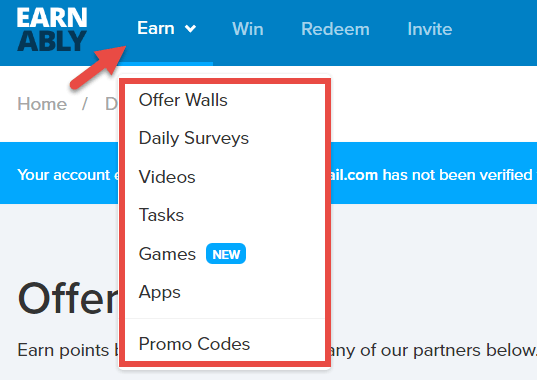 Offers
When I first reviewed Earnably 2 years ago, there were 22 offer walls available. Now, they were reduced by only 10.
Nevertheless, 10 offer walls will give you enough opportunities to keep you busy for many hours a day.

The current offer walls available are Peanut Labs, Offertoro, AdsendMedia, AdgateRewards, Wannads, Persona.ly, AcornAds, WikiWall, Minute Staff and Revenue Universe.
When you open one of these third-party platforms, it's like entering another reward site with different task categories.
Depending on the Offer Wall, you will find not only offers but also surveys, videos, and micro-tasks.
For example, take a look at the many tasks provided by OfferToro: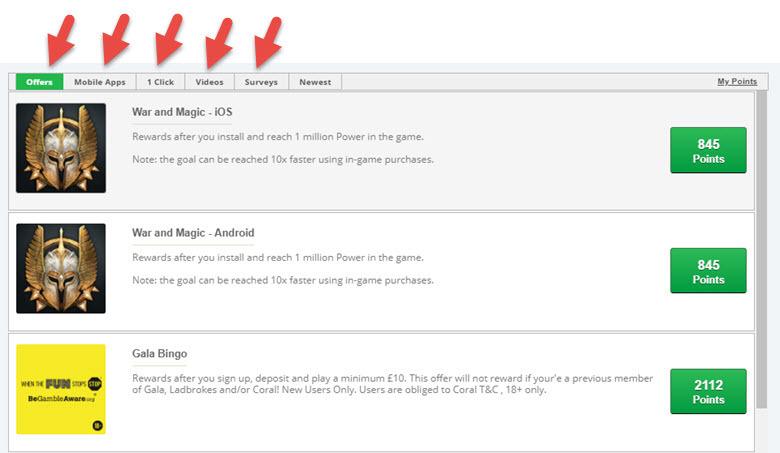 It's important to mention that you may find the same offer advertised on a different Offer Wall.

This reward platform is going viral! Cash out via PayPal, Visa, Gift Cards, and in-game currencies - Click here to find out how to generate an extra $10+ per day! 
However, offers can only be completed once, and there is no way to cheat the system.
If you try to complete the same offer using a different Offer Wall or even a different GPT site, they will know by your IP address. As a result, you won't get credited!

It's not my intention to cover all the different types of offers here. I just think it's important to warn you about subscription offers that ask for a deposit or your credit card details.
The reason is that you can lose money if you are not careful. For example, when you subscribe to a free 14-day service, you will probably have to provide your credit card details. In that case, you will be charged a fee after the trial ends.
So, I advise reading the terms and conditions and keeping note of all the offers that you complete.
The amount of money you can earn with these offers depends on the type of offer and their requirements.
Usually, free sign ups pay less than $1 whereas offers that require a deposit can be worth $10 or more.
RECOMMENDED: Click here to see my no.1 recommendation for making money online.
Daily Surveys
Earnably has partnered with 6 companies that allow you to participate in marketing research studies.
These are the current survey providers:
Pollfish
TheoremReach
OpinionSurveys
Wannads
SurveyTime
Innovate
All of these companies are legit and reputable, but I would like to warn you about SurveyTime. I completed a $1 survey with them but didn't get paid.
Most surveys last for 10 – 30 minutes and pay less than $2. 
As you may know, marketing research firms need to recruit a group of individuals with specific demographics (age, gender, etc) and interests.
For example, one survey may only accept women between the age of 20 – 30, who use a specific brand of health care product.
If your answers indicate that you are not part of this group, you will get disqualified and redirected to another study.
The problem is that you can spend hours in front of your computer and qualify only for a handful of surveys. But it gets worse!
You can spend more than 15 minutes answering questions and get screened out in the middle or even at the end of the survey.
This happens not only with Earnably but any other GPT sites as they all work with the same marketing research companies. 
Videos – Earn Passive Income
You can also earn some points just for watching videos!
These videos are offered by third-party companies such as Hideout.tv, Acewall, and VideoFox.
To collect points, you must sign up with the company and link to your Earnably account.
The most popular platform to earn points by watching videos is Hideout.tv.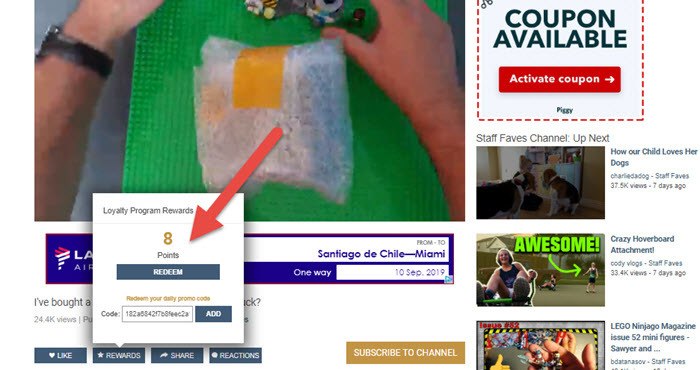 With Hideout.tv, you can expect to earn 0.7 points per video + ad.
Some people claim it's possible to earn $1 per day depending on the country.

It doesn't pay well, so unless you enjoy watching those videos, I don't recommending wasting your time.
TIP: You could let the video playing on the side of your computer screen while you browse social media or do other online jobs.
Micro-Tasks
Earnably has partnered with a popular crowdfunding platform called Figure-Eight (former CrowdFlower).
Figure-Eight recruits people all over the world to clean, label, and enrich data. These tasks usually include:
Categorization of products.
Extracting data from invoices.
Searching for information on Google, etc.
Because the jobs are simple and can be done by anyone with no specific knowledge or skills, the rate of pay is very low.
These are probably the worst-paid jobs on the internet!
If you want to get paid a better rate for micro-jobs, check out this reputable crowdsourcing platform.
Games and Apps
It's possible to earn points for playing games and downloading apps on your mobile device.
To make sure you get credited, follow all the instructions
Just like offers,
Referral Program
When you invite other people to join Earnably, you will earn 10% of all their earnings.
To get referrals, share your unique affiliate link with your friends on Facebook, Whatsapp, etc.
You will earn 20% referral commissions after you reach level 3.
You can level up by completing a minimum number of offers and earning a minimum number of points.

Earnably Promo Codes
Another way you can collect extra points is by entering promo codes, which you can find on the company's Facebook, Tweeter, and Instagram accounts.
There are two types of promo codes:
Point codes: Earn points instantly to your account (only at special events).
Bonus codes: Earn a percentage (usually 1%) on top of every offer
How Much Money Can You Earn With Earnably?
The amount of money you can earn with Earnably depends on various factors.
If you try to complete as many surveys and offers as you can, you can reach over 100 USD per month.

It seems pretty decent considering you are completing easy tasks from the comfort of your home.
But the question is:
How long do you have to spend every month to earn 100 bucks?
Is there another strategy to earn more in the long-term? Absolutely! Click here to discover the method that I use to earn a full-time income online.
How Do You Get Paid?
The minimum payout threshold is only $1, and you can redeem your points via Paypal, Amazon Gift Cards, and Bitcoin.
Here is the current conversion rate:
$1 – 125 points
$2 – 225 points
$5 – 535 points
$10 – 1000 points
$20 – 2000 points
$30 – 2900 points
As you can see, the best exchange rate is achieved when you cash out $30.
You should expect to receive your first payment within 3 business days.
After that, you will be eligible to get instant payments, which usually take only a few minutes.
Final Thoughts
Earnably is a legit GPT site that has built a solid reputation in the last 4 years.
The cashout requirement is very low compared to other platforms, so you should not take long to get paid.
If you want to complete simple tasks and earn some extra cash, you can sign up for free and give it a try.
You may also want to check out the world's top-rated GPT site here.
Verdict: Legit
Earn a Full-Time Income Online
In 2015, I started taking consistent steps to build my own internet business.
That was after I found this proven roadmap to earn money with affiliate marketing.
In short, I create articles and reviews that rank on Google and attract a big audience.
When visitors click on my links, they are directed to the merchant's website where they can buy products that I recommend.
As a result, I earn an affiliate commission, which can range from $20 to over $1,000 per sale!

Here are some of my recent commissions: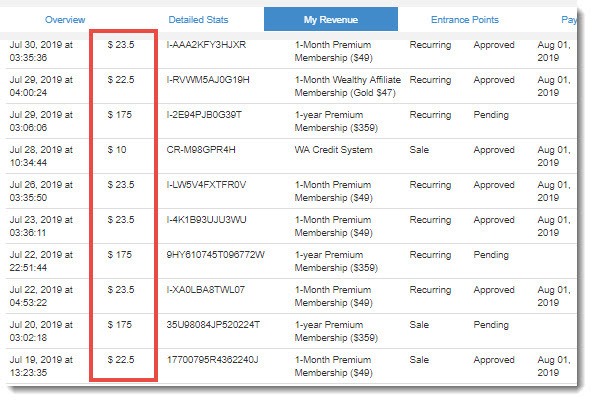 It depends on what you decide to promote!
You can grow your traffic (website audience) to any size you want based on how much time and effort you put into it.
The higher your traffic, the more money you will make!
In my opinion, these are the main reasons why affiliate marketing is awesome!
Time freedom – You decide when you should work and when you go on holiday.
Location freedom – When you work from your laptop, you can relocate to a tropical paradise and keep making money.
Stress-free life: Say goodbye to your daily commute and arbitrary deadlines.
If you are prepared to work hard and turn any passion or interest in a 6-figure online business, check out my #1 recommendation.
It's specially designed for newbies, and it's free to get started.
Final Works 
Thanks for taking the time to read my Earnably review. I hope it was helpful and enjoyable.
If you have any questions or you want to share your experience with Earnably, leave us a comment below!
I wish you all the best!
Stay Safe!