4
SurveyTime Review – Earn $1 Instantly into Your Paypal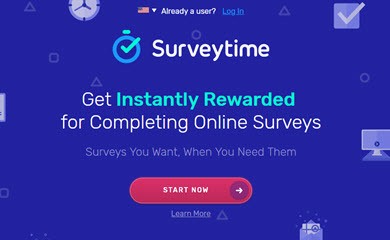 How about receiving $1 immediately into your PayPal account every time you complete a survey?
SurveyTime is probably the only survey website that doesn't keep you waiting for rewards!
But is it really a legit and trusted website? Will you get paid?
Well, there are some complaints about SurveyTime that I would like to address in this review. I will also show you the pros and cons and give you my honest opinion about it.
By the way, if you want to discover a proven method that earns me over $1,000/mo from my laptop, check out my #1 recommendation!
SurveyTime Review Summary
---
Name: SurveyTime
Website: www.surveytime.io
Strategy: Online Surveys
Price: Free to join
Membership Eligibility: Worldwide (+18)
LEGITIMATE
Overall Rating: 3.2/5
What is SurveyTime?
---
SurveyTime is a survey platform owned and operated by a mobile ad-tech company called Persona.ly.
It's considered a router site because it directs you to different marketing research companies like Cint, Ipsos, and Samplicio.us.
The website connects you with those leading market research companies so that you complete surveys in exchange for instant cash rewards.
What's unique about SurveyTime is that you always get paid $1 instantly after you complete each survey. There is no need to wait for survey approvals or reach a minimum threshold.
For that reason, I think there is no other platform that pays so fast its members!
Who is It For?
---
Anyone over 18 years of age can join SurveyTime and take surveys for cash.
The platform is available worldwide, but in some countries, there are not many opportunities.
Is SurveyTime a Scam?
---
SurveyTime is not a scam, but some people report having issues with their accounts and payments.
I've completed two surveys but didn't get paid as my phone number was rejected. It keeps saying I should try another phone number, but still, it doesn't work.
My first impression wasn't good, and I hope the support team answers my email so I can get paid. I'll keep you updated on that.
Pros and Cons
---
Pros
Earn $1 instantly after completing each survey – You don't need to wait for approvals nor reach any payout threshold.
There are lots of survey opportunities.
Open worldwide.
Get invitations via email, push notifications or SMS.
Mobile-friendly – take surveys on your computer or mobile device.
Payments are processed via PayPal, Amazon gift cards and more!
Cons
As per the Terms of Service, the company can terminate your account at any time and for any reason.
You can waste a lot of time due to frequent disqualifications.
Panellists claim SurveyTime doesn't respond to their emails.
How Does SurveyTime Work?
---
Registration
The registration is free and very straightforward. You have the choice to sign up with your Facebook, Google or Tweeter account as well as your email address.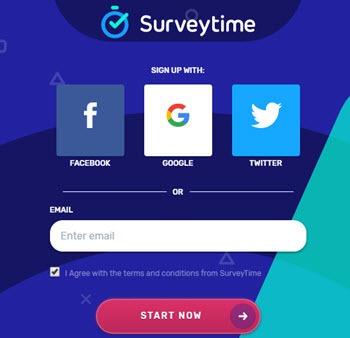 Profile Questionnaire
Your very first step is to answer 30 questions so that SurveyTime can find you the surveys that fit your interests. You won't get paid for this initial survey.
The questionnaire will take approximately 7 minutes to complete, and your answers will be collected anonymously.
Some of these questions are regarding your age, gender, job position, household income, and education level.
Pay attention to the questions and be truthful because they can ask the same question twice to see if you are lying or answering without actually reading.
Also, they will continuously match your answers with future surveys to see if you are not contradicting yourself.
If Survey Time suspects you are not a reliable survey taker, they will probably limit or even ban your account.
Taking Surveys
SurveyTime will invite you to participate in surveys that match your profile via email, SMS or internet browser.
The invitation tells you the estimated duration and how many users have already participated.

Another simple way to get started is to visit surveytime.io. The website will automatically redirect you to a marketing research partner so you can start earning.
But not so fast…
First, you must answer a short questionnaire and qualify. If you don't qualify in your first attempt, you will probably be redirected to another opportunity.
You may keep trying until they have surveys available and you finally qualify.
Keep in mind that you won't get paid until you qualify and complete the actual survey.
Most surveys take around 10-15 minutes, and you will ALWAYS reward you $1.
Payments
You will receive $1 instantly right after you complete a survey, so you don't need to reach any minimum payout threshold.

Once you finish the survey, you have to select a payment method. The options vary from country to country.
For example, if you are a US resident, your redemption options are PayPal, Amazon, Target and Decathlon. If you live in the UK, you can choose between PayPal and Amazon Gift Cards.
The next step is to provide your registered PayPal address and your phone number for verification.
I haven't received my payment yet
I have completed two surveys with two different companies called Cint and Ipsos. Each study took me less than 10 minutes.
However, when I inserted my phone number to start the verification, there was an error, and they asked me to try again in 24 hours.
I will try again tomorrow and keep you updated. So, stay tuned!
User Reviews – Complaints
---
I had a look at many user reviews at both Trustpilot and SurveyPolice.
Most people seem to have a great experience with SurveyTime as they received their payments immediately. However, I could also find some complaints.
Members report not receiving payments because their accounts were flagged or their phone numbers were rejected.
Regarding the phone issue, the company replied a few days ago saying they had fixed it. But I am still unable to verify my phone and get paid.
So, fingers crossed!
Will SurveyTime Respect Your Privacy?
---
SurveyTime claims that they are going to share non-identifiable information with third party marketing research companies so that they can identify surveys for you.
For example, they will share your age, gender, education, marital status, postal code, etc.
According to their Privacy Policy, they won't share your name, email address and phone number.
As of June 13, 2019, there is an option to opt out of their email communications, but there isn't a clear path to delete your personal information from their system.
I believe and hope that they take your privacy seriously and as required by law.
Final Thoughts
---
SurveyTime is a legitimated survey router that will send you lots of surveys invitations depending on your country.
I really like the fact that it pays immediately after each survey. We all want immediate results!
I have to confess I was extremely excited to receive this payment in record time and show you a screenshot of my PayPal account.
Unfortunately, there was an error during the phone verification process as they were not accepting my number.
Other people had the same issues, so do hope they fix this problem once and for all.
If you want to complete surveys, I highly recommend PrizeRebel. It's a great platform, and I never had any issues with them.
The problem with taking surveys is that you can waste a lot of time trying to qualify. They will keep redirecting you do different marketing research studies, collecting free information from you.
I used to take surveys in the past, and I know it can be a very frustrating experience. But on the other hand, it can help a lot of people going through a difficult financial situation whereby every penny counts.
Verdict: LEGIT
How I Make Money Online
---
In short, I earn money by promoting products and reward platforms on my website.
I provide helpful content to visitors who find my website after doing a quick Google search. Then, I recommend quality products that will help them solve their problems.
If they decide to click on my links and purchase the product, I earn an affiliate commission. As you can see, there is also advertising on my site that allows me to earn a few cents per click.
You can build a website and target a specific niche to help your audience and thus, make money as an affiliate.
What I love about having a website and being an affiliate is that I can make money from home or while travelling.
The key benefit is the freedom that it provides. Once you set up your site and create enough content, it attracts lots of people daily that will keep generating an income for you even if you are not actively working.
If you want to learn step by step how to create an affiliate site and grow an audience, check out my number #1 training platform here. It's newbie-friendly and free to get started.
Thanks for checking out my SurveyTime review. If you have any questions, feel free to leave a comment below, and I'll be more than happy to help. 😉
Stay safe and peace out!