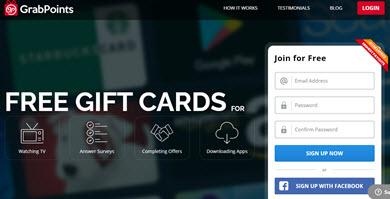 Welcome to my Grabpoints review!
I was searching for platforms to make money online when I discovered this GPT (get-paid-to) site called GrabPoints.
GrabPoints is a website that rewards you for completing simple tasks from your desktop or mobile device.
There is an incredible variety of reward platforms on the internet, but unfortunately, it's difficult to find the ones you can really trust.
In this review, I will explain how Grabpoints work and expose everything you need to know about it. Is it a scam or a legit platform? Is it worth joining and completing the tasks?
Before you leave this page, don't forget to check out the step-by-step program that helped me reach $1,600+ per month from my laptop. The first 10 lessons are free! 
Grabpoints Review
Product Name: Grabpoints – ex Zoombucks
Website: grabpoints.com
Company: Reward Holdings Limited
Type: GPT (get-paid-to)
Membership Eligibility: Worldwide
Price: Free
Similar Sites: Grindabuck, Cinchbucks, Rewards1
LEGITIMATE
Overall Rating:

3.4/5
What is Grabpoints?
Grabpoints is a free GPT (get-paid-to) platform where you can get points for completing simple tasks for advertisers and marketing research companies.
Once you collect a specific number of points, you can redeem via PayPal, and many eGift cards from Amazon, Google Play, restaurants, and major retailers.
Grabpoints has been running since 2014 and has over 4 million members. The site is operated by a company called Reward Holdings Limited, which has another similar GPT platform called Zoombucks.
Grapbpoints was available as an Android and iOS app, but for some reason, the company discontinued the mobile application.
However, you can still join the site and complete the following tasks on your device:
Answer surveys
Complete offers
Download apps
Watch videos
Refer friends
Pros and Cons
Pros
It's available worldwide.
Rates of pay are similar to other popular GPT sites.
There are many opportunities to make money.
Cash out with as little as $5.
Redeem points via PayPal and a wide variety of gift cards.
Cons
The referral program falls very short as members earn a fixed number of points per referral.
If your account is inactive for 30 days, your account will expire and they will forfeit all your points.
How Does GrabPoints Work?
Sign-up 
Create a free Grabpoints account using your email, Facebook, or Google account.
After you click in the sign-up bottom, Grabpoints will ask you to enter an invitation code in return for 500 points. If you want, you can use my code DVGJF or skip it.
Next, you must verify your email address by clicking on the link that Grappoints will send you.
Complete Your Profile
It's also important to fill up your profile with accurate information so that Grabpoints can send you more offers and surveys based on your location and demographics.
You can provide some basic information about yourself such as your name, gender, phone, date of birth, and address. You don't need to answer all questions if you don't want to.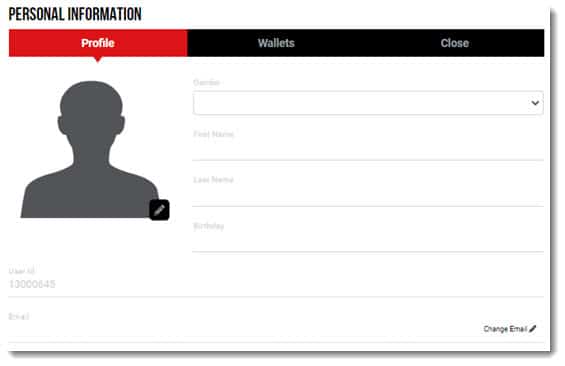 In the wallet section, you can connect your PayPal account so that Grabpoints can process your payments. If you want to redeem your points for gift cards, just ignore the Wallet section.

Point System 
As a member, you will earn points whenever you complete a task.
The conversion rate is very straightforward. You can exchange 5000 points for $5 through PayPal or gift cards, meaning you will get $0.01 for every 10 points.
Before completing any tasks, see how many points you will earn and divide by 1000. The result will give you the equivalent amount in dollars.
How to Earn Points
Inside the member's area, you will find the featured offers and the offer walls, which a full of opportunities to collect points.
Next, I will explain briefly each method and give you an estimate of how much money you can earn.
Complete Surveys
Completing surveys don't feel like a job, but just like other reward sites, GrabPoints will pay you very little money for your opinions.
GrabPoints allow you to complete surveys from leading marketing research companies such as TheoremReach, Yuno, Your Surveys International, Dynata, and Survey Time.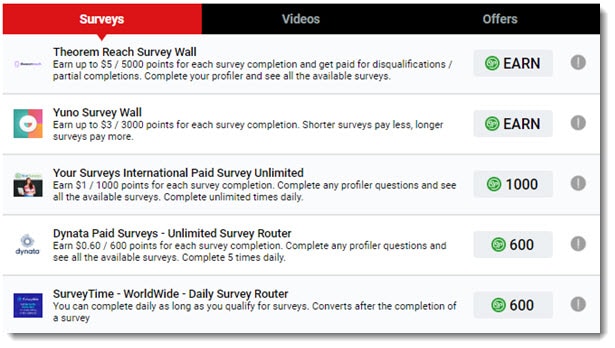 You can find surveys in one of the Offer Walls such as PeanutLabs, Tap Research, and RevenueWall.
At Peanut Labs, you may earn less than 300 ($0.30) points for a 20-minute survey. Here is a screenshot where you can see the number of points and the estimated time to complete each survey.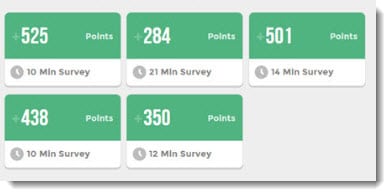 Most studies will pay you less than $2 and take 10 – 25 minutes to complete.

In most cases, the number of points you earn depends on your country and the length of the survey. However, some marketing research companies such as Your Surveys and SurveyTime pay a fixed amount regardless of length.
Both companies pay $1 (1000 points) for every survey you complete, and you can do as many as you want in a day.
People from the UK, the US, and other wealthy countries usually earn more points because their currency is stronger.
Before taking surveys from a specific company, you must complete a short profiling survey. They will ask questions about your education, career, household income, kids, etc.
Next, they will ask more specific questions that will determine if you are the right candidate to take part in a study. Depending on your answers, you will get disqualified and the company will redirect you to another survey opportunity.
You may waste a lot of time trying to qualify for surveys, which is why many people lose interest.

This reward platform is going viral! Cash out via PayPal, Visa, Gift Cards, and in-game currencies - Click here to find out how to generate an extra $10+ per day! 
If you are tired of spending hours on your computer only to make cents, check out my #1 recommendation to make money online.

Download Apps
Some Offer Walls like AdGate Rewards will give you the opportunity to earn points for downloading and trying apps.
In most cases, you need not only download the app but also open it and even meet specific requirements.
For example, they may ask you to download a game and play until you achieve a specific level or score.
Complete Offers
Inside Offer Walls, you can also complete paid offers from advertisers. Most of these offers involve subscribing for free trials, filling up prize draw forms, and signing up to survey panels.
Every time you complete an offer, the merchant pays Grabpoints a fee. Then, they share a small percentage of this revenue as points.
Be aware there are some significant downsides to completing certain offers. For example, if you subscribe to a free trial and provide your credit card details, remember to cancel it before the trial ends. Otherwise, the company will charge the monthly fee as they automatically understand you want to keep the service.
This is a screenshot of the Videostripe offer. They tell you that if you don't cancel your account within one week, your account will become premium at the cost of 39.99 euros per month.


Other offers seem harmless at first glance, but instead of asking for your credit card, they ask for your phone number. Needless to say, you will be bombarded with daily marketing calls unless you send a message to unsubscribe.
Here is one example: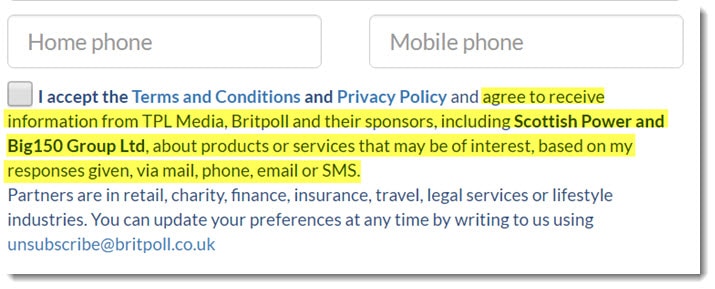 If you want to complete offers, read the terms and conditions carefully, and keep track of everything to avoid unpleasant fees from services you don't want.
Watch videos
Another method to collect points inside GrabPoints is by watching videos from a third-party called Hideout.tv. This platform will award you 7 points for every 3 videos watched with ads.
The advantage of using Hideout.tv is that you don't need to watch the video to get credited. All you have to do is press play and leave the tap open while you go about your day. Besides, you can earn an unlimited number of points!
Unfortunately, ads will appear occasionally, so you should not expect to earn over 30 points ($0.03) per hour.
Invite Friends
Grabpoints will reward you for promoting the platform to your friends or anyone on social media, blogs, forums, YouTube, etc.
You will earn points whenever someone clicks on your link, creates an account, and earns 1000 points. The referral bonus ranges from 25 to 250 points depending on your referral's country of residence.
250 points per referral – US, CA, GB, AU (tier 1)
150 points – NL, SE, DK, NO, CH, FR, HK, IE, NZ, JP, SG, ES (Tier 2)
25 points – All other countries (Tier 3)
In addition, your referral will earn 500 points if they join through your link or enter your referral code.
Share and earn
Here you can earn points by sharing apps via Facebook, Tweeter, SMS, Whatsapp, or even on your blog/website.
Also, it's important to know that you will only get the points if someone downloads and runs the app.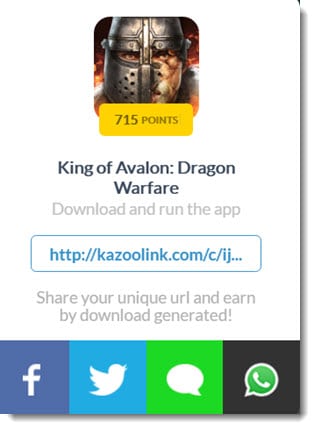 How Do You Get Paid? 
You can redeem your points using Paypal or eGift cards from Amazon, iTunes, Google Play, and Xbox Live, among others.
The minimum cash out using Paypal or Amazon Gift Card is $5 (5000 points), which is low compared to other platforms.
Most payments are processed within 24 – 72 business hours, which means you may have to wait up to 9 business days.
How Much Money Can You Make With GrabPoints? 
If you check the leaderboard, you will see the top 20 members are making over $4 per day and $200 per month.
As of writing, one member from the United States made over $500 in the last 30 days just by taking surveys. The same person has made over $11,200 since 2016, which is remarkable!
I am just wondering how many hours this person spent filling up almost 500 surveys!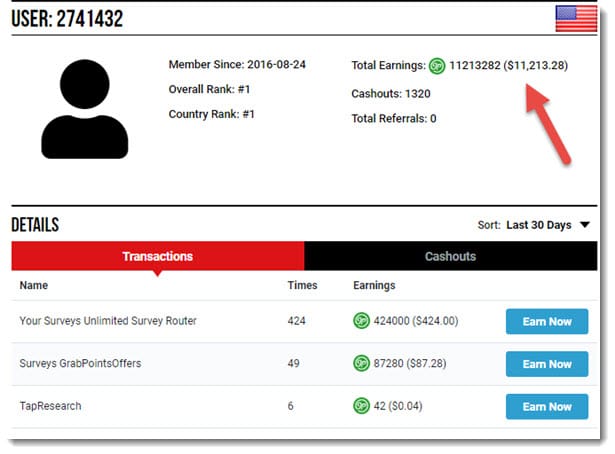 What I discovered after clicking on each person on the Leaderboard is that most of their money comes from completing hundreds of surveys from TapResearch, Dynata, and Your surveys routers.
Some people achieve significant results with GPT sites and survey panels. Personally, I always struggled to make a decent amount of money because of frequent disqualifications.
Conclusion
Grabpoints is not only a legit GPT site with many opportunities to make money. Although the platform doesn't operate as an app, you can log in through your mobile device and complete tasks on the go.
As you can see from the leaderboard, top members are making over $200 per month by completing surveys from Dynata, TapResearch, and Your Surveys. Just keep in mind that the vast majority of top users are from the US.
Most people don't have the patience to reach this income level because surveys are boring and very time-consuming. Besides, you have to settle for less than the minimum wage!  
If you want to learn about the strategy that I use to make money online, read the next section carefully.
Verdict: Legit 
How to Make a Full-Time Income From Home
It's possible to make over $1,000s or even $10,000s per month if you focus on the right strategies and take massive action.
If you want to work remotely and earn a job-replacing income online, I suggest you create a website and promote products as an affiliate. Just keep in mind that a website is just like an actual business in that it won't start making profits overnight.
However, if you commit yourself and give your business enough time to grow, it has the potential to pay you excellent commissions for many years!
As an affiliate, your job is to write helpful content for your readers. But hey, you don't need to be a professional writer to make this work. You just have to be committed to helping your audience and take action!

Creating a website is very easy these days, but you need to understand what is behind the scenes so you can attract a large audience. The more people visit your site, the more money you will make!
If you want to learn step-by-step how you can create a profitable website from scratch, check out my #1 recommendation. This is the exact program that helped me build my own website and quit my job last year.
Final Words
Thanks for taking the time to read my GrabPoints review. I hope the information and my opinion about this site were helpful to you!
If you have any questions or just want to share your thoughts and experiences about this platform, feel free to leave us a comment below.
Stay safe and peace out!