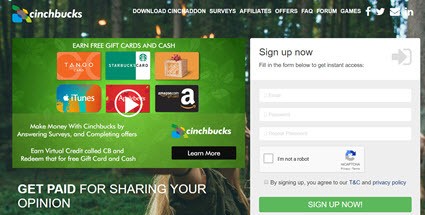 Welcome to my CinchBucks Review!
There are countless websites offering the opportunity to get paid for completing the easiest of tasks!
Depending on your country, you can make a decent amount of money every month as long as you put in the time.
If you know Swagbucks, then you already know what Cinchbucks is all about!
Cinchbucks is another GPT (get-paid-to) site that provides many ways to earn money such as online surveys, cashback, and offers. For every task you complete, you will earn CB points, which you can redeem for gift cards and PayPal cash.
Unfortunately, some reward platforms block user's account and cancel their points for no apparent reason. So, it's very important to choose a reliable site or you can end up working for free.
In this review, I will explain how Cinchbucks works and give you my honest opinion about it. Is it legit? Does it pay?
Before you leave, don't forget to check out the step-by-step training that helped me reach $1,600 per month from my laptop. It's newbie-friendly and free to get started! 
Cinchbucks Review
Name: Cinchbucks
Website: https://www.cinchbucks.com
Company: Cinch Data Solutions Pvt. Ltd
Membership availability: Worldwide
Price: Free to join
Overall Rating: 3.5/5
What is Cinchbucks?
Cinchbucks is a "get-paid-to" (GPT) platform where you can collect CB points for answering surveys, completing offers, watching videos, shopping and more.
Once you collect enough CBs, you can redeem your points for PayPal cash, Paytm and a variety of gift cards.
Cinchbucks is like hundreds of GPT sites such as Swagbucks, Prizerebel, and GrabPoints. Each platform has its pros and cons, and it's a good idea to gather more information before you start completing tasks.
Although the site is available worldwide, opportunities can be scarce in countries where the demand for marketing research and advertising are still low. If you live in North America and Europe, you may never run out of surveys and offers.
Pros and Cons
Pros
There are lots of surveys and offers available.
There are many reward redemptions options, including PayPal and Amazon Gift cards.
User-friendly interface.
It's available worldwide.
Cons
Low-income potential.
Cinchbucks has the right to terminate your account at any time, with or without reason.
You will waste time trying to qualify for surveys.
How Does Cinchbucks Work? 
Registration
The sign up is free and straightforward. You just have to provide your email, chose a password and then click on the confirmation link sent to your email.
They are currently offering a special promo code that you can use to earn 50 points (CBs) when you sign up.
Speaking of points, let me explain how they work.
Points Vs. Rewards
Whenever you complete any activity within Cinchbucks, you will earn points called CBs.
The current exchange rate is 1 CB = $0.01.
My advice is that you calculate how much money you are earning before you completing any task. That's because sometimes the reward is so small that it's not worth your time and effort.

Once you reach 1000 CBs or $10, you can redeem via PayPal, Amazon, Visa Prepaid, and other various gift cards.
Complete Your Profile
An easy way to start collecting points is by completing your profile with basic information such as your gender, marital status, education, career, etc.
You can find the link to the profile questionnaire on the left sidebar. There are two profilers worth 20 CB points each. 
Completing the profile is not mandatory, but the more information you provide, the more surveys you can unlock.
Surveys
Big companies are always searching for new ideas to launch new products and improve existing ones.
In order to gather insights, they hire marketing research companies in charge of recruiting panellists for taking part in online surveys. 
Cinchbucks has partnered with four leading marketing research firms called Cint, Your Surveys, SSI and Pure Spectrum.
Click on the tabs to browse for surveys that match your profile. The table will display to you the number of CB points you will get after completing the survey and the average length. Sometimes, the survey will take more time than what is stated.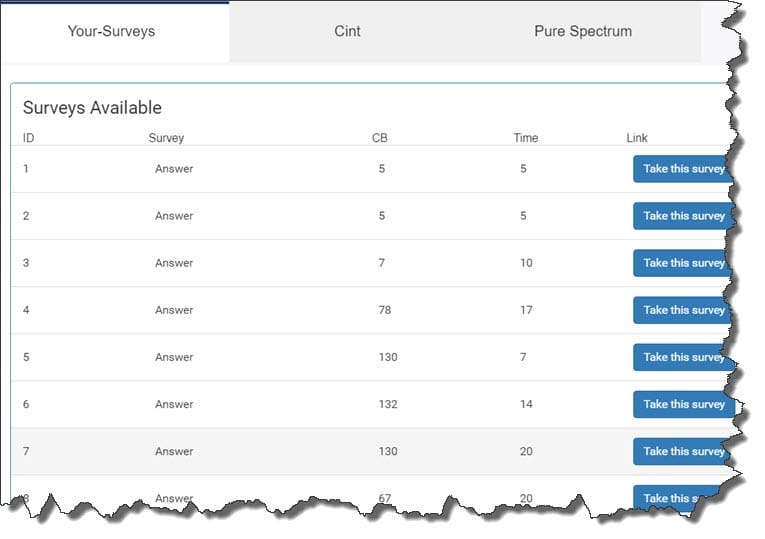 There are currently many surveys available in the UK. On the first day that I joined CinchBucks, I found over 50!
Depending on your country, the list will be empty or almost empty for one or more survey partners. Don't worry! You can also find survey opportunities inside one of the offer walls.
When completing surveys, you should always provide truthful answers and avoid rushing through the questions. The reason is that these companies run regular quality checks to ensure clients are getting reliable data.

If they think you are not taking it seriously, or not being honest, the company can put you on a blacklist and stop inviting you for new surveys.
Keep in mind that you will not always be eligible to complete the survey based on some qualification questions. If you don't qualify, that's because you are not the right candidate for the study. That's completely normal, and yes, it's very time-consuming!
You can earn between 5 – 300 CB per survey, depending on their length and complexity. However, most surveys will pay you less than 150 CB.
Offerwalls
When it comes to offers, Cinchbucks connects you with a couple of third-party providers such as PeanutLabs, Trialpay, Persona.ly, Offertoro and more.
I consider these Offerwalls as miniature versions of a GPT site, because most of them provide not only offers but also surveys, and other tasks.

This reward platform is going viral! Cash out via PayPal, Visa, Gift Cards, and in-game currencies - Click here to find out how to generate an extra $10+ per day! 
Here is one example: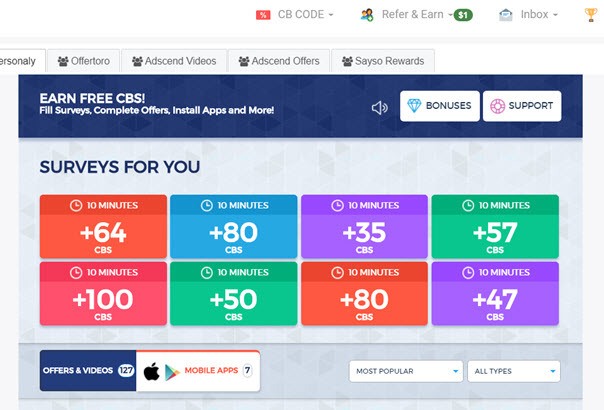 You can earn CBs for different offers such as:
Free registrations
Free trials
App downloads
Prize draws
And more!
It's important to understand that when you accept an offer, you become a potential customer to different companies.
So, if you don't want to spend any money, you should be careful with their terms and conditions, especially if the offer requires your credit card details.
Also, if you don't want to receive marketing calls and emails, you should avoid taking part in prize draws and competitions.
Cashback
You can earn CBs in the form of cashback when you purchase different products through the Cinchbucks website.
For example, you can purchase Amazon products and earn up to 5% cashback.
Make sure you are click the link within Cinchbucks' site, which will direct you to the merchant's site. Otherwise, they won't be able to track your purchase, and you won't get paid.
Their cashback program is not as extensive compared to more established sites such as Top Cashback or Quidco. But still, it's a great way to collect more CBs.
Refer And Earn
Another way to earn CBs is by inviting other people to join Cinchbucks via your affiliate link. You will earn 10% of their earnings for life.

You won't earn much if you can only refer your family and friends, but there are other ways to promote your link.
If you are interested in learning the strategy that I use to refer over 30 people per day and earn passive income online, check out this program.
Final Thoughts
Overall, Cinchbucks is an excellent GPT site to make money online. It's easy to use, trustworthy and full of opportunities.
You probably won't be able to pay all your bills with CinchBucks, unless you don't pay the rent and you have an extremely minimalist lifestyle.
However, it's a decent site for making a little extra money online.
There are better alternatives to make money online. The method I use allows anyone to reach a full-time income from home. Keep reading to learn more about it!
Verdict: Legit
How I Prefer to Make Money Online
I used to spend a lot of time on survey sites, but about 3 years ago I discovered how to build an internet business and work for myself.
The strategy revolves around setting up a website and ranking articles on Google.

So, my job is to provide valuable content and promote products I trust on my site.
When people search online for a product review or other information, they find my site.
Then, when someone clicks on my affiliate link to purchase products or sign up to other websites, I earn commissions.
It's not complicated, but I was only able to make this work thanks to this excellent step-by-step program.
I started as a complete newbie, so I needed quality training and support to avoid wasting my time with useless strategies.
Keep in mind this is not something that will happen overnight.
It's a long journey, but if you have the motivation to build a successful site and be your own boss, it's worth the effort.
Final Words
Thanks for reading my Cinchbucks review. If you have questions, please let me know in the comment section below.
I wish you all the best.