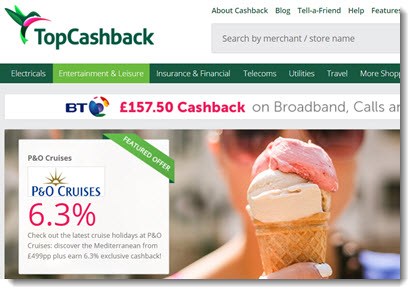 Are you skeptical about Top Cashback? I understand and applaud your initiative to look for formation before taking impulsive actions. That's how you avoid scams online!
What if I told you that you could make money every time you spend money online?
That looks weird, but that's possible, and within this review, I will explain everything about one of the most popular cashback platforms in the UK.
So, no. Top Cashback is definitely not a scam!
On the contrary, it is an excellent opportunity to make money online! Read more and understand how I'll make over £20 with my holiday booking to Greece this year!  
Top Cashback Review
---
Name: Top Cashback
Website: topcashback.co.uk
Price: Free to join
Business Type: Cashback
Recommended?

Highly Recommended
Score:

9 out of 10
What is Top Cashback?
---
Top Cashback is considered the UK's most generous cashback platforms, where members get paid a good percentage of the price of any item that they purchase online.
The website was created in 2005 and was the first of its kind to pass at least 100% worth of affiliate commissions to its members. In the beginning, people thought the business would not survive because of such an innovative idea. Today, after over 10 years of hard work and perseverance, Top Cashback became extremely popular and profitable for everybody involved – owners, merchants, and the public.
Top Cashback has over 40.400 merchants that people can buy and earn cashback from. These include big retailers such as Argos, Expedia, M&S, Currys, Ebay, ASDA and many others.
Pros and Cons
---
Pros
Free to join
Generous offers
Reliable platform
40.000+ retailers to choose from
Large range of products/services
No minimum cashout required
Many payout methods – bank account, Paypal, Tesco Clubcard, Argos, Boots and Amazon Gift Cards
Excellent customer service
Cons
You cannot always find the best value for money among the offers
How Does it Work?
---
Where is the money coming from? 
That's one of the first questions people ask about a cashback website. How can they pay us a percentage of a product's price that we bought from another company? Why don't these companies just give a discount on their products then?
Well, TopCashback is an affiliate website. It shows a list of retailers so that people can click through, visit the official site and purchase a product or service.
Once the retailer confirms the payment, it will pay TopCashback an affiliate commission, which is then passed to users in the form of cashback.
It's important to note that TopCashback passes long 100% of their commissions to the person who bought the product or service through their website.
The Process in 7 Simple Steps… 
Sign up with Top Cashback
Choose the company and offer and click on Cashback
Buy something
Top Cashback will earn a commission (a percentage of the retail price)
Top Cashback transfer 100% of this commission back to you
Wait for the money –  it takes up to 7 days
Cashout via bank account, PayPal or Gift Cards

What's the catch?
That's too good to be true you might think. Yeah, because if they give us all their commissions, where are THEIR profits?
Well, here is the interesting thing. Because Top Cashback offers free money to consumers all over the UK, it has become a popular website.
A very popular site can earn a lot of money with advertising, especially if there are thousands of people visiting it every single day. That's how they make money and run their business – they get paid per clicks (PPC) not through affiliate commissions. 
Plus account 
Top Cashback is free to join, but they also have a paid membership where you can get 105% in cashback and bonuses of up to 10% on top of your cashout. The additional 5% comes from their advertising profits.
If you choose to have a plus account, they will charge only £5 from your earnings every year. If you earned less than £5, then you won't be charged.
What Can You Buy?
---
There are more than 40.000 retailers to choose from, so you can find almost anything! Electronics, groceries, utilities, clothes, restaurants, DIY, travel packages and the list goes on and on…
Personally, I like to buy from eBay, Argos, iTunes, and Sainsburys. It's also great to have travel companies like Thomson and Expedia to get approximately 5% cashback from my holiday bookings.
Free Cashback Rewards
You don't need to buy something to earn. Topcashback also has free cashback opportunities, which includes non-purchase offers, free trials, and online surveys.
How Much Can You Earn? 
---
It varies greatly from company to company, from the kind of product/service and particular offers.
There is currently an offer from Currys that gives 5.25% cashback on Windows Laptops under £599. I bought my laptop with Currys using Top Cashback last year. After only four days, the £25 cashback was already in my Paypal account!

Now, let me get £24 in Cashback to spend on Mythos and Gyrus Pita in Greece! 
Well, I searched for Expedia and found a 5.25% offer for an ePackage booking (flight + hotel).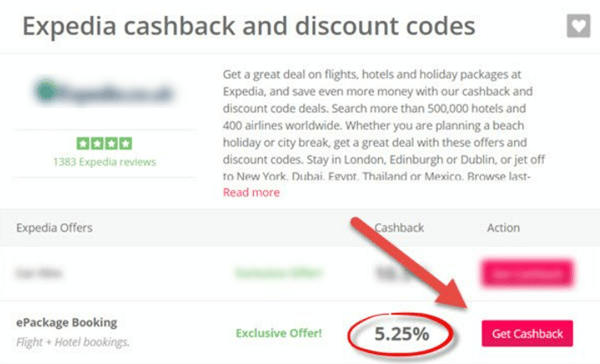 When I click on "Get Cashback" in from of the offer, they send me to Expedia's website. Next, I just have to make sure to click on the right offer  (flight and hotel) and book the holiday as usual.
I found an excellent 7-day package on the Island of Corfu for £458, which gives me £24! 

Final Thoughts
---
Cashback is a great way to earn/save every time you buy something online. It is possible to find good offers, and as you can find almost anything, this is excellent opportunity to earn hundreds of pounds per year. John Housden, for example, managed to make £2,500 with Top Cashback since its launch in 2005.
I just have one advice to give you. Always look for the best value anywhere and check if the company is included on Top Cashback.
If the one that offers the best value is not included, consider looking similar alternatives that provide cashback, and compare both options.
The fact that you are getting cashback doesn't mean you will have more money in your pocket.
Verdict:

LEGIT and Highly Recommended!
It is completely free to join, so why not try it? Join Top Cashback Here and Get Paid for Shopping!
By the way, using the same business model as Top Cashback (affiliate marketing), you can realistically make a full-time income online.

So, what do you think about Top Cashback? Have you ever got paid for shopping before? Please, share your experiences and opinions with us! Also, if you have any questions, just drop me a message below, I will be more than happy to help you out!
Your friend,
Stefan