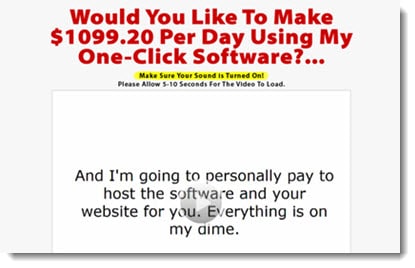 Here is the deal. Profit Bank is claiming you will earn $1099.20 per day with their revolutionary push-button system.
All you have to do is pay $24.97 per month, and in less than 3 minutes you will have a fully automated system that will give you financial freedom.
If this is true, we are witnessing an unprecedented shift in human history, as nobody will have to work or produce anything to survive.
So, is Profit Bank another Scam? Well, I bought the system so I could give you a detailed and accurate review. So, let's check it out!
Profit Bank by Millionaire Society Review
---
Product Name: Profit Bank by Millionaire Society
Website: www.profitbank.com/join/index.php
Price: $24.97 per month
Business Type: Affiliate Marketing
Recommended?

NO

[yasr_overall_rating size="medium"] 1/5
What is Profit Bank?
---
Profit Bank is another Clickbank's product that promises unrealistic income without any effort.
It's a software that will supposedly create a website, attract visitors and build an email list with a simple click.
They say the system will advertise itself and generate sales on autopilot that can bring over $7.000 in profits per week!
This sounds too good to be true, don't you think?!
How Does it Work?
---
I watched the whole video, and Mark just offers a quick explanation of his method. All he says is that you will have a website and a traffic distribution system that will bring targeted visitors to your site.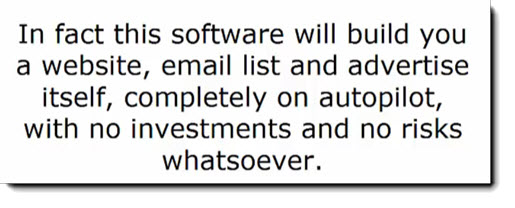 But what the site is all about? How can he attract visitors to it? How can you make sales? No, Mark doesn't give you any clue! So, unless you buy it, you have no idea what you are paying for.
Before I tell you exactly how Profit Bank works, let me say that to make decent money with affiliate marketing, you need to have a high-traffic website – A website with tons of helpful content that attract hundreds of visitors per day.
That's how people will trust you, follow your recommendations and eventually buy the products that you promote as an affiliate. As a result, you will earn generous commissions on every sale!
I was curious to know how Profit Bank could skip the hard work necessary and make the process completely automated.
They Want to Sell You Millionaire Society! 
After I paid the fee,  they instantly tried to sell their flagship product called Millionaire Society. 
Millionaire Society offers training and support in affiliate marketing and it costs $97 per month, which is VERY expensive.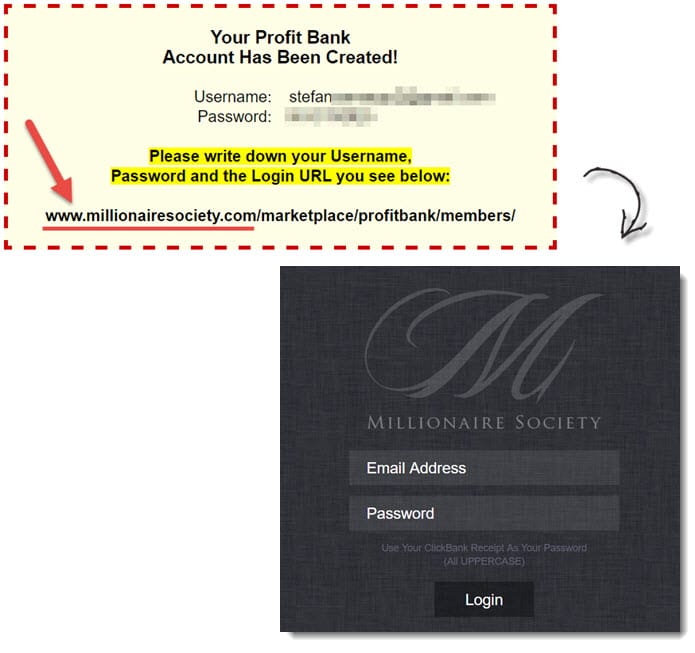 After I logged in, I landed on the dashboard and watched the "Step 1: Full Tour" video, which explains how to use the platform. However, most of Millionaire Society's content was locked.
The content includes some videos and ebooks on how to build an affiliate marketing business.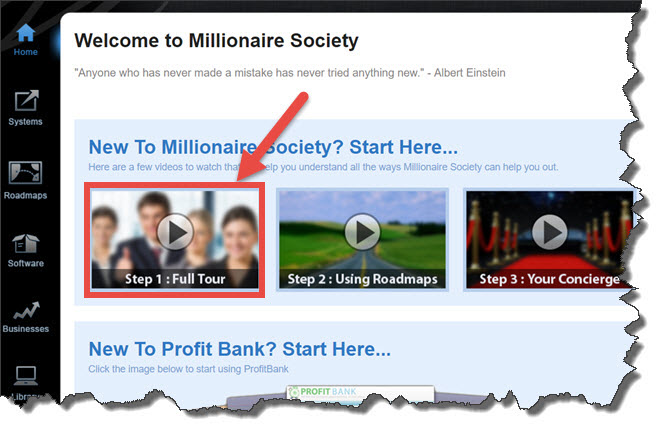 The So-called Automated System!
Finally, I found what I had just paid for. There is a form where you have to place your Clickbank ID (required) and Aweber ID (optional). You have to create your account with Clickback.com (for free) and place your username in the form.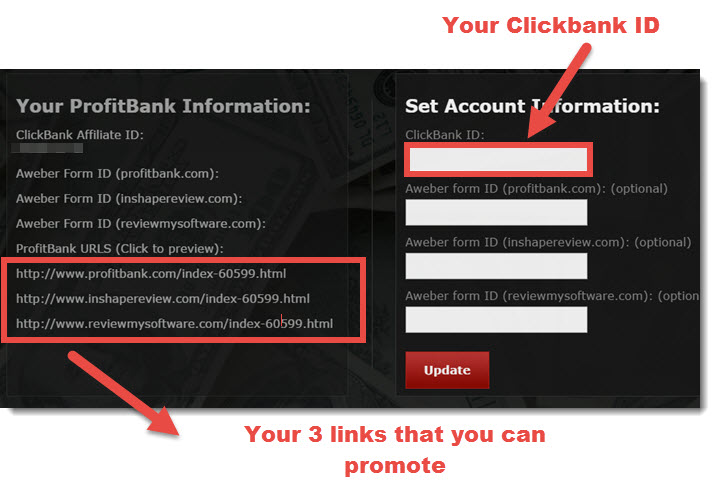 When you click on "Update," your Clickbank affiliate ID will be integrated with three pre-made websites.
It's interesting to note is that these are NOT your websites. Instead, they give you the right to earn Clickbank commissions from every affiliate link that is on these websites.
When people visit the sites through your specific links and buys any of the products, you get a commission. That's how you make money!
By the way, these are the three websites:
www.profitbank.com – "All The Top Business Opportunities, in One Place"
www.reviewmysoftware.com – "All the Top Software Products, in One Place"
www.inshapereview.com – "All the Top Weight Loss Products, in One Place"
Have you noticed the links from the screenshot above? They have an additional "\index-60599.html". These are similar to the links that you will have to promote. Only the numbers will change.
Now, let's have a look at profitbank.com: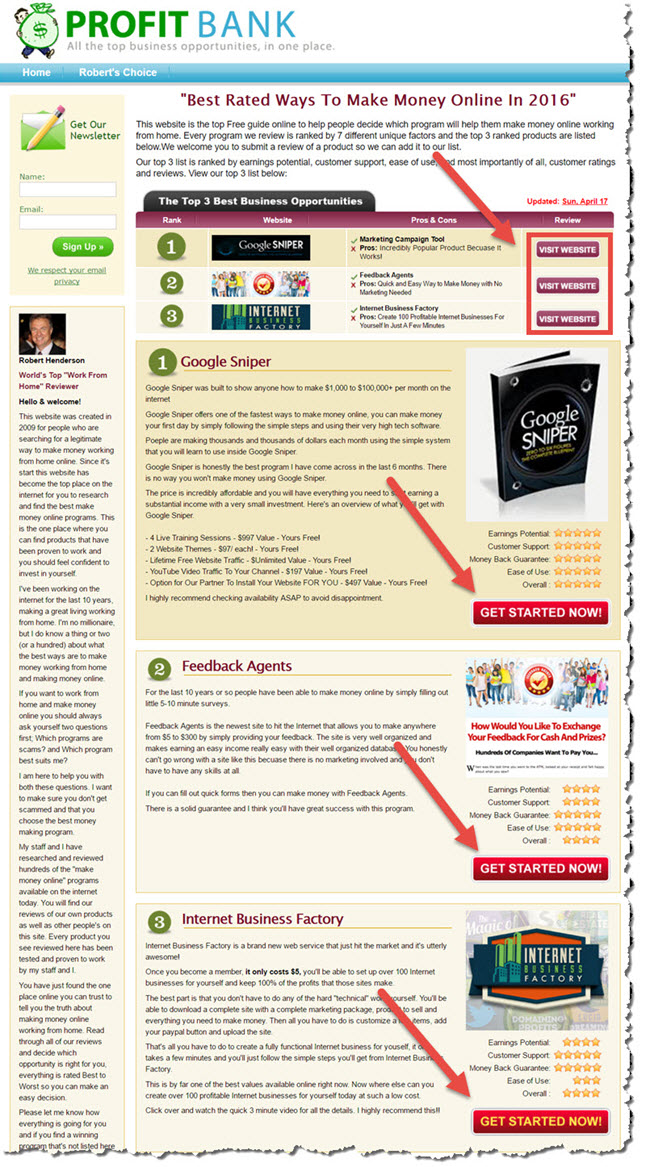 As you can see, it is a pretty shallow website. It has only one page, with three brief reviews, and it's full of affiliate links. The other two websites have the same template. Only the reviews are different.
As I said, this is not your website, and you cannot change or add anything!
They Won't Advertise Your Links on Auto-Pilot!
If you think they will promote those links/websites for you, you are wrong. You are the one who has to promote it via Facebook, Tweeter, Youtube, blog, etc.
It's ironic, but at the end of the day, the most efficient way to promote these links is to create your own website from scratch. You will realize that you are paying an expensive monthly fee to have the right to promote Clickbank products.
Hey, you can promote any Clickbank product for free on your website, social media or wherever you want.
So, what about the automated traffic distribution system that they talked about? They didn't mention anything about it.

And why did they told you the system worked with one click? Nooo idea…
This is what the person said in the video tutorial:
So, when you are all set up, all you have to do is bookmark these URL's and then send traffic to these URL's and you will make money. How much money you are going to make is entirely up to you and how much work you put into it.
You see, it's not fully automated, you still have to do the hard work.
Conclusion
---
Well, as an affiliate marketer for two years now, I can assure you that there are no shortcuts to success. You are the one who needs to promote your affiliate links one way or another. 
In conclusion, Profit Bank is not a scam, but it's not a product that I recommend.

This reward platform is going viral! Cash out via PayPal, Visa, Gift Cards, and in-game currencies - Click here to find out how to generate an extra $10+ per day! 
Verdict:

NOT RECOMMENDED! 
My Advice? Create Your Own Website – Your Own Business! 
---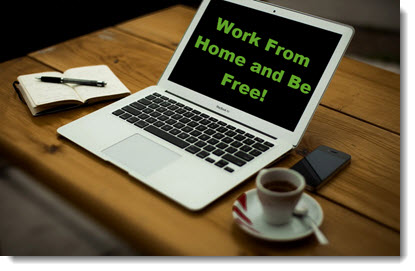 If you want to earn a substantial income online, you have to be the owner of your own website. Like myself! Building a website in this day and age is very simple, and it can be done in less than 10 minutes.
I can assure you that It doesn't require any technical knowledge. But I have to be 100% honest with you. It does require patience and hard work!

You need to understand that there is a lot of money to be made online, but only those who are highly committed will achieve success. Why? Well, because working from home is a dream for many people and there is a lot of competition. This is undeniable!
However, I have something to tell you. There are so many opportunities that you don't need to worry too much about competition. When you focus on providing quality and fresh content, Google will respect your website little by little and will reward you with better rankings. That's how you gain quality traffic! It's a gradual process, and that's why it takes time.
If you want to get proper training and create your website, check my #1 recommendation here.
It's completely free to join, and no credit card is required. You will have access to the first 10 lessons, 2 free websites (for life), and support from 1000s of people that are also developing their businesses there – including myself. 🙂
Different from Profit Bank, you can literally build your website and write content to get ranked in Google and other search engines.
I hope this article was helpful. If you any questions or comments, for free to leave me a message below. I'll be more than happy to help you out! 🙂
Your friend
Stefan