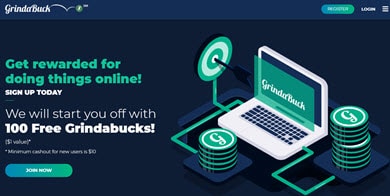 Welcome to my GrindaBuck review!
GrindaBuck is a GPT site website where you can earn points for taking surveys, completing offers, watching videos, and completing other simple tasks.
According to the homepage, the company has paid over $500,000 to its members since 2014.
Grindabucks seems legit, but we should never judge the book by its cover. The reason behind the skepticism is that many reward sites are sneaky and won't let you cash out.
In this review, I will cover everything you need to know about this platform and give my honest opinion about it. Is it legit and reliable? Does it pay?
Let's find out
By the way, if you are serious about making money online, check out my #1 recommendation and discover a proven method that earns me over $1,600 per month.
Grindabuck Review
Product Name:

Grindabuck

Website: https://www.grindabuck.com
Company: Grindabit Interactive, Inc
Type: GPT (get-paid-to)
Eligibility: USA, UK, Germany, Australia, Canada
LEGITIMATE
Overall Rating:

3.5/5
What is Grindabuck?
Grandabuck is a GPT (get paid to) website that has been rewarding members for their online activities since 2014.
Their 15 offer walls allow members to take surveys, complete offers, download apps, and watch videos.
Every time you complete a task, you will get Grindabuck points (GaBs) that you can redeem for PayPal, e-gift cards, or cryptocurrencies.
As of writing this review, Grindabuck is only available for residents in the US, the UK, Canada, Australia, and Germany. If you try to enter Grindabuck using a VPN, the site will block you or ban your existing account.
If you don't live in any of those countries, I suggest joining my top-rated GPT site, which is open worldwide.
Is Grindabuck Legit? Does it Pay?
Yes. Grindbuck is 100% legit! The platform has been rewarding members since 2014 and has an excellent reputation on the internet.
I browsed different forums and websites in search of user reviews and couldn't find any red flags. Everyone seems to receive payment with no issues whatsoever
The company does a great job of explaining how to make sure you get credits for completing offers. Besides, the support team is said to be super fast and helpful.
Pros and Cons
Pros
Free to join.
Earn 100 points ($1) as a signup bonus.
You can connect with other members and ask for help through the live chat.
There are lots of opportunities and different ways to make money online.
Get paid via Paypal, Gift Cards, and 4 cryptocurrencies (Bitcoin, Litecoin, BitcoinCash, and Etherium).
VIP members can redeem their Grindabuck points when they reach 100 points ($1).
Earn monthly bonuses.
Fast payments
Cons
Low pay.
The referral program only pays 10% commissions.
There is a transaction fee of $0.25 for PayPal payments worth less than $25.
Create a Free Account
The registration is very straightforward. All you need to do is complete a short form with your basic details such as name, email, and date of birth.

You will receive an email with a confirmation link and a verification code. Click on that link and provide your email and verification code.

You will earn a generous bonus of 100 Grindabucks ($1) just for signing up.
Earn Grindabucks
Grindabuck runs a point-based system where you can convert 1000 points for $1.
There are 3 main sections you can use to earn points: Passive income, survey, and offer wall.
Next, I will explain each section in detail and show you how much money you can make.
Passive Income Section 
This section is all about watching videos and earning money passively. 
All you have to do is choose the partner company and let the page run videos automatically.
The good news is that you can go about your day while collecting Grindabuck points.



Unfortunately, the amount of money you can make in this module is very low!
They say you will earn 1 Grindabuck ($0.01) for every 3 videos, but I didn't get paid. 
I clicked on EngageMe.TV, and watched 3 videos, but the system did not count them. So, I didn't get any points!
After some time, I discovered I had to sign up for the third-party platform and link it to my Grindabuck account to be able to collect points.
So, if you want to earn passive income by watching videos, make sure you sign up and link your accounts first. Otherwise, you won't receive points.

This reward platform is going viral! Cash out via PayPal, Visa, Gift Cards, and in-game currencies - Click here to find out how to generate an extra $10+ per day! 
Offerwall Section 
Grindabuck has partnered with lots of offer walls, which are third-party platforms where you can complete additional surveys, offers, and micro jobs.
Some of the most popular offer walls are Peanut Labs, MinuteStaff, OfferToro, Crowdflower, and Adscendmedia.

According to Grindabuck, the MinuteStaff provides the easiest and quickest offers on the site.
The amount of money you can earn varies according to the type of offer.
Be careful when completing offers that require a 14 or 30-day trial subscription.
If you forget to cancel your subscription before the deadline, you may end up with an undesirable bill at the end of the month.
I advise you don't accept any offer before you read the terms and conditions. Also, be aware of free offers that entice you to subscribe and enter sweepstakes.
In that case, companies will ask for your phone number to bombard you with marketing calls.
Companies are investing a lot of money to get hold of people's contact details, so they will try their best to sell you something.
If you are using Grindabuck from your smartphone, you can also earn points for downloading and trying new apps.
Some of these offers will ask you to play a game and reach a certain level.
To avoid problems while completing offers, make sure you follow these important bullet points:
Set up your browser to accept third-party cookies.
Deactivate pop-up blockers.
Use the default browser.
Allow location tracking.
If you don't know to proceed, I advise checking their FAQ here.
IMPORTANT: You may not get credited after completing an offer for various reasons. So, it' very important that you keep proofs of completion such as confirmation emails, PIN numbers, receipts, etc.
Online Survey Section
Grindabuck also has partnered with various marketing research companies to provide lots of survey opportunities.
You can share your opinions with companies such as SaySoRewards, Opinion Network, Your Surveys, and Opinion Surveys.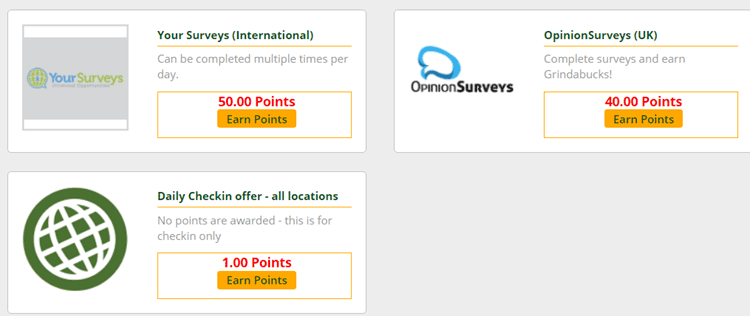 Regardless of the survey panel you choose, you can expect to make between $0.50 to $3 per survey.
Surveys usually take 15 – 20 minutes to complete without taking into account the screening process.
Companies need to make sure you are the ideal candidate for a particular study. Therefore, they will always ask a few qualification questions to make sure you are a good match.
If you get disqualified, Grindabuck will redirect you to another survey opportunity and you won't get compensated for your time.
That's the main reason it' so difficult to make a decent income with online surveys. Not only the pay is too low, but you will waste a significant amount of time trying to qualify for them.
Referral Program
With Grindabuck, you will earn 10% of your referral points for as long as both of you have an account.
In order to get referrals, just copy the referral link and share it with friends and family on social media, for example.


A 10% commission not bad but, as a comparison, Prizerebel pays me 30%.
Monthly Bonuses
You can earn monthly bonuses if you achieve certain milestones. There are 3 categories of bonuses depending on how many Gabs you earn in a month.
Bronze: Get 100 Grindabucks on the 1st of the month, plus 2% of the points earned in the previous month. Requirement: Earn over 5,000 points by completing at least 50 offers.
Silver: Earn 300 Grindabucks on the 1st, plus 4% of all the points collected in the previous month. Requirement: Earn over 10,000 points by completing at least 100 offers.
Gold: Receive 500 points on the first day of the month and 6% bonus on all the points earned in the previous month. Requirement: Get 20,000 points by completing 200 offers.
Grindabuck's bonuses are great, but those are tough requirements that most members probably will never reach.
VIP Program
As you collect more Grindabucks, you will climb up the VIP ranks, which will give you some great perks such as
Access to more rewards
Lower minimum payout threshold.
Immediate accreditation when you complete offers.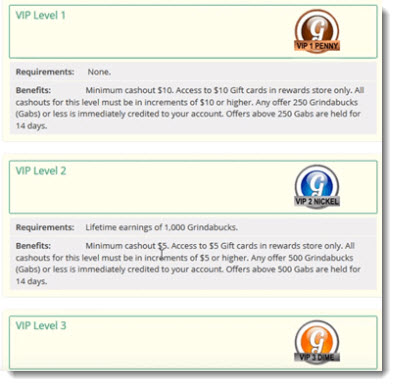 VIP level 1 (Penny)
You will be at level 1 when you create your Grindabuck account. At this level, the minimum cashout is $10 and you can only access Gift Cards. Any offer worth 250 points is immediately credited to your account. Offers above 250 are held for at least 14 days.
VIP Level 2 (Nickel)
To reach level 2, you must have earned 1,000 points. At this level, you can cash out $5 via Gift cards only. Offers worth 500 points are credited instantly to your account and offers above 500 points are held for 14 days.
VIP Level 3 (Dime)
You must earn 10,000 points to upgrade to level 3. At this level, Grindabuck gives you the opportunity to cash out with just $1 and access all the reward options, including PayPal. Offers worth above 500 points are held for 14 days.
VIP Level 4 (Quarter)
You will reach level 4 once you accumulate 40,000 lifetime points. At level 4, you can withdraw $1 and access all payment methods. All the offers under 750 are credited immediately to your account.
VIP Level 5 (Half-Buck) 
You can upgrade to level 5 by earning 70,000 Grindabucks. The minimum cashout is $1 and offers over 900 Gabs are held for 14 days.
VIP Level 6 (Grindabuck)
By reaching 100,000 Gabs, you will upgrade to level 6 and get credited instantly for offers under 1250 Gabs.
VIP Level 7 (Legend)
You can become a Grindabuck legend by reaching 300,000 Gabs. At this level, no offer will be held for 14 days. You can redeem your points for a $1 via any payment method in the reward store.
Reaching above level 4 is a big challenge because it requires you to earn over $400 worth of Gabs.
How Do You Get Paid?
Once you reach a certain amount of points, you can redeem for PayPal, e-Gift cards, or even cryptocurrencies.
The minimum cashout is $10 (10,000 points) for VIP level 1 members, $5 (5,000 points) for VIP level 2 members, and $1 (1,000 points) for VIP level 3 members and higher.
There are various gift cards to choose from including Amazon, Walmart, iTunes, and more!
Before you receive rewards, you must provide your name, address, and ID number. If the information you provide doesn't match or if Grindabuck cannot verify your identity, they will close your account and delete all your points.
You may receive your reward within one hour after your request. However, payments can take up to 12 hours.

The downside is that if you try to withdraw less than $25 via PayPal, Grindabuck will charge you a fixed transaction fee of $0.25 (25 Gabs). Therefore, you will waste a lot of money if you withdraw in small amounts.
Is There a Better Alternative to GrindaBuck?
Grindabuck is a decent GPT platform, but there are some disadvantages.
For example, you can only exchange points for cash via PayPal once you reach VIP level 3 status, which requires you to reach $100 (10,000 Gabs).
If you reach VIP level 3, you can withdraw as little as $1. However, they will charge $0.25 for each PayPal transaction over $25.
Another downside is that Grindabuck is available in only 5 countries.
Prizerebel is a great alternative because it's available worldwide, it doesn't charge any transaction fee and any user can withdraw a minimum of $5 via PayPal or any gift card. Not to mention that it pays you monthly bonuses regardless of the number of completed offers.
If you want to join a platform where you can withdraw as little as $1, then I recommend Offernation. This is another excellent GPT site with tons of opportunities.
Final Thoughts 
Grindabuck is a legitimate platform that anyone can use to make some extra cash on the side. The site has partnered with lots of offer walls and provides different ways to make money online.
However, it's no different from many other GPT sites that have been running for years!
The pay rate is very low as any other reward site, so you should not set high expectations.
If you join Grindabuck, pay attention when competing offers, and be prepared to waste a lot of time trying to qualify for surveys.
Verdict: Legit
My #1 Strategy to Make Money Online
I used to take surveys a while ago, but then I discovered a much better way to use my time and make an income online.
Instead of making just $3/hour, now I grow my own online business, which is generating over $1,600 per month. 
As an online entrepreneur, not only I have the flexibility to work whenever and wherever I want, but my revenue is not dependent upon how many hours I work.
If you dream about working remotely, be your own boss, and earn passive income online, I suggest you check out my #1 recommendation.
In my opinion, this is the best platform for those highly committed to achieving time and location freedom.
You can sign up and start your first 10 lessons completely free.
>> Click here and check out my #1 recommendation!

Final Words
So, have you tried Grindabuck? What is your opinion about it? Please, share your thoughts with us in the comment section below.
Peace!