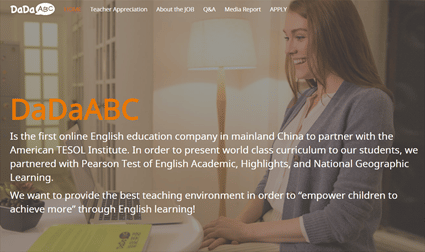 There is a huge demand for native English-speaking teachers around the world, and if you want the flexibility to work remotely, DaDaABC can be the answer for you. In this review, I would like to cover all you need to know about DaDaABC is give my honest opinion about it. Is DadaABC a scam or a legit work from home opportunity?
Let's find out!
DaDaABC Review
---
Name: DaDaABC
Website: dadaabc.com
Price: Free to join
Type: Online English teaching
LEGITIMATE
Recommended? YES

Overall rating:

4.7/5
What is DaDaABC
---
DaDaABC is a Chinese based company that provides online one-on-one English education for children all over the world.
Founded in 2013, the company has become one of China's most successful e-learning platforms for children aged 4 to 16.
If you want to supplement your income or even become a full-time teacher, DaDaABC is considered one of the best options as you can work from the comfort of your home and earn up to $25/hour.
Pros & Cons
---
Pros
Teach English from the comfort of your home.
It has a strong reputation among teachers and students.
Flexibility to choose your schedule.
Great pay rate ($15 – $25/hour).
Earn bonuses.
Career development.
Easy teaching format – Great for new teachers.
No teaching experience required.
You don't need to write your teaching materials. It's all provided.
Supportive team.
Cons
As classes are 100% online, you will probably miss the "human contact."
You are an independent contractor, with no benefit plans. ( No health insurance, holiday pay, or 401k).
Some teachers complain about having only 2 minutes break in between classes.
Who is It For? 
---
There are only 2 requirements to apply for DaDaABC:
You have to be a native English speaker and have a bachelor's degree in any field.
In my opinion, DadaABC is great for anyone who enjoys teaching. Likewise, it's ideal for new teachers who want to acquire experience, become a qualified ESL online English teacher and advance in the career.
Not to mention this can be the perfect solution for English speakers who live abroad and want to earn in dollars. For example, if you live in Asia, you can work part-time for DadaABC and still live comfortably due to your stronger purchasing power.
The Recruiting Process
---
The first thing you need to do is submit an application form with your basic details, CV, and photo. You should receive a response within 3 or 5 days.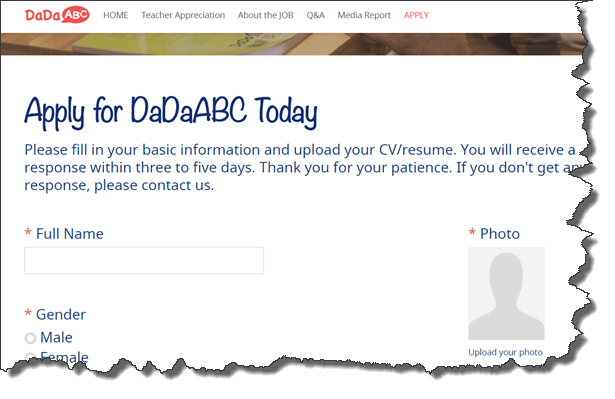 In short, the recruiting process consists of an initial interview, training (TTR and System training) and a probation performance review.
The interview will be conducted via Skype, so you need a headset with a microphone. You also need to make sure you do your interview from a quiet and private place.
You contract last for 12 months, and if they like your performance, you will be able to renew and even get a pay rise.
The Classes
---
DaDaABC provides their own teaching materials, so there is no need to prepare them. Nonetheless, you still have to preview the materials and prepare your classes in advance.
There are 3 types of classes:
Trial classes: Designated for students who are just starting out or looking for a regular teacher. They usually last only 14 minutes.
Elective classes: These are extra curriculum classes, and has a 30 minute duration.
Major classes: These are classes for regular students on a fixed schedule. Most major classes are 30 minutes long but may take 60 minutes sometimes.
Working Hours
You will have to provide your availability, and DaDaABC will choose your hours within the following time slots:
Monday to Friday: 6:00pm-9:10pm (Shanghai time).
Saturday and Sunday: 10:00am-12:06pm; 2:00pm-4:06pm; 6:00pm-9:10pm (Shanghai time).
Note that you will be responsible for regular students who will always study at a fixed time every week. For this reason, you will not be able to change your schedule regularly.

Besides, you must work at least of 2 hours per day and 2 days per week. So, that is a total of 4 hours and an extra $60+ per week in your pocket. Not bad!
Payments
---
The pay rate ranges from $15 to $25 per hour, depending on how well you perform in both the TPR training and demo class. Additionally, you will earn a 50RMB bonus if the student decides to join DaDaABC after attending your trial class.
You will always get paid on the 15th of every month, and if you are abroad (outside China), the bank transfer usually takes 2-5 days.
Conclusion – Is DaDaABC a Scam?
---
No, it isn't. You are dealing with a very reputable company. In fact, DaDaABC has received a 4.4-star rating from a total 356 employees at glassdoor.com, which means most people are happy working for them.
Honestly, I haven't seen any company offering work-at-home positions with such a high positive rating.
Click here to read all the employer reviews at Glassdoor.
Verdict: Legitimate
How to Earn Passive Income Online and Be Your Own Boss
As an online entrepreneur, not only I have the flexibility to work anywhere and anytime I want, but also my income is not tied to how many hours I work. Therefore, I can make money on vacation or even while I sleep!
If you are interested in working 100% remotely, be your own boss and earn passive income, I suggest you check out my #1 recommendation.

Thanks for checking out my DaDaABC review. If you have any questions, please let me know in the comment section below.
If you apply for DaDaABC, I wish you good luck with your application and future career! 🙂