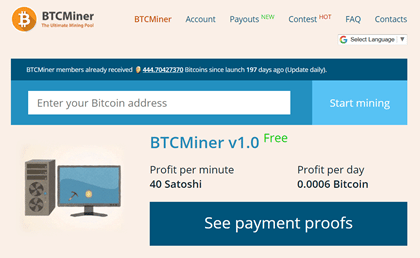 Btcminer.me promises 12% daily returns, which is more than 40 times what other legit mining contracts generate. So, is Btcminer.me a scam or a legit opportunity to become the new crypto millionaire?
Discover the truth within my review before you invest your hard-earned money.
Btcminer.me Review
---
Name: Btcminer
Website: btcminer.me
Price: 0.001 BTC up to 0.5 BTC
Type: Cryptocurrency Mining?
Recommended? 

NO

Overall Rating: 0/5
What is BTCminer.me?
---
Btcminer.me has been advertised as the ultimate Bitcoin mining pool. According to the FAQ, all of its mining power is backed up by physical miners and efficient algorithms to mine as much bitcoins as possible. I see…
Also, they claim their data centers are located across the US, Europe, and China. But no address or any proof has been given of the existence of such mining facilities.
The only information we have is that the owner lives in Italy and incorporated the business called BITMINER CLOUD EU LTD using a virtual office in London.
What's interesting is that,  according to this official article, many bogus companies have used the same address (20-22 Wenlock Road, London, N1 7GU).
He also runs another two clone versions of Btcminer called Bitminer and StartMiner. All these sites have been called scams by lots of investors because they claim the company doesn't pay.
Is Btcminer.me a Scam? 
---
Well, I can't claim that it is a scam because I haven't invested in it and I never will. Unfortunately, I can't prove anything
Note that the return on investment is $12 per day or 4,380% per year, which is 40 times higher than the profit that you can find in other cloud mining platform.
Besides, their Bitcoin mining contracts have no maintenance fees and no time limit. So, they are trying to make you believe you will invest once and reap the rewards for the rest of your life.
There is simply no way you can earn 12% ROI per day with just one investment. If that was true, anyone could achieve financial freedom by investing just $1,000.
How Doe It Work?
---
They will entice you to join the program by first offering you BTCminer V1.0, which is free.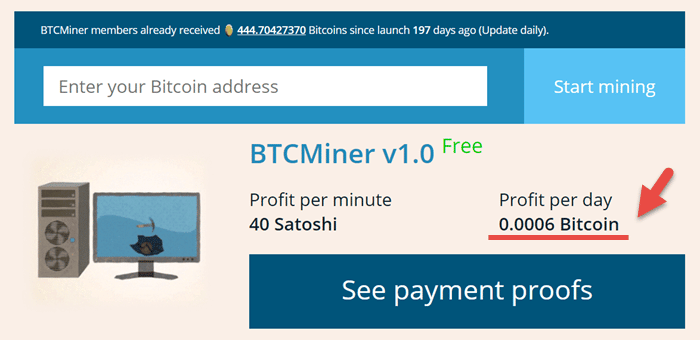 All you have to do in enter your bitcoin address and click on "Start Mining" to earn 0.0006 Bitcoin or approximately $6 per day for FREE!
Well, some people claim that when they finally reached the minimum cashout requirement of 0.005 BTC, they said they created two accounts with the same IP, and for that reason, the company asked them to upgrade. However, even after upgrading, people apparently didn't get paid.
People Are Not Getting Paid
---
I searched on forums and other review sites and discovered many people didn't get paid. Here is what people are saying about BTCMiner.me: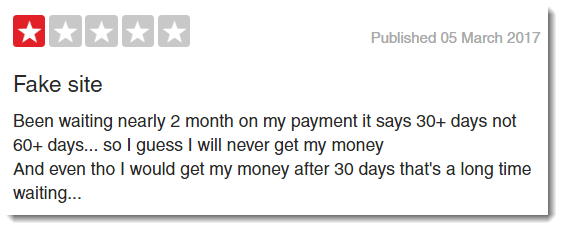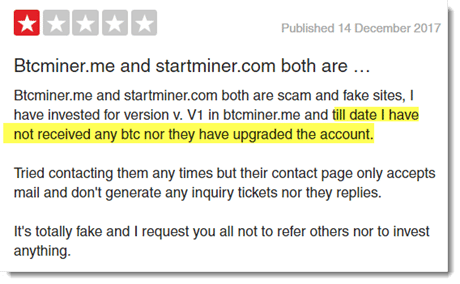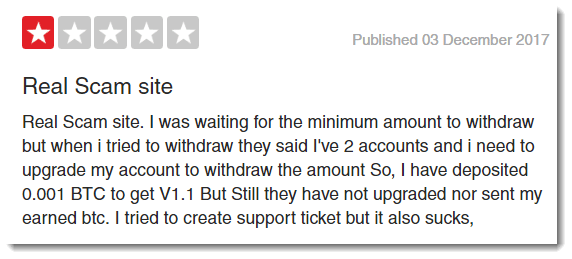 Conclusion
---
There is a big risk investing in BTCMiner. Sorry to disappoint you guys, but you have to understand this return on investment is simply too high, and we all know there is no free money.
I wouldn't put my money in Btcminer.me as I know the chances to get paid are very slim.
How I Prefer to Make Money Online
---
If you want to earn a substantial income online, I highly recommend you build an online business. There is simply no better strategy than becoming an online entrepreneur and make money on your own terms.
As an online entrepreneur, not only I have the flexibility to work anywhere and anytime, I want, but also my income potential is unlimited and not tied to how many hours I work.
For a complete course on how to build an affiliate business around your passions and interests, I highly suggest you take a look at My #1 Recommended Program.
This platform helped me go from $0 to over $900 per month within 2 years working from my laptop. No boss, no customer service, and no shipping products!
Thanks for checking out my BTCminer.me review. I hope this helps you make an informed decision. If you have any questions, please let me know in the comment section below.