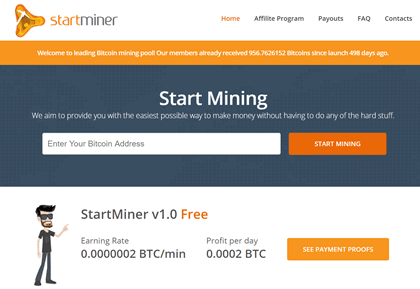 The cryptocurrency industry is a goldmine for scammers, so you need to be very careful when choosing a platform to store, trade or invest your coins. In this review, I am going to talk about a platform called StartMiner. It's promising at least 23% return on investment per day, which is insane! So, is StartMiner a scam or legit platform?
Discover all you need to know before you put your hard earned money into a pipe dream.
StartMiner Review
---
Name: StartMiner
Website: www.startminer.com
Price: 0.006 BTC up to 0.8 BTC
Type: Cryptocurrency Mining?
Recommended?

NO

Overall Rating:

0/5
What is StartMiner?
---
StartMiner claims to be a leading Bitcoin mining pool that uses physical miners and the latest algorithms to maximize profits. They also claim to have data centers across the United States, Europe, and China.
One thing I noticed right off the bat is that they don't have the "About Us," Privacy Policy, and "Terms and Conditions" page. It's paramount that any website that offers a service or accepts money as an investment has at least the TOS.
You will find the company number and the office address on the contacts page.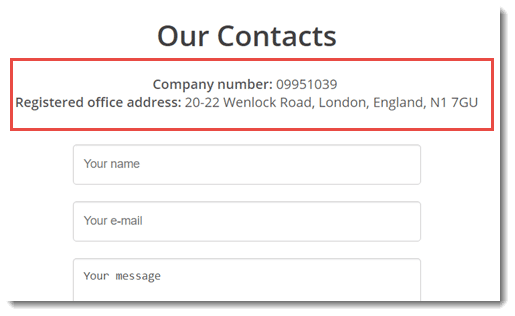 The company was registered by with the Companies House in the UK under the name BITMINER CLOUD EU LTD. Also, the owner rents a virtual office in the UK to set up this company.
It's important to understand that being registered in the Companies House doesn't guarantee legitimacy. In fact, many scammers take advantage of the UK as a convenient and cheap way to set up businesses with virtual offices in London. Besides, they prefer virtual offices to protect their home address from the public.
So, the fact that he registered a company with the Companies House doesn't mean anything!
The owner also runs another "mining" website called Bitminer, which was actually created before StartMiner. Both sites have been called scams by MANY people on different forums.
Is StartMiner a Scam? 
---
Well, I can't claim that it is a scam because I haven't invested in it and I never will. Unfortunately, I can't prove anything
If you see how other mining companies like CCG Mining and Genesis Mining sell their contracts, you will notice StartMiner is totally different and unrealistic.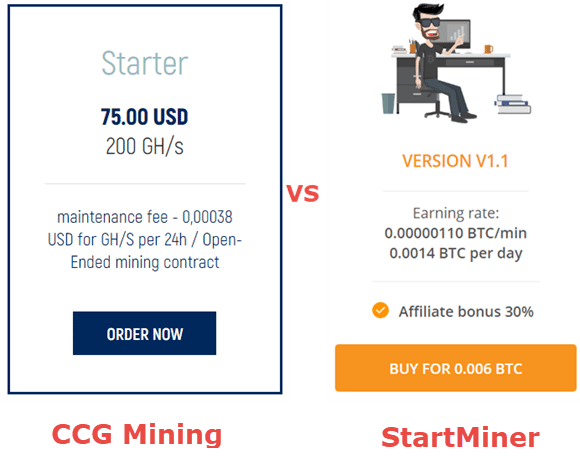 Instead of showing you how much Hash Power you are buying, they just claim you will earn an X amount of BTCs per day if you invest Y BTCs.
Note that the return on investment of 0.006 BTC is 0.0014 BTC per day with no time limit. So, they are trying to convince you that if you invest $68 worth of Bitcoins (current price of 1 BTC = $11502), you will make $16 per day FOREVER.
What if you invest 0.04 BTC ($457)? Well, then you will make 0.01 BTC ($114) per day and enjoy financial freedom.
Seriously?
Guys, this is serious. There's no way anyone can provide that amount of return. If you invest your Bitcoins with the intention of becoming financially free overnight, you will lose everything. It's that simple!
People Doesn't Seem to Get Paid
---
I searched on forums and other review sites and discovered many people didn't get paid. Just take a look at these 3 testimonials: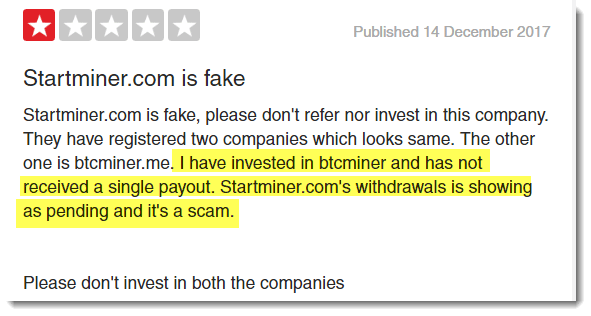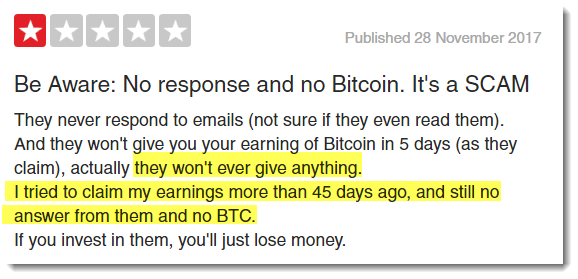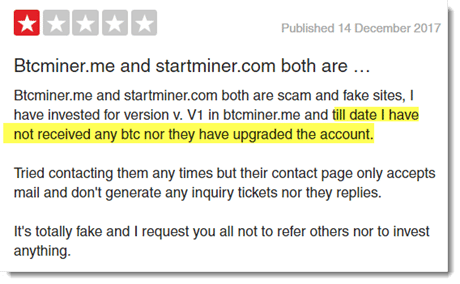 The only ones who are saying positive things about StartMiner will always finish the testimonial with a referral link. Meaning they are just affiliates trying to make a commission.
Free Bitcoins? 
---
After you enter your Bitcoin address, StartMiner will start running version 1.0, which is entirely free. It says you will make 0.0006 BTC per day without any investment. 
Can you imagine making around $6 per day worth of Bitcoins just for signing up?

Well, some users said that when you reach 0.002 BTC and try to cash out, StartMiner will come up with an excuse to push you an upgrade.
According to the same people, the company will claim you have created 2 accounts with the same IP, and for that reason, you will have to pay the upgrade to cash out.
Conclusion
---
If StartMiner was mining real bitcoins, the profit would be much lower, and they would have to either charge a daily maintenance fee or sell a limited contract of 1 or 2 years.
That is because the mining difficulty increases over time, so it's impossible to charge a one-time fee and keep generating unlimited daily profits. It doesn't happen like that.
Thanks for checking out my StartMiner review, and I hope this helps you make an informed decision. If you have any questions, please them in the comment section below.